Breakdown, Preview and Predictions for QPR's 2012-13 Season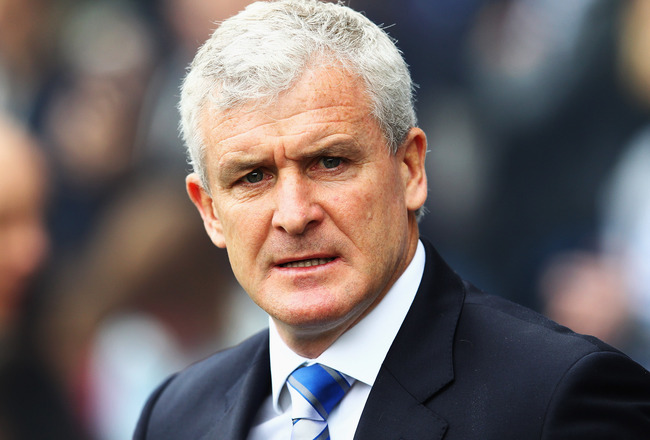 Julian Finney/Getty Images
Queens Park Rangers gave their fans a wild ride last season and narrowly avoided relegation. The team will once again try and survive the English Premier League.
QPR earned promotion to England's top flight for the first time since the 1995-96 season, and last summer's sale to Malaysian businessman Tony Fernandes has given the club the financial backing to put together a competitive side.
Still, the presence of recognizable names did not translate into many wins for the Rangers last year, and adjustments must be made for their 2012-13 campaign. These adjustments will be identified in further detail as QPR is the first of last year's Premiership sides to be featured in my EPL preview series.
Here is a complete preview of the team's upcoming season.
Transfers In, Transfers out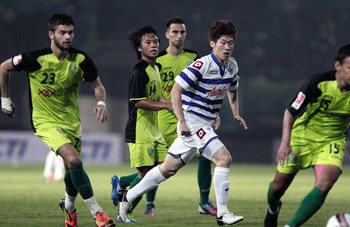 Chung Sung-Jun/Getty Images
| | |
| --- | --- |
| Transfers In | Transfers Out |
| Junior Hoilett | Rowan Vine |
| Park Ji-Sung | Fitz Hall |
| Fabio (Loan) | Patrick Kenny |
| Samba Diakite | Heidar Helguson |
| Andrew Johnson | |
| Robert Green | |
| Ryan Nelsen | |
Key Arrivals
Junior Hoilett
Hoilett is a talented 22-year-old, who will put constant pressure on opposing defenses. He was one of the few bright spots on a Blackburn team that was relegated.
He had seven goals and five assists this past season and proved capable of scoring on the wing or while playing in the center behind the strikers. Hoilett was an excellent addition to the team and will be a productive attacker.
Park Ji-Sung
Park had a long and successful career at Manchester United, but the 31-year-old had been getting into fewer and fewer matches with the Red Devils, and his move to London will be allow him to regularly see the pitch.
The South Korean is a versatile player, who can play just about any midfield position effectively. He will be a leader with championship experience and a valuable presence in the clubhouse.
Key Departures
Patrick Kenny
The first choice goalkeeper from a year ago has been replaced after QPR allowed the fourth-most goals of any Premier League side. The Irishman was not all that impressive, and the club wisely went in a different direction.
The team brought in Robert Green after West Ham decided not to retain the English keeper's services. Green has certainly had his share of high profile mistakes, but he still gives the Rangers an upgrade in the net.
Heidar Helgusson
The 34-year-old Icelander made 16 appearances and recorded eight goals and two assists in Premiership matches. These are impressive statistics, and QPR could have used a reliable goal scorer off the bench for this season.
Still, the team has attacking depth, and Helguson was a luxury. While Mark Hughes certainly would have liked to keep him, he will not lay awake at night wishing that he was still on the squad.
Biggest Matches and Full Schedule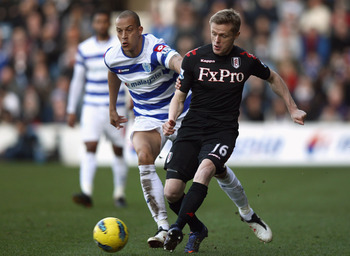 Bryn Lennon/Getty Images
The full QPR schedule can be found via the team's website. Here are the must-see matches.
vs. Chelsea, Saturday, September 15
London derbies are always entertaining to watch, and this one will be no different. It also presents an early opportunity for the Rangers to knock down one of the Premiership's biggest clubs.
Chelsea certainly have a sizable talent advantage in this match, but both teams have new players and neither of them will have settled in at this point in the season. This will make the contest more unpredictable than the matchup suggests.
The motivation to be kings of the capital for a day will help QPR, and they just may be able to earn points in this rivalry match.
at Manchester United, Saturday, November 24
This match may not be of paramount importance to the entire squad, but two Rangers players who will likely feature in the first-11 on a regular basis moved to London after spending several seasons at Old Trafford.
It will be an emotional return to Manchester for Park Ji-Sung and Fabio. Park spent seven seasons with the English giants while Fabio has spent all four of his seasons in England with United, although he is only with QPR temporarily.
Still, these players will be extremely motivated to play well against Man U, and this could help their new side earn a surprising result.
vs. Fulham, Saturday, December 15
This is the London derby that will be truly exciting, as the teams are more evenly matched.
The contest will be further intensified by the presence of Bobby Zamora and Andy Johnson, both whom recently transferred from Fulham. If these two are in Mark Hughes' lineup, they will be desperately trying to get a goal against their former team.
Winning a match against a crosstown rival is always positive, and a decisive victory here would give QPR momentum heading into the second half of the season.
Key Players
Alex Livesey/Getty Images
Joey Barton, Midfielder
Barton's charisma earned him the captain's armband for QPR, but the dark side of his personality was on display during a mix-up with several Manchester City players in the final game of last season. The incident earned him a 12-match ban.
When he is done serving his suspension, he must keep himself on the field, as he plays a vital role for the Rangers. He is an excellent passer and fiercely committed to defense.
His presence in the center of the pitch makes life significantly easier for both the attackers and the back line. The team will receive a significant boost when he returns.
Djibril Cisse, Striker
Heidar Helguson was the team's leading goal scorer last season, and he is no longer with the club. But Cisse put in six goals during just eight appearances and has the potential be QPR's top attacker.
The 30-year-old was in spectacular goal-scoring form last season, but he also behaved erratically. Cisse had two red cards during his brief time in London.
He too must remain focused and avoid outbursts, as his goal-scoring talents will be an integral component to his side's success.
Adel Taarabt, Midfielder
The 23-year-old Moroccan had a remarkable 2010-11 season in the championship, but his success did not translate to the Premiership.
Taarabt notched 19 goals and 16 assists two years ago, but the outside midfielder managed just two goals and three assists in 27 appearances this past season.
He is still young and certainly capable of making his mark against England's top teams. If he can play up to his potential, he can form a dangerous tandem on the wings with Junior Hoilett.
Strengths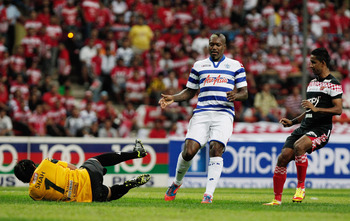 Chung Sung-Jun/Getty Images
Attacking Versatility
The Rangers have several veteran players capable of filling the traditional striking role. Djibril Cisse, Bobby Zamora and Andy Johnson will all see time in a position that they know extremely well.
Surrounding the strikers, Junior Hoilett and Park Ji-Sung's versatility will greatly benefit the team. Both players can play on the wing or sit in behind the strikers and pressure the opposing team's centre-backs.
Out of the wing, the team will be looking to Adel Taarabt to have a strong season, and to Jamie Mackie to turn in quality performances.
Mark Hughes has several talented attackers, who excel at exposing different parts of team's defense. This will give the ability to tailor his lineups for each opponent, and he will always have a substitute ready to make an impact.
Tackling
The entire QPR team enjoys getting stuck and making tackles. The team dispossessed its opponents over 20.1 times each game, which was fourth-best in the Premiership.
Alejandro Faurlin led the EPL with 4.5 tackles per game and Luke Young finished fifth by chipping in 3.5 tackles each match.
The team did struggle to possess the ball at times, forcing these players to make copious amounts of tackles, but tackling is still a valuable skill, and many Rangers players showed an affinity for it.
If the team can improve its possession and continue to tackle well, they will once again be safe from relegation.
Note: statistics courtesy of Whoscored.com.
Weaknesses
Alex Livesey/Getty Images
Possession
QPR managed to control the ball just 44.7 percent of the time in their Premiership matches, which was the fifth-worst mark in the league. The team also completed 298 short passes per game, which was the fourth-lowest total in the EPL.
The team does not play the hoof-ball tactic and used long passes an average amount of time. It simply struggled to hold on to the ball.
Keeping possession with short passes allows a team's defense to rest and recover. The Rangers' lack of control significantly hurt the back line, whose 66 goals allowed was tied with Norwich for the fourth-highest in the league.
The team must receive stronger play from the central midfielders, get the ball to the wingers and allow them to take possession in to the attacking third of the field. If the team passes as poorly as it did last season, the team will once again be hovering around the bottom three spots.
Note: statistics courtesy of Whoscored.com.
Discipline
Joey Barton and Djibril Cisse's transgressions have been mentioned, but they are not the only problem on this team.
QPR finished the season with nine red cards, when the next highest total for any team was five. This is an unacceptable number of ejections, and Mark Hughes must make this perfectly clear to his players.
There is a line between playing physically and just being stupid, and Rangers players crossed it repeatedly last season.
This will have to change as every point counts for teams in the QPR's position, and a costly red card at the wrong point in the season could lead to relegation.
Prediction for 2012-13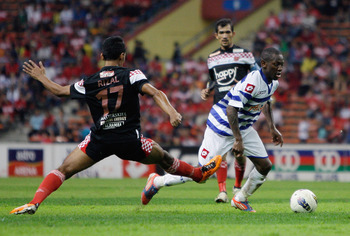 Chung Sung-Jun/Getty Images
Wins: 12
Draws: eight
Losses: 18
Points: 44
Place: 14th
The Queens Park Rangers have made several shrewd additions, and that will lead to a few more victories than they recorded last season.
Mark Hughes has a stable of talented attackers at his disposal, and he should be able to keep his players under control better than he did last season.
The Rangers have a quality side and should regularly beat teams in the bottom half of the table. They may even turn in a few surprising results against the EPL giants.
The team will not make a giant leap up the table, but they will avoid relegation.
Keep Reading