One MLB Prospect Each Contender Can't Afford to Wait Until Sept. 1 to Call Up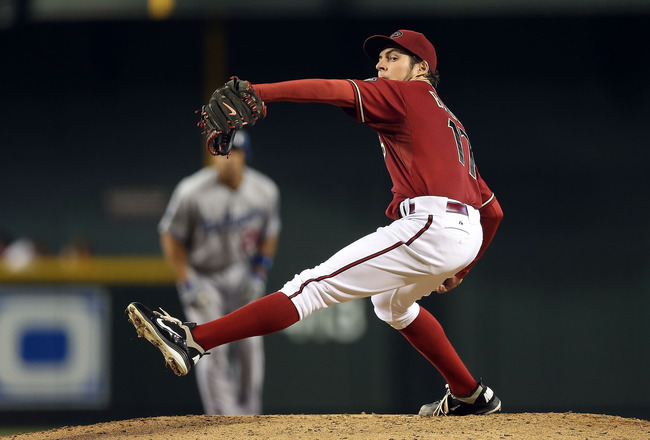 Christian Petersen/Getty Images
With two months left in the 2012 season, pennant races are tightening throughout baseball. Those currently atop their respective division will try to retain their lead, while other teams continue to do everything they can to catch them.
When the rosters expand to 40 players in September, every organization will be able selectively draw from its farm system. While some prospects may be used simply to give the veterans additional rest, there are players who may be able to contribute towards a late-season surge up the standings.
Here is a look at one prospect (some with video) from each contending organization who may aid them over the final months of the season.
New York Yankees: RHP Mark Montgomery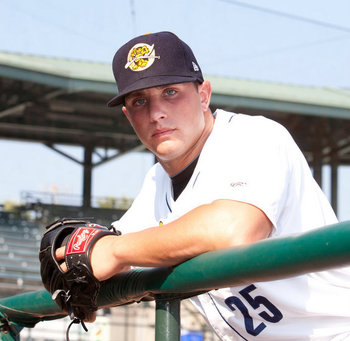 Courtesy of MiLB.com
Minors: 5-2, 15 SV, 51.1 IP, 1.58 ERA, .162 BAA, 80 K/17 BB (38 G)
Montgomery's fastball sits 92-95 mph, and he locates it well; however, given that he's only 5'11", he sometimes struggles to throw it on a downward plane. Still, it's merely a pitch to set up hitters for his slider, which is a pitch that will have him in the Yankees' bullpen in the near future.
He's a strikeout artist who already has a penchant for swing-and-misses and, in my opinion, has the stuff to be the Yankees' future closer.
After a dominant 2011 campaign, Montgomery has already reached Double-A, and I honestly believe that he could be effective in the major leagues very, very soon. He and David Robertson already have a similarities, and being fast-tracked to the major leagues could be one more to add to the list.
Baltimore Orioles: 3B Jon Schoop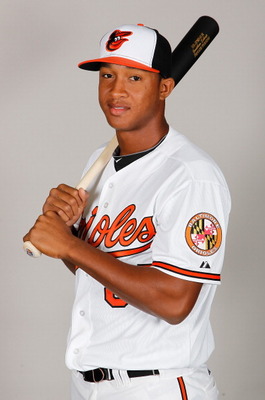 J. Meric/Getty Images
Double-A: .248/.312/.393, 21 XBH (13 HR), 81 K/32 BB (100 G)
The Orioles' third base situation has been sketchy all season. Sure, there's some power with either Mark Reynolds, Chris Davis or Wilson Betemit, but it comes at the cost of poor defense.
Although Jon Schoop hasn't turned in as strong of a season as many expected, he's still hitting for average power with 17 doubles and 13 home runs. His surprisingly low batting average definitely leaves something to be desired.
It was thought that the team might trade him for a starting pitcher at the deadline, but since that didn't happen, perhaps the Orioles should consider utilizing him in the final two months of the season as they attempt to catch the Yankees.
Boston Red Sox: OF Bryce Brentz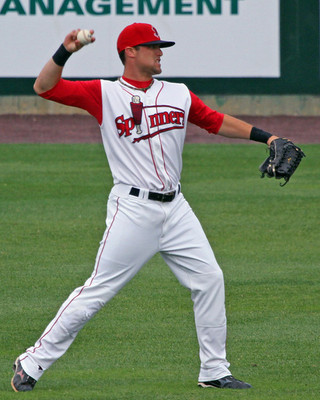 Courtesy of MLBProspectPortal.com
Double-A: .282/.347/.469, 41 XBH (15 HR), 100 K/37 BB (105 G)
After hitting 30 home runs last season, his first full season as a professional, Brentz got off to a rough start in 2012. However, he's since rebounded and is back on pace for similar production.
There's still a considerable amount of swing-and-miss to his game, and there probably always will be. But with Ryan Sweeney on the disabled list and both Daniel Nava and Ryan Kalish under-producing, Brentz's call to the major leagues could come earlier than expected.
Tampa Bay Rays: SS Hak-Ju Lee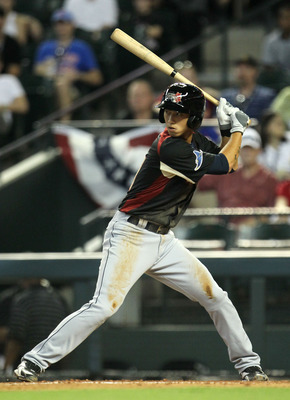 Jeff Gross/Getty Images
Double-A: .266/.340/.367, 29 XBH (10 3B), 37 SB, 96 K/50 BB (112 G)
I'm not saying that Hak-Ju Lee is a sure-fire, long-term answer to their problems at shortstop, but a slick-fielding, left-handed hitter with speed certainly can't be a worse option that Sean Rodriguez and Elliot Johnson.
The Rays' shortstops have posted a .619 OPS this season with 94 strikeout in 369 at-bats. One alternative would be promoting Tim Beckham from Triple-A, but I honestly have more faith in Lee at this point.
Chicago White Sox: RHP Deunte Heath
Courtesy of lehighvalleylive.com
Triple-A: 4-2, 1 SV, 56.2 IP, 1.43 ERA, .184 BAA, 62 K/15 BB (31 G)
The White Sox's bullpen is comprised of a few veterans, but mostly young, inexperienced arms that have faltered more and more as the season has progressed.
After six years as a starter in the minor leagues, 27-year-old right-hander Deunte Heath has more experience than you'd think. He's only been a full-time reliever since mid-2011 and has registered a 1.43 ERA, 9.85 K/9 and 2.38 BB/9 in 56.2 innings this season at Triple-A.
The right-hander could give the Southsiders' bullpen a much-needed boost over the final two months of the season.
Detroit Tigers: RHP Bruce Rondon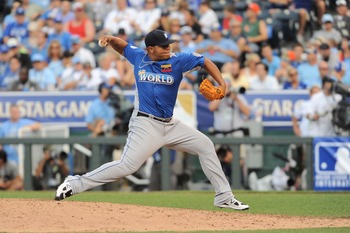 Denny Medley-US PRESSWIRE
Minors: 1-1, 27 SV, 45 IP, 1.40 ERA, .173 BAA, 57 K/19 BB (43 G)
With one of the more complete teams in baseball—especially following the upgrades acquired at the trade deadline—the Tigers still have room for improvement. Most notably, the team could use an upgrade in its bullpen, ideally a late-inning reliever with a unique pitch.
Rondon, a right-hander who sat in the 99-102 mph range at the XM Futures Game in early July, appears to be Detroit-bound, as he was just promoted to Triple-A Toledo. He has an absolute power arm and respectable control, and he has put together a strong season.
Los Angeles Angels: RHP Steven Geltz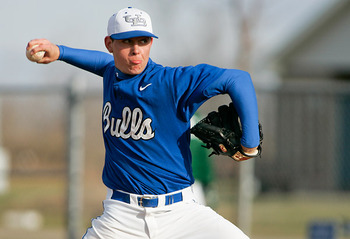 Courtesy of buffalobulls.com
Minors: 3-1, 9 SV, 51.2 IP, 2.09 ERA, .186 BAA, 60 K/15 BB (40 G)
The Angels bullpen has struggled of late, especially since Scott Downs landed on the disabled list. After starting the season at Double-A, Steven Geltz, a non-drafted free agent signed in 2008, appears to be the next in line for a relief role due to his success in Triple-A.
Overall, the right-hander has posted a combined 2.09 ERA with nine saves, 10.45 K/9 and 2.61 BB/9 in 51.2 innings between two levels.
Texas Rangers: OF Leonys Martin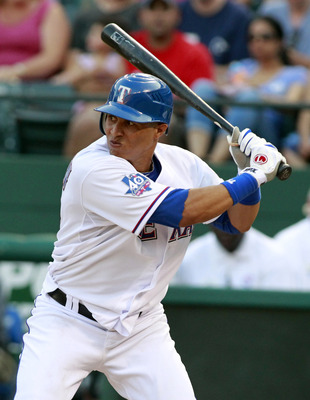 Tim Heitman-US PRESSWIRE
Minors: .344/.424/.552, 19 XBH (6 HR), 7 SB (9 CS), 26 K/20 BB (38 G)
After scuffling through most of the July, the aging Rangers offense will raise some concerns over the remainder of the season. If there was a place to put Jurickson Profar, I'm sure that the Rangers would at least consider it. Unfortunately for all baseball fans, that's simply not the case.
Although he batted only .189 in 15 games with the Rangers this season, Leonys Martin is tearing it up at Triple-A and offers a left-handed bat with plus speed. His plate discipline is good enough that with enough experience in the major leagues, he should at least hit for a decent average.
Oakland Athletics: UTL Grant Green
Christian Petersen/Getty Images
Minors: .296/.338/.465, 41 XBH (13 HR), 13 SB, 69 K/28 BB (102 G)
Even though Grant Green has posted an .804 OPS this season at Triple-A, his defensive versatility makes him a more valuable player.
Green has played everywhere this season: outfield, third base, shortstop and second base. He was drafted as a shortstop and has the athleticism; he just wasn't a clean fit at the position. He should be handle a super-utility role this season and allow the A's to rest a majority of their regulars.
Atlanta Braves: LHP Sean Gilmartin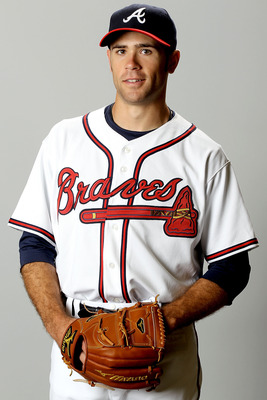 Matthew Stockman/Getty Images
Minors: 5-9, 3 CG, 133 IP, 3.59 ERA, .247 BAA, 91 K/32 BB (22 GS)
Although the Braves could turn to Julio Teheran for help in the starting rotation, his lack of success this season at Triple-A has been concerning.
At the same time, Gilmartin, a 22-year-old left-hander, began his first full professional season at Double-A and was promoted to Triple-A Gwinnett in late July.
At the moment, he's more polished than Teheran with a significantly better track record this season. He's not a strikeout artist, but will get his fair share, all while exhibiting command of all his pitches.
Washington Nationals: RHP Christian Garcia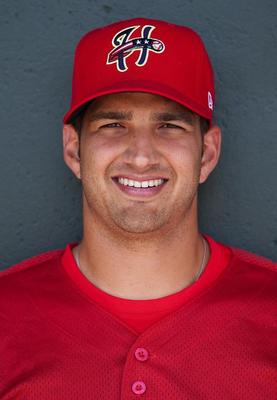 Courtesy of harrisburgsenators.com
Minors: 2-0, 15 SV, 43.1 IP, 0.83 ERA, .141 BAA, 59 K/14 BB (37 G)
Although the Nationals have a well-rounded team with depth at nearly every position, they could still use extra help in the bullpen.
Garcia, now with his third organization, has been in the minor leagues since 2004 and had several stints on the disabled list with injuries; he even missed the entire 2007 season.
However, he's been lights-out this season, posting a 1.35 ERA and 12.60 K/9 at Double-A and now a 0.39 ERA and 11.96 K/9 at Triple-A. He spent most of his early career as a starter, but has proven to be an effective reliever since a conversion in 2010.
Pittsburgh Pirates: LHP Justin Wilson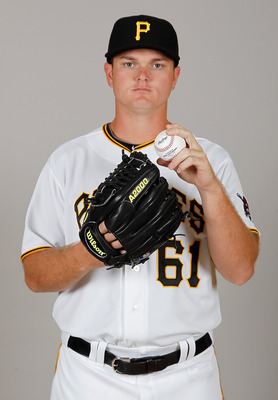 J. Meric/Getty Images
Triple-A: 8-5, 117.1 IP, 4.14 ERA, 1.24 WHIP, 121 K/63 BB (23 GS)
A stocky left-hander, Wilson boasts a fastball with some late life, along with an above-average curveball. There's also some deception in his delivery, which can be attributed to his 121 strikeouts in 117.1 innings this season. His command is still inconsistent, and he walks more than desired; therefore, using him in a bullpen role in the major leagues may be a better fit.
Cincinnati Reds: SS Billy Hamilton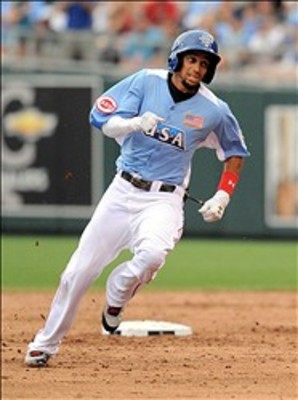 Denny Medley-US PRESSWIRE
Minors: .308/.406/.421, 33 XBH (11 3B), 128 SB, 92 K/69 BB (108 G)
The Reds may not have a position to offer Hamilton at the moment, but they could still mine his value on the bases over the final two months of the season. Why not call him up solely to run? Maybe he will even receive a few starts here and there to spell an ailing Brandon Phillips.
Either way, Hamilton's speed is one of the most prominent tools in baseball, and the Reds should considering utilizing it down the final stretch of the season.
St. Louis Cardinals: RHP Trevor Rosenthal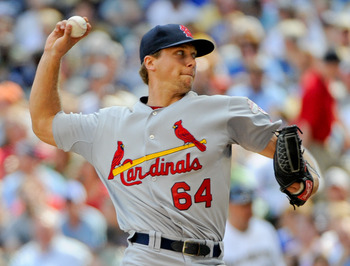 Benny Sieu-US PRESSWIRE
Minors: 8-6, 99 IP, 2.73 ERA, .201 BAA, 91 K/38 BB (18 GS)
After a strong start to the season as a starter at Double-A, Rosenthal was called up briefly to assume a role in the Cardinals bullpen. Now ,he's down at Triple-A, once again working as a starter.
While Joe Kelly has done a fine job as the Cardinals' fifth starter, Rosenthal needs to be their guy over the final two months of the season. Armed with a mid- to upper-90s fastball with heavy sink, the right-hander works in a hard breaking ball and above-average changeup.
Once he gets a few Triple-A starts under his belt, the Cardinals should consider using Rosenthal as their fifth starter and moving Kelly to the bullpen.
Los Angeles Dodgers: 2B/OF Alex Castellanos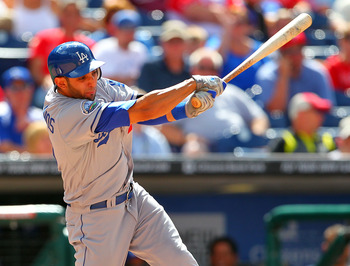 Rich Schultz/Getty Images
Minors: .364/.448/.654, 42 XBH (15 HR), 14 SB, 57 K/35 BB (70 G)
The Dodgers' farm system has little to offer at this point, as it was weak before the trade deadline and now, well, obviously a bit weaker. The organization used the trade deadline to vastly improve its on-field product, so it's doubtful that they'll heavily rely on their minor league talent the rest of the way.
However, it may be in Dodgers best interest to upgrade its bench by recalling Alex Castellanos (again), who can play both second and the outfield.
San Francisco Giants: RHP Brett Bochy
Courtesy of timesdispatch.com
Minors: 6-3, 14 SV, 46.2 IP, 1.74 ERA, .154 BAA, 60 K/12 BB (36 G)
Now officially closer-by-committee, the Giants bullpen has been on thin ice as of late. Rather than trading for a reputable arm, the organization has an intriguing option in Brett Bochy, the son of Giants' manager Bruce Bochy.
This season, the 24-year-old right-hander owns a 1.74 ERA with 14 saves, 2.31 BB/9 and 11.57 K/9 in 46.2 innings. He's got the stuff to be effective in the major leagues, and it could be time the Giants consider giving him a shot.
Arizona Diamondbacks: RHP Trevor Bauer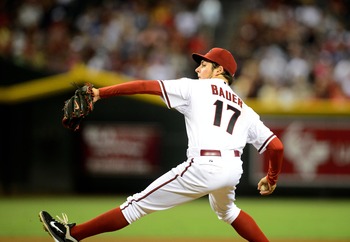 Mark J. Rebilas-US PRESSWIRE
Minors: 11-1, 104 IP, 2.16 ERA, .226 BAA, 125 K/53 BB (18 GS)
With Pat Corbin serving as the team's fifth starter, they now have three left-handers in the rotation. Ideally, Bauer will work his way back up by the end of August and take the place of either Joe Saunders or Corbin—whoever is pitching better will obviously stay.
Bauer's fastball consistently sits in the 92-97 mph range, as he occasionally takes a little off to generate either cutting or sinking movement—like I said, he treats pitching as an art form.
His best pitch is easily his curveball, which receives double-plus grades for its almost unhittable pace and late, downward shape. Also in his arsenal is a plus slider that looks similar to his fastball out of the hand, an above-average changeup with fading action and a solid-average splitter that continues to improve.
Keep Reading