2013 NHL Predictions: Southeast Division Preview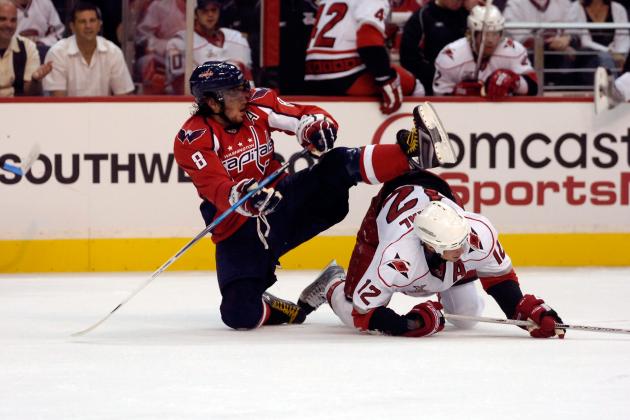 Greg Fiume/Getty Images
FALCON KICK!
The Southeast isn't always known for having the best teams in the league, but the division looks to improve its reputation after an interesting offseason.
Carolina added two big pieces in Jordan Staal and Alex Semin, and hopes to rise to the top of the division again.
Florida tweaked the lineup a little and hopes to remain atop the Southeast after winning the division last season.
Tampa Bay looks to rebound from a poor 2011-2012 season, after trying to bolster a weak defense and adding a young goaltender with a lot of potential.
Washington hopes to prove last season a fluke and reestablish a reign of dominance in the Southeast.
Winnipeg hopes some of the youth drafted when the franchise played in Atlanta starts to mature at the NHL level.
The SOUTHeast gon' rise again.
Begin Slideshow

»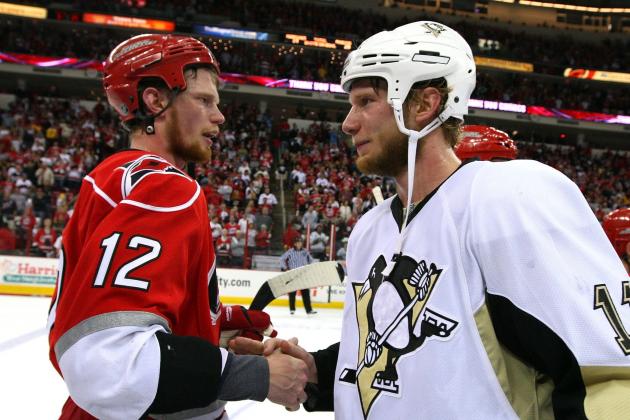 Jim McIsaac/Getty Images
Brothers become teammates.
The Hurricanes made some big moves this offseason to try and move up after a 12th place finish in the Eastern Conference last season.
The Hurricanes brought in Jordan Staal from the Pittsburgh Penguins to join his brother Eric. The two Thunder Bay natives form a formidable one-two punch down the middle.
Carolina also signed winger Alexander Semin to a one-year deal, hoping he rekindles his scoring touch in Raleigh. The Hurricanes finished a slew of big signings by re-upping impressive youngster Jeff Skinner to a six-year deal.
The Hurricanes brought back defender Joe Corvo who scored 11 goals and 40 points with Carolina two seasons ago.
Cam Ward looks to build on a 30-23-13 record last season, playing without a ton of help in front of him last season.
The Hurricanes offense looks a lot better on paper, but the team needs to develop some chemistry early. The defense looks a little lacking, similar to last season, but 2010 Selke Trophy nominee Jordan Staal hopes to give Cam Ward a little help shutting down the opposing team's attack.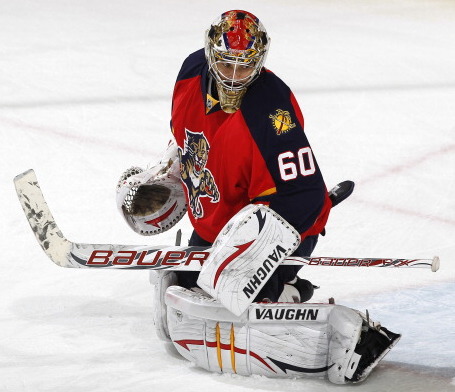 Joel Auerbach/Getty Images
Where'd that one go?
Florida surprised the hockey world by winning the Southeast Division and falling one game short of advancing to the second round of the NHL Stanley Cup Playoffs last year.
The Panthers brought in Peter Mueller, who scored 22 goals and 54 points in his rookie campaign with Phoenix but hasn't played in a full season since. He hopes to stay healthy and productive with the Panthers. Florida also brought in tough guy George Parros to add some grit up front.
Jason Garrison and his 16 goals left for Vancouver, but the Panthers brought in veteran defender Filip Kuba and hope Erik Gudbranson produces more after a so-so rookie campaign.
Jose Theodore played well in net for the Panthers, but at 35, it's hard to say how many games the former Vezina winner has left. According to the Miami Herald, the Panthers are rumored to be one of the top choices for Olympic gold-medal winning goaltender Roberto Luongo.
The Panthers lack game-changers up front and need the defense to step up to remain champions in the Southeast. Theodore played well in net but needs to remain consistent to help the Panthers advance.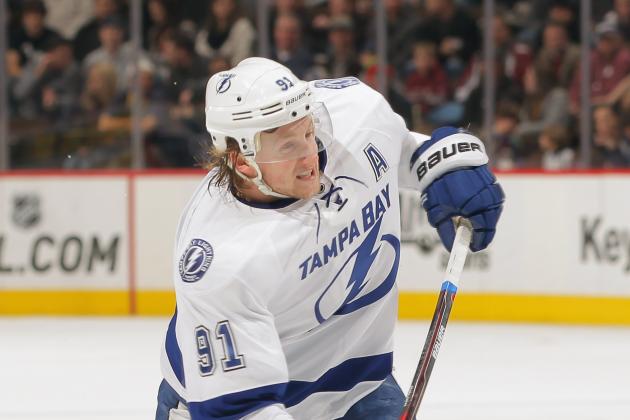 Doug Pensinger/Getty Images
Oh, that's pretty.
Tampa Bay failed to impress last season, possibly placing too much faith in 42-year-old goaltender Dwayne Roloson. The team scored enough goals but surrendered far too many.
Steven Stamkos exploded for 60 goals last season en route to his second career Maurice "Rocket" Richard trophy. They added a potential goal scorer in Benoit Pouliot, who joins veterans Martin St. Louis, Vincent Lecavalier and Ryan Malone.
Steve Yzerman added some experience on defense, bringing in veteran puck-mover Sami Salo and shutdown man Matt Carle. The defense looks a lot better than last season and hopes to match Tampa's potency up front.
Tampa Bay signed Anders Lindback, Pekka Rinne's understudy for the past few seasons, hoping he's ready to take on the role of a starting goaltender. Mathieu Garon, a former starter for Columbus, played in 43 games last season, finishing 23-16-4. The two goaltenders may end up splitting time—making a good, not great—tandem in net.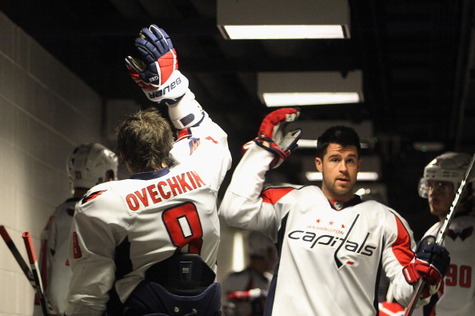 Bruce Bennett/Getty Images
"Greener! Ey yo!" "Oh, too slow, Ovi."
The Capitals struggled during parts of last season, but almost advanced to the Eastern Conference final.
The Capitals lost Alexander Semin up front but added playmaking center Mike Ribeiro through a trade. A Ribeiro-Alexander Ovechkin combination could be a match made in the hockey heavens if the two click. The Capitals also added the oft-injured but offensively talented Wojtek Wolski to the lineup.
The biggest addition for the Capitals blue line wasn't added through a signing or a trade, rather a clean bill of health for All-Star defender Mike Green. Karl Alzner and John Carlson look ready to step up for the Capitals on defense.
After trying a few youngsters in net, the Capitals hope playoff hero Braden Holtby will stick. Holtby may split time with fellow youngster Michal Neuvirth, who played in 38 games last season and 48 the season before.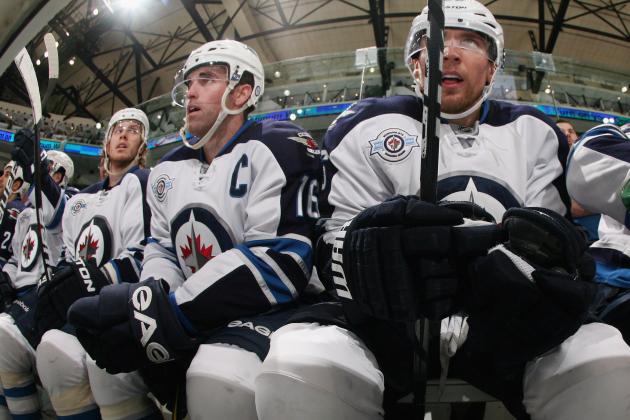 Bruce Bennett/Getty Images
I guess nobody noticed the "in bench" camera.
Winnipeg contended for a playoff spot up until the last few weeks of last season, and added some veteran talent to a young team.
Olli Jokinen looks to be the Jets No. 1 center after signing with the team this offseason. Joining Jokinen is a potential 20-goal scorer in Alexei Ponikarovsky. Winnipeg also inked 21-year-old Evander Kane to a six-year extension. Kane scored 30 goals last season.
The Jets kept much of the blue line the same, showing confidence in Dustin Byfuglien, Zach Bogosian, Tobias Enstrom and Mark Stuart.
Ondrej Pavelec serves as the big question mark for the Jets. The 24-year-old finished 29-28-9 last season, and needs to be even sharper with Al Montoya as a questionable backup.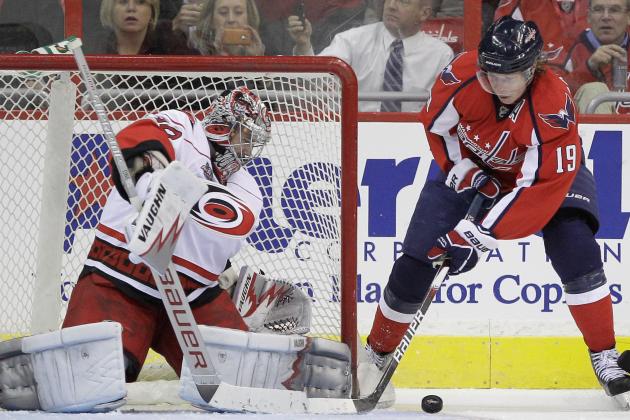 Rob Carr/Getty Images
Are the newly tooled Hurricanes ready for a playoff push?
The Capitals return to the top of the Southeast Division under the direction of Adam Oates and Tampa's improved defense and goaltending helps them eek into a playoff position. The additions of Jordan Staal and Alexander Semin help the Hurricanes, who still miss the postseason. Winnipeg just misses the playoffs again and Florida fails to match the success of last season.
1. Washington Capitals (playoffs)
2. Tampa Bay Lightning (playoffs)

3. Carolina Hurricanes (out of playoffs)
4. Winnipeg Jets (out of playoffs)
5. Florida Panthers (out of playoffs)