Dwight Howard and 10 Other NBA Players Who Will Finish Next Season on a New Team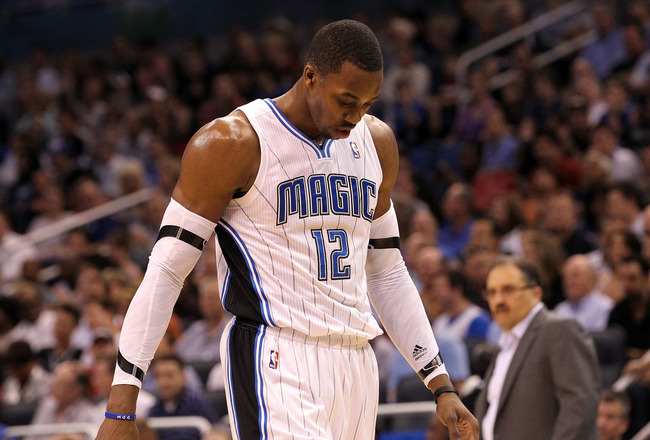 Sam Greenwood/Getty Images
Please, somebody, pinch everyone in the NBA community so we can finally wake up from the Dwightmare.
Okay, so the last few months have proven that ending the Dwight Howard saga in Orlando won't be that easy. However, the chances that Howard starts next season in a Magic jersey are minimal, and the odds that he remains with Orlando past next season's trade deadline are hovering at around zero percent.
The Magic simply can't afford to let the face of the franchise and their team's best player leave for nothing in return. Regardless of whether they make a trade tomorrow or wait until the final minutes before the deadline, management will deal Howard for the best offer on the table.
D12 is one player that is all but certain to finish next season with a new uniform, but there are some other candidates who could be dealt to a new team during the 2012-2013 regular season.
11. Jimmer Fredette, PG/SG, Sacramento Kings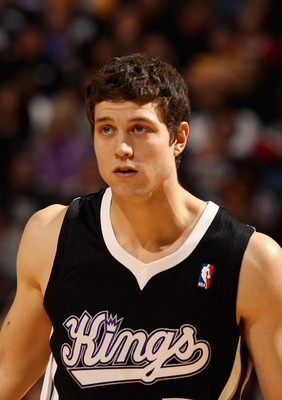 Ezra Shaw/Getty Images
The Sacramento Kings currently have Tyreke Evans, Marcus Thornton, Isaiah Thomas, John Salmons, Francisco Garcia, Jimmer Fredette and the newly-signed Aaron Brooks manning their logjam of a backcourt.
Sam Amick of SI.com wrote an article about Fredette's uncertain future in Sacramento following the Brooks signing, and it's hard to disagree with his assessment.
Last year's "Mr. Irrelevant" (final pick) in the NBA draft, Isaiah Thomas, had a tremendous rookie season.
The 5'9" point guard out of Washington outplayed Fredette, the 10th overall pick in the draft, in every conceivable way last season. Thomas even blocked more shots than Fredette, despite being five inches shorter.
The former BYU standout appears to be third on the point guard depth chart in Sacramento behind at least Thomas and Brooks.
In addition, Fredette shot a lowly 38.6 percent from the field for 7.6 points per game during his rookie year. A total of 362 NBA players shot a higher percentage from the floor than Fredette did a season ago. That's an alarming statistic for someone who was such a prominent shooting threat in college.
Based upon last season's statistics, Fredette is the worst player in the Kings backcourt. Of course, you could make a case for John Salmons, but the chances the Kings find a team willing to take on his ugly contract seems unlikely.
Although Fredette had a rough transition to the level of competition in the NBA, he's still a marketable guy with potential to become a solid role player.
Perhaps the Utah Jazz could bring him back to the state where he played his college ball, thus adding another shooter to split time with Randy Foye.
10. Hedo Turkoglu, SF, Orlando Magic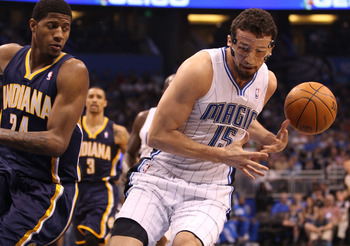 Marc Serota/Getty Images
When the Orlando Magic ultimately decide to trade Dwight Howard, they'll want draft picks, young players and cap relief in return.
Being able to shed themselves of Hedo Turkoglu's contract, which is set to net him more than $11.8 million next season, would go a long way to ensuring Orlando's need for cap relief as they rebuild.
Other names like Jason Richardson, Quentin Richardson and Chris Duhon have found themselves rumored to be packaged with Howard. Turkoglu, however, is set to make more than double the amount of money any of those three players are set to make next season.
Turkoglu has been a shell of himself since signing a contract with the Toronto Raptors, being traded to the Phoenix Suns and back to Orlando again. He used to be one of the league's best point forwards, as well as a clutch shooter, but those days seem to be well behind him.
It's safe to say Turkoglu will never get another contract as lucrative as the one he signed to play in Toronto. If Orlando can manage to package him in a Howard deal, it will ease some of the pain of losing the league's best center.
9. Gerald Henderson, SG, Charlotte Bobcats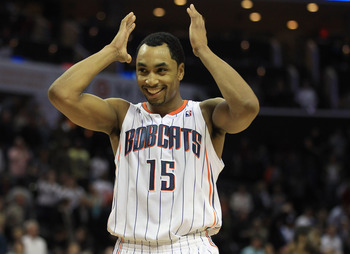 Streeter Lecka/Getty Images
You may be wondering why Gerald Henderson would be on a list of players who could end up on a different team at season's end considering he's one of the best players the lowly Charlotte Bobcats have on the roster at the moment.
That's certainly a fair thought process, but Henderson is entering the final year of his current contract. Unless the Bobcats agree to a contract extension with Henderson, he'll be a free agent next summer.
In addition, now that the Bobcats have swapped Corey Maggette for a shooting guard in Ben Gordon, their backcourt is a bit crowded with Ramon Sessions, Kemba Walker, Henderson, Gordon and rookie Jeffery Taylor.
It may be in the Bobcats' best interest to trade the 24-year-old Henderson this season while his stock is at its highest point.
It's safe to assume that Henderson would not be putting up 15.1 points and 4.1 rebounds per game if not for the minutes he's been getting in Charlotte.
If the Bobcats could trade Henderson for some value in return during his contract year, they won't have to worry about re-signing him next summer, and they'll still have plenty of players to man the guard positions.
Henderson likely will never develop into a star in the NBA, so if a contending team looking to add depth offers Charlotte an intriguing deal, I wouldn't be surprised to see the Bobcats part ways with Henderson, even though he's been a solid contributor.
8. Jose Calderon, PG, Toronto Raptors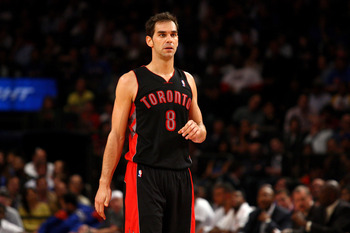 Chris Chambers/Getty Images
It doesn't appear as if the Toronto Raptors plan to exercise the amnesty clause on Jose Calderon moving forward. So despite speculation that they would, he'll be under contract for at least one more season.
Although Calderon isn't worth his 2012-2013 salary that will pay him more than $10.5 million, he's still a veteran presence who ranked fourth in the NBA last season, dishing out 8.8 assists per game.
There is a strong likelihood that Calderon simply ends up playing out the season in Toronto as the veteran backup to new addition Kyle Lowry. But there's still an outside chance he ends up somewhere else by season's end.
Tough injuries happen in sports (cut to Chicago Bulls fans nodding glumly). If a team contending for a playoff spot or for a championship sees a key piece go down due to injury, Calderon would be a tested veteran that a team could pick up via trade—that is, for a fair price, given his own injury troubles and his hefty contract.
Even if the Raptors can't find a team willing to take on the entirety of Calderon's salary, they could strike a deal by accepting to sponge a cut of what he's set to be paid.
It doesn't appear as if the Raptors intend to keep Calderon past next season anyway, so if they could pick up a late first-round pick—like what the Cleveland Cavaliers did last season by shipping Ramon Sessions to Los Angeles—Toronto would probably be happy with that type of deal.
7. Tayshaun Prince, SF, Detroit Pistons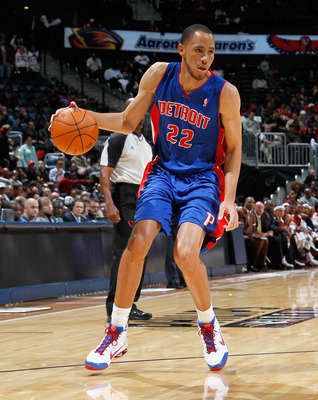 Kevin C. Cox/Getty Images
If the Detroit Pistons finally decide to embrace the future of the franchise by parting ways with one of the last remaining remnants of the 2004 championship team in Tayshaun Prince, they'll likely have a slew of trade candidates bidding for his services.
Not only is Prince a battle-tested veteran, but he's also a cagey defender and a ridiculously consistent offensive talent, having averaged 13 or more points per game in seven of his 10 NBA seasons.
Unlike Calderon and Turkoglu, Prince has a favorable contract that will pay him between $6.7 million and $7.7 million for the next three seasons. As one of the more consistent NBA players who played a significant role on a championship team in the past, that contract seems more fair than most around the league today.
If a team makes Detroit a fair offer, Prince could move on with a change of scenery while the Pistons continue to embrace the youth movement.
6. Tyreke Evans, PG? SG? SF?, Sacramento Kings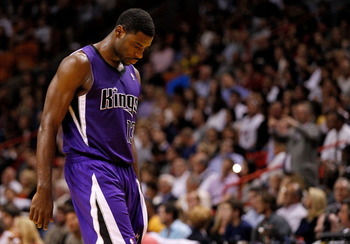 Mike Ehrmann/Getty Images
Following a stellar rookie year with the Sacramento Kings in which Tyreke Evans averaged 20.1 points, 5.8 assists and 5.3 rebounds per game, the former Memphis Tiger has regressed statistically for two seasons since.
One of the key factors holding back Evans' production appears to be his position. He's always been considered a tweener point guard/shooting guard, but now that the Kings backcourt plays host to Aaron Brooks and Isaiah Thomas, Evans may be asked to play small forward.
Even as a notorious tweener, small forward is certainly not the best fit for a guy like Evans, even if the point guard/shooting guard argument is a toss-up at this point.
Evans clearly has the most trade value of any player in the Kings' current backcourt given his pedigree as a great scorer, so to get the most in return, he may be the player out the door.
The Kings have a roster loaded with guards, so if they could trade Evans for equal value at a frontcourt position to place beside DeMarcus Cousins, the Kings need to pull the trigger.
5. Al Jefferson, PF/C, Utah Jazz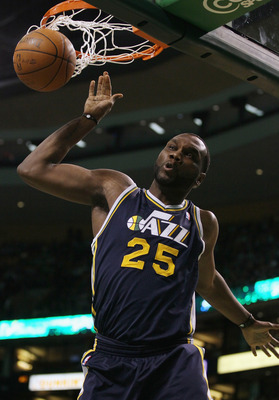 Elsa/Getty Images
Both Al Jefferson and Paul Millsap are studs in the Utah Jazz's frontcourt entering the final year of their contracts. It's unlikely that the Jazz will be able to retain both of these players long-term at season's end. Jefferson and Millsap are both the same age (27), so I estimate the Jazz will decide to keep Millsap for two reasons:
1. Millsap would likely come at a cheaper price when compared with Jefferson if both were to hit the free-agent market at the same time.
2. He's been a constant class act for the Jazz organization by paying his dues behind Carlos Boozer and Jefferson. That's not to say Jefferson hasn't been a class act, but Millsap also hasn't had any notable injury troubles (knock on wood, Jazz fans).
Both Millsap and Jefferson probably have identical trade value at this point, so it really depends on whether the Jazz would like to see Enes Kanter or Derrick Favors in the starting lineup in the future. Kanter would be better suited at center, while Favors would be better suited at power forward.
The Jazz may end up playing out the year with their current roster. However, if that leads to another No. 8 seed and first-round exit, what's the payoff?
In the NBA trade speculation department, here's a possible trade scenario for the Jazz moving forward:
Utah gets: Tyreke Evans and Jimmer Fredette.
Sacramento gets: Al Jefferson.
As a result of this fictitious trade, the Jazz wouldn't have to worry about losing Jefferson for nothing at the end of the season, while embracing their frontcourt depth led by Kanter and Favors. They'd also add some scoring punch in the backcourt with two guys who can play point guard or shooting guard.
The Kings would add a veteran post presence who they could slot beside DeMarcus Cousins (moving Thomas Robinson to the bench) in hopes of getting Cousins to mature. This would instantly even out the Kings' lack of frontcourt talent with the underrated backcourt they already have in place.
4. Brandon Jennings, PG, Milwaukee Bucks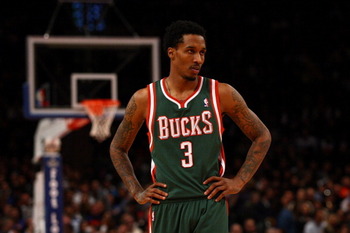 Chris Chambers/Getty Images
As is the case with a fair amount of players on this list, Brandon Jennings is entering the final year of his contract.
Jennings is set to make a little more than $3.1 million next season, so it's safe to say his annual salary will skyrocket next summer when he becomes a free agent.
At just 22 years old, Jennings is one of the most explosive score-first point guards in the league today. Although he has a reputation as a reckless and aggressive ball-handler, Jennings averaged a minuscule 2.2 turnovers per game out of the point guard spot a season ago.
That was easily good enough for top 10 fewest turnovers per game among starting point guards in the NBA last season.
There's little doubt about the skills Jennings brings to the table, but whether Milwaukee has a legitimate chance of retaining the young guard beyond next season is a mystery.
Chris Broussard of ESPN reported in February of this year that Jennings intends to keep all of his options open when he becomes a free agent.
"I am going to keep my options open, knowing that the time is coming up," Jennings told ESPN via an email interview. "I'm doing my homework on big-market teams."
Hmm. Doing his homework on big-market teams? Well, that certainly doesn't sound like a guy who plans to stick around in a small market like Milwaukee, but only Jennings knows what he's planning.
Those reports, coupled with the experiment of adding another score-first guard beside Jennings in Monta Ellis (a trial that already failed in Golden State with Stephen Curry and Ellis playing side by side), may lead to Bucks management making a tough decision on Jennings.
If Milwaukee is out of the playoff hunt before the trade deadline next season, getting value in return for Jennings would be better than losing him next summer for nothing in return.
3. Andre Iguodala, SF, Philadelphia 76ers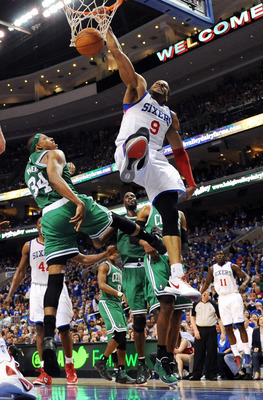 Drew Hallowell/Getty Images
Andre Iguodala seems like a yearly candidate to be traded before the deadline. This season is no exception.
According to Alex Kennedy of HoopsWorld, Iguodala was being shopped last year prior to the 2011 NBA draft. Kennedy wrote that the Los Angeles Lakers had the outline of a deal in place to send a sizeable package built around Lamar Odom in exchange for Iggy, but the deal fell through.
Kennedy wrote:
The Lakers were ready to pull the trigger on the deal and the Sixers strongly considered it. However, Philadelphia ultimately turned down the trade because they believed that Odom would be unhappy and unmotivated after being dealt from Los Angeles.
First of all, how about we give a round of applause to Sixers management, because they basically predicted the future now that we've seen what happened to Odom following the trade to Dallas.
Although the Iggy/Odom trade didn't come to fruition, Iguodala may finally find himself a new home this season based upon a couple of factors.
First off, the Philadelphia 76ers managed to stumble into the playoffs as a No. 8 seed last season despite considerable slides in April when they lost four straight games and three straight games. They went on to defeat the top-seeded Chicago Bulls, but it's fair to say they wouldn't have done so had Derrick Rose not gone down due to injury.
In preparation for next season, the Sixers have essentially replaced Elton Brand with Kwame "Bona Fide Scrub" Brown.
Milwaukee, Toronto, Brooklyn and even Washington appear to be improved from a season ago, so there's no guarantee that the Sixers will return to the playoffs next season, especially after letting go of Brand.
Secondly, the Sixers have a plethora of forwards jamming up the current roster.
Thaddeus Young, Evan Turner and Dorell Wright can all play the same position as Iguodala. That doesn't even mention the fact that the Sixers have two prominent rookies, Moe Harkless and Arnett Moultrie, who need playing time in order to develop and acclimate themselves to the NBA.
Iggy is a fantastic NBA player, as evidence by his making the USA Olympic basketball team this summer. However, given the youth Philly has, coupled with their low chances of winning a title, they'd be smart to part ways with a guy set to make approximately $15 million per season for the next two years.
2. Andrew Bynum, C, Los Angeles Lakers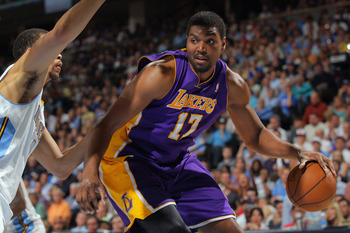 Doug Pensinger/Getty Images
If we're assuming that Dwight Howard will be traded at some point between now and next season's NBA trade deadline, it may be safe to assume that Andrew Bynum could be on the move as well.
If the rampant trade rumors are to be trusted, there's no secret the Los Angeles Lakers are interested in adding Howard moving forward, even if that means moving their 25-year-old breakout star.
Although Bynum had a fantastic lockout-shortened season where he posted career highs of 18.7 points and 11.8 rebounds per game, he's had trouble staying healthy in his career and hasn't shown a great deal of maturity.
While knocking Bynum's maturity appears laughable given the current D12 saga, at least Howard has shown the ability to be a team's alpha dog. Bynum hasn't had the opportunity to show that himself with Kobe Bryant and Pau Gasol running the show, so there's no frame of reference as far as Bynum's alpha dog potential goes.
Bynum is entering the final year of his contract, just like Howard. However, with the championship window closing quickly on the Lakers backcourt of Bryant and Steve Nash, it's safe to say they'd rather have Howard to increase their title odds, even if it's just for one season.
1. Dwight Howard, C, Orlando Magic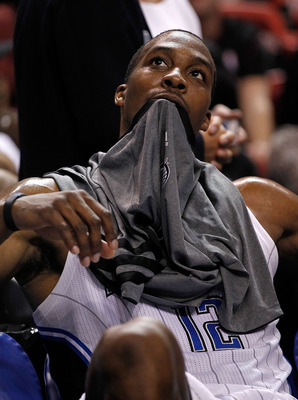 Mike Ehrmann/Getty Images
As a general rule of thumb, I try to avoid saying things with 100 percent certainty because you never know what can happen.
Who would have thought that Albert Pujols would sign with the Los Angeles Angels months ago? Who could have predicted that Steve Nash would figuratively stomach punch the Phoenix Suns by joining the rival Los Angeles Lakers? Well, you get the point.
Anyway, despite the rule, Dwight Howard leaving Orlando before next season's trade deadline appears to have a 99.9 percent likelihood.
As if Howard hasn't shown enough disrespect toward the Orlando Magic organization and their fanbase in recent months, according to Josh Robbins of the Orlando Sentinel, D12 won't even appear at his annual basketball camp for children in Orlando. Rookie forward Andrew Nicholson will reportedly take Howard's place.
Honestly, it's hard not to question whether this guy's talent outweighs his bush-league actions off the court.
Sure, Dwight, scorn the city and the fans (you wouldn't be the first), but leaving the children and their families high and dry when they paid their hard-earned money to sign up for your basketball camp? That's about as low as it gets, even if you are rehabbing a surgically-repaired back.
Why any team in the NBA would put up with this guy after all he's put the Orlando community through is beyond me.
Oh, so you're telling me he averaged 20.6 points and 14.5 rebounds per game last season? Well, maybe we could put up with just a little more nonsense.
You can follow me on Twitter @benlebo
Keep Reading