Fantasy Football's Most Overrated Statistic: Total Fantasy Points
2011 Fantasy Points Leader Aaron Rodgers
Denny Medley-US PRESSWIRE
Mark Sanchez was a better fantasy football quarterback than all but nine players at his position in 2011.
Beanie Wells is more valuable than Chris Johnson.
Steven Jackson, Frank Gore and Michael Turner are getting a bad rap; they were all top-12 running backs in 2011.
Total fantasy points is the first number most fantasy drafters gaze upon in their preseason magazines, blogs and rankings. Owners judge the cumulative total of a player's points as the be-all and end-all of worth. But the total is not what matters. The total is a lie.
Nearly every fantasy football league is played on a week-by-week basis, typically in head-to-head format. This is not "rotisserie" style fantasy baseball where statistics are gathered as a cumulative rankings. Fantasy owners seek dominance over a singular opponent each week. As such, weekly and/or average fantasy points light the way to victory, not the total.
These four cases prove how owners fool themselves by looking at the most overrated statistic in fantasy football: total fantasy points.
Week 17
Michael Turner, Week 17 versus Tampa Bay
Kevin C. Cox/Getty Images
There's a reason very few fantasy leagues use week 17 as their championship week. Many stars sit out week 17 to rest for the playoffs or ensure health for next year. Aaron Rodgers did not play week 17, a game in which Matt Flynn set single-game passing records and lifted the Packers' passing touchdown total to 51 for the year.
Aaron Rodgers essentially missed out on half a dozen more touchdowns just to get ready for the playoffs. Those numbers do not show up in his total fantasy points, yet they would make his 2011 campaign the greatest of all time.
The Eagles were nowhere close to the playoffs but they rested LeSean McCoy, just to make sure he did not suffer a tragic injury (similar to Adrian Peterson tearing his ACL and MCL in week 16).
Michael Turner, on the other hand, had his only noteworthy performance of the final six games in week 17. He put up 29 fantasy points on a Tampa Bay team that had quit on its head coach and chose to rest numerous starters. Turner had exactly 29 points in his previous four games.
These numbers show how much total points can be skewed by week 17, the only week in the NFL season that does not matter for most, if not all, fantasy owners. Owners must raise an eyebrow when a large percentage of a player's total points come in the final week of the year.
Inconsistent Production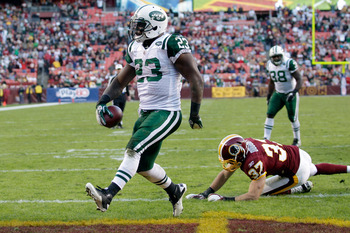 Shonn Greene, Week 13 versus Washington
Rob Carr/Getty Images
Shonn Greene scored three touchdowns against the Redskins in week 13. In week 14, he put up 25 points, giving him a consecutive second-place and first-place finish among weekly running back ranks. Guess how many other times he was in the top-10 of weekly running back scores...
You guessed it: Zero.
Yet Shonn Greene finished 18th among running backs for the year. He played every single game and only scored multiple touchdowns in one. One game... and then he had a solid game the next week. In 14 other weeks, Shonn Greene owners were less than thrilled to have started the plodding running back. But total fantasy points would lead one to believe he was a solid RB2. It would lead one to believe he should be started every week, then lead to disappointment in all but two matchups.
Inconsistent production, which typically can be associated with inconsistent usage in an offense, distorts the value of total fantasy points. Owners must beware of players whose production comes from only one or two huge weeks.
Consistent Mediocrity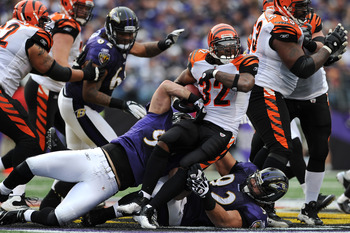 Cedric Benson, 2011
Patrick Smith/Getty Images
The previous two examples referred to Michael Turner and Shonn Greene, players many people are down on this year. So here is an example from a player without any bias; a player, in fact, without a team currently:
"Cedric Benson scored more fantasy points than all but 22 running backs in the league in 2011."
Yes, Benson scored 151 points in his 16 games for the year. He was consistent, only having one week in which he scored one or zero points. But he was also consistent in his inability to put up "week-changing" performances for fantasy owners.
Benson topped out at 18 points in week 12 against Cleveland, a game in which he rushed for an anemic 41 yards on 15 carries. He just scored two touchdowns, which made this single week above-average. For the rest of the year, he had only five other games in double digits.
Would a player like this be worth adding to a roster? Of course. Would a fantasy owner ever be excited to start a player like this? Absolutely not. Yet the total fantasy points would lead one to believe he is a low-end RB2. In this case, total fantasy points would stick the owner with a consistently mediocre second running back.
High Upside "Injury-Prone" Players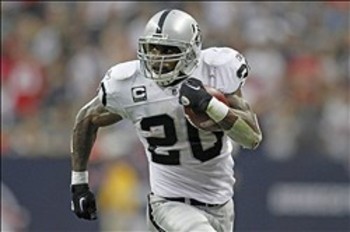 Darren McFadden
Brett Davis-US PRESSWIRE
Darren McFadden scares fantasy owners.
He gets hurt. That's all. He just gets hurt a lot. Can anyone complain about anything else with his game? He was a top-10 running back in every full game he played in 2011 and was the number one back twice in those games. He is just "injury-prone."
But this "injury-prone" running back was a member of a very high percentage of winning fantasy teams in 2011, despite only playing in six full games and an abbreviated seventh. His total fantasy points did not help teams. Run DMC's eventual injury probably facilitated a waiver move for his backup (Michael Bush had amazing value after McFadden went down) or a young up-and-comer like DeMarco Murray, who put up week-winning numbers for owners in the weeks he played before going down to injury himself.
These injuries will not kill the savvy fantasy owner. But what will? Inconsistent production and consistently mediocre performances. If (or when) a dynamic playmaker goes down for the year, fantasy owners can sigh in relief because there was never a "dud" start: a week the player started and did not perform. Every time he plays, McFadden is worth the start.
Fantasy points label the injury-prone stud as "risky," but total points lie. In this example, the "risky" player is actually "consistent", "reliable" and worth a first-round pick. A first-round pick for an owner who realizes just how overrated total fantasy points really are.
Keep Reading