The NFL's 5 Best Young Offensive Studs That No One Is Talking About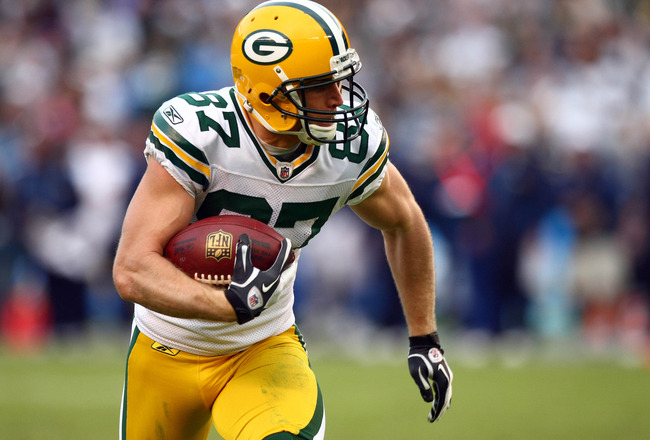 Donald Miralle/Getty Images
Who's Next?
Every year, the ESPN the Magazine series asks and highlights which groups of young men and women, throughout sport, will ascend to be the next LeBron James or Aaron Rodgers. Some have been obvious—LeBron James (2003), Alex Rodriguez (1998). Others have been flat out incorrect—Keith Van Horn (1999), Kaz Matsui (2004).
Behind the "next" crowd, there's another crowd, a crowd of fantastic young athletes who never get the publicity they deserve. These athletes get little to no hype. Once the draft shimmer wears off (if there was any to begin with) they get lost in the national shuffle between Tim Tebow features and otherwise-average quarterbacks.
These players are not forgotten, they're much to talented for that. Rather, they're simply overlooked while others hog the spotlight.
Who is in the next group of NFL offensive stars?
5. C.J. Spiller: Buffalo Bills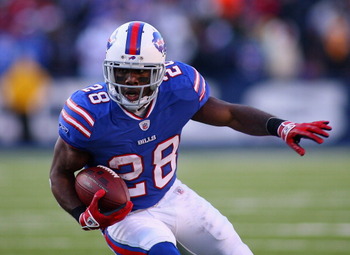 Rick Stewart/Getty Images
C.J. Spiller was drafted ninth overall in 2010 and had plenty of hype surrounding him after a 2009 season at Clemson in which he scored a touchdown in every game, was a finalist for the Doak Walker Award and was a consensus All-American.
His rookie season did not go as fans would have hoped.
Spiller only played 242 snaps in 2010 (all snap counts courtesy of Pro Football Focus, paid) and wasn't effective when he did play. His 3.8 yards per carry belied his home-run ability and his 24 receptions failed to showcase what a true multidimensional threat he can be.
2011 was a different story.
His snap count went up to 470 and his yards per carry jumped to 5.6. He also grabbed 39 receptions—not a major jump from 24, but it's in the right direction. Moving forward, expect to see Chan Gailey using C.J. Spiller (along with Brad Smith) in a myriad of ways.
Spiller has always been a fantastic athlete, but now that his role in the Bills' offense is clearly defined, he will become a fantastic offensive weapon as well.
4. Kyle Rudolph: Minnesota Vikings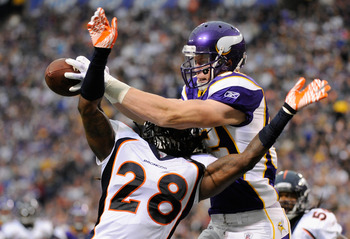 Hannah Foslien/Getty Images
Kyle Rudolph was drafted at the top of the second round in 2011 and the only reason he didn't go much higher was a hamstring injury that cut his final college season at South Bend short. Still, Rudolph was the first tight end off the board and was charged with helping Christian Ponder transition to the NFL.
Rudolph's own transition was slower than expected however, as Ponder only targeted Rudolph 33 times. It didn't help that the tight end's snap count was 493, compared to Visanthe Shiancoe's 806.
With Shiancoe gone, however, Rudolph looks to be the clear-cut starter in Minnesota and have an expanded role—whether or not John Carlson is healthy.
With exceptional athletic tools and some of the best hands in all of football, Rudolph will step up into the big time in a big way.
3. Marshal Yanda: Baltimore Ravens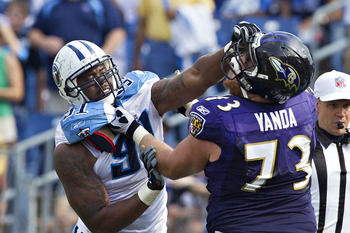 Wesley Hitt/Getty Images
So far, we've talked a lot about how improving snap counts can lead to huge dividends for promising players. Marshal Yanda might be the polar opposite, however, as he played 1203 snaps last year for the Baltimore Ravens and did so extremely well.
Yanda hasn't exactly toiled away in complete obscurity, as 2011 ended in a Pro Bowl trip and an All-Pro nod for Yanda. As a right guard, though, Yanda might as well be a secret agent; sure we know he's out there doing good work, but no one knows what he looks like and few (if any) can remember his name.
So much has been made of Ben Grubbs' departure, Michael Oher's disappointing career, and Bryant McKinnie's metabolism (read: hamburger-related) issues. Yet, there has been little discussion about how the Ravens are returning one of the best guards in all of football to continue paving the way for one of the NFL's best running backs, Ray Rice.
Yanda caught the attention of some people in 2011. In 2012, he'll make sure opponents remember exactly who he is.
2. Marcel Reece: Oakland Raiders
NFL Photos/Getty Images
The great part about sports fans is their incredible love and loyalty for their players. Case in point, when I said (on numerous occasions) that Carson Palmer has a lack of truly great weapons to throw to, Raiders fans have come out of the woodwork to hold up Marcel Reece as Palmer's new best friend.
Hold on one minute. Let's not be too hasty.
Last season, Reece rushed the ball 17 times, and had 27 receptions. That means that Reece, playing in 12 games last season only touched the ball three to four times a game.
So, don't run out and grab Reece in your fantasy leagues or expect him to shoulder the Raiders' offensive load (like, apparently, some of their fans are).
The upside is that Michael Bush is gone and Reece is expected to pick up some of the slack. He certainly has the ability to do so. His yards per carry (6.6) and yards per catch (11.7) are both incredible.
If he can extend that, at all, with a higher workload, Reece will give Raider nation plenty of ammunition when guys like me point out there isn't elite offensive talent in Oakland.
1. Jordy Nelson: Green Bay Packers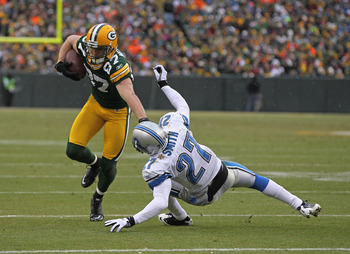 Jonathan Daniel/Getty Images
Green Bay Packers wide receivers coach Edgar Bennett recently called Jordy Nelson an elite receiver. While I wouldn't go that far, I too am extremely high on Nelson's chances to take another step forward this season.
Aaron Rodgers has an embarrassment of riches at receiver. The fact Nelson has been able to ascend past names like James Jones, Donald Driver and battle Greg Jennings for Rodgers' attention has been remarkable.
At 6'3" and 217 lbs., Nelson has all the tools of an elite receiver. While some Packers coaches are probably premature in anointing him, it isn't absurd to believe he'll reach those heights. The K-State product runs great routes, has even better hands, and as Alphonso Smith found out, he doesn't go down easily.
Nelson, like the rest of the offensive studs on this list, are ready for prime time.
Michael Schottey is the NFL National Lead Writer for Bleacher Report and an award-winning member of the Pro Football Writers of America. Find more of his stuff alongside other great writers at "The Go Route."
Keep Reading