The 10 Best NFL Wide Receivers RIGHT NOW
As a fantasy football fanatic, it doesnt matter what time of year it is, I want to know who is the best at each position. One of my fantasy leagues gives nine points for all WR touchdowns, and so I believe it is key to have the the best WRs you can find.
Therefore, despite any NFL competition being months away, I will count down from 10 to one, my opinions on the 10 best Wideouts in the NFL today.
Honorable Mention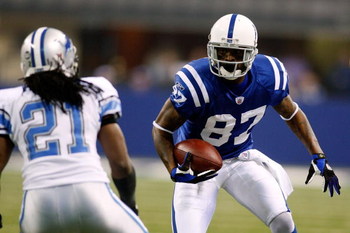 The following are a few guys that did not make my top 10.
In my opinion, Reggie Wayne is the best wideout that did not make my top 10.
I am partially biased, because I can not stand Peyton Manning, but the fact is Manning is a superstar and I think without Peyton, Wayne's numbers would not be as high.
Don't get me wrong though, Reggie Wayne is a true stud. A few others to make Honorable Mention and that could potentially be Top 10 at some point are:
Roddy White, Wes Welker, Dwayne Bowe and Lee Evans.
10. Marques Colston
Marques Colston cracks my top 10 because despite putting up huge numbers his first year (as a seventh-round pick!), I believe he is still underrated.
He was injured for a good portion of the 2008 season, but he played through some of those injuries and when he was at 100 percent or close to it, he put up great numbers.
It helps when you have a quarterback who throws for 5,000+ yards, but nonetheless there is no questioning the talent of the Saints No. 1 wideout.
9. Brandon Marshall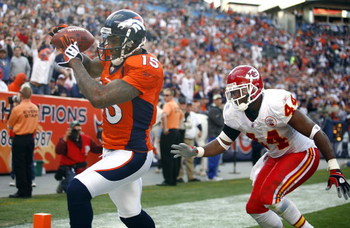 I have Brandon Marshall pegged at No. 9, but I believe he has the potential and skill to be a top three WR in the NFL. Marshall ended the 2008 season third with 104 catches, and he missed the Broncos first game due to suspension.
In Week Two, his first game of the season, Marshall went hog wild reeling in 18 catches! He finished the season with over 1,200 yards but just 6 TDs. As he and young QB Jay Cutler continue to mesh, Marshall should become an elite WR, and put up 10+ tds for the next few years.
8. Randy Moss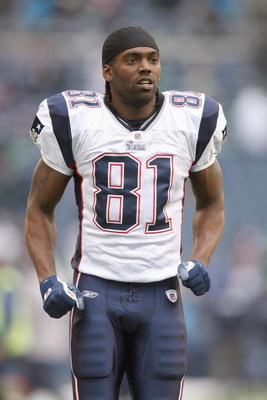 Now, some of you may be thinking Randy Moss, eighth?!?!
And I have to say, I agree, I too am shocked, I have him this low, but the fact is that the NFL is loaded with young WR talent.
However there is no doubting that Randy Moss is one of the best WRs OF ALL TIME.
Moss is 32 and no doubt beginning to approach the end of the line, but it doesnt matter who his quarterback is, (well other than the combination of QBs he played with in Oakland) he is still one of the most gifted WRs in the league, and will put up great numbers for a few more years.
7. Calvin Johnson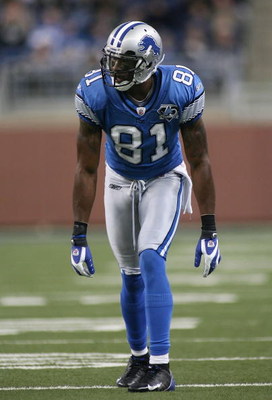 In 2008, of all players with at least 60 catches, Calvin Johnson was second in yards per catch. He accumulated over 1300 yards and tied for first with 12 receiving TDs. Those are impressive numbers.
Now think about the fact that he put up those numbers with guys like Dan Orlovsky, and Drew Stanton at QB, (Culpepper only played five games with Detroit and threw just four TD passes), that makes those number that much more impressive.
Can you imagine what this guy could do with a middle of the pack QB?
6. T.O.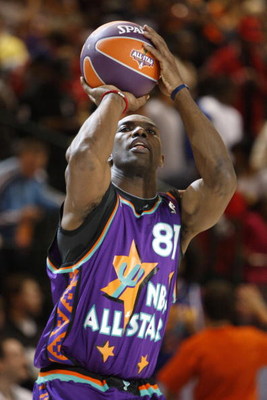 Ok, if I was naming off my 10 favorite dunkers, TO might make that list also. This guy is just a freakish athlete.
He, like Moss, is getting up there in age as well, but there is simply no denying the presence he has on (and unfortunately off) the football field.
He can dominate a football game like very few WRs I have seen. Whether you love the guy, or wish he would just go live in a cave, he is still one of the best WRs in the NFL.
5. Anquan Boldin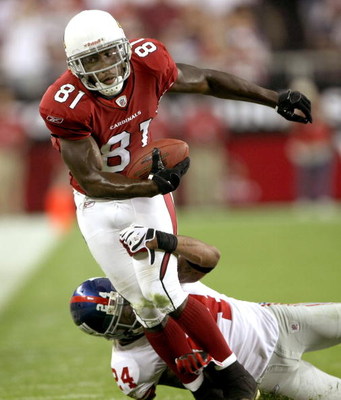 Anquan Boldin is No. 2 in the Arizona Cardinals' one-two punch at WR. It's a scary thought that they actually have someone even better than him lining up on either side of him on offense.
This guy is one of the toughest WRs in the NFL. For those that missed it, Anquan took one of the nastiest hits I have seen in a while, in a blowout game against the New York Jets.
I would have bet money his season was over. Less than a month later, he was back on the field. Boldin missed FOUR games, (thats 1/4 of the season!) and still put up over 1,000 yards and was second in the league with 11 TDs.
Cardinals fans are hoping and praying this guy is with them next year, or else their chance to get back to the Super Bowl will be extremely low.
4. Steve Smith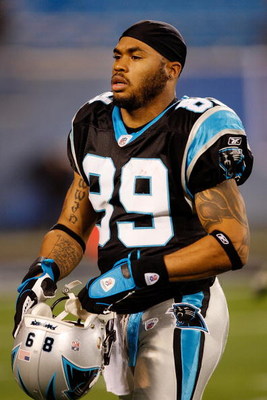 There are many people that will argue Smith is the best in the game. I guess no matter what, there is an argument that supports that.
If you exclude the 2004 season in which Smith played just one game, he has averaged 1,252 yards and eight TDs the past five seasons.
In 2005, he had one of the best years a WR can have, totaling just under 1,600 yards and scored 12 times. Perhaps the most impressive thing about Steve is his size. He is listed at 5'9" and 185.
Personally I am 6'1", 185. But I assure you I would have trouble dominating a group of Pee Wee football players. His speed and strength are possibly tops in the league, and had he not made two of the most spectacular catches in Week 13, which handed my beloved Packers yet another heartbreaking loss, I might have even ranked him higher.
3. Greg Jennings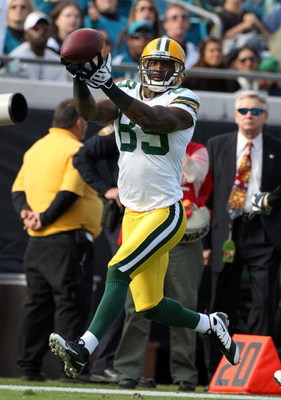 I admit, I am slightly biased towards Mr. Jennings; however, I truly believe if I was not a Packers fan, I would still have him in my top three without a doubt.
This guy has the potential to be the best WR in the NFL. I am able to watch him, or track his stats, a little bit more than most WRs, and the things he does for the packers are incredible.
Sure, it helps to have some guy named Favre throwing to you, as well as a very impressive rookie, Aaron Rodgers, but Jennings' talent is undeniable. He finished the season with just under 1,300 yards and eight scores.
He is one of the fastest WRs in the league and has an excellent pair of hands.
2. Andre Johnson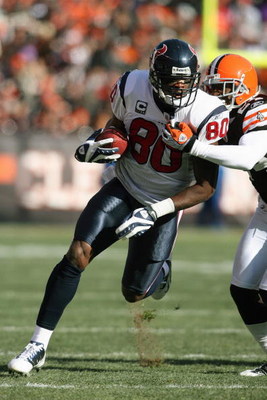 I wanted to make Andre 2, and Greg Jennings 2A, but after looking at the stats, even I can deny the talent Johnson has.
In 2008, he led the NFL in catches (115) and yards (1575) and scored 8 TDs for the Houston Texans.
He is an absolute monster and in many peoples opinions, should be ranked number 1. The reason I have him listed second is because of his inconsistency.
Hard to believe a guy with nearly 1600 yards is inconsistent, I know. But Johnson had seven games of 66 yards or less.
Now sure, 50 or 60 yards in a game, is fairly solid and I realize everyone of those games was against an above average pass defense, however I believe to be the best, you have to have a little more consistency.
In other words, I am not saying he should put up 207 yards every week, like he did against the Titans in week 15, just a little more consistency on a week to week basis, and I will surely rank him as the best.
1. Larry Fitzgerald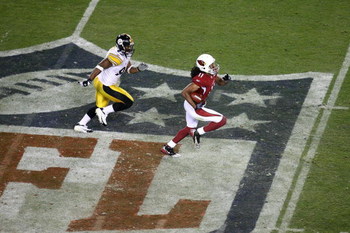 Ah yes, who can forget this image of Larry streaking towards the endzone, with just a few minutes remaining in the superbowl, to give his Cardinals the lead.
Absolute chaos erupted all over the state of Arizona, as historically one of the worst NFL teams of all time, was just minutes away from a super bowl victory.
Larry is my number 1 WR in the NFL. I live in Arizona, though am not a cardinals fan, am able to watch what he does every week, and there is no word in the English language to describe how incredible this guy is. Hands down (no pun intended), he has the best hands in the NFL. He is quick, runs great routes, and has the best leaping ability of any WR I have seen.
I give him the nod over Andre for best WR because Fitz is more consistent. Sure, he had 5 games in which he ended with under 70 yards, but he scored at least 1 TD in four of those games. To me, this means he had an impact on 15 of the 16 games he played in, and that is something no other WR in the NFL (except perhaps Hines Ward with his vicious hits) can say.
There you have it, my 10 best WRs in the NFL.
Keep Reading