3 Suggestions for New Cleveland Browns Owner Jimmy Haslam III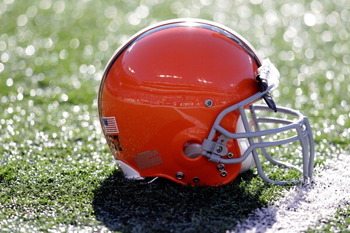 Rob Carr/Getty Images
An Open Letter to New Browns Owner Jimmy Haslam III:
Care Of: Cleveland Browns Media Relations Department (i.e. probably some summer intern)
Dear Jimmy, and hello summer intern,
Congratulations on your reported $1 billion purchase of our beloved Cleveland Browns.
First week recap: Chris Gocong, WLB, out for season with Achilles tear. Top first-round 2012 draft pick RB Trent Richardson sent to Florida for a knee procedure. Up-and-coming star, and 2010 first-round draft pick CB Joe Haden allegedly popped for Adderall, facing a four-game suspension.
Add to that, 2011 first-round draft pick DT Phil Taylor out for a portion of season with a torn pectoral; and, veteran SLB Scott Fujita still facing three-game suspension.
And you, Mr. Haslam, now find yourself facing the specter of a possibility that none of the Browns' three top draft picks over the past three years play in the season opener.
Welcome to Cleveland. It's about as typical a welcome as anybody could've expected.
I'm being sardonic, of course, but that's all part of it.
But on the other hand, up to two of those top draft picks could still play. And optimism is part of it too.
So with all that in mind, let me enthrall you with three suggestions as you ease a new groove into the owner's seat.
1. Wait Until the End of the Season to Evaluate Current Rebuilding Effort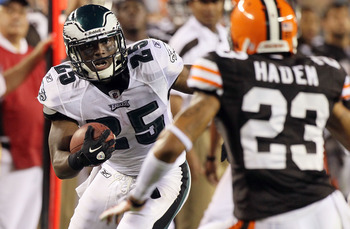 Jim McIsaac/Getty Images
You aren't letting much slide about what your intentions are after the ownership deal is approved by the league in October. You called it "inappropriate" to talk about now.
I'm sure you're interested to see if President Mike Holmgren and GM Tom Heckert have going what they think they have going.
Don't be too hasty, I'd caution, especially if you're planning on leveling the weights on the question of Holmgren's head as early as October.
If all the players I mentioned are out, or even some of them, those early games are going to be even harder than imagined.
Heckert has overhauled this team these past three drafts and offseasons.
The Canton Repository's Steve Doerschuk points out only five Browns attending 2012 spring practice started on the team that played the last game of the year against Jacksonville on Jan. 3, 2010.
There are still a number of depth gaps, however, as the team is young.
It's a long season, and there will still be plenty of opportunity for this team to get together in a good way.
2. Learn Browns History to Understand Major Role in Community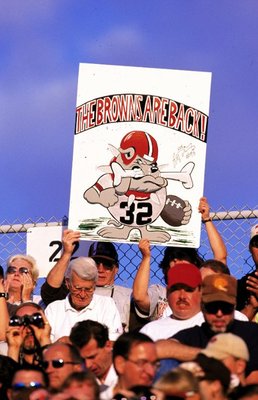 Brian Bahr/Getty Images
When you were talking during your press conference (via ClevelandBrowns.com) about stuff you have to learn about you mentioned community partnerships, local figures, etc.
But I'd like to urge you also to learn some about the great Cleveland tradition you mentioned.
We've all seen the relentless low-light reel of The Catch, Red Right 88, The Drive, The Fumble, The Shot, The Move, The Decision.
But there's also this whole great legendary history starting with Paul Brown and Otto Graham, Marion Motley, Lou Groza, Dante Lavelli, Frank Gatski, etc. The Browns' 16 Hall of Famers.
Those first Browns went to 10 straight championship appearances, winning seven of them (4 AAFC Championships, 3 NFL Championships).
Then there's the Jim Brown era and the '64 'ship, the Kardiac Kids, Dixon and Minnifield and the birth of the Dawg Pound, The Wizard of Oz, Bernie Bernie and so much more.
When you add it all up you see why Cleveland bleeds orange and brown.
3. No Need to Change the Uniforms, Just Bring Back the Orange Pants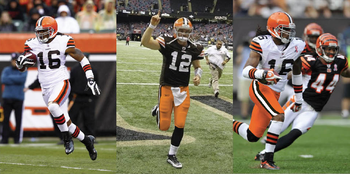 Left photo by Tyler Barrick/Getty Images. Middle photo: A mock-up of Colt McCoy wearing orange pants from NFL Uniform Concepts on Flickr. Right photo from ClevelandStrikesBack.com. All due acknowledgement to the NFL and Cleveland Browns.
OK, lastly, you mentioned "marketing" in your press conference and you mentioned your company's logo and changing that (Cleveland.com), and then Tony Grossi said you told him you might use focus groups (ESPN Cleveland).
So I'm just gonna throw this out there.
I'm kind of a traditionalist. I like the helmet logo because it's not some anthropomorphic decapitated cartoon animal head. It's a helmet. It represents football players on a football team.
I like the other logos too—the elf, the Dawg Pound symbol, the "B" football—but I like the helmet as the official logo.
And there's no logo on the helmet because the helmet is the logo.
And as for the uniforms, I suggest there's no need to revamp much, just bring back orange pants. You're a Tennessee guy, you've got to dig on the orange.
Cleveland sportswriter Jonathan Knight wrote this stellar piece for TheClevelandFan.com on how the Browns actually have the best winning percentages wearing orange pants. Brown jersey-orange pants stands at a relatively whopping .609.
He wrote that a couple years ago, but as the Browns haven't worn orange pants, and have been mostly losing, I think it still holds true.
Anyway, we're all pretty excited to have you in Cleveland so Huzzah to you sir.
Welcome to Believeland. You will be traveling at remarkably fast speeds through tremendous highs and lows. Keep your arms and legs inside the car at all times and enjoy your ride at America's rockin' rollercoast. Go Browns!
Keep Reading

Cleveland Browns: Like this team?