Jacksonville Jaguars Training Camp 2012: 5 Bold Preseason Predictions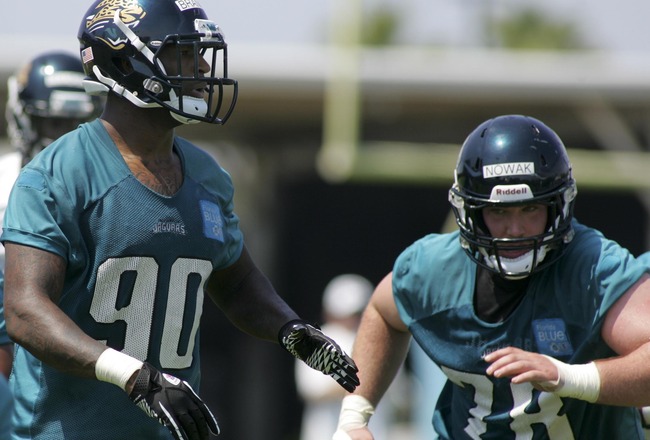 Phil Sears-US PRESSWIRE
Now that the Jacksonville Jaguars are one player away from being a full unit, the thought of playing their first preseason game against the New York Giants is on everyone's mind.
Can the Jaguars show a little more than a few scrimmage plays in their first dalliance on the playing field against the Super Bowl champs? Last season, New England put up more than 40 points against the Jags and made the hometown team appear like second-string high school fodder.
This is not last season's team by any stretch. There are new faces, a new game plan and a new hope for success. They may be all in right now (with the exception of Maurice Jones-Drew), but every team in the NFL is even right now and the thought is that every team can win a Super Bowl.
Then reality sets in.
While the defense looks pretty good with nine starters returning, the possibility of two new faces playing in key positions and the offense looking like it will need some extra reps to get things smoothed out, there are a few position battles worth noting.
We all know where our key players will be starting day, but there may be a surprise or two once the final roster spots are announced. Here are a few of them.
Andre Branch Will Lead the Team in Sacks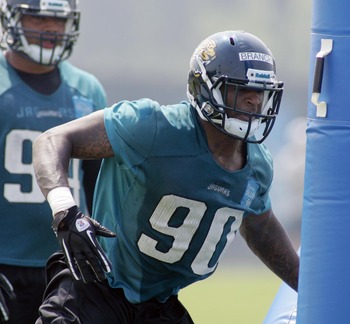 Phil Sears-US PRESSWIRE
The second-round selection out of Clemson has been a nice surprise in camp.
Can he be the Tony Brackens-type player this team needs?
He has freakish arms and looks to be very fast on the edge. Can that translate into a 10-12 sack season?
If it does, then Branch will exceed expectations and possibly form one of the better rush-end combinations with Jeremy Mincey.
Mike Thomas Does Not Make This Team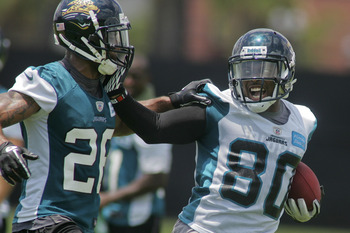 Phil Sears-US PRESSWIRE
Mike Thomas has had a down camp and did not play up to expectations last season.
Although he led the team in receptions, Thomas has been on a downward trend since signing his new contract last season.
Thomas, who signed a four-year deal as a rookie in 2009, was given a three-year extension worth $18 million that includes $9 million in guaranteed money. The new contract runs through the 2015 season.
With new receivers signed in free agency (Laurent Robinson and Lee Evans) and Justin Blackmon on board, Thomas could be fourth on the depth chart at best.
Add Cecil Shorts and Brian Robiskie to the mix and Thomas could be the odd man out.
Derek Cox Proves He Belongs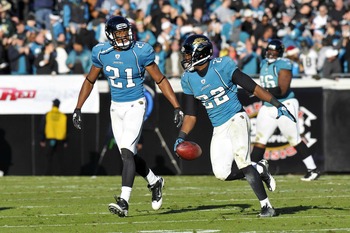 Fernando Medina-US PRESSWIRE
I just like the way he plays the game.
But he needs to stay healthy to remain on the field.
When he wasn't nursing injuries last season, Cox was the best defender in a decent Jaguars secondary last year.
Will he finally reach his potential? If he stays healthy and continues to develop, there should be a spot for him in on post-season award lists.
Palmer Beats Henne for Backup Role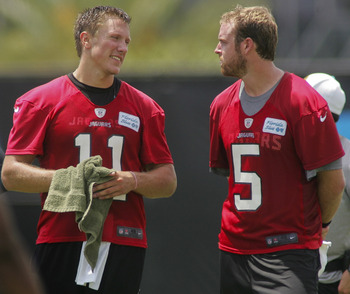 Phil Sears-US PRESSWIRE
Everyone in the national media seems to think Henne is the replacement to Blaine Gabbert for the starting spot on the Jaguars roster.
Henne needs to worry about Palmer first.
In camp, all three passers look good and bad at times. But in the scrimmage last Friday night, it was Palmer that may have looked better than both Gabbert and Henne.
This team will move forward with Gabbert as the starter, but I have a sneaking suspicion the battle for the No. 2 slot is closer than we might think.
Russell Allen Proves to Be a Great Starter at Linebacker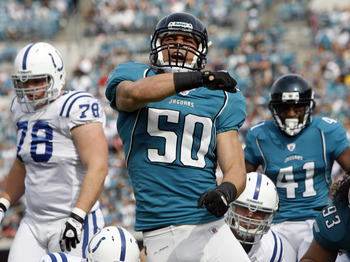 Matt Stamey-US PRESSWIRE
This is a move by default, but will payoff in spades.
Allen is a key backup for the team and an important special teams player. But because of concussion issues for last year's starter Clint Session, Allen moves into Session's slot and proves he belongs as a starter.
There are few players on this team who year after year go out and perform at their top speed. Allen is one of them.
It is a shame, however, that an injury may keep Session on the sideline and potentially end a career. Both are key players for the Jaguars defense.
Keep Reading

Jacksonville Jaguars: Like this team?