PGA Championship 2012 Pairings: Breaking Down the Most Interesting Groups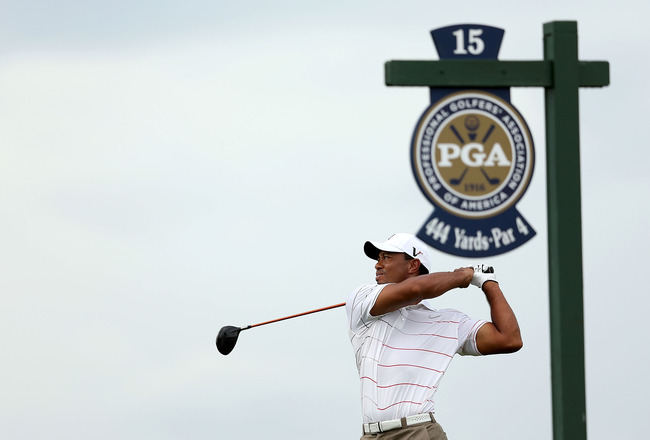 Ross Kinnaird/Getty Images
It's always interesting to see who the PGA puts together in trios for their high-profile major championship.
Many thought that the USGA was trying to break gallery records in this year's U.S. Open when they paired together Tiger Woods, Phil Mickelson and Bubba Watson.
A pairing can affect the game a lot. A pairing with a high-profile player like Tiger Woods or Phil Mickelson can lead to a gallery in the hundreds. With scores of people following the golfers, many things can start to change. Players can get more nervous, background noise will increase and there will be more obnoxious "Get in the hole!" screamers.
At the end of the day, golf is a mental game and you need to block everyone else out.
Here are the most interesting pairings for the first two rounds of the PGA Championship.
All tee times are for Thursday in ET.
8:30 a.m.: Keegan Bradley, Martin Kaymer and Tiger Woods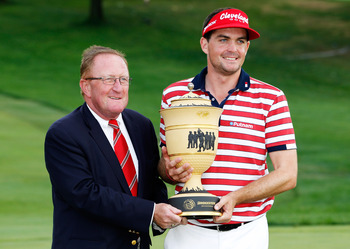 Gregory Shamus/Getty Images
This group will tee off on the 10th hole bright and early at 8:30 a.m. on Thursday morning.
The Tiger factor alone will ensure that the gallery following this trio will be one of the largest of the day, which is even more of a bet considering that Tiger is the favorite to win the tournament.
Keegan Bradley, however, is no slouch, and many eyes will be on the young player this weekend. He currently holds the Wanamaker Trophy, and he is coming off a definitive win at the WGC-Bridgestone Invitational last week.
Then you have Martin Kaymer. The average golf fan may not know much about the quiet German golfer, yet he won the 2010 PGA Championship.
Just like that, we have a trio of three major winners (all of whom have won the PGA Championship) and one of the most infamous golfers of all time.
Yeah, expect some TV cameras following these three.
1 p.m.: Charl Schwartzel, Rickie Fowler and Nicolas Colsaerts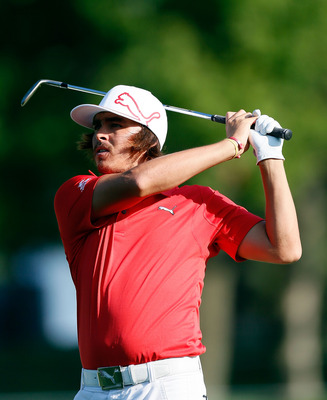 Sam Greenwood/Getty Images
Not the biggest household names in golf, but all three of these men have back stories, followings and wins on their résumés.
Charl Schwartzel is a quiet player, and he seems like a quiet man, too. The South African has been one of the game's more steady players, winning the 2011 Masters and finishing near the top 10 in every major over the last three seasons. To see Schwartzel lift the Wanamaker Trophy on Sunday would be no surprise.
Nic Colsaerts is not a well-known golfer by any means, yet he has two things on his side: momentum and a driver. Colsaerts made Open Championship history last month when he shot a 65 in the first and final rounds, yet only finished in a tie for seventh.
Despite his finish, it was by far Colsaert's best performance in a major to date. The Belgian player is also one of the tour's longest drivers, with an average length of about 330 yards.
Rickie Fowler only has one PGA win to date, yet his consistent play and membership in The Golf Boys and Disney Channel have made him one of the game's most popular players. Fowler looks more like a 16-year-old skater from L.A. than he does a golfer, and people love this about him. He traditionally wears all orange on Sundays during tournaments in homage to his college, Oklahoma State. Expect to see a few orange-clad, Puma-branded fans this weekend.
1:20 p.m.: Bubba Watson, Webb Simpson and Ernie Els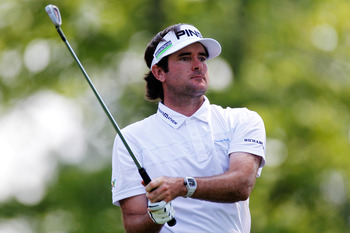 Gregory Shamus/Getty Images
The PGA is one clever organization. You think it was just a coincidence that they put this season's three major winners in one group?
Bubba Watson took home the Masters this past April with a hook shot onto the green. Webb Simpson pulled away from the field in the final round of the U.S. Open thanks to steady putting and finding fairways, and Ernie Els shocked the world by coming back to win the Open Championship, 10 years after his last major victory.
Although Bubba played steady throughout the whole Masters, he still had to overcome Louis Oosthuizen in a very exciting and tense playoff.
Simpson and Els both played comeback kids in their victories, and they both benefited from the collapses of Jim Furyk and Adam Scott, respectively.
Call this the "winners" group of 2012. Call it the guys who got lucky. Whatever you call it, expect there to be a lot of people following these three guys around.
1:30 p.m.: Luke Donald, Brandt Snedeker and Zach Johnson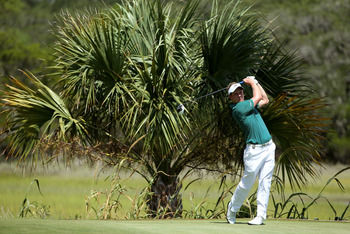 Andrew Redington/Getty Images
The group with the world's top-ranked player is always one of intrigue, and Luke Donald currently bears this title.
Despite being the top-ranked player in the World Golf Rankings for over 100 weeks, Donald has never won a major—a sign of the current parity in golf.
He does, however, play consistently well, and his short game is second to few.
His playing partners have both had successful seasons. Zach Johnson has won two tournaments this year: the Crowne Plaza Invitational at Colonial and the John Deere Classic. Brandt Snedeker, the pride of Vanderbilt, was in contention throughout the entire Open Championship and finished tied for third.
All three of these men are likely to be in contention this weekend.
1:40 p.m.: Pádraig Harrington, Phil Mickelson and Davis Love III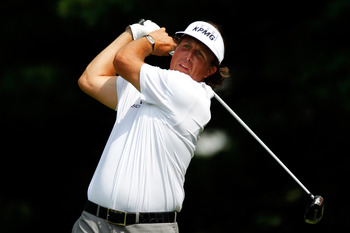 Gregory Shamus/Getty Images
One of the later groups of the day, this group features three accomplished golfers who are far from rookies.
Pádraig Harrington is not a household name in the States, yet he is quite the accomplished golfer. He's won three majors, including the PGA Championship in 2008. He's an Irishman with a fitting personality, and everyone is known to enjoy his personality and company.
Davis Love III was one of the '90s most consistent golfers and is revered as one of the wisest and most experienced players in the field. He won the 1997 PGA Championship, and while his age (48) excludes him from being a favorite, people would love to see Davis Love III contend with the field. He's one of the calmest and coolest players on the tour.
Phil Mickelson needs no introduction. He was inducted into the Golf HOF this year, has won four majors and is one of the most respected men on the tour. He's a family man, with his beautiful wife and kids always by his side, and he donates countless dollars to charity. He also was just part of a group that bought the San Diego Padres. Phil is a class act all the way around, and at this point, Lefty has nothing to prove.
Keep Reading