Usain Bolt and the Most Insane Physical Features in Sports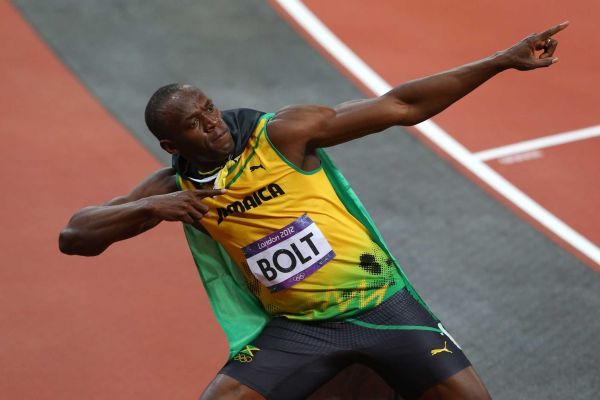 Image via Getty Images
Generally speaking, being a serious athlete requires more muscle mass and substantially less body fat than the average person. Other than that, though, the overall size and how that mass is distributed can vary widely from person to person.
In most athletes, everything tends to come together pretty normally. You really don't find too many insane physical features among tennis players, soccer players or hockey players. They just don't lend themselves to freaky features.
But then there are some who look like they were Frankensteined together with spare monster parts—not that there's anything wrong with that. Let's take a look at a few such athletes.
Begin Slideshow

»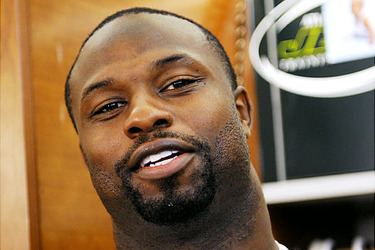 Image via New York Daily News
New York Jets linebacker Bart Scott may be at the tail end of his NFL career, but age has not dampened his reputation as a punishing defender.
When you're Bart Scott, you can't not have a crazy, meaty neck that pulsates during your iconic "CAN'T WAIT!" moment.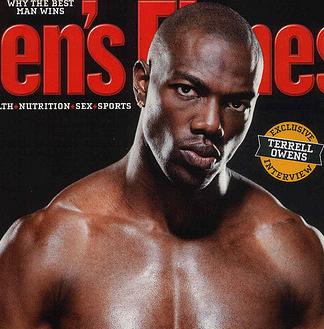 Image via Mens Fitness
When an NFL player more or less gets labeled as "locker-room poison" and/or "troubled," this reputation usually includes problems with staying in shape and conditioning.
Not with Terrell Owens.
He may sulk, quit on the play, publicly accuse his quarterbacks of all kinds of things, and give impromptu, bizarre press junkets in his driveway, but Owens does all of this with rockin', chiseled abs.
T.O. doesn't just have great abs, he has a work of art going on in that region.

Oh, and that bizarre driveway press junket I just mentioned, he was working out the whole time—and looking/fine crazy while doing it.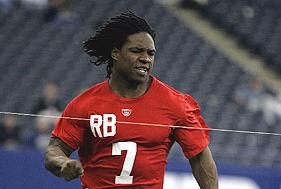 Image via T-Nation
People don't call Jacksonville Jaguars running back Maurice Jones-Drew "Pocket Hercules" for their own amusement (though it is fun to say).
The 5'7", 210-pound workhorse is entering his seventh NFL season averaging 4.6 yards per carry, and he has a reputation of playing like someone four inches taller and 30 pounds heavier.

And while his competitive fire and work ethic are certainly huge elements behind his success, there are a couple of even bigger factors responsible—MJD's insanely powerful legs.
Considering the muscle packed on those bad boys, it's probably no fun being the dude who has to tackle him.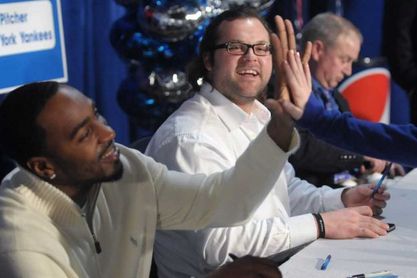 Image via Times-Union
For all the talk about 40-yard dash times, the ability to attack press coverage and run good routes, the productivity of NFL receivers seems to always boil down to one thing: hands.
It's great that a guy runs like an Olympic sprinter in pads, but can he catch? Just ask Limas Sweed, Troy Williamson and, likely, Darrius Heyward-Bey.
If nothing else, it would certainly help to have hands that can engulf a football, which New York Giants wide receiver Hakeem Nicks certainly has.

With an eye-popping, dinosaur-like hand-span of 10.5 inches, Nicks' physical gift is doing most of the work for him.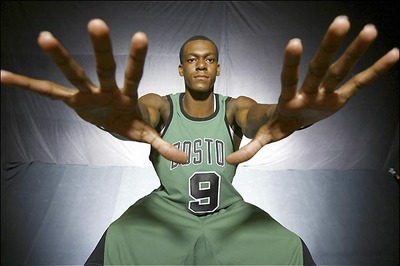 Image via InsideHeat
Coming in just a hair under Hakeem Nicks' measurements, Boston Celtics point guard Rajon Rondo's 10-inch hand-span still is a thing of beauty.
And while Nicks' hands seem designed for snapping a football out of the air, Rondo's mitts seem evolved for doing miraculous things with a basketball.

While neither can grip or dribble a basketball with one hand, Rondo's facehuggers are practically glued to the surface as he jukes and cuts toward the basket.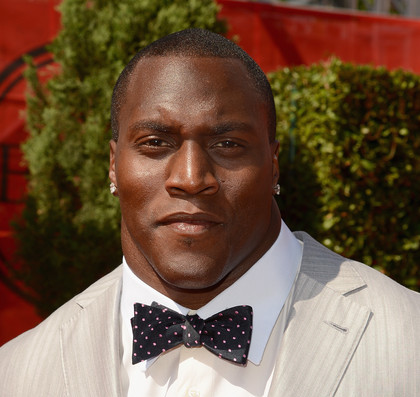 Image via Jason Merritt/Getty Images
The average person has a zone between their head and shoulders where there is discernible space.
Veteran linebacker and San Diego Chargers locker room leader Takeo Spikes is different. He has muscle where air is supposed to be.

I don't know how this is achieved, but I'm impressed, and I'm sure the people who have to custom-design his shirts enjoy his business.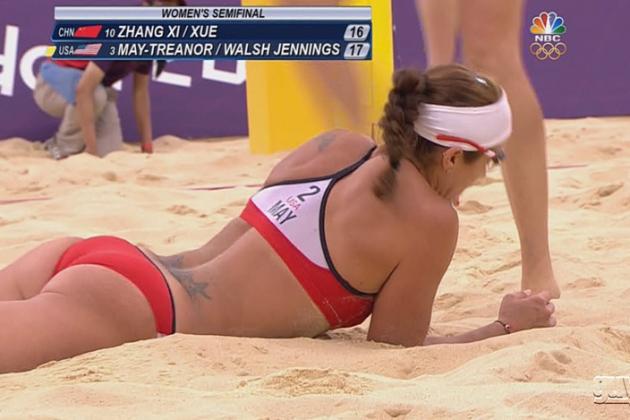 Image via Guyism
It isn't enough that Misty May-Treanor is one of the elite women's beach volleyball players in the world, she also had to be blessed with a smokin' hot body, accentuated with an amazing set of glutes.
Yes, I know that she worked hard as hell for that butt and that it's a vital cog in her volleyball-destroying package, but c'mon.

The very existence of May-Treanor's backside is net drag on the world's collective self-esteem. Sometimes I sit back and imagine what kind of sound it would make if you bounced a quarter off it—I bet it would sound like the tap of a tuning fork.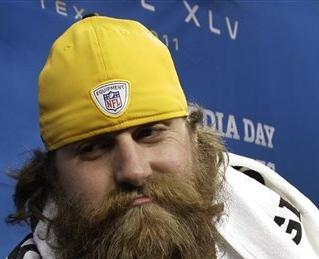 Image via David J. Phillip/AP
Pittsburgh Steelers defensive end Brett Keisel fits the mold of the team perfectly; he's not flashy, but has quietly forged a career as one of the best run-stuffing defensive ends in the NFL.
So when Keisel began growing out his beard in 2010, no one really took much notice outside of the local media until it became the Nordic, fiery wonder that inspired fan pages and its own Facebook profile.

"The Beard" wasn't just awesome, it was a physical achievement. If the average dude did this, it just wouldn't work—both aesthetically and logistically. It probably would be patchy or would do something horrifying, such as start falling out.
But not Keisel's—it just transformed into something magical.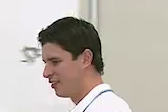 Image via It's My Life/Tumblr
Typically, hockey players are draped in equipment and apparel, so rarely do you catch a glimpse of what these men look like underneath it all. When, you do get to see the meat under the armor, you notice that the average player looks kind of like a normal, everyday dude—unlike, say, stumbling into Haloti Ngata at the supermarket.
There are exceptions, of course, such as Zdeno Chara, who looks like he plays..ripped.
Then there's Penguins superstar center Sidney Crosby, who seems to follow the same trend from the waist up. But man, oh man—from the waist down, things get interesting.
You hear about how powerful his lower body is, but you never truly appreciate what gifts an elite hockey player has until you see his steely, badonkadonk butt.
Image via Gainesville Sun
Of course New York Jets quarterback Tim Tebow is built like a house. If he featured Ben Roethlisberger's slightly doughy exterior or Peyton Manning's Jon Hamm-esque everyman physique, he simply wouldn't be Tim Tebow.
He's bucked convention during his young NFL career, so it's not surprising that he looks more like an amalgam of Michael Phelps and Paul Hamm than a pro quarterback.
Look at his raging pipes, and you'll understand why I laugh whenever someone discusses his career like it's always been a struggle.

Yes, Tebow may not always throw the ball well, but he looks like Beowulf.
No underdog looks like Beowulf.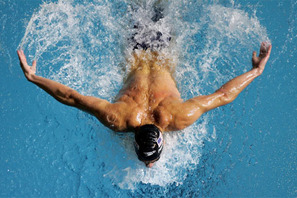 Image via ThomasNet
If you were transported from Aug. 8, 1999 to Aug. 8, 2012 and someone handed you a sheet listing some Michael Phelps guy's Olympic medals, accomplishments and broken records, it's safe to assume you would envision a very physically fit human being.
However, I still think seeing the real deal would elicit awe.
Phelps represents the convergence of nature and nurture. A person with immense gifts as an athlete, but who also was willing to wake up at the break of dawn and jump into a frigid pool (unlike the rest of us).

There is no more defining feature of Phelps than his rippling, impossibly V-shaped back. I'm guessing that Phelps' back is to him what a sail is to a sailboat.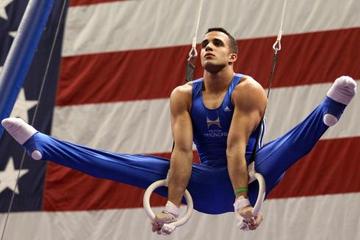 Image via Stew Milne/US PRESSWIRE
U.S. men's gymnastics isn't at the gold-medal level yet, but one thing they do have down is body mass.
Forget the champions—even the backups are capable of doing things with their bodies that seem to defy physics.
The United States always seems to bring in a posse of dudes with phone-book-ripping arms, and at the London Olympics, gymnast Danell Leyva has continued the beefy tradition.

The 20-year-old Olympian sports a pair of melon-like knots of muscle for shoulders, which seem to be on the verge of exploding when he's performing on the rings. Not only does Leyva have a bronze medal to show for his performance in the all-around, but he also competes in a sport that guarantees he'll look He-Manish in every photo taken during competition.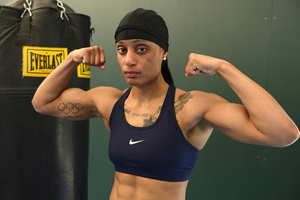 Image via John David Mercer/US PRESSWIRE
Queen Underwood may not have won a medal in London, but the girl is a survivor. And if looks are any indicator, she will be a force in women's boxing.
In fact, when I was looking at photos of her loss to Natasha Jones, I wondered how any woman with her physical skill set could ever lose. Girl is absolutely toned to be a fighting machine and has arms that look designed to inflict punishment.

These are real weapons—not the puffed-up, veiny freak shows you see pro female weightlifters lugging around.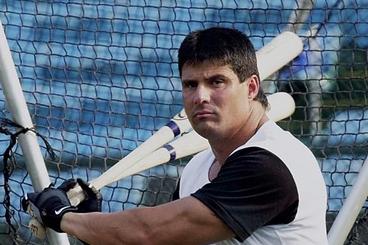 Image via USA Today
There is so much one can say about Jose Canseco at any given moment, but this is not the time to throw things against the wall and see what sticks.
(Hint: in his case, everything sticks.)
Years of steroid abuse puffed up Canseco's slugging percentage and, inevitably, his sweaty, mutated body. No part of his anatomy is this more apparent than with his massive noggin.

Canseco may be out of Major League Baseball, but the rocky planet resting on his shoulders lives on to remind us of a pro baseball era we would like to forget.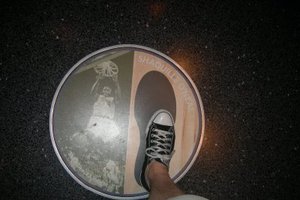 Image via Joshua Shank
Shaquille O'Neal is a surefire Hall of Famer and one of the best NBA players ever. But let's not kid ourselves, his success on the court is half—maybe even less than half—of the story.
Shaq is big. Not disproportionately big and losing a battle with gravity like those living giants you read about, but he's a really big guy.
And don't worry, he's happy to tell you about it.

Before retiring in 2011, the 7'1" center clocked in at a hearty 324 pounds. As can be expected, Shaq's feet follow suit and tie the NBA record at a whopping size 23.
If Shaq and I were on the same sinking cruise ship, which would be amazing (the cruise, not sinking), I would go straight for one of his shoes if all the lifeboats were filled.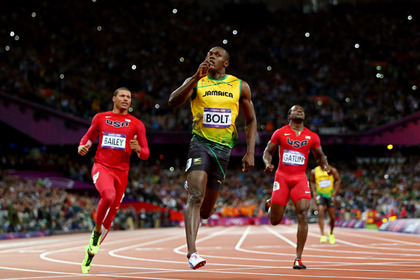 Image via Michael Steele/Getty Images
Considering the feats the man has accomplished, especially within the last week. Is there any other representative of mankind more deserving to be at the top of this list than Usain Bolt?
Bolt himself is the feature.

He's won four gold medals in the Beijing and London Olympics, broken records he set, and still has the 200-meter dash to run.
See those two dudes in his dust? Guess what, they're really freaking fast, but Bolt is beyond fast. His entire frame looks spring-loaded.

In fact, someone actually had to time a cheetah in a 100-meter dash just to make sure it still carries the title of "fastest land mammal."
I'm not so sure that record is safe at this rate.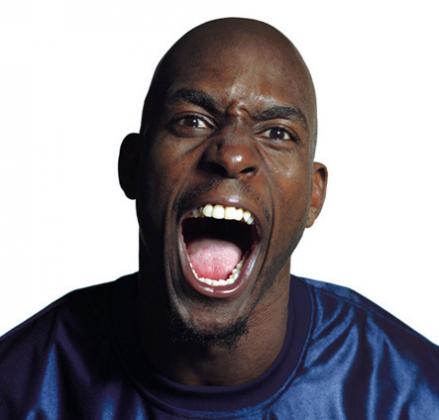 Image via Funny NBA Moments
I know that when you first read the title of this slide, your first instinct was, "Yeah, KG talks a ton of trash."
And, yes, this is true—but I want to talk about the actual mouth that enables his verbal shenanigans.
Like an anaconda dislocating its jaw to swallow a goat, Garnett's mouth seems to be able to extend far beyond its capacity, helping it become a signature part of his personality and career.

The brash Boston Celtics forward may have just wrapped up his 17th season in the NBA, but his mouth and all the fruit it bears show no sign of age.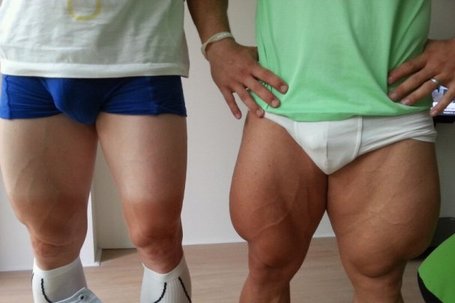 Image via Greg Henderson
If someone walked into the room with thighs that looked like those of German cyclists Andre Greipel and Robert Forstermann, I would:
1. Scream
2. Dial 9-1-1
The scream is self-explanatory, but calling 9-1-1 requires a little more explanation.
Yes, part of the reason is for fear of these two thigh-beasts killing me to increase their scary huge thigh power. But the other reason is that I would fear for their lives, because they look like two German guys with peanut allergies who just injected 1,000 cc's of peanut butter right into their groinage areas.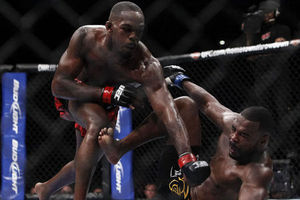 Image via Krucifax
While it was always tempting to fall back on your security blanket of Chun-Li (and you know who you are), no character on Street Fighter 2: Championship Edition was easier to annoy your friends with than Dhalsim.
(Yes, I played SF2 and loved it.)
What was there not to despise? His fighting was based on yoga, and his stupid arms and legs could stretch a third of the way across the screen.
Reach has its advantage, which is why a lot of UFC watchers' eyes widened when light heavyweight fighter Jon Jones measured in at UFC 145 with an unreal 84.5-inch reach, tying him with the almost seven-foot Stefan Struve for longest reach in UFC history.
And it certainly had an impact; Jones defeated Rashad Evans to bring his record to 16-1 and retain his UFC belt at UFC 145.