The number of superlatives that have been used to describe Los Angeles Angels rookie sensation Mike Trout is too great to count. What he has been able to do in just 88 games this season is a testament to his off-the-charts talent and ability to adjust seemingly on the fly.
But just how great has Trout's rookie season been?
Coming into the season, we knew Trout had the potential to have an impact if the Angels gave him the chance to play. He was given some exposure to the big leagues last season, but the team never gave him enough consistent playing time to showcase his abilities.
Trout started the 2012 season at Triple-A with Salt Lake. He played 20 games for the Bees before the Angels realized that Vernon Wells' statue is not very good; they needed an upgrade.
After 88 games, it is safe to say that Trout has earned a little bit of job security. He is a special player, doing things in his age-20 season that may never be done again.
We know he is going to win the Rookie of the Year award. The only question will be if some local beat writer from another team has a hometown bias for "his" guy and decides to check someone else's name off the box just to be different. But we all know the voting should be unanimous.
It seems a given that he is going to win the American League MVP award, and deservedly so. While I know it is not the end-all, be-all stat, Trout's wins above replacement (WAR)—which is an excellent gauge of a player's value—according to Fangraphs is 6.9, nearly two full wins better than the No. 2 player in the American League, Robinson Cano (5.1).
Looking at Trout's raw numbers on paper—.346/.409/.601, 20 home runs, 36-for-39 in stolen bases, 10 defensive runs saved, an ultimate zone rating (UZR) of 13.4 per 150 games played (via Fangraphs)—you would struggle to find any player, not just a rookie, who has posted those stats.
By comparison, the best position player based on Fangraphs' WAR last year was Jacoby Ellsbury with 9.4. His numbers were great (.321/.376/.552, 32 home runs, 39 stolen bases, seven defensive runs saved, 15.6 UZR).
Trout has posted nearly seven wins above replacement in just over half a season worth of games played, and he's posted a better batting average, on-base and slugging percentage.
We are looking at a historic season—everyone knows that. In the grand scheme of all rookie seasons, there is nothing close to Trout's.
Starting with present-day players, the two names that immediately spring to mind are Albert Pujols and Ichiro, who each broke onto the scene in 2001.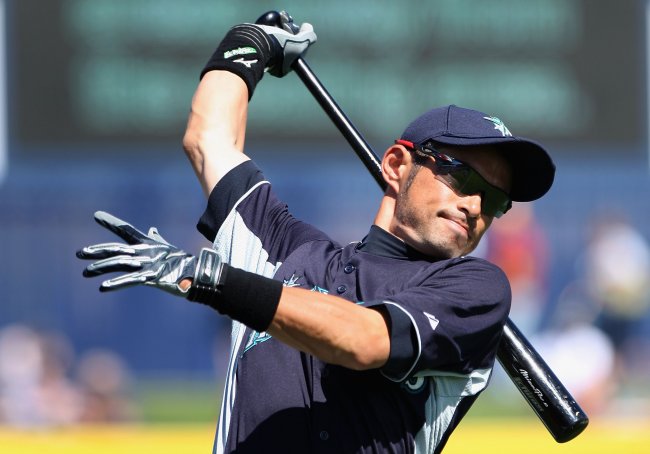 Christian Petersen/Getty Images
In 2001, Ichiro became just the second player to win both the Rookie of the Year and MVP awards in the same season. However, I am going to ding him a few points because he was a 27-year-old, and he played at the highest level of Japanese baseball before signing with Seattle.
In 157 games that season, Ichiro hit .350/.381/.457 with 56 stolen bases and incredible defense in right field. His Fangraphs' WAR in 2001 was 6.1, so he is already well behind Trout—who, again, has played in just 88 games—in terms of value.
Pujols' rookie campaign could end up being very close to Trout's, as he posted a .329/.403/.610 line, with 37 home runs and 130 runs batted in. That was the last rookie season we deemed to be the best ever before Trout came along.
Offensively, some would make the case that Pujols' rookie season will end up being better than Trout's. However, according to Baseball Reference, which separates its WAR values into offense and defense, Pujols' rookie season was worth 5.8 wins above replacement. Using the same offensive WAR from Baseball Reference, Trout has been worth 6.1 wins above replacement.
He may not have the home run power that Pujols does, but he changes the game in so many ways because of his speed out of box and on the bases.
Alex Rodriguez would have been the standard bearer, at least among current players, if you include his first full season in 1996, when he hit .358/.414/.631 with 36 home runs, 15 stolen bases as a 20-year-old shortstop playing strong defense. His Fangraphs' WAR that season was 9.8, but he lost his rookie eligibility after accumulating 208 plate appearances in 65 games between 1994 and 1995.
Going all the way back to 1975, when Fred Lynn of the Boston Red Sox became the first player in MLB history to win the Rookie of the Year and MVP award in the same season, his numbers won't match Trout's when all is said and done.
Lynn hit .331/.401/.566 with 21 home runs, 105 runs batted in and 10 stolen bases. But using the Baseball Reference formula once again, he was a barely-above-replacement-level player on defense.
Plus, Lynn played that season at age 23. That is a very young age for a Major League Baseball player, but it's three years older than Trout played a majority of his games this season. For the record, Trout just turned 21 on August 7.
If You Had To Start A Franchise With One Player, Who Would You Take?
On the pitching side, Fernando Valenzuela took the sports world by storm in 1981. He won the Rookie of the Year and Cy Young awards in the same year.
In just 25 starts, Valenzuela threw 192.1 innings with 180 strikeouts, 140 hits, 61 walks, 2.48 ERA and 11 home runs. Those are very good numbers, particularly for a 21-year-old rookie, but they aren't otherworldly. He captivated the world because of his unique delivery and charismatic personality.
Comparing Valenzuela's value to Trout's, you realize just how superior Trout is, as he is worth nearly two full wins more, according to Fangraphs' WAR.
Looking at everything—age, impact, skills, overall value, value relative to the position—there is no rookie season in baseball history that can match what Trout has been able to do.
I don't know if he will ever have another season like this, or better, ever again—his .398 batting average on balls in play gives me some hesitation—but he is a special talent who deserves all the accolades that will come his way this winter.
Plus, another factor working in his favor is his approach at the plate. Trout never looks overmatched in the batter's box because he sees the ball so well out of the pitcher's hand, allowing him to almost always make hard, solid contact. With his speed, all he has to do is put the ball in play to the left side of the infield and he can get a hit.
Enjoy the ride, because Trout is doing things we have never seen before and may never see again.