2013 NHL Mock Draft: Predicting All 30 First-Round Selections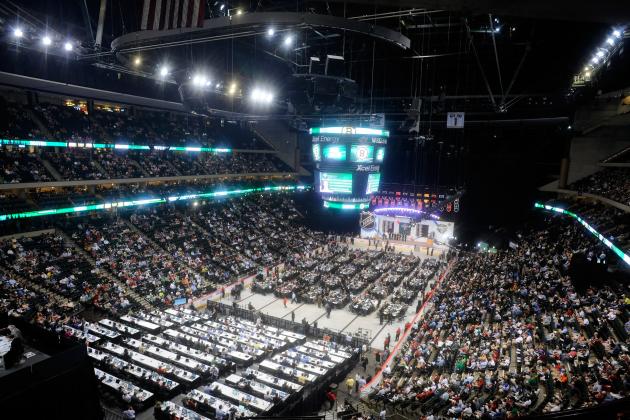 Hannah Foslien/Getty Images

Rest assured, it is far too early to even begin "mocking" NHL drafts, but with the October doldrums draining our spirits and the harsh lockout melting away the hockey-crazed winterland that our hearts and minds have become, one lonely NHL writer thinks: Why not?
Prospects are working hard to emerge and showcase their talents, general managers and scouts are starting to form opinions on them, and rankings are beginning to take form.
These are early days, but the draft is, after all, drawing closer every day.
So here, exclusively, is the first Bleacher Report 2013 National Hockey League Entry Draft Mock.
Begin Slideshow

»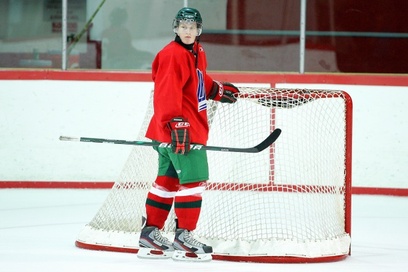 metronews.ca
C - Halifax Mooseheads (QMJHL)
6'0" - 182 lbs.

The Columbus Blue Jackets secured their defensive corps with the drafting of Ryan Murray with the second-overall pick in 2012 (a player who, alongside the likes of Jack Johnson and James Wisniewski, could help build a formidable blue-line force). They also solidified their goaltending future with a second-round steal in Oscar Dansk.
Now, they spoil themselves with Nathan MacKinnon, the most potent offensive forward in the 2013 class, and a player who could be one day be a 50-goal scorer with Ryan Johansen by his side.
MacKinnon tallied 31 goals and 47 assists in 58 games for the QMJHL's Halifax Mooseheads last season.
A Cole Harbour, Nova Scotia native who developed at the prestigious Shattuck-St. Mary's school in Faribault, Michigan only to see his name called first-overall in the Quebec Major Junior Hockey League draft, 17-year-old Nathan MacKinnon found the comparisons to NHL superstar Sidney Crosby inevitable.
But it is his blazing skating stride, lethal shot, smart two-way game and will to win that is going to make Nathan MacKinnon a marquee name in NHL circles in his own right.
Crosby joined a reeling franchise and soon turned them into a Stanley Cup champion. The Columbus Blue Jackets will be hoping MacKinnon can do the same.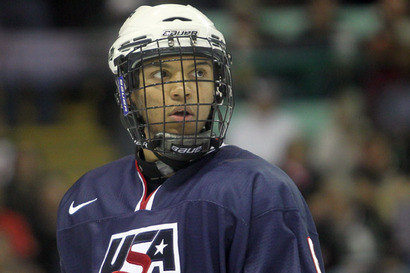 whl-from-above.blogspot.com
D - Portland Winterhawks (WHL)
6'4" - 208 lbs.

Seth Jones is the kind of defenseman that only comes along once in a generation.
The 6'4" son of ex-Basketball pro Popeye Jones has a unique combination of skills at a very high level, giving him all the tools necessary to be the next Chris Pronger.
After spending last season with the US National Team Development Program, totaling 31 points in 52 games, Jones is now with the WHL's Portland Winterhawks.
Jones has wonderful athletic ability, which translates into his above-average skating stride. While not overly physical, Jones uses his body well, and despite his size, can move around the ice well and play the puck efficiently. He has the audacity to jump up into the rush often, but is able to use his advantage in speed and size to get back in the play.
Jones would be a cornerstone defenseman for the Islanders, and alongside Griffin Reinhart would create the NHL's most promising defensive pairing.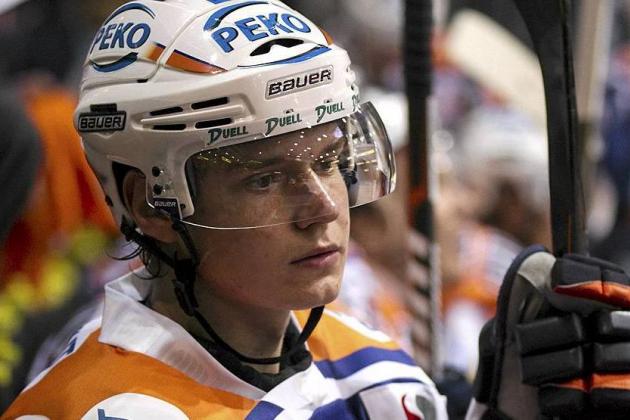 iltasanomat.fi
C - Tappara (SM-Liiga)
6'2" - 205 lbs.

Try to imagine a high school sophomore playing in the NHL. Now imagine what it was like when then-15-year-old Finnish center Aleksander "Sasha" Barkov Jr kicked off his professional career with Tappere in the SM-Liiga last season.
Barkov went on to become the youngest player to ever score at the World Juniors only months later, when he beat Slovak goaltender Juraj Simboch in an 8-5 Finland victory at 16 years and four months old.
Big and strong, Barkov was a revelation in the SM-Liiga last season, as he appeared in 32 games for Tappere and recorded seven goals and nine assists in 16 games. Through eight games in 2012-13, Barkov already has seven goals and 12 points.
The phenom combines his size, sound technical ability, and excellent skating into a package that is sure to make him an elite power forward at the NHL level.
With uncertainties higher up on the Anaheim Ducks' depth chart, the lack of blue-chip centers in the system and a need to get bigger up front, Barkov would be a good fit in Anaheim.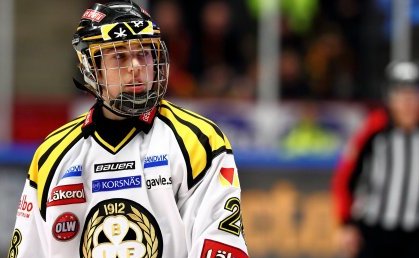 hockeyligan.se
C - Brynäs (Elitserien)
6'0" - 181 lbs.

Perhaps no player has seen his stock rise as much over the past season as Swedish center Elias Lindholm, who started out last season on Brynäs's U18 team but now plies his trade in the Swedish champion's top-six.
The 17-year-old is one of the few who has starred for his team at such a high level despite his young age.
With near-superhuman intelligence and understanding of the game of hockey, Lindholm is always a step or two ahead of his younger teammates. Not afraid to drive the net and be a fixture on the forecheck, Lindholm can skate, pass and shoot, having all the tools to be a dynamic offensive force at the NHL level.
The Winnipeg Jets need superstars, and with a forward group boasting the likes of Aleksandr Burmistrov, Evander Kane, Mark Schiefele and Elias Lindholm, the Jets would be on the right track.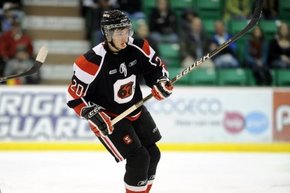 thehockeyguys.net
C - Ottawa 67's (OHL)
6'2" - 186 lbs.

There may not be many better all-around players available in this draft than Sean Monahan of the Ottawa 67's.
Monahan, though somewhat slim at this time, does everything at a very high level, and it showed in his ability to dominate opposition last season. In 62 games, Monahan scored 33 goals and added 45 assists for 78 points, to go along with an impressive plus-25 rating.
Monahan is very much the prototypical two-way forward. He has the dynamic scoring skills that will make him a productive player, but it could be his ability in his own zone helping out his defense corps that will make him a superstar player in the NHL.
Either way, the Calgary Flames need blue-chip prospects, and find one in Sean Monahan.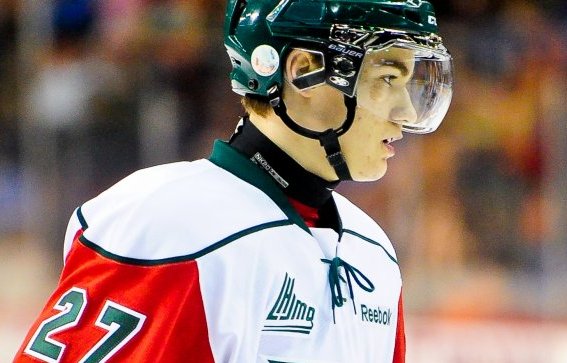 theqmjhl.ca
LW - Halifax Mooseheads (QMJHL)
5'11" - 185 lbs.

Though he'll undoubtedly get criticism for only putting up numbers as Nathan MacKinnon's line-mate, those who have followed him know Jonathan Drouin's offensive tools are scintillating in their own right.
They don't come much more skillful.
The Dollard-des-Ormeaux native split last season between Lac Saint-Louis Lions of Quebec Major AAA and the Halifax Mooseheads of the QMJHL, where he posted seven goals and 29 points in 33 games.
Drouin is off to a roaring start to the 2012-13 season, having posted three goals and seven assists through five games.
Drouin is an immensely talented stick-handler who also possesses a good shot and more-than-adequate skating ability. Beyond that, Drouin is a hard-working player with good defensive tools, making him a dynamic all-round talent.
In Jonathan Drouin, the Canadiens find a local product who will prove to be a tremendous linemate for 2012 third-overall pick Alex Galchenyuk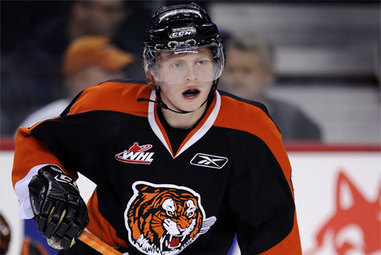 hockey.dobbersports.com
C - Medicine Hat Tigers (WHL)
5'10" - 166 lbs.

With a late-1994 birthday, Hunter Shinkaruk narrowly missed out on being eligible for the 2012 NHL Entry Draft, but the 5'10", 166-pound center has taken advantage of the extra year, to the point where he has emerged as arguably the draft's top offensive prospect.
Shinkaruk scored 49 goals and 42 assists for 91 points in just 66 games (12th in the WHL) last season, to go along with an impressive plus-17 rating.
A dynamic forward, Shinkaruk has a hard and accurate shot, excellent skating stride and strong puck skills, all qualities that combine for his status as a deadly offensive talent.
Which is just what the Phoenix Coyotes need.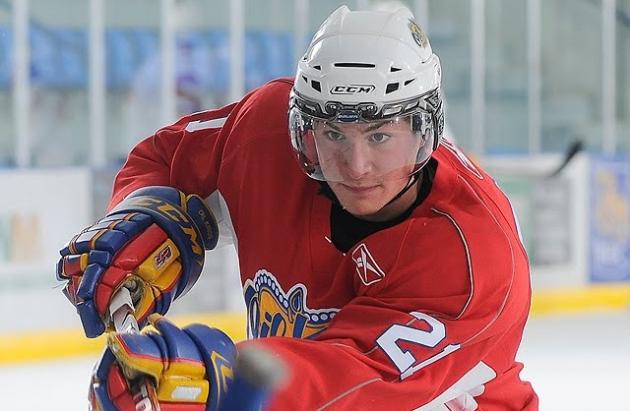 thepipelineshow.blogspot.com
C - Edmonton Oil Kings (WHL)
6'0" - 193 lbs.

He may not be big, but there is nothing small about Curtis Lazar's game.
The quintessential two-way forward, Lazar has tremendous speed, a mile-high hockey IQ and good strength on the puck.
The 17-year-old recorded 31 points in 63 games for the Edmonton Oil Kings this season. He also posted 56 penalty minutes and a plus-15. But it was in the playoffs where Lazar really made his name, scoring eight goals and 19 points in 20 games for the WHL champions.
Brian Burke loves all-around players like Lazar. He'd be a good fit alongside offensive centers like Joe Colborne and Nazem Kadri.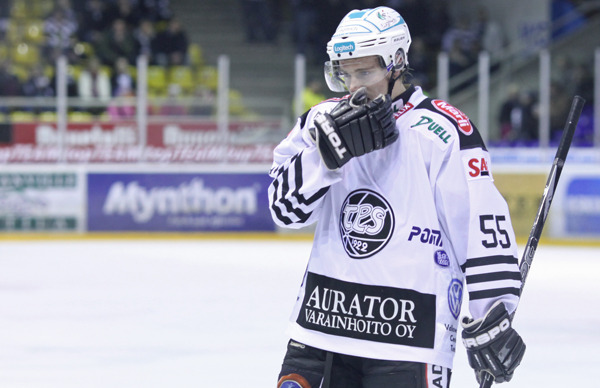 jatkoaika.com
D - TPS (SM-Liiga)
6'3" - 203 lbs.

Rasmus Ristolainen won't blow you away in any one area of the game, but like Robert Hägg, he is an extremely solid two-way blue-liner with the size and skill to be a dominant force in all three zones.
With a late-1994 birthday as opposed to early-1995, the soon-to-be-18-year-old is more mature and NHL-ready than most prospects in this draft. His calmness and composure, coupled with his mobility and ability to play the body, don't hurt either.
Ristolainen made his debut in Finland's top league two seasons ago, and last year emerged as one of his team's key players. Despite posting a minus-21 with 78 minutes, Ristolainen impressed with eight points in 40 games, and proved himself on the international stage against players his own age with Finland at the World Juniors.
More than anything, the Edmonton Oilers need blue-chip prospects who can step into the lineup soon and inject some much-needed youth. At ninth overall, Rasmus Ristolainen is by far the best player available. A steal.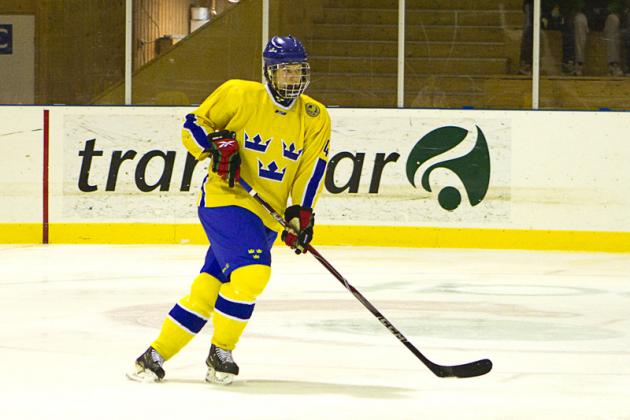 eliteprospects.com
D - Modo (Elitserien)
6'2" - 193 lbs.

Robert Hägg is very much the prototypical Swedish defenseman.
With elite offensive potential by way of veteran patience and composure, plus the ability to lead a rush complemented by pro-level vision and strength in his own zone, Hägg is as similar to Nicklas Lidström as any defenseman is ever going to be.
Last year, the 6'2" blue-liner posted four goals and 17 points in 44 games as a 16-year-old with Modo in the SuperElit, Sweden's top junior league.
He could see time with Modo of the Elitserien this season.
In Robert Hägg, the New Jersey Devils find the future partner for Adam Larsson, creating a partnership that in a few years' time could be the NHL's very best.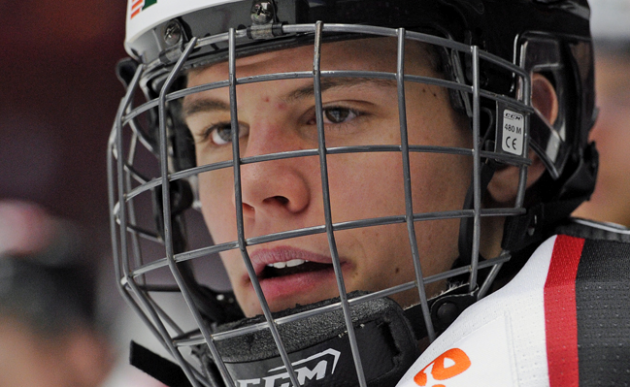 LW - Malmö Redhawks (Allsvenskan)
6'1" - 178 lbs.

Though he is only 17, Swedish winger Andre Burakovsky has been on the radar of pro scouts for quite a long time now—by the time he was 15, he was already playing on the U18 squad of one of Sweden's top developmental teams, the Malmö Redhawks.
Last season, Burakovsky played the majority of his games with the U20 Redhawks, where he posted 17 goals and 42 points in 42 games. He has started the season with the senior team in the Allsvenskan, Sweden's second division, though he has no points through eight games.
Unlike most Swedish forwards, Burakovsky loves the physical aspect of the game. He has the pedigree for good size, and he has the speed to complement it. That's without mentioning his high-end skills and high defensive IQ.
With Alex Radulov seemingly out of the picture and few blue-chip forward prospects, the Nashville Predators are desperate for elite first-line talent. Burakovsky brings all that, and more.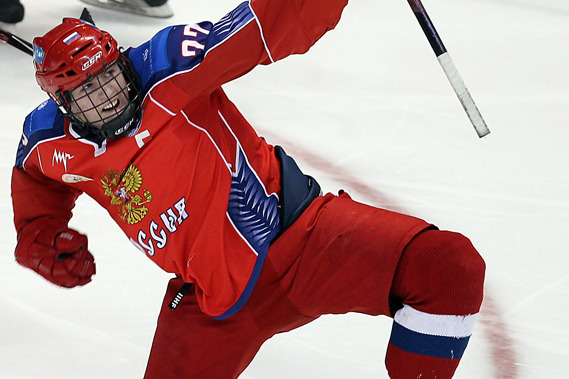 forum.canucks.com
RW - Traktor Chelyabinsk (KHL)
6'4" - 196 lbs.

Very few players available in the 2012 draft have as good of an all-around game as 17-year-old Russian winger Valery Nichushkin.
A player with blazing speed, a pro shot, more speed, a drive-to-the-net mentality and yet more speed, Nichushkin boasts an impressive frame, and if he grows into it, he could well become a lesser version of Pittsburgh Penguins center Evgeny Malkin.
In 2011-12, Nichushkin posted 10 points in 38 games for Belie Medvedi Chelyabinsk, the MHL farm team of Traktor Chelyabinsk, last season, and after almost signing with a CHL team over the summer, will be returning to the White Bears this season.
Having drafted Mikhail Grigorenko at 11th overall in 2012, the Buffalo Sabres get another potential steal at No.12 with Nichushkin, Grigorenko's future line-mate.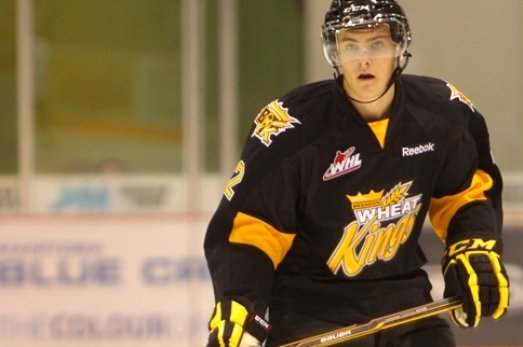 thescoutingreport.org
D - Brandon Wheat Kings (WHL)
6'1" - 211 lbs.

Anytime a 17-year-old is named to the WHL All-Star team alongside established NHL prospects like Emerson Etem, Alex Petrovic, and Mark Stone, you know they have something going for them.
A dynamic two-way blue-liner, Ryan Pulock is better than most prospects both offensively and defensively. In the Morgan Rielly mould, Pulock can lead the rush and run a power play, but is also an elite force in his own zone.
The right-handed defenseman really blossomed in his sophomore season with the Brandon Wheat Kings, posting 19 goals, 60 points and a plus-33 rating in 71 games.
The Sharks need defenseman, and Pulock would be a sensational addition to an aging team in desperate need of an influx of youth.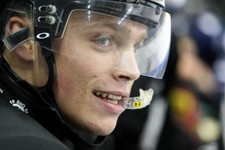 tiedomi.com
C - London Knights (OHL)
5'9" - 193 lbs.

Knowing that he is the son of infamous NHL enforcer Tie Domi, nobody would have guessed that Max Domi is the kind of player he is.
Highly skilled, Domi was an offensive star with the OHL's Knights last season, posting 21 goals and 49 points in 62 games.
Domi has phenomenal skating, playmaking ability and smarts, and though very undersized, is willing to mix it up physically and use his body to get the puck.
Domi is just another addition to an incredible prospect pool growing in Florida. The pivot could one day center Quinton Howden and Jonathan Huberdeau on the Panthers' top line.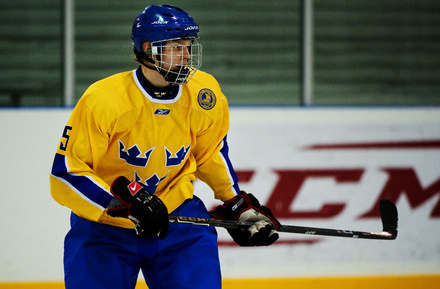 hockeysverige.se
LW - Leksand (Allsvenskan)
6'2" - 189 lbs.

Jacob De La Rose does everything well.
A versatile, physical, playmaking two-way forward, De La Rose appeared in 28 games last season, scoring 13 points.
The well-built Swede is a multidimensional talent who has the ability to both make plays and finish them. He's not overly physical, but he uses his body very well to protect the puck. He can play in any positions and all situations, and is the kind of player every coach would love to have.
That includes Joe Sacco, who would now have a dominant one-two-punch of Swedish left-wingers, with De La Rose creating a formidable partnership with captain Gabriel Landeskog.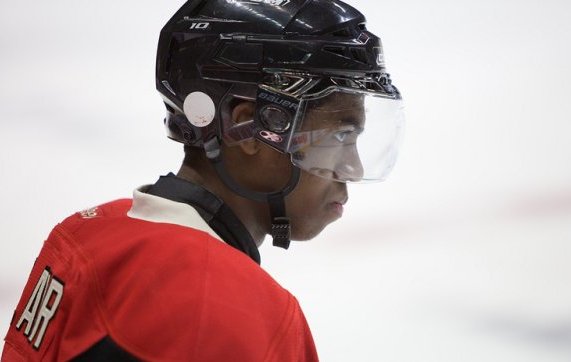 lhjmq.qc.ca
LW - Quebec Remparts (QMJHL)
5'11" - 180 lbs.

A dynamic offensive player, Anthony Duclair established himself as one of the QMJHL's premier young talents and as Buffalo Sabres prospect Mikhail Grigorenko's first-choice line-mate for the Quebec Remparts.
The Pointe-Claire, Quebec-native, who has an elite shot, powerful skating stride and top-notch offensive instincts, recorded 66 points in 63 games last season, with a plus-38 rating. So far this year, Duclair has five points in four games.
Duclair is small in stature, but he more than makes up for it in his skill and skating. The French-Canadian possesses admirable goalscoring potential, which should translate very well to the NHL level.
The Tampa Bay Lightning need to start preparing for life without the likes of Martin St. Louis and Vincent Lecavalier. Duclair is the long-term line-mate for Steven Stamkos.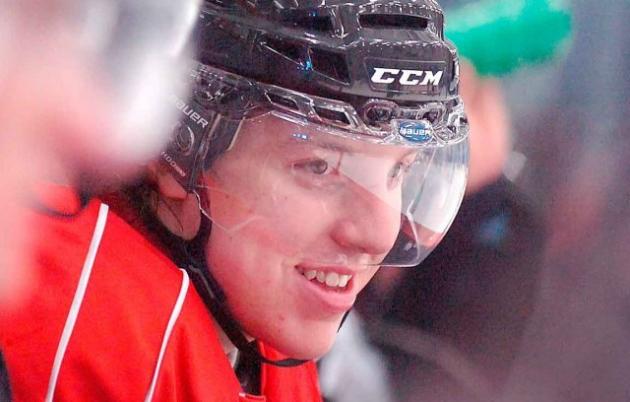 lapresse.ca
RW - Quebec Remparts (QMJHL)
6'1" - 195 lbs.

His size says it all: Adam Erne will be an elite power forward in the NHL.
And, indeed, the 6'1", 195-pound American, who scored 28 goals as part of 55 points in 64 games last season with the Quebec Remparts, is widely recognized as the top physical winger available in the draft.
Erne is big, strong, quick and hard-working. He wants to drive the net, and he has the skill and speed to be effective when he gets there.
With an aging top-six in Dallas, an injection of NHL-ready youth is needed. Last year, the Stars made a great selection, drafting center Radek Faksa at 13th overall. In 2013, they get his future line-mate.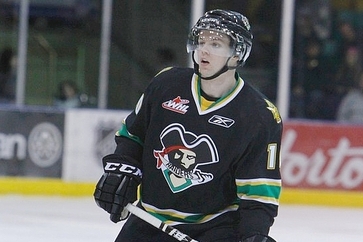 crashconditioning.com
D - Prince Albert Raiders (WHL)
6'0" - 182 lbs.

Josh Morrissey has all the skills to be an elite, two-way defenseman in the NHL, and his dropping to 18th overall undoubtedly has more to do with his struggling team than with any fault of his own.
Last year, Morrissey scored 10 goals and posted 28 assists in 68 games for the Prince Albert Raiders of the WHL, who finished with a poor 48 points.
Morrissey is a dynamic skater who excels in the neutral zone when carrying the puck. He has top-end offensive potential, but is more than capable of being a go-to guy in his own zone.
And with several veterans on their blue line, Josh Morrissey is just what the Ottawa Senators need. He's a phenomenal addition to a young defensive corps that already boasts Cody Ceci, Jared Cowen and Erik Karlsson.
m.halifaxmooseheads.ca
G - Halifax Mooseheads (QMJHL)
6'1" - 181 lbs.

Zach Fucale is the best goaltender available in the 2013 NHL Draft.
The Rosemère, Quebec native won 32 of 58 games for Nathan MacKinnon's Halifax Mooseheads last season, posting an .892 save percentage and 3.16 goals-against average.
A small but very technically sound goaltender, Fucale covers more of the net than his size would suggest. Patient but athletic, Fucale is hard to beat anywhere, giving him the potential to be a near-unbeatable goalie.
Unless 27-year-old late-bloomer Corey Crawford manages to bounce back from a trying season, the Chicago Blackhawks might well look to add a new goalie in the draft. Fucale has a very high ceiling—the 'Hawks would be well-advised to jump at the opportunity to pick him up.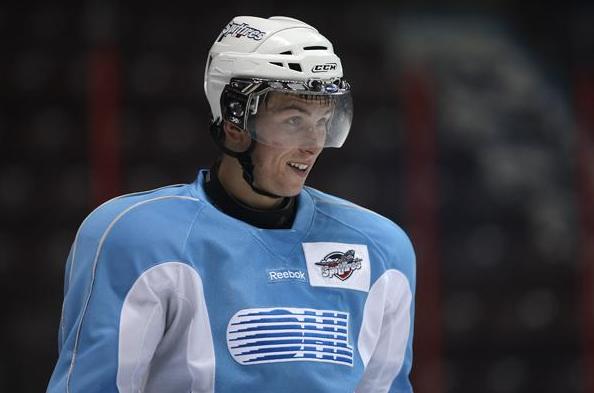 windsorstar.com
LW - Windsor Spitfires (OHL)
6'1" - 200 lbs.

Power forwards are expected to be able to hit, agitate and chip in with the occasional goal. A power forward with the kind of skill Kerby Rychel possesses is a can't-miss prospect.
With blazing speed, soft hands and a knack for scoring, Rychel has all the skill to complement his generous but still-growing frame.
As a 17-year-old sophomore, Rychel led his Windsor Spitfires last season in goals (41) and points (74) in 68 games.
The Nashville Predators need elite players up front, and with the kind of unique size and skill Rychel can provide, they could find a future first-line player.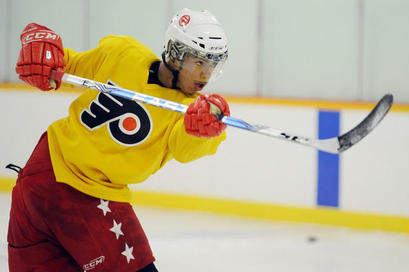 thestar.com
D - Sault Ste. Marie Greyhounds (OHL)
6'4" - 189 lbs.

Darnell Nurse's draft stock may have dropped somewhat over the past season, but rest assured the big Canadian is still very much a first-round talent.
The former Don Mills Flyers AAA defenseman appeared in 53 games for the Soo Greyhounds last year, but managed only 10 points with one goal and a minus-15 rating.
While his offensive upside is relatively limited, Nurse is big, strong and powerful. His mobility is excellent, and he uses his body and an active stick very well in the defensive game. More than most, Nurse is a low-risk, high-reward prospect.
With Nicklas Lidström out of the picture, the Detroit Red Wings need to start amassing blue-chip talent on the blue line. Darnell Nurse steps up alongside the likes of Adam Almqvist and Brendan Smith as a legitimate NHL prospect.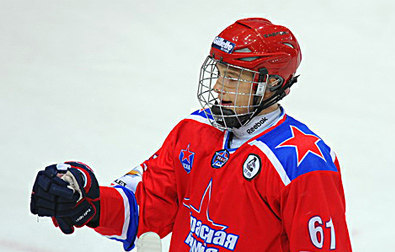 news.sportbox.ru
D - London Knights (OHL)
6'5" - 230 lbs.

It is often said that there is no substitute for experience. Nikita Zadorov is proving otherwise.
The Russian defender, who appeared in 41 games with CSKA of the MHL, Russia's second division, and posted six points with a plus-20 rating, has only appeared in four games on North American rinks with his London Knights, but has already established himself as one of the OHL's most feared defensemen. And though he has no points, he is already plus-7.
Zadorov is a dream prospect. A physical specimen with incredible strength, the 17-year-old is dynamic in his own zone and near impossible to get by. His skating stride is more than adequate, and his ability to move the puck is admirable for a player his size.
The Washington Capitals have long been seeking a big, strong defenseman, and find their guy in Nikita Zadorov. They love their Russians, and Dmitry Orlov certainly wouldn't turn his nose up at the opportunity to partner up with this 6'5" manchild.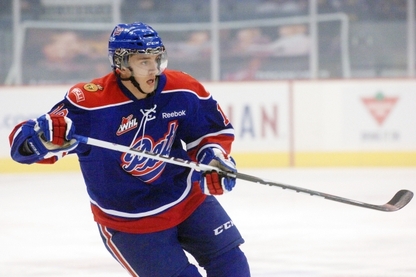 leaderpost.com
LW - Regina Pats (WHL)
6'0" - 180 lbs.

He is far from overwhelming, but boy is he solid.
In 67 games with the Regina Pats last season, Klimchuk underwhelmed points-wise, with just 18 goals and 36 points, but did impress with his selfless two-way game.
A clever playmaker with wonderful vision and passing ability, Klimchuk has the potential to be a productive assist-machine in the NHL. With his speed and grit, he could score one or two goals, too.
The Minnesota Wild have one of the most well-rounded prospect pools among big-league teams, but have drafted defensemen with a top-10 pick each of the last two years. Morgan Klimchuk is solid, and would be a nice complement to the likes of Charlie Coyle, Mikael Granlund, Johan Larsson, Zack Phillips, and, of course, Zach Parise higher up the order.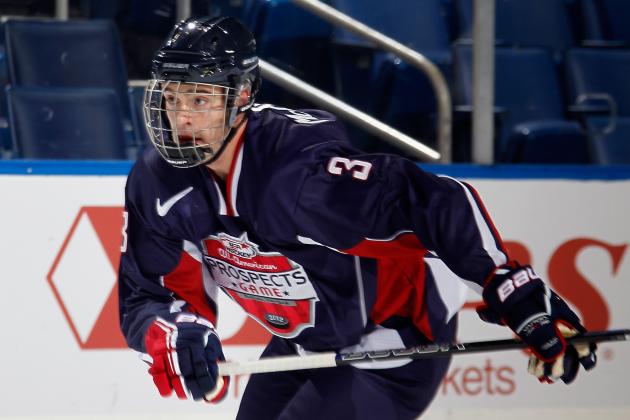 Bruce Bennett/Getty Images

D - Waterloo Black Hawks (USHL)
6'3" - 207 lbs.

A year ago, there were a whole bunch of USHL prospects going in the first round. There aren't many this year, but Ian McCoshen is the cream of the crop.
McCoshen appeared in 55 games in 2011-12, scoring eight goals and 20 points for his Waterloo Black Hawks and establishing himself as one of the draft's very best defensive prospects.
McCoshen plays a mature, two-way game. Though he is big and strong, he moves around the ice well and can lead the rush. He has the defensive game of a defensive defenseman, but lots of offensive upside.
Three of the Philadelphia Flyers' top blue-liners are over the age of 37, and with a lack of blue-chip defensive prospects in the system, the Flyers need help. McCoshen is a great pickup for them.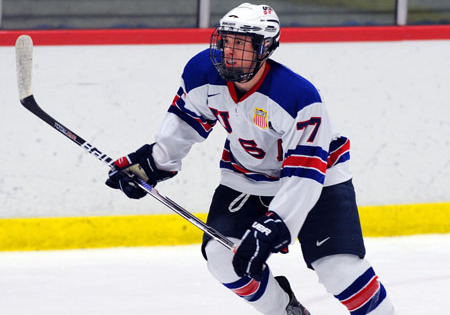 maxpreps.com
LW - USNTDP (USHL)
6'0" - 165 lbs.

In today's NHL, there are few substitutes for players willing to give everything for the team. JT Compher fits the mould.
The University of Michigan-commit recorded 27 points in 32 points for the USNTDP Juniors last season, and tallied five points in six games for the Team USA U18s at the World Championships.
Though he does not excel in any one area and is not overly skilled, Compher is a good skater, works hard and can make plays. He won't be an elite, go-to guy, but he has top-end third-line potential.
And he'd be a great fit in St Louis. JT Compher is very much a Ken Hitchcock-type player, and would be a wonderful complement to the likes of Jaden Schwartz and Vladimir Tarasenko higher up the order.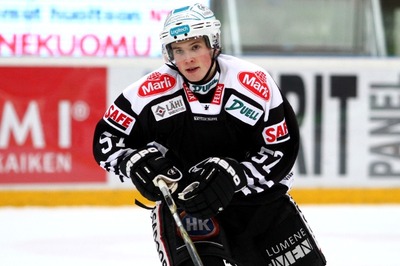 jatkoaika.com
RW - KalPa (SM-Liiga)
5'10" - 163 lbs.

Seventeen-year-olds aren't supposed to dominate pro leagues. But Artturi Lehkonen, significantly younger and significantly smaller than most of his opposition, has lit up the SM-Liiga so far this season.
After recording 54 points in 40 games for TPS U20 in Finland's top junior league last year, Lehkonen has kicked off his year with three goals and eight points through seven games.
Phenomenally skilled and with smarts beyond his age, Lehkonen is a pure offensive talent. Though he's small, he's dynamic, and makes up for his size with outstanding ability in most facets of the game.
The Pittsburgh Penguins have long been seeking elite top-six wingers to play with Sidney Crosby and Evgeni Malkin. They found one in James Neal, and might have another in prospect Beau Bennett. Artturi Lehkonen instantly becomes the organization's top offensive prospect.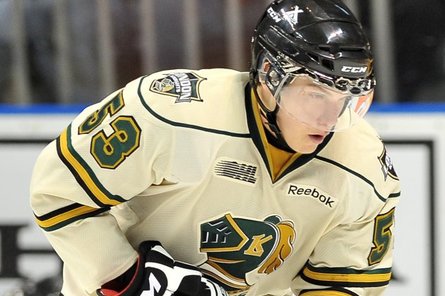 ontariohockeyleague.com
C - London Knights (OHL)
6'0" - 200 lbs.

They don't get more two-way than Bowie Horvat.
Horvat recorded only 11 goals and 19 assists in 64 games last season, but the offensive side of his game will come. For now, it is his defensive game that stands out, as evidenced by his plus-27 rating.
Horvat can destroy teams on the forecheck and has the phenomenal work ethic needed to be one of the NHL's better third-line centers. Strong and energetic, Horvat should see his role with the Knights increase this year, and the development of his offensive game should follow.
At this time, the Columbus Blue Jackets need good players. With Nathan MacKinnon on board joining Ryan Johansen down the middle, the addition of Bo Horvat could create the best one-two-three punch down the middle in the NHL.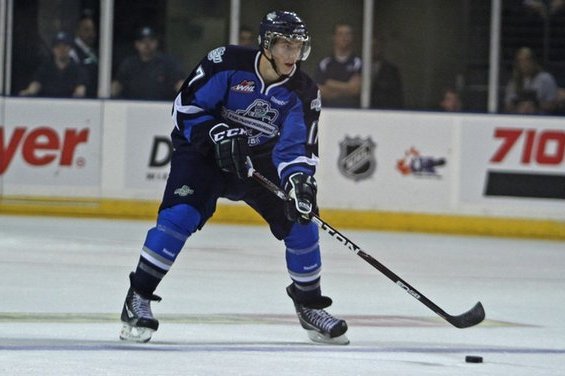 mynorthwest.com
D - Seattle Thunderbirds (WHL)
6'2" - 182 lbs.

There aren't many better offensive defenseman in this draft than Shea Theodore.
Despite an impressively dreadful minus-36 rating last season, Theodore was very good with the WHL's Seattle Thunderbirds last season, racking up four goals and 31 assists in 39 games.
A highly talented offensive prospect, Theodore has great skills for a defenseman. A good skater, he is willing to lead the rush, but also has the size and high hockey IQ to be a very reliable force in his own zone.
The Boston Bruins have next-to-no offensive defensemen on the roster or in the prospect pool, so Theodore would be a very welcome addition. Dougie Hamilton would find himself a pretty good partner, too.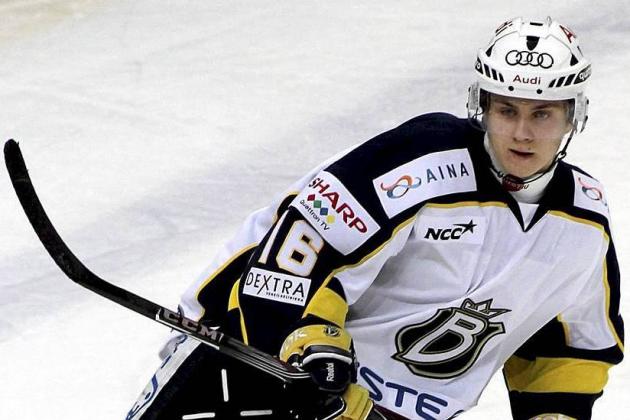 iltasanomat.fi
LW - Espoo Blues (SM-Liiga)
5'7" - 161 lbs.

Finnish forwards are in high demand in this draft; Juuso Ikonen is another reason why.
After a dynamic season last year with the Junior Espoo Blues in which he posted 41 points in 32 games, Ikonen is off to a roaring start in 2012-13, recording seven points in eight games with the men's team.
Though very undersized and only 17 years old, Ikonen has wowed the SM-Liiga with his offensive talents. With incredible speed and mesmerizing skill, Ikonen is small, but dazzling.
The Vancouver Canucks like bigger players, but Ikonen's top-line potential is undeniable. With the Sedins now 32 years old, it's time for the Canucks to start loading up on elite offensive talent. There are few better in the draft than Juuso Ikonen.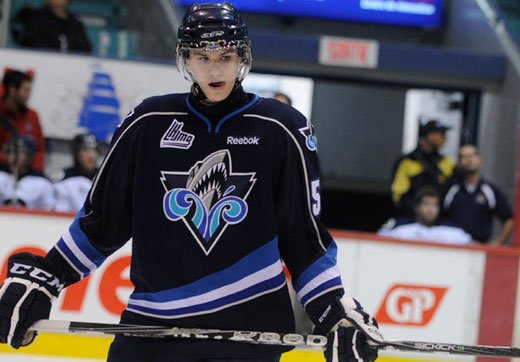 lhjmq.qc.ca
D - Rimouski Oceanic (QMJHL)
6'7" - 200 lbs.

Seventeen-year-olds aren't meant to be 6'7". The superhuman size, and the fact that he is still growing, is what is going to make Samuel Morin a very intriguing prospect at the draft.
A pure defensive prospect, Morin emerged as one of the QMJHL's better own-zone players last season and contributed with eight assists in 62 games for his Oceanic.
Big. That is the word that describes Morin's game. Definitely a defensive defenseman, Morin is, while not an overly good skater, solid in his own zone and physical. If he can add 20-to-30 pounds, he could be a Zdeno Chara-esque player in the NHL.
And the Columbus Blue Jackets could use a Zdeno Chara.
The 2013 NHL Draft is nine months away, but is already shaping up to be a wonderful one.