Nebraska Football Training Camp: Injuries, News, Analysis and Position Battles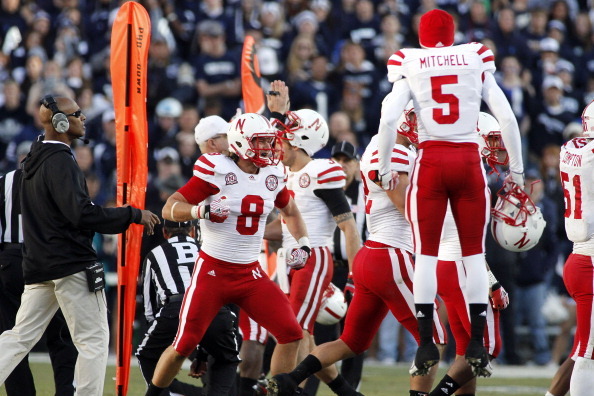 Justin K. Aller/Getty Images

Nebraska had a very solid first year in the Big Ten in 2011. The team won nine games, including impressive victories over a couple of ranked teams.
The Cornhuskers are now out for even more success in 2012, as they return 15 starters from a year ago, including eight on the offensive side of the ball.
The team looks good on paper, but we all know that the season is won on the football field, not on the depth chart.
Having said that, if everything goes well, the Cornhuskers could become one of the sleepers to win this year's Big Ten title.
The team has already knocked a few practices out in fall camp. Here are the latest injuries, news, updates and more involving your Nebraska Cornhuskers.
Begin Slideshow

»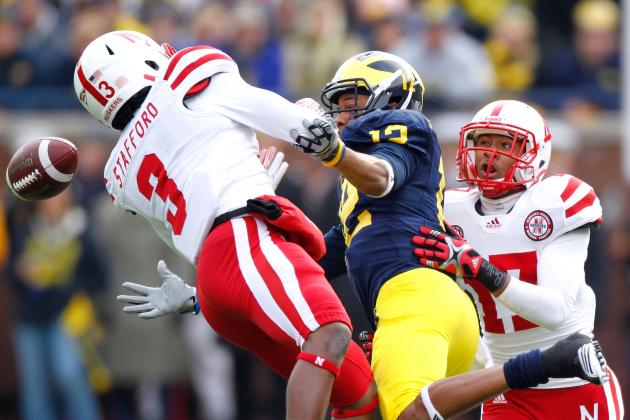 Gregory Shamus/Getty Images

Daimion Stafford finished third on the team last season with 80 tackles and broke up 10 passes. While that may seem like a productive season to most, defensive coordinator John Papuchis says the senior safety is even better this time around. (Via ketv.com)
When he came in, it was just survival mode. Said Papuchis. He was just trying to survive out there, not knowing everything, not having the expertise in our defense. Having the full season under his belt, plus spring ball, all the things that led up to fall camp, he understands he's a leader. He's comfortable. It's a night and day difference for Daimion.
Stafford started 12 games last season at the safety position and was an honorable mention All-Big Ten selection.
Spencer Long earns his scholarship
Spencer Long was a second-team All-Big Ten selection last year, starting every game for the Cornhuskers at offensive guard. But it was the news that he received over the weekend that is probably his biggest accomplishment of all.
Long will have the next two years of eligibility completely paid for, as he has earned a scholarship from Nebraska. (Via Josh Harvey of Scout.com)
"He's a heck of a football player and has earned his way," said Pelini. "It's not easy what he's done and the road he's taken. It shows the amount of character and work ethic he has."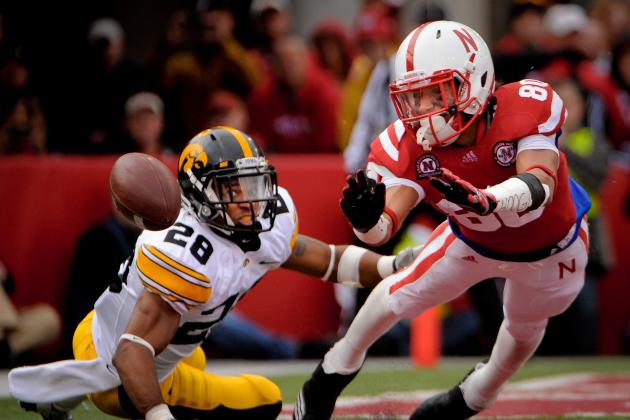 Eric Francis/Getty Images

Kenny Bell protects his QB
Nobody questions quarterback Taylor Martinez as an athlete, but when he barely completes 56 percent of his passes for a season, there is good reason to doubt him as a true quarterback. Wide receiver Kenny Bell says the criticism should die down a little bit because he is better than what he is given credit for. (Via Josh Harvey of Scout.com)
"I feel real sorry for the kid. I don't know how he does it with the straight face that he does, because I would really struggle," said Bell. "The kid's a phenomenal athlete, people criticize him a little too much."
For more on what Bell had to say, click here.
Backup QB?
Speaking of quarterbacks, Nebraska still has to find out who the backup is going to be in 2012. As of right now it is still a three-way battle between Brion Carnes, Ron Kellogg III and Tommy Armstrong. But although Armstrong is only a true-freshman, offensive coordinator Tim Beck really likes what he has seen from him early on. (Via Husker Extra)
He's got a lot of the 'it' factor that you look for in a quarterback. Beck said. He's picked up the offense a lot faster than I thought he would. He's a student of the game and he's a very talented young man. So I think all that combination has impressed not only myself but his teammates.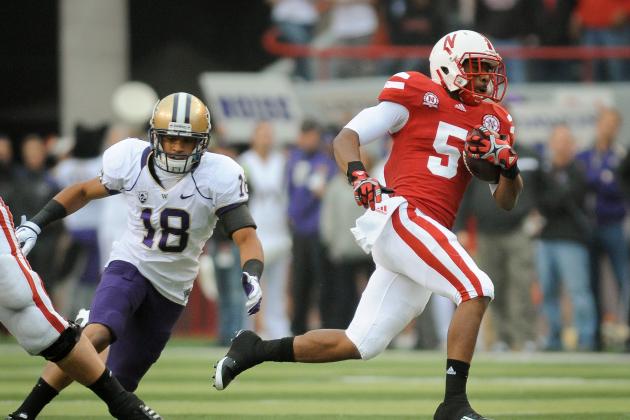 Eric Francis/Getty Images

Braylon Heard looking good
Braylon Heard carried the ball 25 times last season for 114 yards and a touchdown. With the running back depth on the current roster, he began practicing at the cornerback position. But with the few reps he has received at his normal position, Heard may have a future on the offensive side of the ball.
He has had a good fall camp so far. Said running backs coach Ron Brown. Made a lot of big plays; he has definitely progressed a lot as a running back. He's got excellent quickness and speed, he's playing with better vision, and figuring things out a little better, and more mature. (Via Eric Oslund of Scout.com)
With those type of compliments, it is clear that Heard will get more than 25 touches this season.
Where is Tyler Moore?
Tyler Moore is a sophomore left tackle, who started four games last season as a true-freshman. His status for this season remains up in the air as he has temporarily left the team.
"Tyler Moore has left the team temporarily," Pelini said. "We'll see where that goes. I'm not exactly sure if that's going to be permanent or not permanent. He's working through some things personally." (Via Robin Washut of Rivals.com)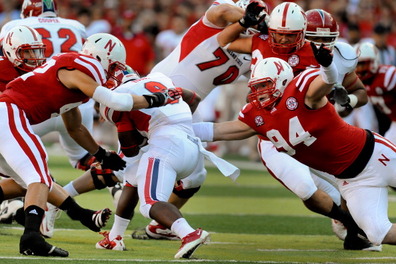 Eric Francis/Getty Images

Sean Fisher starting "Buck" linebacker?
Senior linebacker Sean Fisher has been effective when he is healthy, but he hasn't been that in quite a while. He missed all of the 2010 season with a broken leg and the effects of the injury really slowed him down last season. But as we begin fall camp, he looks good enough to be starter once the season begins.
He made a big jump from fall to spring, a huge jump there. It was almost what I have been told the old Sean Fisher. Being able to play in space, change direction, and make open field tackles. Said Nebraska linebackers coach Ross Els. He didn't miss a beat this summer and is starting to get comfortable with it. We are real excited with where he is. (Via Josh Harvey of Scout.com)
Jamal Turner still wants to play QB
Turner was a quarterback in high school, but has transformed into a playmaker at the wide receiver position. He finished his freshman year with 15 receptions for 243 yards and looks to be an even bigger factor his sophomore season. Still, he gets that itch to play his more comfortable position.
I still want to do it so bad. Turner told reporters. You don't understand. I watch the quarterbacks. I don't even watch my position sometimes -- I'm watching the quarterbacks, thinking, 'All right, get your read, throw it here, throw it there ... I do miss it, I can't lie. (Via Josh Harvey of Scout.com)
Top 10 defense
Nebraska returns seven starters from a defense that was ranked seventh in the Big Ten and 37th in the country last season. With so many starters returning, defensive end Jason Ankrah has some bold predictions for this unit.
"I feel like our defense is going to be top 10 in the nation, just because of the depth. Our younger guys are stepping up from D-Line to the secondary. We know the ins and outs of the defensive plays." (Via omaha.com)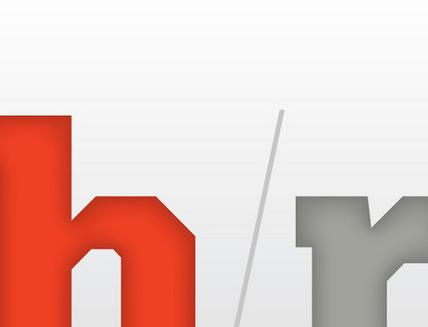 This article will be updated throughout fall camp to provide you with the latest news, injuries and everything else that involves your Nebraska Cornhuskers.