Denver Broncos: Statistical Expectations for Von Miller in 2012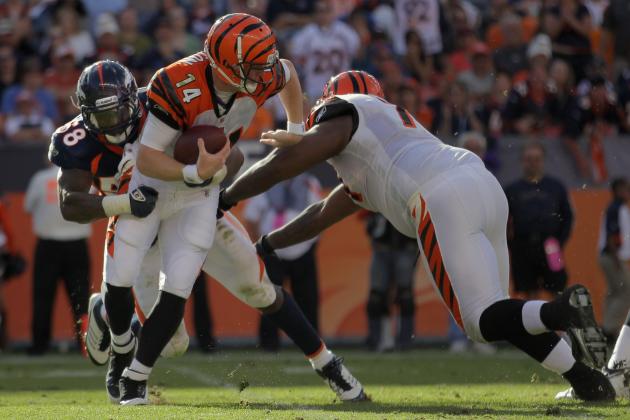 Doug Pensinger/Getty Images

There were 32 linebackers selected in the 2011 NFL draft. The top linebacker selected? Von Miller out of Texas A&M by the Denver Broncos with the second overall pick.
Many thought the Broncos would pick Alabama defensive tackle Marcel Dareus. Analysts just didn't see Miller heading to the Mile High City.
The Broncos turned some heads by selecting Miller, but it was a decision that paid dividends in his rookie season.
Miller was named the Defensive Rookie of the Year last season with some eye-opening numbers.
The versatile Miller recorded 64 tackles, 11.5 sacks and two forced fumbles.
He also won the hearts of many Bronco fans, while still managing to fly somewhat under the radar due to the Tim Tebow frenzy.
Miller's rookie numbers were outstanding, and improving on them in his sophomore season will be a tall task.
Here are the statistical predictions for Miller in 2012-13.
Begin Slideshow

»
Justin Edmonds/Getty Images

In his rookie season, Miller recorded 11.5 sacks. (He did add one in the postseason for 12.5)
The majority of those sacks came in the second half (9.5). Those numbers are largely due to the fact that most teams throw the ball more if they are trailing in the second half.
Now, the Broncos didn't exactly put teams away early. They had the 25th-rated offense in the league (19.3 points per game) but managed to rack up over 29 minutes of possession time per game.
The addition of Peyton Manning could have a significant impact, not only on the offense, but on the defense as well.
Manning's methodical approach offensively can affect the defense in a number of ways.
For example:
Quick strike scoring means more time on defense. More time on defense means more opportunities to get tackles, sacks, pass deflections, etc.
A lead means the opponent has to throw the ball more.
The last two years of a Manning-led offense in Indianapolis saw the team rank ninth (2009) and fourth (2010) in the league in scoring.
Inversely, the Colts' defense those two seasons finished fifth (2010) and second (2009) in total tackles.
That provides a good number of opportunities for the defensive stars in Denver, like Miller.
The issue is if Manning is more methodical and doesn't strike quickly, that limits the amount of minutes the Bronco defense will have. Thus, Miller's chances will be limited.
While Miller is a great pass rusher, he isn't Terrell Suggs or DeMarcus Ware, yet.
2012-13 Sacks Prediction: 12.5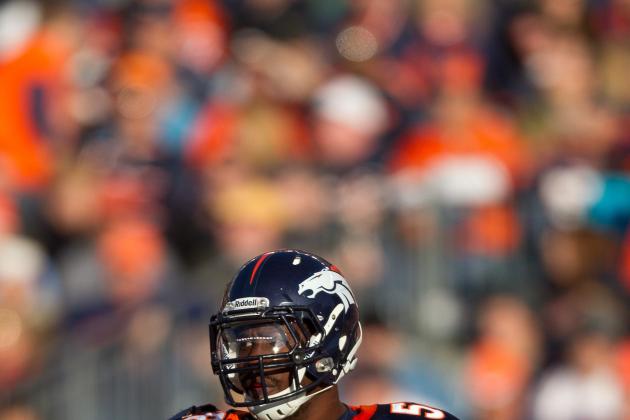 Justin Edmonds/Getty Images

Despite posting big numbers last season, Von Miller still hit a bit of a learning curve.
Largely due to an injury to ligaments in his right thumb, Miller needed to learn how to be a more well-rounded linebacker instead of just a pass rusher.
In those situations, Miller was often taken out of the game for his backup, Mario Haggan. But, Haggan is in St. Louis now.
This means that a more dynamic and well-rounded Miller will be crucial for the Bronco defense.
The 23-year-old has embraced his increased role.
"I can't come off the field this year. I don't want to come off the field. I want to play every down," Miller said in an interview with the Denver Post. "I want to always be on the field, always have an effect on the play, even if it's not coming my way."
If Miller is on the field for the additional snaps, he will have a greater chance at increasing his tackles from last season.
2012-13 Tackles Prediction: 95
That number is based on him being an outside linebacker. Only eight of the top 50 tacklers last season were OLBs. I expect a significant increase in tackles for Miller, but he is limited by his position.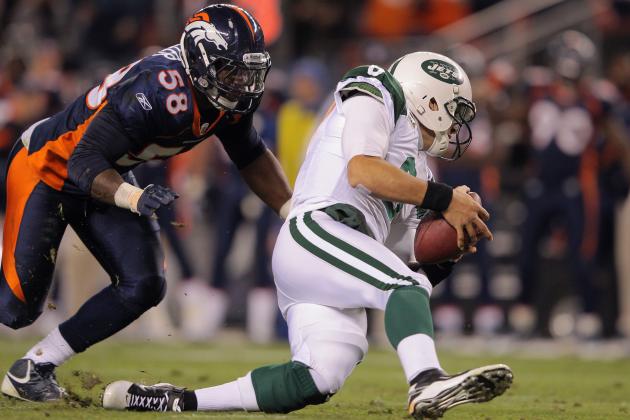 Doug Pensinger/Getty Images

Anyone who watched a Broncos game, or an Aggies game, in the last few seasons understands Miller's pass rushing ability.
At 6'3" and 237 lbs, Miller ran a 4.53 40-yard dash. That's freakishly fast for someone that size.
Miller said his offseason training with New York Giants defensive end Jason Pierre-Paul has him eyeing the 250 lbs mark.
That added size will be helpful in every aspect of his game, especially if he can keep his 4.53 speed.
Under new defensive coordinator Jack Del Rio, Miller will be asked to do more in pass defense, including more drop coverage.
His linebacker coach Richard Smith has him working on becoming a more multidimensional player.
"We're looking for bigger and better things out of him this year," Smith said of the 2012 Pro Bowler. "The system has changed a little bit in terms of ... he'll also be asked to drop into coverage. Right now he's taking pride in that. Through OTAs and minicamp he has done a really nice job."
With an increased load in pass defense, Miller may not see a drastic increase in his sack numbers, but he could see a significant rise in other pass defense stats.
Miller had just four pass deflections and no interceptions last season.
The added drop coverages could cause Miller to make strides in new directions.
2012-13 Pass Deflection Prediction: 7
2012-13 Interception Prediction: 3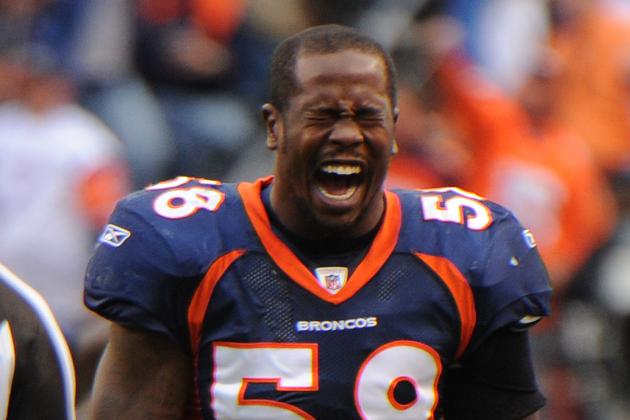 Bart Young/Getty Images

Since 2000, linebackers have won all but two of the Associated Press Defensive Rookie of the Year Awards.
Ndamukong Suh won the award in 2010 as a defensive tackle. Julius Peppers won the award in 2002 as a defensive end.
Other than those two, the list is dominated by big name linebackers like Brian Urlacher, Terrell Suggs, Jonathan Vilma, Shawne Merriman and Brian Cushing.
Almost all of the names above increased their production statistically from their rookie to second seasons.
Urlacher increased his tackles by 35 and pass deflections by two. His sack numbers dropped 1.5.
Suggs increased his tackle numbers by 33.
Vilma had 52 more tackles and three more pass deflections.
Merriman added five tackles, three pass deflections and seven sacks.
Cushing played in just 12 games in his second season. The only season of his career where he has not played in all 16 games.
History shows that there is no "sophomore slump" for the reigning defensive rookie of the year. I don't expect that to change with Miller.
Added versatility, size, knowledge and Del Rio's system should provide ample opportunities for Miller to grow and add to his impressive start.
The Broncos are hoping the Miller/Elvis Dumervil tandem can provide more sparks in 2012-13.