7 Wrestlers Who Prove Kevin Nash Wrong About Smaller Champions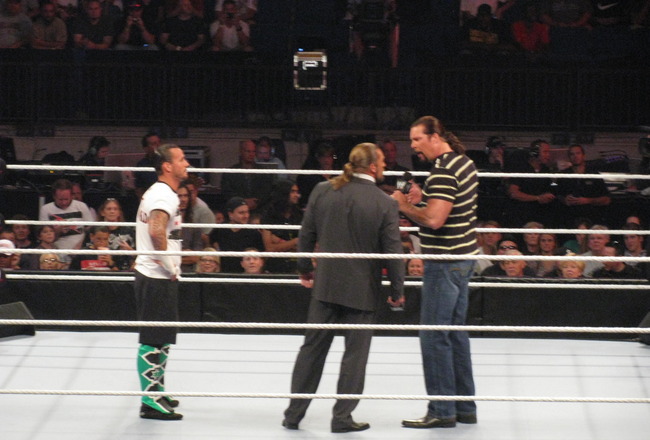 Photo: WWE

Kevin Nash has been called a lot of things, but being shy about speaking his mind is not one of those things.
Big Sexy has made headlines once again by criticizing the smaller wrestlers of the business as not being effective champions.
Here is an excerpt from an interview he gave. Some of the language has been cleaned up a bit, but if you would like to read the full interview check it out here.
When Benoit and Guerrero hugged [at the end of WrestleMania XX], that was the end of the business,Has business been the same since that WrestleMania? Has it come close to the Austin era? Has it come close to the nWo or the Hogan era? You put two f'ing guys that were great workers that were the same height as the f'ing referees.
These comments are a bit surprising from Nash given that he has been long-time friends with Shawn Michael and Sean Waltman, two wrestlers credited with helping end the misconceptions about smaller wrestlers in the 90s.
A lot of people have given their two cents on the matter, but instead of just fuelling the argument I thought it would be better to highlight seven wrestlers who proved that size does not matter when it comes to being a great champion for the company.
Rey Mysterio
Rey Mysterio is the epitome of an underdog, and everyone loves an underdog story.
Many people like to say that Rey was only given the title after Guerrero died because of how close they were, but that does not explain his subsequent runs as WWE and World Champion, does it?
The fact is that Mysterio garnered fame in the United States by being more entertaining than people twice his size by using innovative offense.
To say that Rey Mysterio should not be champion because of his size is ridiculous because his long record of show-stealing matches proves otherwise.
I wonder if Nash was thinking this stuff about smaller guys when he was throwing Mysterio into the side of a trailer like a lawn dart during the NWO invasion?
I had to include that video just because it is one of those moments that always sticks out to me as kind of funny despite the level of violence it is supposed to portray.
Jeff Hardy
Jeff Hardy has almost never been the biggest guy in the fight, but he usually has some of the biggest moments in his matches.
These days Hardy is not doing as much risk-taking in TNA due to the years of abuse he put his body through, but when he was in WWE there was nobody who could do a high spot like him.
Whether he was jumping from the top of 20 foot ladders, steel cages, stage sets or production trucks, it was always exciting to see him hit that big Swanton Bomb on whoever was below.
Hardy has had his share of personal issues, but he pushed past a lot of negative criticism and personal demons to become a multi-time World Champion as well as one of the most recognizable names in wrestling.
I truly hope that Hardy decides to end his career in WWE with one more run instead of going out under the banner of TNA because he deserves a send off the likes of which Dixie Carter cannot put on for him.
Daniel Bryan
The man who turned the word yes into a phenomenon certainly proves any misconceptions about littler wrestlers being unable to entertain wrong.
Bryan is a world-travelled superstar who spent years honing his skills in various promotions before finally finding success in WWE as a World Champion.
When Bryan first appeared on NXT a lot of his fans thought WWE would waste the ridiculous amount of talent he had, but they were wrong.
Not only have they used him in a great way, but he has become one of the most engaging heels we have seen in years.
His feud with CM Punk also showed that two wrestlers on the smaller side of the scale could out-wrestle anyone on the card several times over.
CM Punk
Speaking of CM Punk, didn't Kevin Nash say something about wanting the NWO to come back under Punk's leadership?
It sure is funny how someone like Nash can think Punk is not suited to lead the WWE due to his size and yet he wants to follow him under the banner he, Hall and Hogan created over a decade ago.
CM Punk is one of WWE's most valuable assets, not only for his in-ring ability, but because he can play both the heel and the baby face perfectly.
Whether he is defending the little guy or kicking his head in, Punk is entertaining to watch.
Chris Jericho
Y2J recently responded to Nash's comments on Twitter on Twitter.
Hope @RealKevinNash doesn't tear his quad tweeting! #typicalbigman#nwothirdwheel
Jericho is always reliable for an entertaining and humorous remark, and this was no different. The first undisputed Champion is certainly a great example of how size does not mean anything.
Jericho has done everything in WWE and then he started to make a name for himself in the entertainment industry by hosting a game show, competing on Dancing with the Stars and releasing music with his band, Fozzy.
The fact that Jericho has not held a title during his most recent run only means he is not looking to hog the spotlight. He is helping the newer generation of WWE and I have a feeling his match with Dolph Ziggler at SummerSlam will be epic to say the least.
Eddie Guerrero
Eddie Guerrero is one of the most entertaining personalities to ever step foot through the ring and for anyone to use him as an example of when the business died is simply ridiculous.
Whether he was having five-star matches with Kurt Angle or showing Brock Lesnar the effects of a Frog Splash, he has always been a top level performer.
Family legacy aside, there are few people in the business who made the kind of impact Guerrero made on the industry.
He helped define the cruiserweight division in WCW and then he went to WWE where he became one of the most entertaining heels in the history of the company.
Rest in Peace, Latino Heat.
Shawn Michaels
HBK is billed at 6'1" but he has always been considered on the smaller side of wrestling, which is why his high flying arsenal of moves made him a standout talent early in his career.
It is convenient how Nash never mentioned Shawn Michaels as one of those small guys who killed the business, because he knows that if he did he would have a backlash on his hands he could not handle.
Many people consider HBK to be the best in-ring performer in the history of the business. While that is arguable to others, no one will deny the man's sheer talent.
Shawn Michaels was one of the few top guys in WWE who did not jump ship to WCW during the low years for WWE in the Monday night wars and because of that he was able to stand out in WWE instead of being lost in the fold of WCW like so many others did.
Let us not also forget that Nash's first taste of fame came as Michaels' bodyguard, or in other words, his lackey.
Keep Reading