PGA Championship 2012: Analyzing Odds for Previous Tourney Champions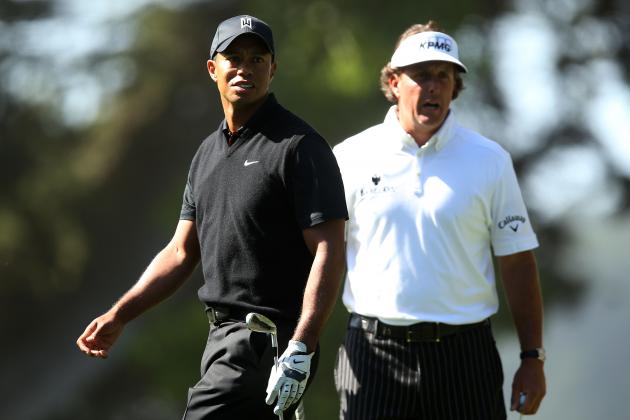 Ezra Shaw/Getty Images

Until Tiger Woods wins another one, the talk of every major will be completely dominated by the question of whether this will be the one in which Tiger reascends his throne. Tiger has excelled at the PGA Championship in the past, winning the tournament four times, and this year's tournament offers him a great opportunity to claim victory.
Yet Tiger isn't the only returning PGA champ who will be attempting to win another one this weekend. 12 other former champions will compete at Kiawah, including some of the most beloved golfers in the sport.
Though a few of them have little to no chance of winning and are only able to compete in the tournament due to the lifetime exemption that comes with a PGA Championship victory, several have realistic hopes of seeing their name atop the leaderboard on Sunday evening.
Here is a look at the 13 former PGA Championship winners who will compete this weekend at Kiawah and what their chances are for another major title.
Begin Slideshow

»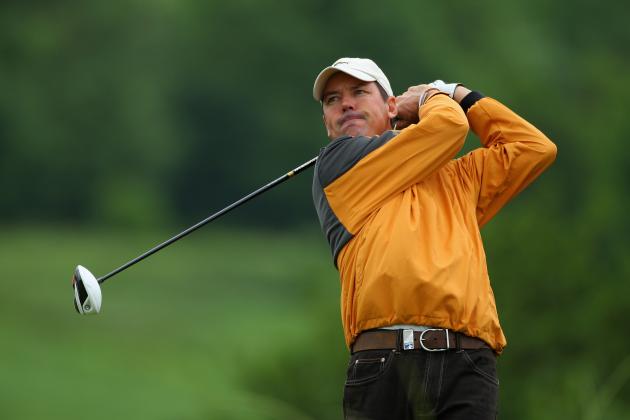 Warren Little/Getty Images

After eight years as a professional, in which he played in only three majors (making only one cut) and winning a single PGA tournament, Rich Beem seemed to be putting it all together in 2002. He won a couple of non-Tour tournaments, The International in August and then topped it off with a win at the PGA Championship just two weeks later. At 31 years old, it seemed that Beem was ready to make a run as a top pro.
Beem has struggled since his PGA win. He has failed to win another tournament in the decade since, and missed the cut in 15 of the 25 majors he has played in post-2002, never finishing above 20th place. Beem lost his Tour card and almost certainly would not be playing at the PGA Championship if not for his lifetime exemption as a former winner.
Beem missed the cut at more than half of the Tour events he has played in this year, though he has found himself in the Top 20 a few times, most recently at May's HP Byron Nelson Championship.
Beem's best days are behind him, and though a good few rounds could keep him in the event into the weekend, it would be a miracle if he's anywhere near the top of the leaderboard.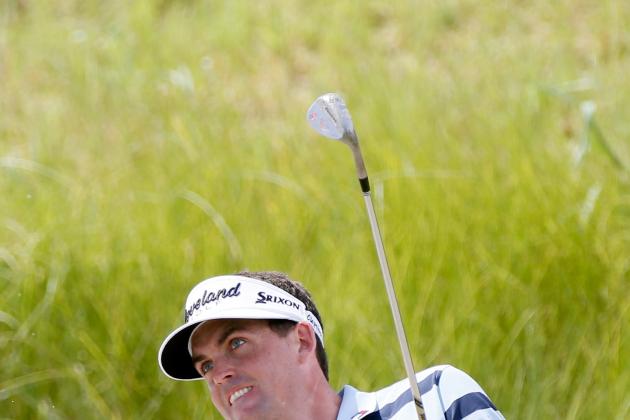 Sam Greenwood/Getty Images

Though the professional handicappers have given Tiger Woods, Luke Donald and Lee Westwood the best odds of winning the PGA Championship, Keegan Bradley has done all he can to make the case that he is the favorite to win on Sunday.
Bradley, the defending champion of the tournament, won last year's tournament in a playoff with Jason Dufner in the very first major tournament of his career. Bradley followed up his victory with a strong 2012 season, missing only three cuts in 20 events and finishing in the top ten four times, including a victory at last week's World Golf Championships-Bridgestone Invitational.
Bradley's outstanding recent play has earned him the No. 15 ranking in the Official World Golf Ranking, and he is ranked seventh in FedExCup points.
Bradley's inexperience has prevented many experts from taking him seriously, and he will have to do more to prove he wasn't a one-time fluke. There's a very real chance he will do just that this weekend.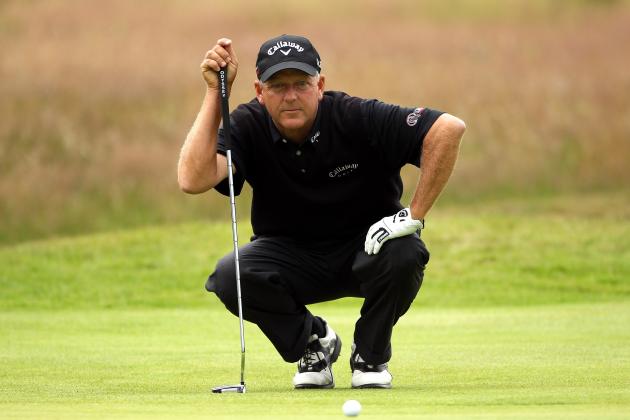 Andrew Redington/Getty Images

Mark Brooks was a great golfer in his prime, and he capped off his six previous PGA Tour victories with a win at the 1996 PGA Championship. Brooks will use his lifetime exemption to take a break from the Champions Tour and play at this year's PGA Championship.
Brooks has no real shot of competing at the PGA, having missed the cut in each of the last 12 PGA Championships. At 51 years old, Brooks can't keep up with today's younger stars.
Still, it's always a pleasure to watch the older greats of the game return to the majors each year to take another run at a title, soak in the adoration and enjoy a few rounds of golf with the sport's elite.
Brooks has no chance to win this weekend, but if you have a chance to watch him play at all, take it.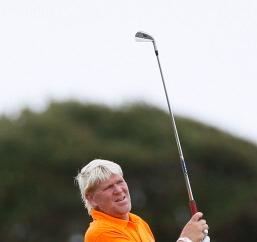 Sam Greenwood/Getty Images

It has been more than two decades since John Daly won his sole PGA Championship and several years since he has been much of a golfer. But the beloved Daly returns to the PGA Championship nearly every year due to his lifetime exemption resulting from his 1991 win in the event.
Recent PGA Championships have not been kind to Daly. Since winning the event, he has only finished in the top 30 once and in the top 50 twice. Along the way, he has missed 12 cuts and twice withdrawn from the tournament.
Daly's last PGA Tour victory came at the 2004 Buick Invitational. Though he is largely viewed as a novelty on the Tour, he is still capable of stringing together a few rounds of excellent golf. He finished in fifth place at last week's Reno-Tahoe Open and tied for ninth at last year's RBC Canadian Open. He has also looked better this season than he has in a number of years, though that's not saying much.
Still, his stat sheet is littered with missed cuts and poor finishes, and no one on the links views Daly as much of a threat to do anything other than blind them with his questionable fashion decisions.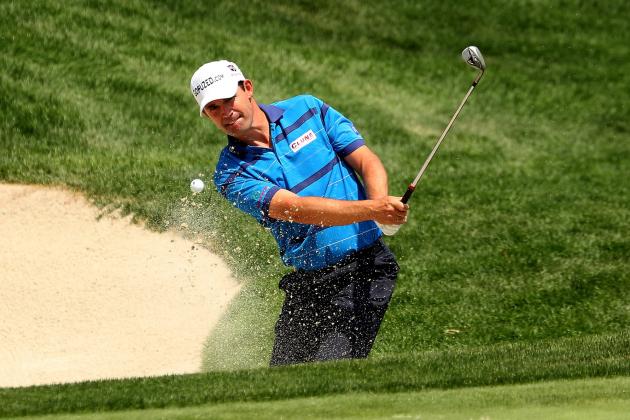 Stephen Dunn/Getty Images

Padraig Harrington was the last man to win two consecutive majors when he won the 2008 British Open and PGA Championship during a monster two-year run, in which he won three majors and the Irish Open.
Since then, Harrington has still played well, but not at the same fierce level. His last PGA or European Tour victory came in 2008, though he did win the Asian Tour's Iskandar Johor Open in 2010. Harrington also had a rough time at the majors between 2009 and 2011, missing six cuts in twelve tournaments and only twice cracking the top 25.
Harrington has begun to look like his old self in 2012. Though his play was unexceptional at the British Open, he finished in a tie for eighth at the Masters and a tie for fourth at the U.S. Open. He also started the year with a tie for seventh at the AT&T Pebble Beach National Pro-Am.
Harrington is a proven winner, and though his game hasn't quite been at its peak level in the past few years, he has looked pretty close this year. He has the experience and talent to make a deep run at any given tournament.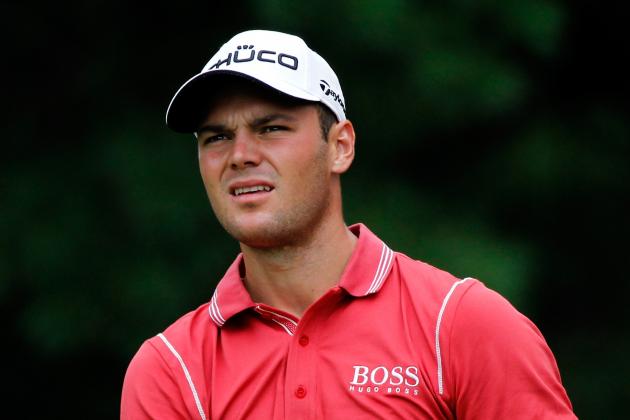 Gregory Shamus/Getty Images

Between 2010 and early 2011, no one on the planet was playing better golf than Martin Kaymer.
He earned top-ten finishes at the 2010 U.S. and British Opens, and then won the PGA Championship in a playoff with Bubba Watson. Kaymer than started 2011 with wins at the WGC-HSBC Championship and the Abu Dhabi HSBC Golf Championships.
Kaymer's game took a dip after his win at the WGC-HSBC Championships in November, 2011, though it has been far from an overwhelming one.
He has three top ten finishes on the European Tour in 2012 and has not missed a single cut, but has not topped his seventh place finish at the Maybank Malaysian Open in April. He played well at the U.S. Open, but then missed the cut at the British Open.
There's nothing terribly wrong with Kaymer's game lately, he just hasn't had complete control over it like he did in 2011. There is a good chance Kaymer will end up in the hunt at the PGA Championship, but even if he falls short, he will likely turn in a respectable performance.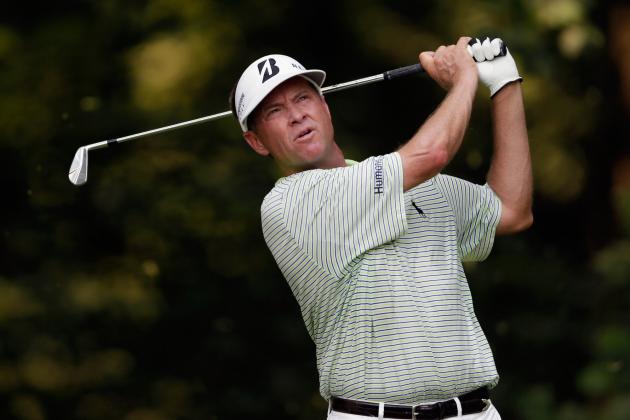 Rob Carr/Getty Images

Davis Love III has had a remarkable career in the 27 years since he earned his PGA Tour card, winning 20 PGA Tour events and finishing in the top ten at 21 majors. Love's greatest triumph came at the 1997 PGA Championship, where he won his first and only major, in a dominating victory of five strokes over Justin Leonard.
Love hasn't won a PGA Tour event since 2008, when he won the Children's Miracle Network Classic at Walt Disney World. But he has been remarkably consistent, even into his late 40s.
Love finished tied for 11th at the 2011 U.S. Open and tied for ninth at the 2011 British Open. Just two months ago, he finished in a tie for third at the FedEx St. Jude Classic with a score of seven below par.
Love is unlikely to contend for the title at the PGA Championship, but stranger things have happened. He has proven that he can still golf with the best of them, and on a tough course like Kiawah, Love's steady hand and experience might just allow him to surprise a few people.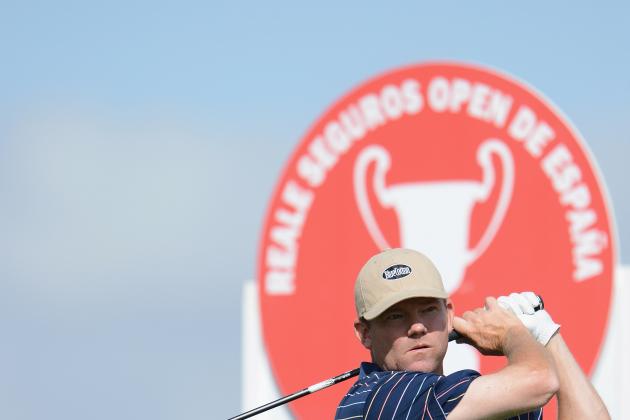 Stuart Franklin/Getty Images

Shaun Micheel is on the radar of precisely no one right now, but that's not necessarily a bad thing for the 2003 winner of the tournament. When he won the PGA Tournament nine years ago, still the only Tour victory of his career, Micheel had not played in nine consecutive majors, and had missed the cut and tied for 40th in his sole previous major tournament appearances.
Micheel repeated this in the run up to his second-place finish at the 2006 PGA Championship. After a solid 2004 major season, Micheel missed the cut at seven straight majors before his loss to Tiger Woods at Medinah Country Club.
Micheel is currently ranked 712th in the world, and hasn't finished in the top 30 at a PGA event since the 2011 Memorial Tournament. Micheel played well as recently as 2010, when he made three top-ten finishes, but has been a non-factor on the Tour ever since.
Any other golfer with Micheel's recent history would be written off, but these are exactly the kind of circumstances in which Micheel has made his two title runs. It's certainly a longshot, but a Micheel victory is not outside the realm of possibility.
Gregory Shamus/Getty Images

Phil Mickelson's fate at the PGA Championship all depends on who shows up to play: Good Phil or Bad Phil.
Good Phil started off strong in 2012, winning the AT&T Pebble Beach National Pro-Am, finishing second the next week at the Northern Trust Open, earning a top-five finish at the Shell Houston Open and then tied for third at the Masters.
Bad Phil withdrew from the Memorial after a disastrous score of 79 in the first round, overextended himself with commitments and looked tired in his 65th place finish at the U.S. Open and continued his disastrous play in missing the cut at the British Open.
Mickelson looked slightly better at last week's World Golf Championships-Bridgestone Invitational, but his game is still a long way off of where it should be. He looked like his usual self only a few months ago, and his missed cut at the British Open was his first at a major since 2007.
Mickelson has been too good too recently for age to be causing his terrible recent play. Something is obviously wrong with Lefty's game, and if it continues, he could turn in a disastrous cut at the PGA. But no one turns things around better and quicker than Mickelson, and it's just as likely that we'll see him win his fifth major.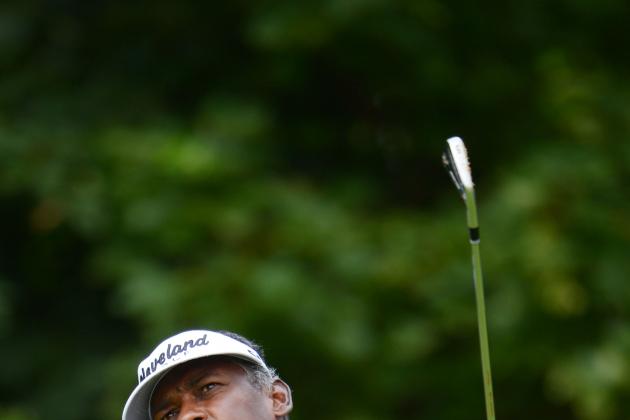 Stuart Franklin/Getty Images

It's been awhile since the Hall of Famer was on top of his game, and it's hard to believe that the Big Fijian is already 49 years old. Vijay Singh, the winner of 58 professional tournaments, including three major victories, will attempt to win his first major since the 2004 PGA Championship and his first professional tournament since the 2008 Deutsche Bank Championship.
It was starting to seem like Singh would never be a competitive force in a major again. Since his tie for sixth place at the 2006 U.S. Open, he had never cracked the top ten, missed the cut at both majors in which he played in 2011 and missed the cut at this year's U.S. Open after a mediocre finish at the Masters. Then, Singh quietly climbed up the leaderboard at the British Open, finishing in a tie for ninth place.
It's unlikely that Singh can contend this week, and he'll likely be ignored for the most part until he can join the Champions Tour.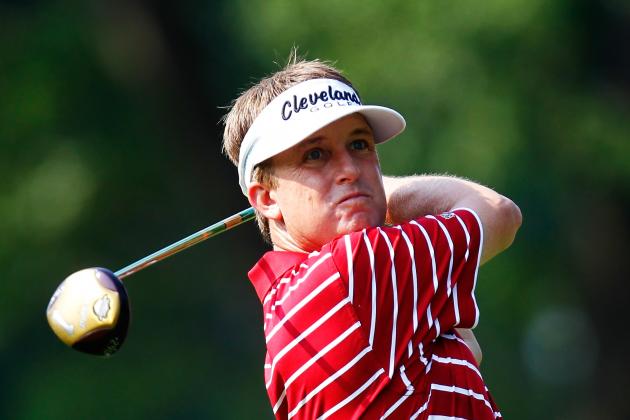 Gregory Shamus/Getty Images

After a run of a few years in which he struggled with injuries and shaky play, David Toms has put together a nice run of golf over the past couple of years. He won last year's Crowne Plaza Invitational at Colonial, his first Tour victory since 2006, and finished in ties for fourth place at both the 2011 PGA Championship and this year's U.S. Open.
Toms has been a very good player at majors in his career, with ten top-ten finishes in his career. He hasn't missed the cut at a PGA Championship since 2002, the year after his victory in the tournament.
It has been a long time since he has looked as good as he has the past few months. He finished in a tie for tenth at May's Players Championship, and though he missed the cut at his next two tournaments, he turned in his strong U.S. Open performance and then followed it up with a tie for eighth at the World Golf Championships-Bridgestone Invitational.
Toms hasn't been thought of as a threat in six years, but anyone who has won 13 PGA Tour tournaments, including a major, deserves to be taken seriously.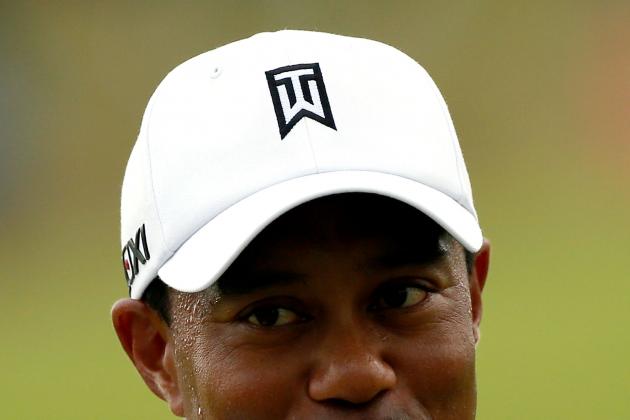 Sam Greenwood/Getty Images

Tiger Woods will win another major; it's a matter of when, not if. The greatest golfer of his generation hasn't won a major in four years, leading some to question whether he still has it in him.
What's easy to forget is that Woods is still one of the most dominant players on the Tour, and lately he's looked better than he has at any time since 2009. Ranked second in the world, Woods won three PGA Tour events in 2012, his first in three years, including a downright nasty score of -13 at the Arnold Palmer Invitational, five strokes ahead of Graeme McDowell in second place.
Woods was in it until the very end of this year's British Open, ultimately finishing in a tie for third, and has three other top-five finishes in majors in the past three years.
Until Tiger proves he can still win majors and resume his assault on Jack Nicklaus' record, he will have his doubters. But Tiger is a sleeping giant, and every golfer fears seeing his name near the top of the leaderboard.
He has won four previous PGA Championships, and the 2012 tournament could easily see Woods break his slump and definitively reclaim his throne as golf's greatest.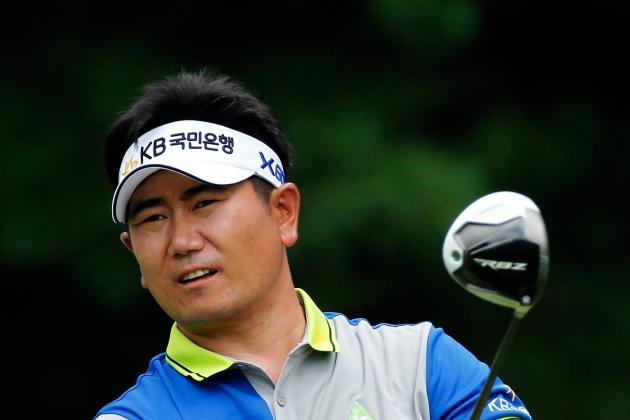 Gregory Shamus/Getty Images

Y.E. Yang was on no one's radar heading into the 2009 PGA Championship. He had only played in seven previous majors and had missed five cuts, finishing in ties for 30th and 47th in the remaining tournaments.
Though he had won a PGA Tour event five months prior (the Honda Classic) and had a win on the European Tour a few years prior to his name, Yang was considered a Japan Golf Tour golfer good enough only to make occasional appearances at European and PGA Tour events.
Once Yang beat Tiger Woods by three strokes in a major, things changed for the young golfer. He has played in every major since, twice cracking the top ten, including a tie for third at the 2011 U.S. Open. He also won the 2010 Volva China Open, a tournament co-sponsored by the European Tour and OneAsia Tour.
Since 2010, Yang has not won a tournament, though he has come close, most notably at the 2011 Honda Classic.
Yang finished tied for 57th at this year's Masters, and then missed the cut at the U.S. and British Opens. A win at the PGA would be surprising considering his recent play, but hardly shocking considering his past success.