LSU Football: Predicting Every Regular Season Game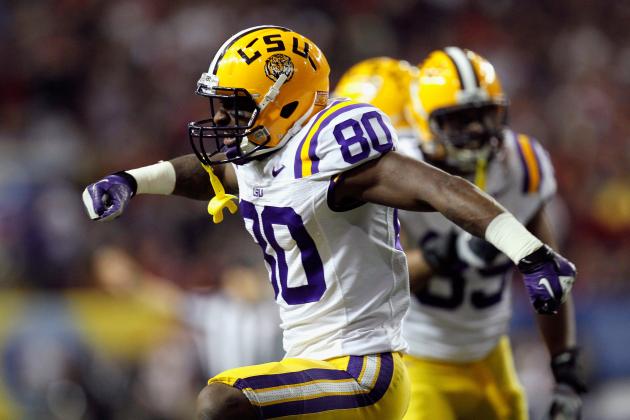 Kevin C. Cox/Getty Images

There are relatively few holes for the LSU Tigers in 2012.
The wide receiver position will be lacking a tall, physical receiver and Zach Mettenberger's inexperience may come into question, but other than that, the Tigers are nearly perfect. Some could argue they'll be even better than they were a year ago.
LSU will feature one of the premier defenses in the SEC with the best defensive line in the country. They also have one of the best rushing attacks in the nation.
Basically, this team is the 2011 version with a quarterback capable of skinning defenses. Hear that? That's the sound of SEC head coaches sighing in dismay.
But will that be enough for the Tigers to run through the SEC as they did last year? Or will Mettenberger's inexperience cost the Tigers dearly?
Begin Slideshow

»
North Texas has the daunting task of opening up against LSU in Tiger Stadium at night. Good luck.
The Mean Green will most certainly meet their match. The Tigers should have their way rushing the ball, but look for them to try to throw it early and often with Mettenberger. The game experience should be valuable before facing a somewhat underrated Washington team the following week.
And while LSU is doing its thing offensively, the defense should have no problem asserting its will upfront and in the secondary.
In fact, this game should give Tyrann Mathieu a head start in the 2012 Heisman race.
Prediction: LSU, 41-3
Sure, Keith Price looked impressive in defeat at the Alamo Bowl.
The Washington quarterback threw for 438 yards and four touchdowns in the loss against Baylor, but then again, that game featured absolutely no defense. The final score was 67-56, for heaven's sake.
So how will he do against one of the best defenses in the country? Well, Price did have a tendency to throw interceptions when he faced a relatively stiff defense in 2011. He threw two interceptions against Nebraska, three against Arizona and two against Oregon.
What's he going to do when Sam Montgomery and Barkevious Mingo are in his face for 60 minutes? Washington will be able to move the ball, but eventually, the Tigers' overwhelming talent will bury the Huskies.
Prediction: LSU, 45-17
Wait, they play football in Idaho? I guess you do learn something new every day.
All joking aside, the Idaho Vandals play in the WAC, and last season they lost every conference game except one. So how do they expect to compete with LSU? Well, they don't, or at least they shouldn't.
Much like the Tigers' game against North Texas, Idaho should be a great opportunity for Mettenberger to gain more experience before SEC play.
Expect the Tigers to take control early by forcing Idaho into mistakes and turnovers. No contest here.
Prediction: LSU, 49-10
Though the end result will be the same, the game between LSU and Auburn will be much different than it was a year ago.
Last season, Auburn ran into a brick wall, and without Mathieu, Spencer Ware or Tharold Simon, LSU dismantled Auburn 45-10. But in 2012, Auburn will be much more experienced with a quality defense, and that's not questioned.
What is questionable is whether Auburn's offense will be able to maintain its explosiveness without Gus Malzahn calling the shots. And can quarterback Kiehl Frazier be fully prepared to face LSU's secondary?
That's unknown heading into the season, but what we do know is that Auburn is ready to extract revenge against LSU. Much like Auburn sought vengeance in 2010 with Cam Newton after LSU beat them 31-10 in 2009, Auburn doesn't seem to forget bad losses.
Playing in Jordan-Hare Stadium against a hungry Auburn team will be LSU's first real test of the season. And though Auburn gives LSU a real test, the LSU Tigers still pass with flying colors.
Prediction: LSU, 30-13
In case you're still wondering, LSU's non-conference schedule pales in comparison to last year's.
Washington is the only non-conference game that can be considered a challenge, while the others are merely cupcakes, perhaps none more so than the Towson Tigers.
Who exactly is Towson? An FCS school to be exact, so come Sept. 29, the Tigers will feast on its own kind and feast well indeed.
LSU could very well have their second team in by halftime and have their third team finishing the game.
Prediction: LSU, 56-0
Do the Gators have their chomp back?
Eh, let's not get ahead of ourselves. While the defense is coming together quite nicely for Will Muschamp and his staff, the offense still needs to figure out which quarterback will start.
TGhere's still some lingering question marks surrounding the Gators that will keep them from winning the SEC East or hanging with LSU.
And though this game will be played in the Swamp, LSU should still have no trouble pulling away from the Gators, especially after coming off of a Towson thrashing. The Gators will sport a strong "D", but the Tigers will be strong in all phases of the game.
Advantage, Tigers.
Prediction: LSU, 34-13
Consider LSU on full upset alert come Oct. 13.
South Carolina is no joke, folks, and this could be the year Steve Spurrier gets his club over the hump and wins an SEC title. His team is seriously that good, and that's all the more reason to believe this game should be an instant classic.
The Gamecocks have a quarterback in Connor Shaw who they actually trust, a running back in Marcus Lattimore who could win the Heisman and a defensive line that is sure to get after the quarterback. This game has fireworks written all over it.
Back and forth these teams will go, trading leads as momentum switches. Mettenberger will have to prove himself in this game, as the Tigers will have to rely on him in a late-game situation.
Mettenberger will do his job, and the Tigers will escape by the skin of their teeth.
Prediction: LSU, 24-20
The Honey Badger is going to have one game this season where he simply goes off. This will be it.
Mathieu was good all season last year. In fact, he was so good that if he comes close to what he did a year ago, he should win the Heisman. Mathieu's sophomore highlight reel was so astounding that it would take other players a career's worth to match what he did, and maybe that wouldn't be enough.
While it'll be hard to repeat his sophomore campaign, he'll have a game where he rips balls and sprints past defenders in the return game much like he did against Arkansas last season. What a way to welcome Texas A&M to the SEC.
The last time Mathieu played against the Aggies, he had eight tackles, a sack and an interception as a freshman. Mathieu will outshine his last performance with a punt return for a touchdown, 10 tackles and a forced fumble in an LSU romp.
Prediction: LSU, 42-17
Round 3 anyone?
This is the big one, the rubber match if you will. If you want to look at this game from a simplistic point of view, fans could easily say that LSU is better than they were in 2011 and Alabama is not.
The Crimson Tide lost six amazing players in Mark Barron, Dont'a Hightower, Trent Richardson, Marquis Maze, Courtney Upshaw and Dre Kirkpatrick. LSU, on the other hand, lost Rueben Randle, Ryan Baker, Mo Claiborne and Michael Brockers. You do the math. But as you know, football isn't as simple as that, especially with Nick Saban and Les Miles calling the shots.
This should be another defensive struggle, and no matter what the Big 12 and Pac 12 tells you, there's nothing wrong with that. In fact, it's refreshing to see these days.
These two are going to slug it out once again, and the difference maker will be the setting. It's simply unfair to have to play LSU at night in Tiger Stadium, and that's exactly what the Tide will face in 2012.
Could we see another night game classic like the LSU-Florida game in 2007? We can only hope.
Prediction: LSU, 20-17
Playing Alabama, Texas A&M and LSU in a row has to be in the back of Dan Mullen's mind all season.
The Bulldogs will need to be 110 percent when facing LSU. But after battling the Crimson Tide and Aggies the previous two weeks, they might be banged up instead.
The one thing in their favor, though, is a potential hangover by LSU. The Tigers' encounter with Alabama will be draining, to say the least. It'll be an emotional game that's watched by anyone who would call themselves a college football enthusiast, so a drop in enthusiasm is somewhat expected.
So the biggest question will be about the Tigers' ability to recover from the Alabama game. If the Tigers stumble out of the gate, this could be a close game like in 2011. But if LSU plays to its potential, the Tigers should win by at least two touchdowns.
Prediction: LSU, 27-13
It's clobberin' time.
It's a long way to the top if you're at the bottom of the SEC West. Hugh Freeze and Ole Miss know this.
While the Rebels have capable playmakers such as Charles Sawyer and Donte Moncrief, they can't match LSU athlete for athlete. It'll take Freeze a few years to acquire that much talent.
So what do Rebel fans have to look forward to in 2012? Losing. The Tigers will handle Ole Miss like they did a year ago, except this time Mettenberger shows off his arm rather than his legs.
Prediction: LSU, 38-6
Many are quick to write off Arkansas without Bobby Petrino. Foolish.
Though the Hogs are without him and three tremendous receivers, they still have Tyler Wilson at quarterback. While a short few months ago I figured Wilson and Georgia quarterback Aaron Murray to be equal, my opinion has since changed.
After watching Wilson act professionally and show off his strong arm at the 2012 Manning Passing Academy, I walked away more impressed with him than I did with Murray, Matt Barkley or any other elite quarterback in attendance. He's that good.
But, hey, this isn't breaking news. After all, Wilson was first team All-SEC last season with 3,638 passing yards, 24 touchdowns and six interceptions. Wilson and Arkansas will still be dangerous, and that should make for another LSU-Arkansas classic.
However, the Tigers' edge on defense and in special teams will be the key to victory, as it was a year ago.
Prediction: LSU, 31-24