Every NBA Team's Most Glaring Weakness Heading into Next Season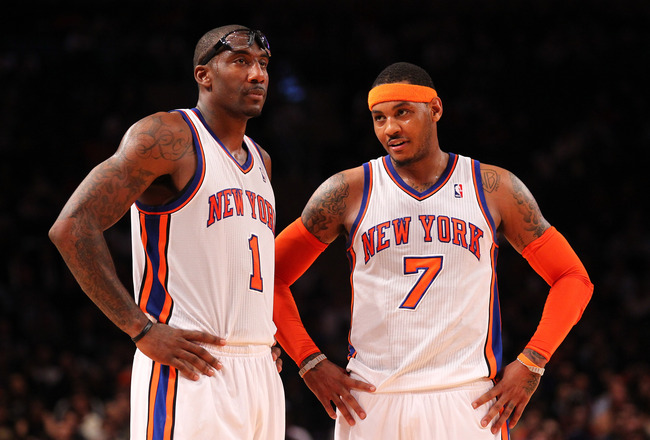 Al Bello/Getty Images
No professional sports team, no mater how great, is without their faults.
Even the world champion Miami Heat saw themselves ranked in the bottom third of NBA teams in regards to rebounds and assists per game last season.
It's safe to say no team should be satisfied with their season last year, and most have gone out and made moves to help patch these weaknesses.
No matter if they found themselves picking in the lottery or playing in the Finals, here is the biggest weakness every NBA team has to fix going into the 2012-2013 season.
Charlotte Bobcats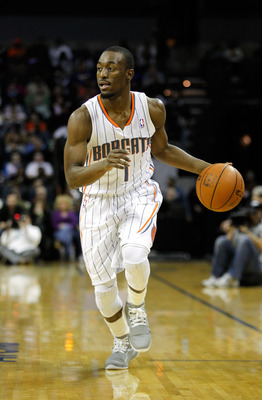 Streeter Lecka/Getty Images
Biggest Weakness: Scoring
2011-2012 Record: 7-59
Things can only get better for the Bobcats in 2012-2013.
With an abysmal seven wins in 66 games, Charlotte needs help in a lot of different areas, but the main need is simply putting the ball in the basket.
Finishing dead last in the NBA in points last season with only 87 a game, the Bobcats need help offensively in the worst way.
So far they've made a couple nice moves by drafting Michael Kidd-Gilchrist and Jeffery Taylor, great athletes who excel both at attacking the rim and shooting from deep.
Adding Ramon Sessions and Brendan Haywood in free agency will help, but don't expect an offensive juggernaut in Charlotte anytime soon.
Washington Wizards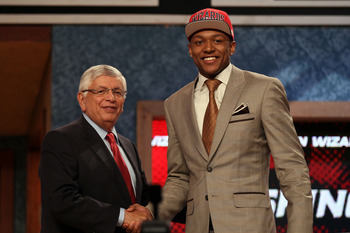 Elsa/Getty Images
Biggest Weakness: Moving the Ball

2011-2012 Record: 20-46
Washington got off to an awful start last season under Flip Saunders but finished the year on a high note, winning their final six games of the season.
One issue the Wizards may run into again this season, however, is their inability to move the ball around.
Washington ranked 27th out of the 30 NBA teams in assists last season with a measly 19.1 per game.
Part of the problem is that after John Wall, the Wizards really don't have an experienced back-up point guard. Shooting guard Jordan Crawford was actually second on the team in assists with only three per game.
Washington has to hope that the No. 3 overall pick in the draft, Bradley Beal, will help them to get the offense flowing.
Cleveland Cavaliers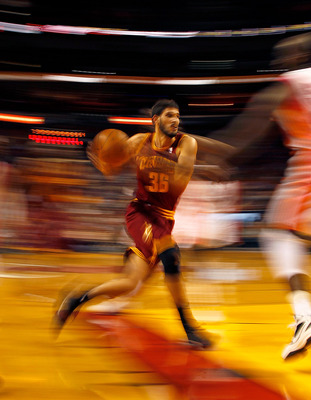 Mike Ehrmann/Getty Images
Biggest Weakness: Small Forward Situation

2011-2012 Record: 21-45
The Cavaliers showed improvements in 2011-2012, but are probably still a year or two away from being a serious playoff contender in the East.
One thing holding them back has been their play out of the small forward position. Over the past two years the Cavs have sent out the likes of Jamario Moon, Joey Graham, Christian Eyenga, Omri Casspi, Luke Walton and others to fill the position with very little success.
The only player who's given them a slimmer of hope has been Alonzo Gee, who still has not signed the teams qualifying offer and is hoping for a long term deal.
Cleveland recently signed C.J. Miles to be a nice backup to the wing positions, but the starting small forward job appears very much still up for grabs.
New Orleans Hornets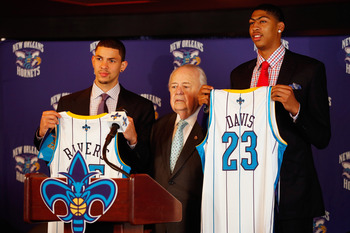 Chris Graythen/Getty Images
Biggest Weakness: Point Guard Play

2011-2012 Record: 21-45
New Orleans has gotten a lot better this offseason, there's no doubt about that.
Adding Anthony Davis, Ryan Anderson and Robin Lopez means a rejuvenated frontcourt. Locking down Eric Gordon to a four year deal and drafting Austin Rivers makes for an explosive backcourt.
Trading starting point guard and team captain Jarrett Jack away for cap space? Ehh, not so great.
The Hornets were already a bit unsteady at the position last year, as their 15.5 turnovers per game ranked fourth worst in the entire NBA.
Now they'll have to rely on the rookie combo guard Rivers and 25-year-old Greivis Vasquez to handle the ball. While both could eventually be very good, this could be an adjustment year as one player moves to a starting role while the other changes his position almost entirely.
Sacramento Kings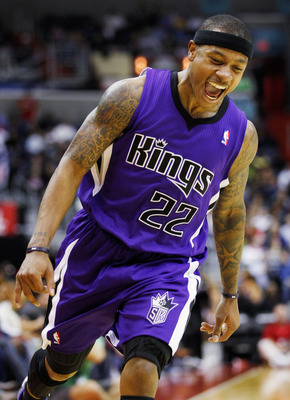 Rob Carr/Getty Images
Biggest Weakness: Defense

2011-2012 Record: 22-44
The Kings were an absolute defensive mess last season.
While they had no problem scoring the ball at 98.8 points per game, they also gave up more points than any other team in the league at 104.4 a contest.
As a team Sacramento allowed opponents to shoot 47.6 percent from the field, the highest mark against any team in the league.
Adding Thomas Robinson in the draft will improve their defensive rebounding, but he's not a shot-blocking threat, something this team desperately needs.
Brooklyn Nets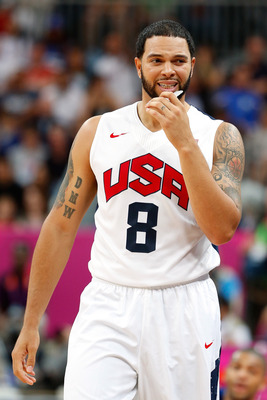 Jamie Squire/Getty Images
Biggest Weakness: Financial Flexibility

2011-2012 Record: 22-44
On the basketball court itself, the Nets will no doubt be much improved in 2012-2013.
The question is, how much?
Improved could mean finishing .500 and making a low seed in the Eastern Conference playoffs. An accomplishment like this, however, would still be viewed as a disappointment.
The fact is, this core of Deron Williams, Brook Lopez, Gerald Wallace and Joe Johnson simply has to work.
These four players alone eat up all of the Nets cap space and will continue to do so for the next four years, leaving them little to no options to add or make changes to the team.
The Nets went all-in this offseason, and they better hope it works.
Golden State Warriors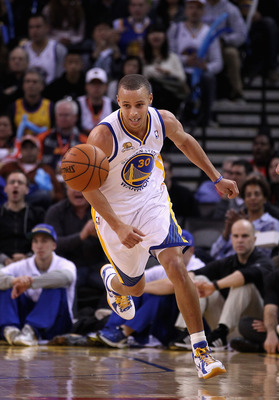 Ezra Shaw/Getty Images
Biggest Weakness: Health

2011-2012 Record: 23-43
The Warriors may finally have a team to live up to their awesome jerseys.
Adding Harrison Barnes, Festus Ezeli, Draymond Green, Carl Landry and Jarrett Jack to an already solid core should have Bay Area fans extremely excited about the teams future.
This future, however, needs to do a better job of staying healthy.
Stephen Curry missed 40 games for the W's and newly acquired center Andrew Bogut played in only 12 games with the Milwaukee Bucks last season.
These two players may be the most crucial for the team to be successful moving forward, so keeping them on the court should be priority number one for Golden State.
Toronto Raptors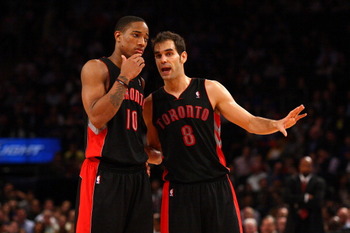 Chris Chambers/Getty Images
Biggest Weakness: Establishing a Go-To Scorer

2011-2012 Record: 23-43
The Raptors are another team that should be much improved this season, making a number of nice moves through the draft and trades.
With Toronto however, they lack a true star.
Andrea Bargnani has been a nice scorer for them over the years but hasn't lived up to his billing as a first overall pick and last season missed 35 games.
Toronto needs a star and true scorer, as they did when they made the playoffs with Chris Bosh and Vince Carter.
With Kyle Lowry, Terrence Ross, DeMar DeRozan and others they have a nice young core, but someone needs to step up into a go-to-guy for Toronto to take the next step.
Detroit Pistons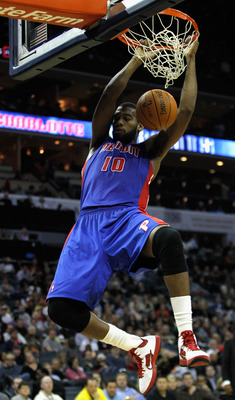 Streeter Lecka/Getty Images
Biggest Weakness: Point Guard

2011-2012 Record: 25-41
When looking over the Pistons roster and team statistics, one number drastically sticks out.
This number is 3.8, as in, that's how many assists per game it takes to lead the team.
Rodney Stuckey and Brandon Knight both averaged this amount despite both playing 30 minutes or more per game.
For what could be one of the NBA's best frontcourts in a few years with Greg Monroe and Andre Drummond, it's a shame there's no one to consistently get them the ball.
As a team, Detroit came in 28th out of 30 teams in assists with a measly 18.7 per game.
Brandon Knight needs to develop into a pass-first point guard for this team to make the playoffs anytime soon.
Minnesota Timberwolves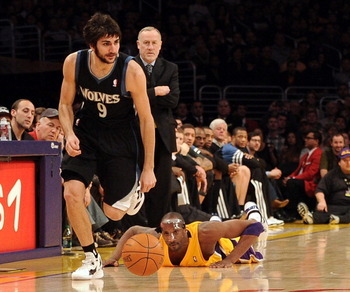 Harry How/Getty Images
Biggest Weakness: Interior Defense

2011-2012 Record: 26-40
Minnesota will almost certainly be a playoff team in 2012-2013, as they were on track to do so before Ricky Rubio tore his ACL.
With a healthy Rubio and veterans Brandon Roy and Andrei Kirilenko now on board, the T'Wolves should make a postseason run, providing they toughen up inside.
The leading returner in blocked shots will be center Nikola Pekovic who only swats away about two shots every three games (.66 per game).
This is a disturbingly low amount for a team that actually rebounds extremely well. Adding Greg Stiemsma from the Boston Celtics should help, but it remains a glaring weakness going forward for the Wolves.
Portland Trail Blazers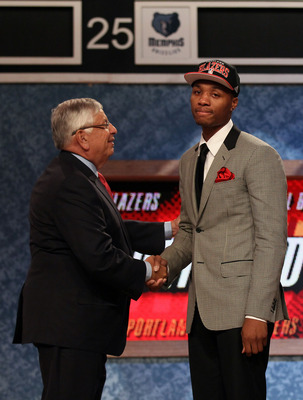 Elsa/Getty Images
Biggest Weakness: Overall Depth

2011-2012 Record: 28-38
Portland is coming off what appears to be an excellent draft, taking quality players in what are typically the two hardest positions to fill.
While both Damian Lillard and Meyers Leonard should enjoy strong rookie seasons, they won't have much depth or protection behind them.
Currently, only second year player Nolan Smith is listed on the teams depth chart at point guard behind Lillard.
It gets even worse at center, as Meyers premier backup appears to be J.J. Hickson, a natural power forward.
Portland has some nice pieces to build around in the starting lineup, but when the subs come in the game could get very ugly indeed.
Milwaukee Bucks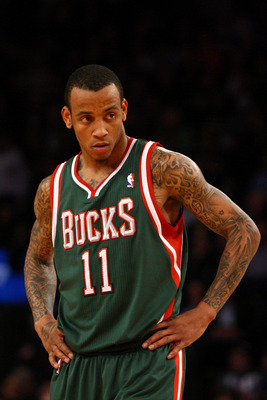 Chris Chambers/Getty Images
Biggest Weakness: Balancing the Offense

2011-2012 Record: 31-35
Milwaukee enters their first season since 2004 without Andrew Bogut at center.
Traded to the Golden State Warriors in a package for Monta Ellis, the Bucks will see a new look for 2012-2013.
Pairing Ellis with Brandon Jennings makes for one of the highest scoring backcourts in the NBA. Ellis (20.4 PPG) and Jennings (19.4 PPG) certainly provide more than their share of scoring, but who else will pitch in with Bogut gone?
Ersan Ilyasova is back with a new five-year deal, but the rest of the frontcourt could be considered offensively challenged.
Drew Gooden can get baskets from time to time, but newcomers John Henson and Samuel Dalembert are primarily defensive specialists.
If Milwaukee can continue to spread the ball around and balance the offense, they could easily be a playoff team in 2012-2013.
Phoenix Suns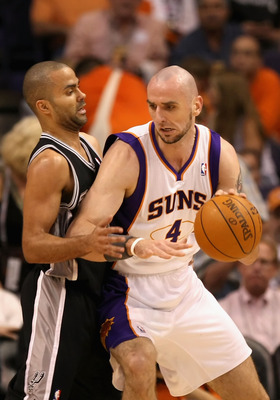 Christian Petersen/Getty Images
Biggest Weakness: Establishing an Identity

2011-2012 Record: 33-33
For the past eight years Steve Nash has been the face of the Phoenix franchise.
Those days are over, however, as the Suns agreed to a sign-and-trade with the Los Angeles Lakers for the veteran point guards services.
The Suns didn't sit around and sulk, quickly making a number of moves to reinvigorate the franchise.
Adding Goran Dragic, Michael Beasley and Luis Scola should have the team competing for a playoff spot once again, but who will lead them there?
The Suns need a leader to rally around and an identity of who they want to be and what style of play they want to run.
Phoenix certainly has the talent and personnel to do just this, but it may take a season to recover from the loss of Nash.
Houston Rockets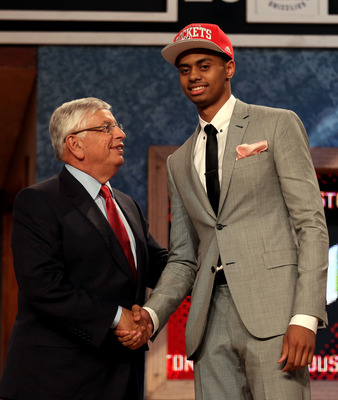 Elsa/Getty Images
Biggest Weakness: Inexperience

2011-2012 Record: 34-32
To say Houston is undergoing a youth movement may be a bit of an understatement.
Gone are veterans Marcus Camby, Kyle Lowry, Samuel Dalembert, Luis Scola, Goran Dragic and Courtney Lee. In their place are rookies Jeremy Lamb, Royce White, Terrence Jones and Donatas Montiejunas.
While it's been no secret the Rockets have been interested in trading for Pau Gasol, Dwight Howard and/or Andrew Bynum in recent years, should they go into the season with the roster they have now, it could be a long season in Houston.
As there roster stands now, only Kevin Martin has been a starter in the NBA for an entire season. Youth is definitely a nice thing to have on a team, but in the Rockets case they could have too much.
Philadelphia 76ers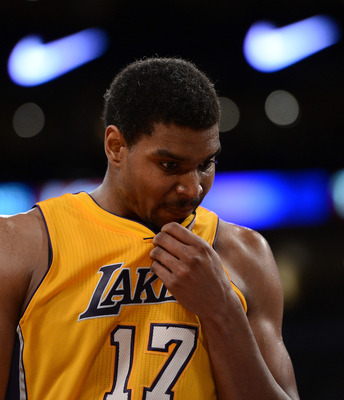 Harry How/Getty Images
Biggest Weakness: Finding a Star to Pair with Bynum

2011-2012 Record: 35-31
While beginning this slideshow, the original plan was to talk about the over crowding of players that Philadelphia had at the small forward position.
This is no longer an issue, however, as the Sixers traded both Andre Iguodala and rookie Maurice Harkless in a deal to get All-Star center Andrew Bynum.
This could turn out to be a great deal for Philly, as they were crowded at the wing position and were even planning on starting Kwame Brown at center.
As we've seen in the league the last couple years, one star alone does not win championships.
So who can the Sixers pair with Bynum?
Evan Turner, Jrue Holiday and Thaddeus Young are all nice players, but can any one of them be considered a star?
The Sixers got better, but can't be considered one of the elite teams in the East just yet.
New York Knicks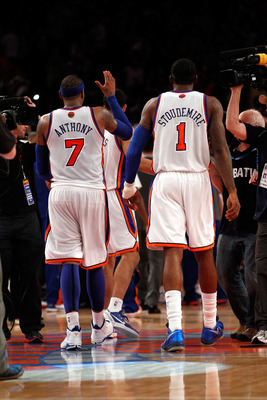 Jeff Zelevansky/Getty Images
Biggest Weakness: The Carmelo-Amar'e Connection

2011-2012 Record: 36-30
On paper, the Knicks have one of the most impressive rosters in all of basketball.
They boast two potential 20+ point-per-game scorers in Carmelo Anthony and Amar'e Stoudemire and return the NBA's reigning Defensive Player of the Year in Tyson Chandler.
Their biggest issue, as it was last year, will be making all the pieces work together.
Before Anthony was traded to the Knicks in 2010-2011, Stoudemire was having an MVP-type season averaging 25.3 points, 8.1 rebounds, 1.9 blocks and 2.6 assists per game.
In a full season playing alongside Melo, those numbers dropped down to 17.5 points, 7.9 rebounds, 1.0 block and 1.9 assists.
New York must figure out a way to maximize the talent of both of their star players, or should look into trading Stoudemire if possible.
Dallas Mavericks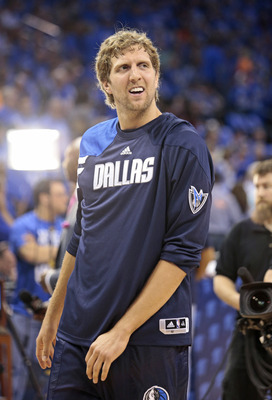 Brett Deering/Getty Images
Biggest Weakness: Team Chemistry

2011-2012 Record: 36-30
The Mavericks have had an interesting offseason, to say the least.
A miss out on Deron Williams eventually led to a collection of Darren Collison, O.J. Mayo, Chris Kaman and Elton Brand.
While none of those four names means as much as Williams would have, it should allow Dallas to stay competitive in the West, should they eventually gel.
Losing veterans like Jason Kidd and Jason Terry will hurt this team, especially at the beginning of the season. Together with Dirk Nowitzki, these three had such a great chemistry together that they could make up for their lack of youth and slowly deteriorating talent.
While Dallas did the right thing by trying to get younger, their biggest challenge will be working out the chemistry with so many new players coming in.
Utah Jazz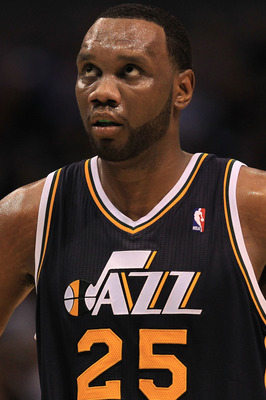 Ronald Martinez/Getty Images
Biggest Weakness: Roster Unbalance

2011-2012 Record: 36-30
The Jazz may have the deepest frontcourt in the entire NBA.
This is both a good and a not so good thing.
With the roster the way it's currently constructed, it could be argued that Utah has four starting-caliber power forwards and no point guards on their team.
Mo Williams is the presumed starter at the point after the Jazz traded Devin Harris to the Atlanta Hawks for Marvin Williams.
This is a questionable move, as Williams is better suited for a shooting guard or bench point guard role. His strength relies in his shooting, not his passing.
Utah would be wise to flip one of their talented bigs for an upgrade at point guard.
Orlando Magic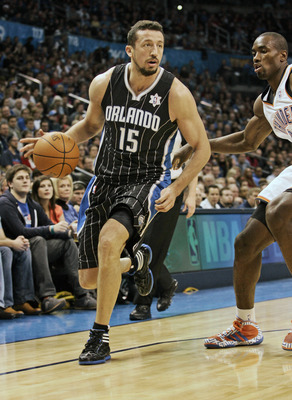 Brett Deering/Getty Images
Biggest Weakness: Bad Contracts

2011-2012 Record: 37-29
The Dwightmare has finally ended and the Orlando Magic will begin to rebuild the franchise, presumably with draft picks and young talent.
One thing that could stand in their way of this is the plethora of bad contracts they've gotten themselves into over the years.
Hedo Turkoglu (2 years, $24 million) and Jameer Nelson (3 years, $24 million) are some of the main cap hogs, as they're both taking up a considerable amount of salary cap space.
Orlando would be wise to rid themselves of these players and more to completely clean house.
Denver Nuggets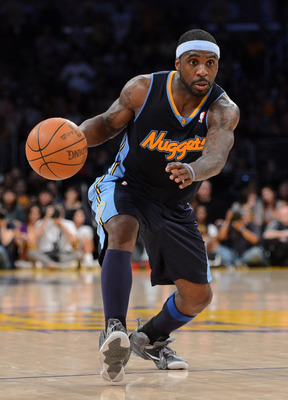 Harry How/Getty Images
Biggest Weakness: Tightening Up the D

2011-2012 Record: 38-28
Denver has become one of the more exciting teams in the NBA to watch play.
Playing a quicker pace of play helped allow the Nuggets to put in 104.4 points per game last season, first in the entire NBA.
Unfortunately, all those quick possessions allowed their opponents to put up high scoring numbers as well.
Coming in second to last in points allowed per game at 101.2, the Nuggets needs to prove that they can stop teams from scoring when needed.
Offense is great, but it doesn't mean anything if you can't stop the other guy either.
Boston Celtics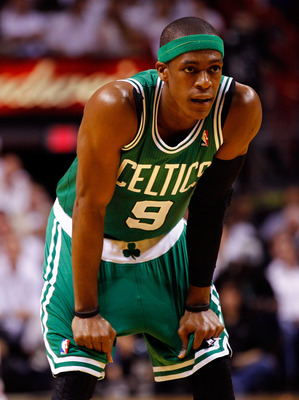 Mike Ehrmann/Getty Images
Biggest Weakness: Rebounding

2011-2012 Record: 39-27
While Kevin Garnett and Brandon Bass make for a nice frontcourt pairing, they are a bit undersized when matched up with most teams.
Together, these two pulled down an average of 14.4 rebounds per night. For comparison, Dwight Howard averaged 14.5 rebounds- by himself.
Boston needs to do a better job of hitting the glass this season. Their 38.8 total rebounds as a team came in dead last in the NBA.
Adding Jared Sullinger and Fab Melo will help, but last place is a deep hole to climb out of.
Los Angeles Clippers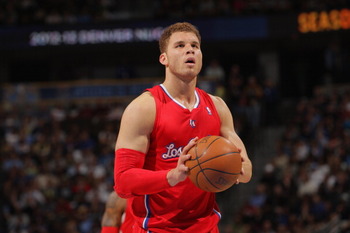 Doug Pensinger/Getty Images
Biggest Weakness: Free Throw Shooting

2011-2012 Record: 40-26
The Clippers are a team on the rise, making it to the second round of the Western Conference playoffs last season.
One thing that could stop them reaching their potential, however, is their awful performance at the free throw line.
As a team the Clippers shot 68 percent from the free throw line, good for 29th out of the NBA's 30 teams.
To make matters worse, three out LA's top free throw shooters from last season (Mo Williams, Nick Young, Randy Foye) are now gone.
Blake Griffin (64 percent) and DeAndre Jordan (33 percent), we're looking at you.
Atlanta Hawks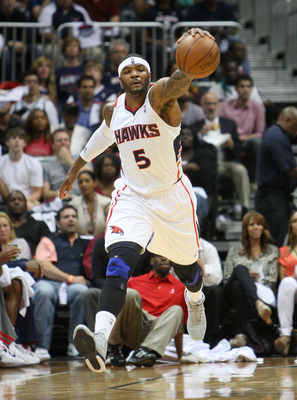 Mike Zarrilli/Getty Images
Biggest Weakness: Entering Basketball Purgatory

2011-2012 Record: 40-26
The Hawks management did the equivalent accomplishment of scaling Mt. Everest, swimming the English Channel or tightrope walking across Niagara Falls- they traded Joe Johnson's contract.
While this frees up all kinds of opportunities for for Atlanta's future, they now find themselves with a purgatory roster, not good enough to win a championship but not bad enough to land a high draft pick.
With cap space galore in the coming years the Hawks have the flexibility to mold or shape the franchise anyway they would like, but for now Atlanta is destined to take a big step back in the East.
Los Angeles Lakers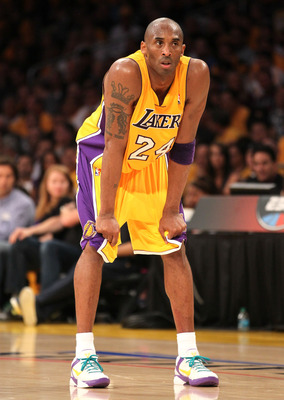 Stephen Dunn/Getty Images
Biggest Weakness: Three Point Shooting

2011-2012 Record: 41-25
The Lakers were the big offseason winners of 2012, bringing in two-time MVP Steve Nash in a sign-and-trade deal with the Phoenix Suns and recently acquiring Dwight Howard in a four-team trade.
Adding Nash not only means giving Kobe Bryant the best point guard he's ever played, but also adds an elite three-point shooter which the Lakers desperately need.
Last season LA was 25th in the NBA in three-point percentage. Statistically their best shooter from deep was Ramon Sessions, who ended up opting out of his contract and joining the Charlotte Bobcats.
Nash has been a high level shooter for his entire career and owns a lifetime three point percentage of 43 percent.
He can't do it all himself, however, and it will be up to players like Kobe to improve on the 30 percent he shot from the arc last season.
Memphis Grizzlies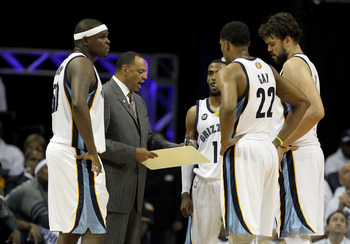 Andy Lyons/Getty Images
Biggest Weakness: Regression

2011-2012 Record: 41-25
Two years ago, optimism ran high in Memphis.
The Grizzlies knocked out the No. 1 seed San Antonio Spurs in the first round of the Western Conference playoffs, and appeared to take an even bigger step in the postseason this year.
This wasn't the case, however, as Memphis instead was knocked out of the first round themselves by the Los Angeles Clippers.
This should be a level of concern for Memphis for a number of reasons.
First, this is a fairly young team that should be reaching their prime. Exiting the playoffs earlier just shouldn't be happening.
Second, 2015 is the next time the Grizzlies will actually have cap space to work with after locking up most of their core players to young term deals.
If they once again lose in the first round, they may run into financial problems trying to improve the team.
Indiana Pacers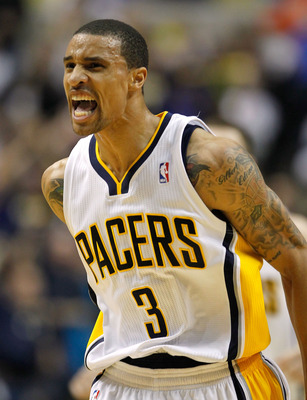 Gregory Shamus/Getty Images
Biggest Weakness: Investing in George Hill

2011-2012 Record: 42-24
First off, George Hill is a fine point guard.
Second, paying a point guard $40 million who averages three assists a game in the playoffs may be a bit too much.
The Pacers are investing their future at point guard in Hill, handing him a five-year deal this offseason while trading away Darren Collison to the Dallas Mavericks.
This could turn out to be a real steal or a total backfire.
Hill is a nice player, but averages of 13.5 points and 2.9 assists in the playoffs don't exactly scream franchise guard.
For a small market team, Indiana may have made a big mistake.
Miami Heat
Sarah Glenn/Getty Images
Biggest Weakness: Center Position

2011-2012 Record: 46-20
The Miami Heat may be NBA Champions, but that doesn't mean they don't have their weaknesses.
Miami ranked 21st in the league in both rebounding and assists last season, and haven't been able to find an answer at the center position for two years now.
They appear to want to move Chris Bosh to the center position full time, which could hurt them against a lot of teams like the Los Angeles Lakers, Indiana Pacers, and now Philadelphia 76ers.
Offensively the move could work, but Chris Bosh trying to guard Dwight Howard, Roy Hibbert or Andrew Bynum just wouldn't work.
The Heat need a true center, and someone not named Joel Anthony.
Oklahoma City Thunder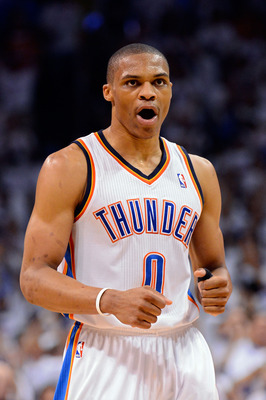 Ronald Martinez/Getty Images
Biggest Weakness: Taking Care of the Ball

2011-2012 Record: 47-19
Despite making the NBA Finals, the Thunder were actually quite terrible when it came to taking care of the basketball.
Ranking dead last in the NBA is total assists per game (18.5), OKC relied on their superior athleticism and youth to storm past most opponents.
Russell Westbrook certainly didn't help matters, as his assists total dropped from 8.2 in 2010-2011 to 5.5 in 2011-2012.
As a team, the Thunder also turned the ball over 16.3 times per game, also ranking worst in the NBA.
As this young team grows the turnovers should be cut down, but for now handling the ball should be an area of concern.
Chicago Bulls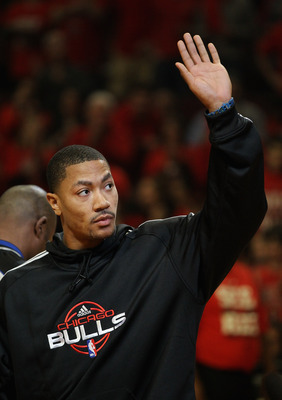 Jonathan Daniel/Getty Images
Biggest Weakness: Scoring Without Derrick Rose

2011-2012 Record: 50-16
Losing Derrick Rose for the first couple months of the 2012-2013 season certainly hurts the Bulls, maybe more than one might think.
Already ranking a measly 18th in the NBA in scoring at 96.3 points per game last season, baskets could now be even more hard to come by.
Losing Rose means losing not just a great star, but a great scorer as well. Rose was Chicago's leading scorer last season at 21.8 points per game. No one else on the Bulls even hit the 16 point mark in scoring average.
Chicago needs to get more offensive production from it's other player while Rose rehabs, or Chicago could make a significant dive in the Eastern standings.
San Antonio Spurs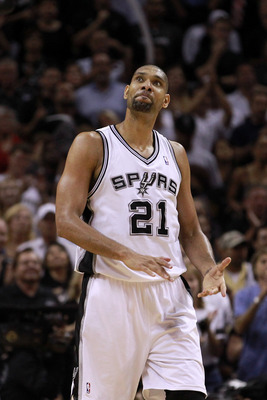 Ronald Martinez/Getty Images
Biggest Weakness: Father Time

2011-2012 Record: 50-16
Believe it or now, the Spurs have turned into an offensive-minded team.
At least, that's what the statistics show.
Last season the Spurs ranked second in the entire NBA with 103.7 points per game but were only 16th in points allowed with 96.5 a contest.
Just what is going on on the Riverwalk?
Sadly, Father Time does appear to be creeping up on the Spurs stars. Five of the seven main rotation players are 30 years old or older, headlined by the 36-year-old Tim Duncan.
While San Antonio has some nice young talent, they don't have anyone nearly talented enough to remotely fill the shoes of Duncan, Manu Ginobili or eventually Tony Parker.
The Spurs could still win 50 games this year, but their title window is barely propped open.
Keep Reading