Stock Up, Stock Down for Every Dallas Cowboys Rookie in Training Camp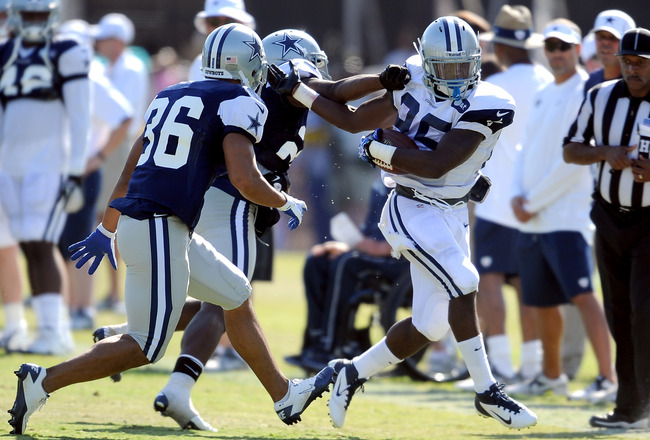 Jayne Kamin-Oncea-US PRESSWIRE
The Dallas Cowboys took a few chances in April's draft by moving up to take former LSU cornerback Morris Claiborne and not addressing the safety position in the process.
Now that we have officially entered NFL training camp season, we have a good look at which rookies are catching on and which ones may be struggling.
How is Tyrone Crawford and Kyle Wilber performing compared to some of the other rookies who were drafted lower?
Let's take a peek at who is being bullish and who is being bearish.
STOCK UP: Morris Claiborne, CB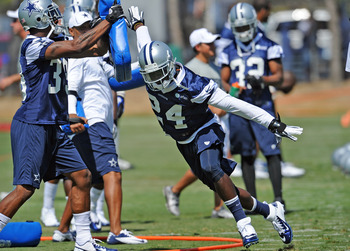 Jayne Kamin-Oncea-US PRESSWIRE
News came a few days ago that Claiborne has sprained his MCL. Not really a good look for a team struggling with injuries.
He shouldn't be out for too long, as an MRI revealed that he has no structural damage to his knee.
Now that we all of that out of the way, how is he doing in training camp?
He is performing as a rookie should. Well, a highly drafted rookie I should say.
Claiborne has struggled with the press and the Cowboys are making him pay for it in practice. The good thing is that he's learning how to adjust and his attitude has not changed.
He still has a strong belief in his ability and believes that he will get better.
STOCK UP: Tyrone Crawford, Defensive End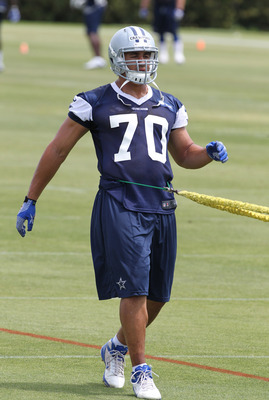 Matthew Emmons-US PRESSWIRE
I was no fan of the Cowboys drafting Crawford. Jones talked about adding a pass rushing defensive end who would have an immediate impact, but instead he chose Crawford.
No diss to Crawford and his potential, but Jones' vision has been a little...off lately.
But despite my criticisms and fan-eye judgment, Crawford has impressed.
He's going to be situational, as the team will give him time to grow into the position. However, he has turned heads with his enthusiasm and passion.
Crawford is working and soaking up as much information as he can.
I don't expect for him to knock out double digit sacks in 2012, but it will be interesting to see just how far he grows this season.
PUSH: Kyle Wilber, Linebacker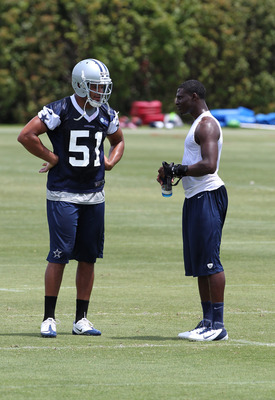 Matthew Emmons-US PRESSWIRE
Going back to the Cowboys draft, I did not really like it.
I loved the pick of Claiborne because they so desperately needed help in the secondary, but the remainder of the draft left a lot to be desired.
I digress from my draft soapbox and continue on to Mr. Wilber.
Wilber missed a large chunk of off-season activities due to an injury to his finger. Before that, he turned heads at the team's rookie mini-camp.
Now he's trying his best to learn Cowboys defensive coordinator Rob Ryan's scheme and acclimate himself to the speed of the NFL game.
STOCK DOWN: Matt Johnson, Safety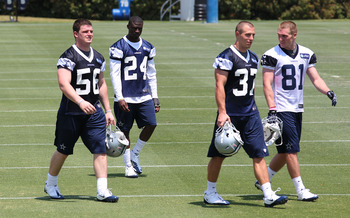 Matthew Emmons-US PRESSWIRE
Johnson is behind because he was just removed from the physically unable to perform list, but there is good news.
The Cowboys released safety Brodney Pool yesterday, which should make the road a little easier for Johnson.
On a side note regarding Pool, he failed his conditioning test when camp started. No shocker that he's been let go.
I do not see Johnson as a starter this year or next. He seems fit for special teams, but I've been wrong before.
He'll have to make enough head turning plays for the team to take notice of him.
STOCK DOWN: Danny Coale, Wide Receiver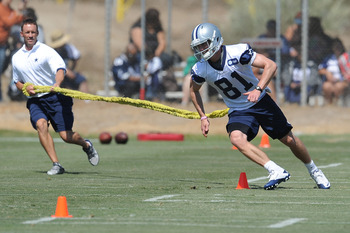 Jayne Kamin-Oncea-US PRESSWIRE
I'll continue to say it: Danny Coale will be the team's slot receiver in due time.
Earlier this year, Coale broke his foot and he was just removed from the PUP list on the 6th of August.
So we have no evidence as to how he's performing on the field, because he has to touch it.
Coale's ascent may be slow, but it's coming.
I just believe he's too talented not to succeed with the team.
STOCK UP: James Hanna, Tight End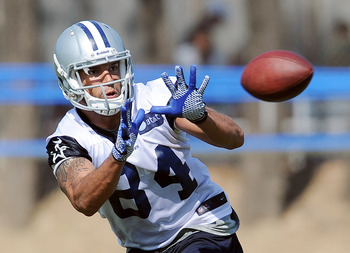 Jayne Kamin-Oncea-US PRESSWIRE
Injuries have cost starter's their jobs in the past. Dallas' second team tight end John Phillips has a sprained ankle.
So Hanna has taken advantage of his opportunity and impressed the coaches with his play.
He's been known to drop a pass or two, but he's adding consistency to his game.
He'll still have to work on his blocking skills, as former tight end Martellus Bennett was one of the better blocking tight end's in the NFL.
His blocking will get better, but I believe many are waiting to see how many catches he will hold on to.
STOCK DOWN: Caleb McSurdy, Linebacker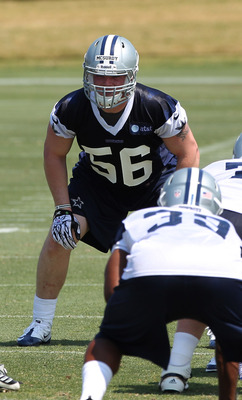 Matthew Emmons-US PRESSWIRE
A seventh-round pick out of Montana, McSurdy will have to show and prove everything he has in him.
McSurdy has a pretty high NFL I.Q. and will usually make the best football decision.
The Cowboys have a stable of linebackers to choose from, so I'm not sure if McSurdy will make the final cut.
Keep Reading

Dallas Cowboys: Like this team?