12 NFL Players on the Verge of MVP-Caliber Seasons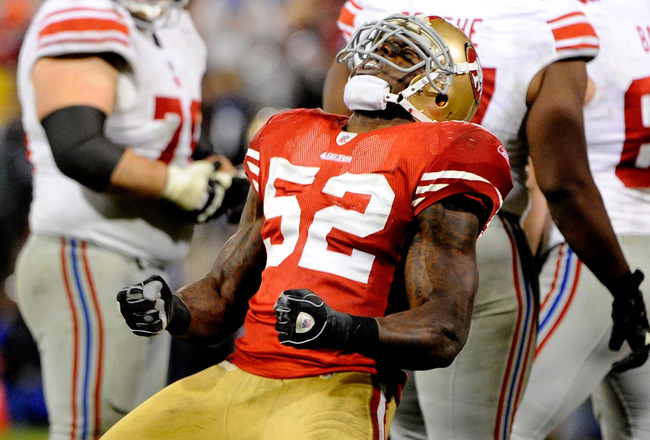 Thearon W. Henderson/Getty Images
While the NFL MVP award has become a glorified best quarterback competition in recent years, there are still a plethora of players at other positions playing at levels befitting of the honor.
Sure, the recent play of Tom Brady, Aaron Rodgers and other elite QBs have garnered the most attention, but what about the consistently amazing play of defensive standouts like Patrick Willis and DeMarcus Ware?
For these players, having an MVP-caliber season usually means not even being in the discussion to take home the actual hardware at the end of the year.
So who is poised to be the best that the NFL has to offer in 2012?
Here are 12 players set to play at MVP-caliber levels this season.
History and Reasoning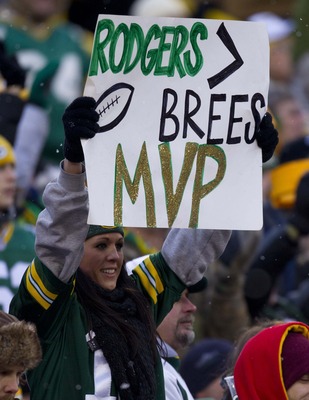 Jeff Hanisch-US PRESSWIRE
History: Before we can look at the present we must be aware of the past. The MVP award is a quarterback-driven competition that has seen multiple repeat winners in recent years. Listed below are the recipients in each of the past 10 years.
Analysis: The fact that the MVP award has gone out to only two positions over the last 10 years does not mean players at other spots were not deserving of the honor. However, it does showcase a clear trend and make predicting future winners easier.
So while Calvin Johnson may be the most dominant wide receiver in a decade, he is still a longshot to win the MVP when compared to the elite QBs, simply because of recent voting patterns. Because of this reality I have featured the actual MVP chances for each of the 12 players listed along with the reasoning behind my logic.
Season
Player
Team
Position
2002
Rich Gannon
Oakland Raiders
Quarterback
2003

Steve McNair

Quarterback

Quarterback

2004

Peyton Manning

Indianapolis Colts
Quarterback
2005
Shaun Alexander
Seattle Seahawks
Running Back
2006
LaDanian Tomlinson
San Diego Chargers
Running Back
2007
Tom Brady
New England Patriots
Quarterback
2008
Peyton Manning
Indianapolis Colts
Quarterback
2009
Peyton Manning
Indianapolis Colts
Quarterback
2010
Tom Brady
New England Patriots
Quarterback
2011
Aaron Rodgers
Green Bay Packers
Quarterback
12. Maurice Jones-Drew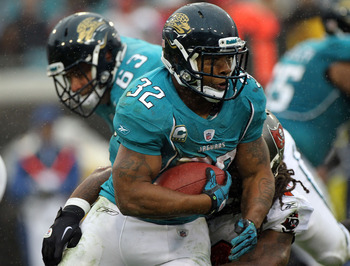 Sam Greenwood/Getty Images
Whether he spends most of 2012 on the field or off of it Maurice Jones-Drew will prove why he is the best piece of the Jacksonville Jaguars organization.
Assuming he plays a full schedule of games, Jones-Drew will again carry an enormous workload for the Jaguars offense and post his fourth consecutive 1,300-plus-yard season.
The Jags have little passing game to balance out what Jones-Drew does on offense, but even as defenses focused solely on him last season, he averaged 4.7 yards per carry and found the end zone 11 total times.
MVP Chances: If the MVP award was awarded based on who is literally most valuable to his respective franchise, Jones-Drew would be in the conversation every year. Alas, it is not and being on Jacksonville severely reduces his chances of winning the award. The Jaguars simply are not going to make enough noise or garner enough attention for Jones-Drew to be in the running.
11. DeMarcus Ware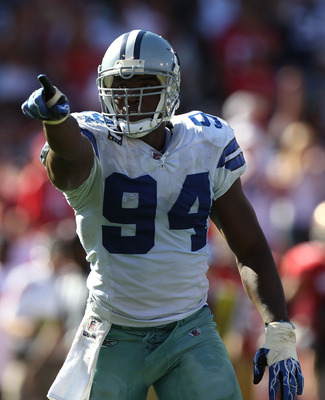 Jed Jacobsohn/Getty Images
DeMarcus Ware is a physical beast that creates unthinkable problems for opposing offensive lines.
He has registered double-digit sacks in each of the last six seasons and that trend is sure to continue in 2012.
Ware's sheer strength, speed, skill and size make him the cornerstone of a Dallas Cowboys defense that should be much improved after adding crucial pieces to the secondary.
Now that he has turned 30 years old, the prime window of his career may be nearing its conclusion, but for now Ware is clearly at the top of his game and will be one of the NFL's best defensive players in 2012.
MVP Chances: If Dallas finally puts it all together and makes a run at the Lombardi Trophy, then Ware instantly becomes a realistic contender for the MVP. He is going to contend for Defensive MVP no matter what, but if he records the most sacks of his career he may get some scattered MVP votes, even without a great win-loss record.
10. Matthew Stafford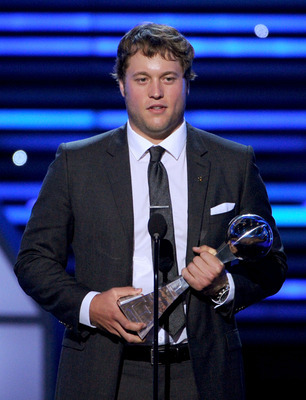 Kevin Winter/Getty Images
Matthew Stafford played an MVP-caliber season in 2011—the problem was that three other quarterbacks were just as outstanding.
Luckily for this shocking Pro Bowl snub, he still has the game's best wide receiver, Calvin Johnson, at his disposal, and the Lions passing attack is one of the most balanced in the NFL.
Stafford proved that he can stay healthy last season, and with Detroit's struggles to develop a ground game, it is clear the focal point of the offense will remain aerial.
His 5,000 yards in passing may not be duplicated, but expecting at least 4,500 is not extreme, and his ability to play in the game's clutch moments should resonate with voters who may have been taken by surprise last year.
MVP Chances: Stafford's actual odds of winning are diminished because he is still not one of those "elite" quarterbacks. After a few more years of consistently exceptional numbers, the Lions signal-caller could quickly become a perennial MVP contender.
9. Mario Williams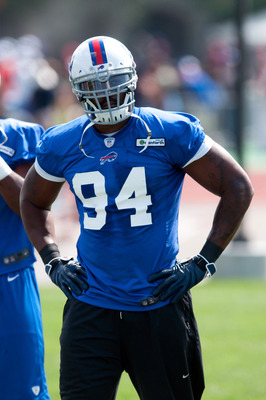 Mark Konezny-US PRESSWIRE
When you are the highest paid defensive player in the NFL, big things are expected from you, and Mario Williams is just the kind of player who can live up to those expectations.
His new team—the Buffalo Bills—were underwhelming defensively last season, and if their expected improvement this season succeeds, it will largely be attributed to Williams. Whether he deserves the attribution is irrelevant, but it's likely that he will should a turnaround take place.
Williams is going to be the catalyst that turns Buffalo's defensive wheel, and there are already some nice unsung pieces in place along the defensive line to ensure that he pays immediate dividends.
Defensive tackles Marcell Dareus and Kyle Williams will demand attention and at least open some windows for Mario to get off the edge.
MVP Chances: Defensive MVP may be a more realistic goal for Williams, but if the Bills live up to their sleeper team billing and sneak into the playoffs, the sky is the limit here. Williams will put up the sack numbers required to at least be in the discussion, and perhaps more importantly, he will bring ferocity to a Buffalo defense that sorely needs it.
8. Drew Brees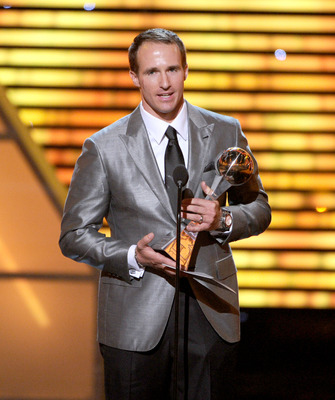 Kevin Winter/Getty Images
Drew Brees knows how to overcome adversity.
He has proven time and time again since first donning the New Orleans Saints uniform, and there is perhaps no player better suited to lead the Saints out of the Bountygate wreckage than Brees.
Brees has thrown for at least 4,400 yards in each of his six seasons in New Orleans and has thrown for no less than 26 touchdowns in any of them.
He is as consistent of a quarterback as you will find and has a chip on his shoulder heading into 2012.
Look out.
MVP Chances: Brees and the Saints have the deck stacked against them in 2012, but that may be a blessing in disguise as far as Brees' performance is concerned. If he steps up and leads New Orleans to the playoffs, he will be hard to ignore come voting season.
7. Calvin Johnson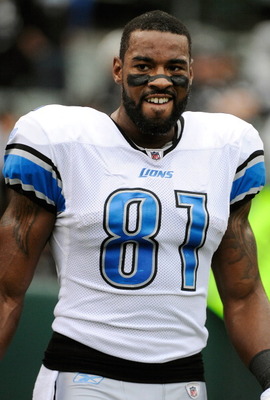 Thearon W. Henderson/Getty Images
You know what is perhaps the scariest aspect of Calvin Johnson?
He is still getting better.
"Megatron" had his best statistical season last year, and with more time to build chemistry with quarterback Matthew Stafford and a great supporting cast around him, Johnson is poised to be dominant again in 2012.
That whole "Madden Curse" thing may be hanging around, but if any player can buck that trend it is Johnson.
Another season with over 1600 yards receiving and 16 touchdowns will force him into the MVP discussion.
MVP Chances: Wide receivers do not win MVP awards. However, Johnson is not a typical receiver. He is some kind of other worldly being that beats triple teams and catches passes as if Stickum naturally oozes out of his pores. (He actually wears gloves, but you get the point.) The catch here is that a great year from Johnson almost guarantees a great season from QB Matthew Stafford, and voters prefer QBs (although as said before, Stafford's chances of winning are minimal as well). Johnson is a long-shot, but an intriguing long-shot to say the least.
6. Peyton Manning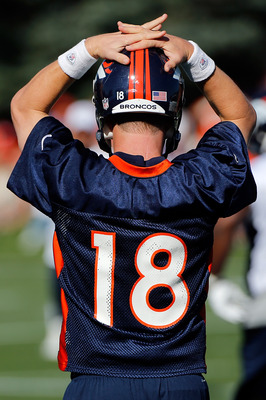 Doug Pensinger/Getty Images
Go ahead and write Peyton Manning off.
Say that he won't be the same after his neck injuries and a year away from the game. Say that he can't instantly be an MVP contender while learning a new offense in Denver.
This quarterback will love to prove you wrong.
Manning has to be considered an MVP candidate because of the way that he can elevate the talent around him. He made average receivers and tight ends look great in Indianapolis.
In Denver, the cupboard already has good pieces in place for him. Demaryius Thomas and Eric Decker will be reliable options for No. 18 to get the ball to and will allow him to flourish early and often.
MVP Chances: If Manning has numbers even close to that of the league's other elite quarterbacks, he becomes a favorite to win the award. Everyone loves a feel-good story, and a Manning rebound in Denver would lead to a popular decision among voters.
5. Ray Rice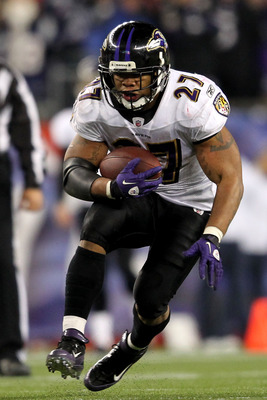 Jim Rogash/Getty Images
The rise of the two-running back offensive system has made workhorses like Ray Rice a rarity in today's NFL.
Perhaps this season may be the one where that finally means something to MVP voters.
As more quarterbacks cross the 5,000-yard passing threshold and put up video game-esque numbers, it becomes harder to distinguish the best from among them.
With running backs, it is clear who is doing the most work, taking the most damage and producing the most value out of the position.
Rice has run for at least 1,200 yards in each of the last three seasons and possesses a 4.6 yards-per-carry average over the course of his career.
Baltimore's game plan is going to be much the same as last season: Get Ray Rice the ball!
MVP Chances: Rice is one of the premier rushers in all of football, and if he can make the mythical run at 2,000 yards on the ground, he may be able to stake his claim to the MVP award. Sure, Chris Johnson was unable to get the award in '09, but the logjam at the top of the QB mountain may give Rice and other running backs the opening they need to reach the summit.
4. Patrick Willis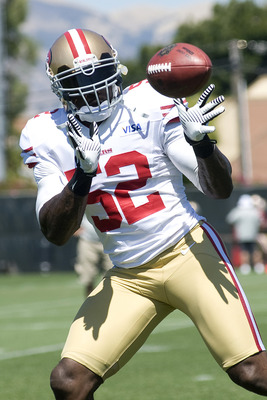 Ed Szczepanski-US PRESSWIRE
A fun fact of trivia: Patrick Willis is the only defensive player that has been named first-team All-Pro in each of the last three seasons.
He is the best player on a top defense that returns all 11 starters from last year.
Willis plays at an MVP-caliber level every season, and with the current state of the 49ers defense and its ability to completely devastate opposing rushing games, the spotlight is firmly on Willis and his defensive mates.
Aldon Smith may lead the team in sacks and Dashon Goldson may lead in interceptions, but Willis is the anchor and the heart of San Francisco's defense.
MVP Chances: Willis is a perennial favorite for Defensive MVP, and if voters ever realize that quarterbacks are not the only important players on a football field, he may get a chance to win.
Unfortunately, a defensive player has not won the MVP award since 1986 (Lawrence Taylor), and Willis is unlikely to be able to buck that trend.
3. Arian Foster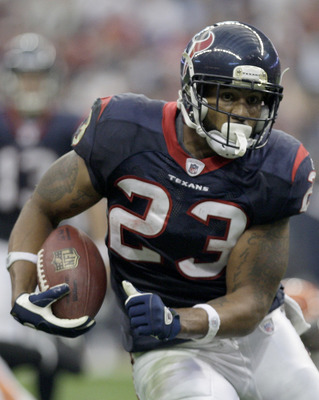 Thomas B. Shea/Getty Images
Arian Foster is in a great position to succeed in 2012. He is healthy, has a great supporting cast around him, and at 25 years old, he is only just now entering the prime of his career.
Despite being hampered by an injury last season Foster managed to rush for 1,224 yards in 13 games.
He is a versatile weapon for the Texans offense that is going to demand over 300 carries this season. Houston is the strongest team in a weak AFC South division, and that pressure and spotlight should bode well for Foster this season.
MVP Chances: As was said with Jones-Drew and Rice, it's been tough for running backs to win MVP awards lately. However, Foster is on a team that could make a charge toward the Super Bowl, and he will likely be the biggest reason why. The odds are not great, but it would not be earth-shattering and shocking if Foster was the first RB to win MVP since 2006 (LaDanian Tomlinson).
2. Aaron Rodgers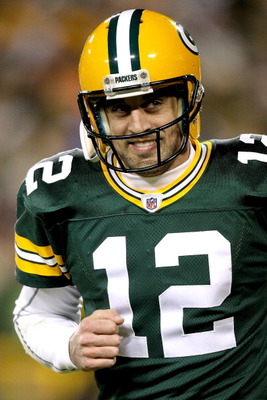 Matthew Stockman/Getty Images
Aaron Rodgers is firmly in the prime of his career, and after winning the NFL MVP award last season, there is no reason to believe that he will not be in the running again this year.
Rodgers has the same talented offensive pieces surrounding him, and the entire team should be hungry after a disappointing playoff exit.
This is a quarterback-driven league, and Rodgers is one of the best at what he does.
MVP Chances: Off the charts.
1. Tom Brady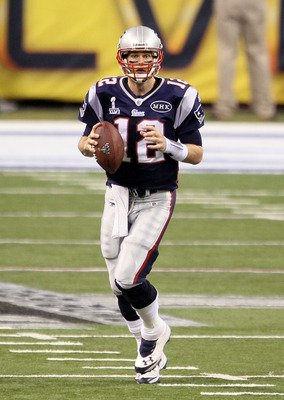 Jeff Gross/Getty Images
Excellence is expected from Tom Brady every season, and every season Brady lives up to the never-ending hype that surrounds him.
He is consistently one of the top three statistical QBs in the NFL and that makes the probability of him performing at an MVP-caliber level all the more likely.
The New England Patriots even gave him a new toy to play with this season in the form of wideout Brandon Lloyd.
Add Lloyd to the likes of Wes Welker, Rob Gronkowski and Aaron Hernandez and you have the making of another top-notch campaign from Brady.
MVP Chances: Brady is a former MVP winner who is still playing at an elite level. He plays the right position to win the award, and New England is the heavy favorite in the AFC East. Brady should be one of the favorites to bring home the trophy this season.
Keep Reading