Olympic Track & Field Results 2012: Wednesday Updates, Medal Winners & More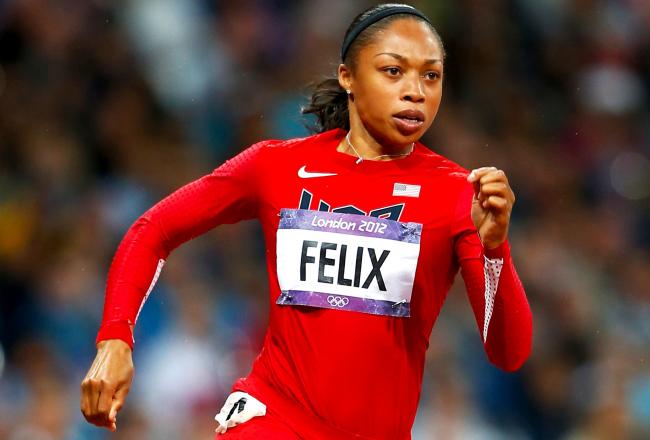 The action out on the track Wednesday was better than advertised.
First thing's first: If anyone had any doubts about whether or not Usain Bolt could repeat in the 200-meter, those doubts were erased on Wednesday.
Bolt jogged to the finish line in his heat to easily make it into the final round. When I say he jogged, I'm not joking. He literally didn't even have to try, just like he didn't have to try in the heats leading up to the final in the 100-meter.
He's going to win.
Allyson Felix finally earned the gold medal she's been searching for since 2004 in the women's 200-meter. She easily outpaced the field, beating Jamaican sprinter Shelly-Ann Fraser-Pryce by more than two-tenths of a second. Carmelita Jeter surprised me by finishing in third place over Veronica Campbell-Brown.
American runners dominated the men's 110-meter hurdles. Aries Felix posted a personal-best time of 12.92 seconds to beat his teammate, Jason Richardson, by more than one-tenth of a second. Jamaican Hansle Parchment earned a bronze medal.
The woman's 400-meter hurdles was the most exciting race of the evening, as Russia's Natalya Antyukh narrowly defeated American Lashinda Demus by seven-hundredths of a second.
In the last final event of the evening, American long-jumper Brittney Reese won the gold medal, even though she was only able to land two of her six jumps. She beat out Russia's Elena Sokolova by only five-hundredths of a meter.
American Ashton Eaton has carved out a rather large lead for himself in the men's decathlon, and he's on pace to have the kind of finish that Great Britain's Jessica Ennis had in the women's heptathlon. Right behind him is his teammate, Trey Hardee—220 points behind.
Thanks for following along with me as I covered the action live. Stay tuned to Bleacher Report for the rest of the track and field action as it happens the rest of the way.
Day 12 was all about Team USA on the track, except for when Usain Bolt ran, of course.
There were four final events: The women's long jump, the women's 400-meter hurdles, the women's 200-meter dash and the men's 110-meter hurdles.
Out of those four events, U.S. athletes won seven medals.
Here are today's highlights:
American Brittney Reese won the women's long jump.
Russia's Natalya Antyukh won the women's 400-meter hurdles by a slim margin over American Lashinda Demus.
American Allyson Felix dominated the women's 200-meter to take home gold.
American Aries Merritt did the same in the men's 110-meter hurdles.
Usain Bolt easily moved on to the final in the men's 200-meter, along with the usual suspects: Yohan Blake, Wallace Spearman and Christophe Lemaitre.
American Ashton Eaton has a stranglehold on the men's decathlon halfway through that event.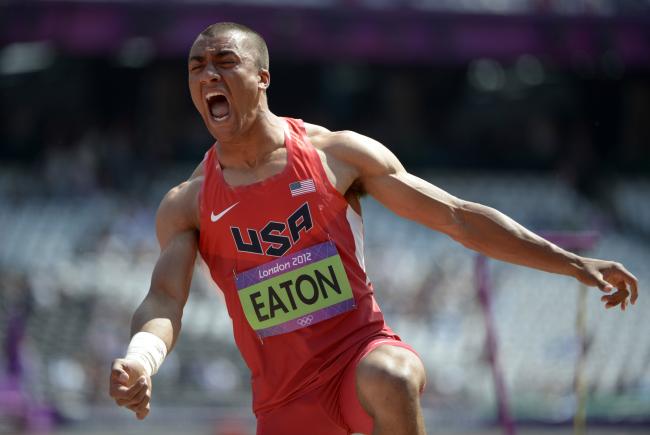 Ashton Eaton just destroyed the field in his 400-meter heat. His time of 46.90 seconds was easily the best of anyone in any heat.
His lead is now extended, and at the halfway point, it looks like he has the inside track for the gold medal.
Trey Hardee takes first place in his heat, and he'll at least maintain his spot in second place, behind Ashton Eaton, who has yet to run the 400-meter.
Trey Hardee is about to start his 400-meter heat. He needs another good performance to stay at the top, along with Ashton Eaton.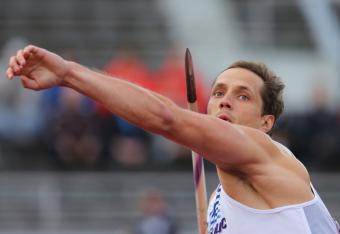 Meanwhile, the men's javelin qualifications have been going on for the past few hours.
Here are the top-three contestants to this point, via London2012.com:
Vitezslav Vesely, Czech Republic: 88.34 meters
Andreas Thorkildsen, Norway: 84.47
Spiridon Lebesis, Greece: 82.40
The last event of the evening is the men's decathlon 400-meter heats, which has just started.
Americans Ashton Eaton and Trey Hardee have a stranglehold on the lead, with Eaton being the top decathlete so far.
Germany's Hans Van Alphen and Canada's Damian Warner lead the rest of the pack.
There's a lot left to be decided, though, and I'll keep you updated in the next half-hour or so as to how the standings look heading into tomorrow's action.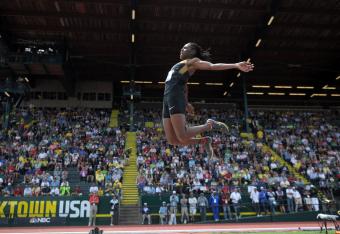 Women's long jump update:
U.S. track and field star Brittney Reese has won the gold medal in the women's long jump. She only landed two jumps during the competition, earning red flags on her other four jumps. But, all she needed was one good one, and she got it.
Russian Elena Sokolova wins the silver, and American Janay Deloach wins the bronze.
This caps off Day 12's track and field final events, and America has dominated.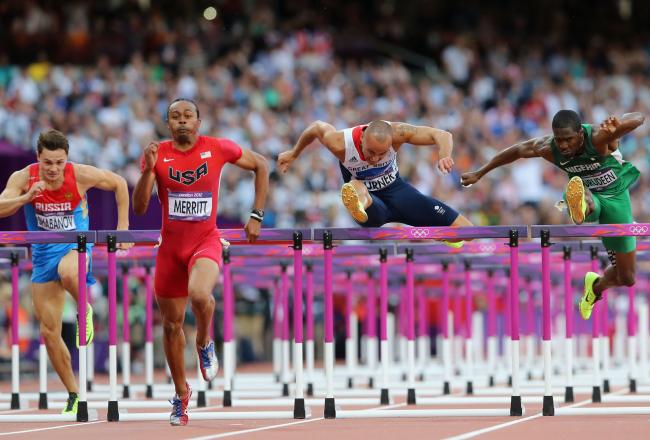 U.S. Hurdler Aries Merritt just won the men's 110-meter hurdles, setting a personal-best time of 12.92 seconds.
American Jason Richardson comes in second, while Jamaican hurdler Hansle Parchment comes in third.
Here are the times, courtesy of London2012.com:
Aries Merritt, USA: 12.92
Jason Richardson, USA: 13.04
Hansle Parchment, Jamaica: 13.12
Cuban hurdler Dayron Robles was unable to finish the race, as it looked like his right hamstring gave out mid-way through the race.
Here are the times for the top-three women in the 200-meter, courtesy of London2012.com:
Allyson Felix, USA: 21.88 seconds
Shelly-Ann Fraser-Pryce, Jamaica: 22.09
Carmelita Jeter, USA: 22.14
Felix was far and away the top woman in this excellent field, and her performance in the final was brilliant.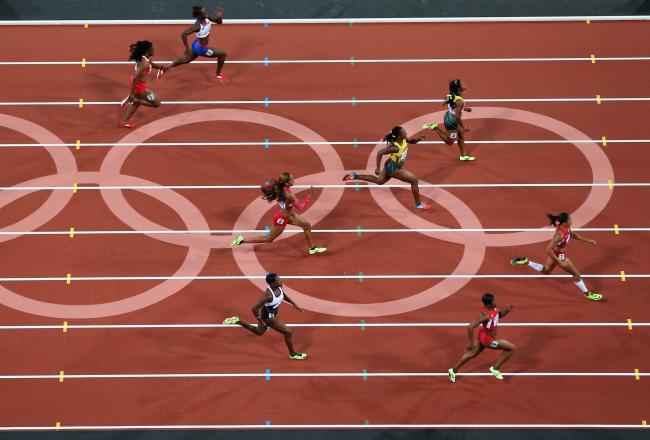 After the Jamaicans dominated the 100-meter, this is a huge relief for Allyson Felix.
She had been the top runner at this distance all year long, but her last two trips to the Olympics have earned her two silver medals.
Now, Felix can finally say she is the best in the world, bar none.
For Jeter, earning this bronze medal was unexpected. Most of us thought that if any other American sprinter had a chance to medal, it would have been Sanya Richards-Ross, who ended up finishing in fifth place.
Surprisingly, Veronica Campbell-Brown finished in fourth place, due to Jeter's strong race.
Allyson Felix has done it!
She beat Jamaican sprinting sensation Shelly-Ann Fraser-Pryce by a good two-tenths of a second to take the gold.
American sprinter Carmelita Jeter adds to her medal collection after earning a silver medal in the 100-meter with a third-place finish and a bronze medal in the 200-meter.
Next up is the women's 200-meter semifinals.
American sprinter Allyson Felix is the world champion, and she put up a phenomenal time of 21.69 seconds in the semifinals.
She'll be going up against Shelly-Ann Fraser-Pryce and Veronica Campbell-Brown of Jamaica and her own teammate, Sanya Richards-Ross.
Quick update on the women's long jump:
American Brittney Reese is currently atop the leaderboard with a jump of 7.12 meters. Her next-best competitor is Russia's Elena Sokolova, who has a top jump of 7.07 at this time.
For Lashinda Demus, a silver medal is likely a disappointment. She was the reigning world champion, and her time of 52.77 seconds was well short of her own personal best of 52.47.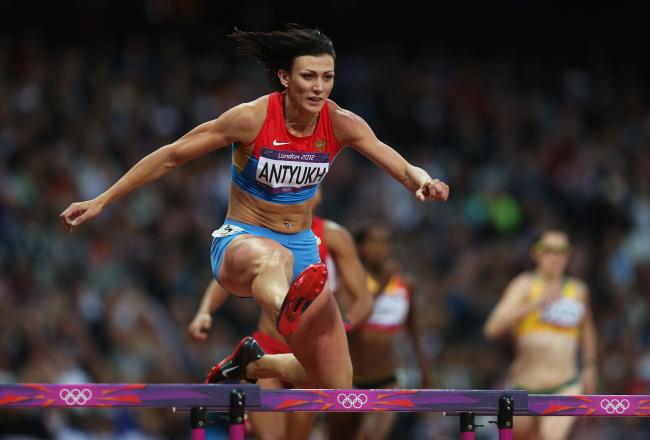 The women's 400-meter hurdles final was just run, and Russia's Natalya Antyukh came close to breaking the Olympic record with a time of 52.70 seconds.
American hurdler Lashinda Demus came in second, with a terrific time of 52.77.
Czech Republic hurdler Zuzana Hejnova came in third, posting a time of 53.38.
All in all, this race was phenomenal from start to finish, and Antyukh put on a performance to remember.
Not much has really changed after the semifinals.
Usain Bolt will be the heavy favorite to win.
Yohan Blake will be his toughest competitor.
French sprinter Christophe Lamaitre and American sprinter Wallace Spearman will be fighting it out for the bronze, and Warren Wier is a dark horse to medal.
Let us know in the comments section below if you see things playing out differently.
Bolt literally jogged through most of his semifinal heat. I mean, he didn't even have to try to exert himself. He's so much better than the rest of the guys that he could have probably skipped his way into the final.
Just wait until he actually runs tomorrow...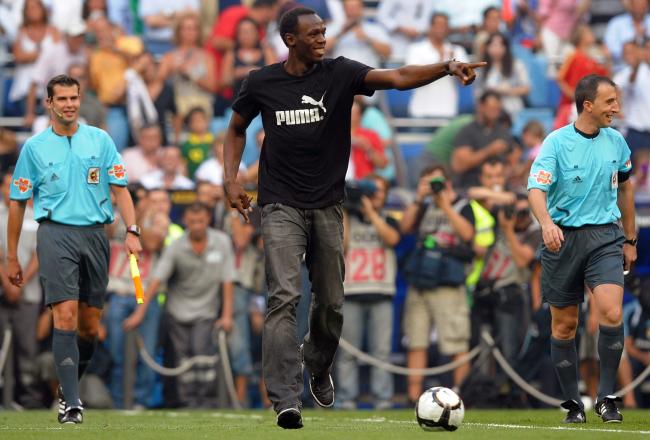 If you thought Usain Bolt was hot now, just wait and see what happens if he ends up making the Manchester United squad.
According to Yahoo! Sports' Martin Rodgers, he's getting a tryout: "Usain Bolt will get the chance to fulfill one of his sporting dreams after being given a "trial" with English Premier League soccer club Manchester United."
What could go wrong?
Seriously, though, if Bolt was somehow good enough at football to make the team, he'd become the most marketable man in the world.
For your entertainment, and mine, an offering from The Fake ESPN:
To match Phelp's medal count, Usain Bolt asks Olympics to include 100-meter skip, karaoke, and backwards running events.

— The Fake ESPN (@TheFakeESPN) August 8, 2012
No doubt Bolt would dominate those events, just like he's doing in his sprints.
Warren Wier just qualified for the 200-meter final, so that puts three Jamaican sprinters in the final, as I expected.
It wouldn't shock me to see three Jamaicans on the podium tomorrow after the final. The way I see it going down, though, is that Bolt will win the gold, Blake will win the silver, and American sprinter Spearman will win the bronze.
What do you think will happen? Hit me up in the comment section below.
Usain Bolt is going to go down in history as one of the greatest sprinters in Olympic history.
Barring an unforeseen injury, he's going to blow past the field in the men's 200-meter final. Even Yohan Blake doesn't have enough juice to keep up with Bolt when he's going full blast, and the scary part is that Bolt is still just 25-years old.
Bolt is also slated to participate in the men's 4x100-meter relay this year, and seeing how well Blake and the other Jamaican sprinters have done, I don't see anyone beating them.
We've seen guys like Tyson Gay and Justin Gatlin run well into their late 20s and into their 30th year, so it's not out of the question to see Bolt return for another go in 2016 to further his legacy.
Bolt could potentially win nine gold medals by the time he's done, and that would put him in the same league as the great Carl Lewis.
Will he earn a spot at the top with Lewis? That's the biggest question on my mind.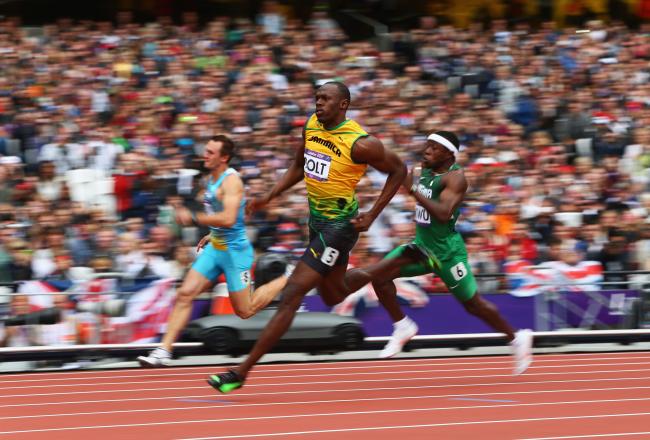 Usain Bolt didn't even hardly try, yet he still finished first in his heat.
He seriously just coasted the entire way after getting off to a decent start.
His time of 20.18 seconds could have easily been half-a-second faster, but he didn't need it.
I can't wait for the final. He's going to torch the field.
Bolt is lining up...
And they're off!
The biggest question I have is how much we are going to see from Usain Bolt in this heat.
Will he go all-out like Yohan Blake did for the first portion of the race and then cruise to the end, or will he do just enough to advance?
Yohan Blake just blew away the field in Heat 1 of the semifinals.
He was so far ahead of the field that he completely eased up at the last 40 meters or so, allowing Wallace Spearman and Christophe Lemaitre to almost catch him at the end.
At this moment, Blake and Spearman automatically qualify for the final, with times of 20.01 seconds and 20.02, respectively.
Bolt is up next!
This article is
What is the duplicate article?
Why is this article offensive?
Where is this article plagiarized from?
Why is this article poorly edited?