London 2012 Women's Beach Volleyball: Live Score & Analysis for All-USA Final
The three-peat is complete.
Kerri Walsh and Misty May-Treanor defeated fellow Americans April Ross and Jen Kessy 21-16, 21-16 this afternoon to win their third consecutive gold medal. The champions controlled the match and pulled away on the final points in each set to get the job done.
This is a feat we may never see again out of a beach volleyball team. They were already the greatest beach team of all time, but they just put a big exclamation point at the end.
Both sets were back-and-forth early on but there is an intimidation factor when you are playing Misty and Kerri. Mentally, they are just too strong to make mistakes that would cost them games. That wasn't true for the contenders, as evidenced by Ross' missed serves in the second set.
A great tournament with a great finish for the United States, to be sure.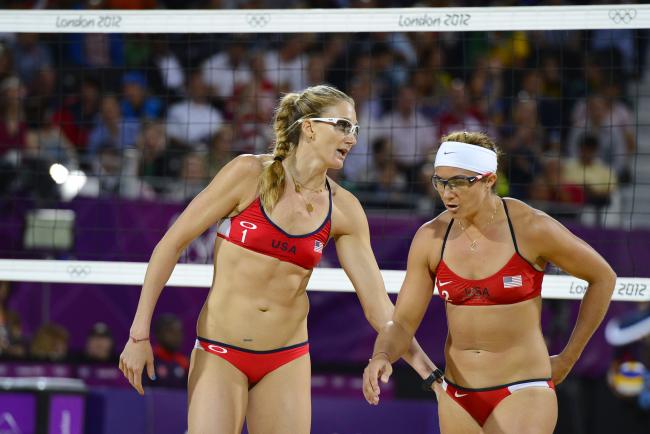 This is such a mental sport, and it looked like April and Jen couldn't overcome the fact that they were staring across the net at the two-time defending champs. April's serve was off, and once the champs got small leads midway through the game they were able to find another gear and pull away.
Todd Rogers told me before the tournament that if he had $100 to bet on the women's tournament, there was no way he would bet against Misty and Kerri. That's why he's called "The Professor" I guess.
Misty and Kerri are great champions and they are class acts. Even though you feel for Kessy and Ross, the victors deserved this one. What a great tournament it has been.
April misses a serve. Match over. THREE-PEAT for Misty and Kerri after 21-16, 21-16 win.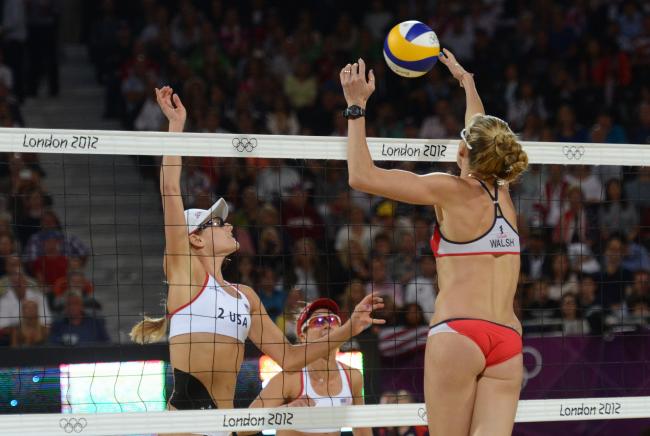 Kerri with a HUGE BLOCK of Ross. Match point, 20-15.
Never miss a serve after a timeout. Cardinal rule. Kerri missed it.
Misty and Kerri closing in up 18-14. Contenders call a timeout. The champs are too savvy and experienced to give up a lead like this in a big spot.
April has the most powerful serve in the tournament, but she's missed a few today. Needs to give it a chance. Misty and Kerri up 17-14.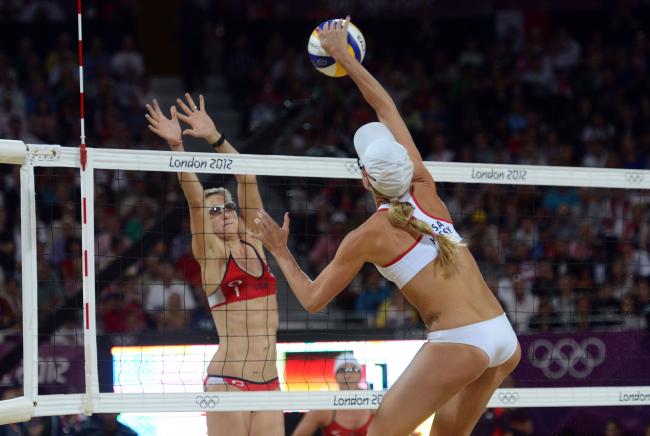 Ross with a brilliant deep cross-court shot cuts the lead to 15-13. On the beach that's called a "jumbo" shot because it curves around like a jumbo shrimp. Weird I know.
Champs are up 14-11 after a great dig and recovery from Misty.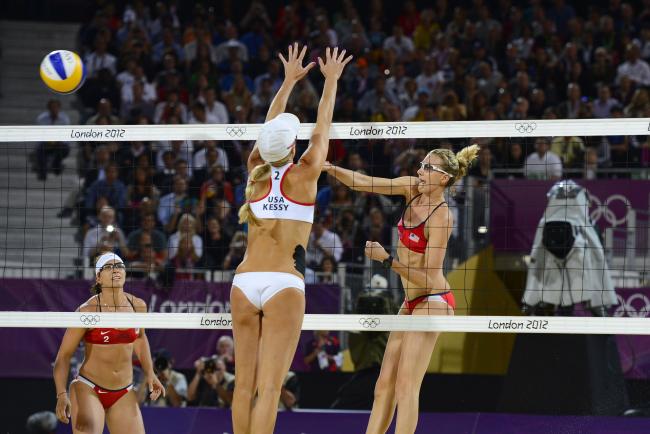 Very clever Ryan...
Spoiler Alert: Team USA wins the gold medal in women's beach volleyball tonight. #olympics

— Ryan Seacrest (@RyanSeacrest) August 8, 2012
Kessy with a block to go up 9-8. They need to separate right here.
A Kessy ace ties us at 7-7 in the second set. The next few points are crucial.
Why a Spanish bullfighting horn for beach volleyball in London??? I hate that thing.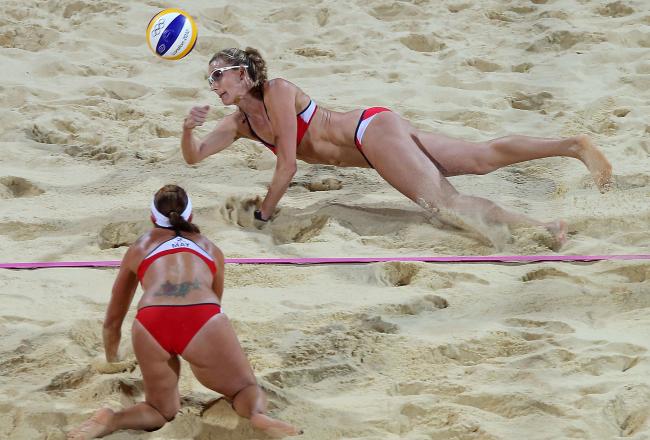 We're tied at 4-4 in the second set.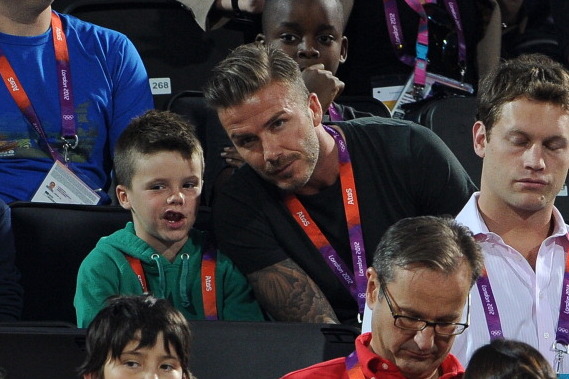 David Beckham is at the match!
Misty puts one away unblocked to win first set, 21-16.
Misty and Kerri are up 18-14 all of a sudden. They don't lose leads like that. They're gonna take this first set.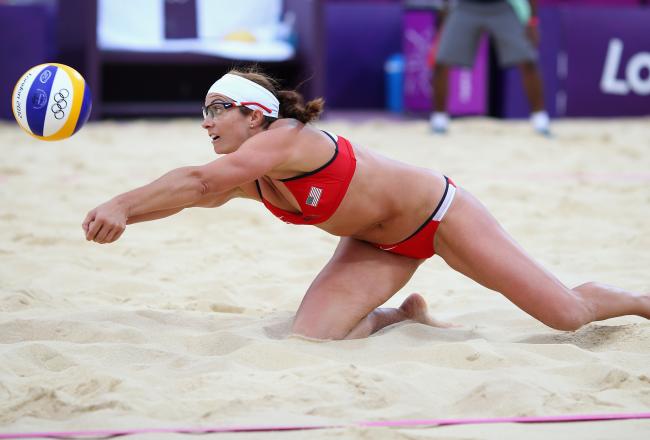 "There's a certain telepathy between Misty May and Kerri Walsh." I couldn't agree more.
Kessy and Ross both went to USC but didn't play together. Kessy is five years older.
Misty and Kerri up 13-12. Let's see if they can pull away down the stretch. Wait, check that. Kessy ace ties it.
This all-US final really eases the pain of both of our men's teams falling short of medals. I really thought Rogers and Dalhausser were going to take gold but they were upset by Italy.
BTW feel free to comment below with your predictions!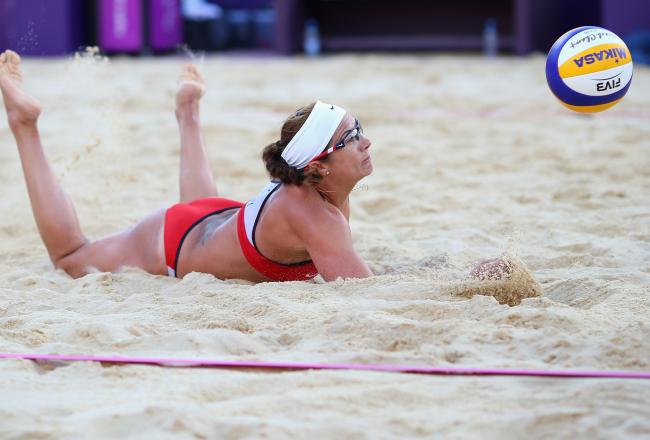 A really weak lift call on Misty ties the game, then Kessy blocks Kerri for an 11-10 lead at the switch.
They've been trading points for the most part so far. It's 10-9 in favor of the champs.
April garnered Rookie of the Year honors on both the AVP and FIVB tours.
This article is
What is the duplicate article?
Why is this article offensive?
Where is this article plagiarized from?
Why is this article poorly edited?