London 2012 Track and Field: Grading Day 11's Top Performances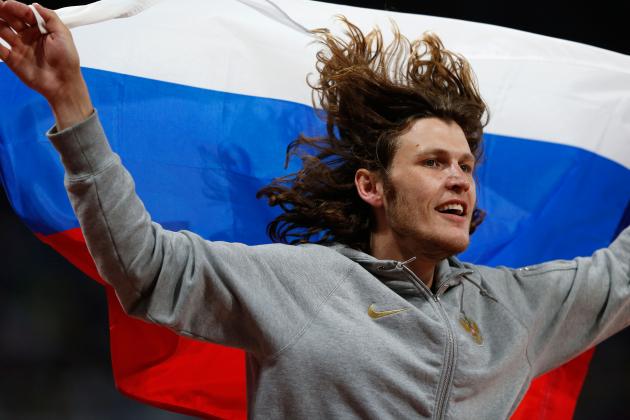 Jamie Squire/Getty Images

Steady rain did not keep the following four athletes from shining in their respective track and field events on Day 11 of the London Olympic Games.
The less-than-ideal weather did help keep world records in tact, but there were still some outstanding performances.
Here are the four best from a wide variety of events.
Begin Slideshow

»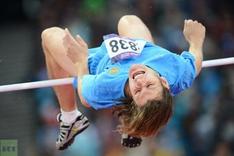 Courtesy of rt.com
Ivan Ukhov took the gold in the men's high jump with a leap of 2.38-meters. That was .05 better than the silver medalist and .07 off the world record. A fine jump for sure, but that isn't all he is being graded on here.
Ukhov managed to somehow lose the top part of his jersey during competition and he was forced to resume competition wearing a t-shirt.
That deserves bonus points. In an Olympics where things can get a little too uniform, it is fun to see something different.
Luckily, it wasn't as different as Ukhov attempting to compete while wasted, which it appears he did here.
Grade: A+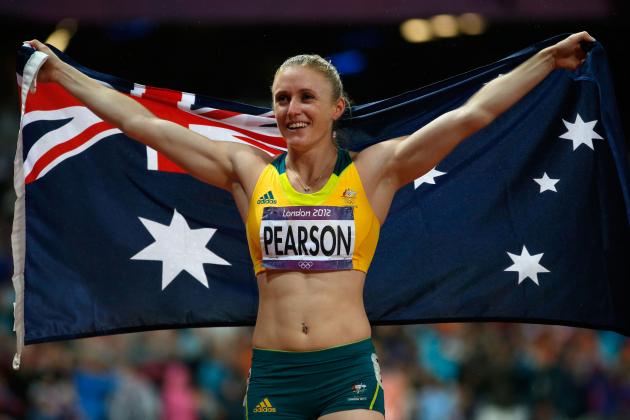 Jamie Squire/Getty Images

In an absolutely thrilling race, Australia's Sally Pearson came from behind to pass reigning Olympic champion Dawn Harper, of the USA, to take gold in the 100-meter final.
She did so in an Olympic record time of 12.35 seconds, which was good enough to put her just .02 ahead of Harper.
In wet conditions like this, setting any Olympic record is impressive—especially in an event like the hurdles.
Grade: A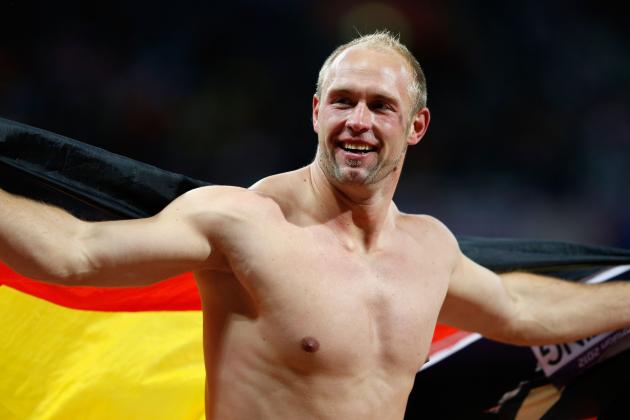 Jamie Squire/Getty Images

There was nothing surprising about the outcome of the men's discuss. Germany's Robert Harting took the top spot, just like he has in every competition he has been in since August 2010.
Harting took the gold with a heave of 68.27 meters, which was better that Ehsan Hadadi of Iran and his silver-medal-winning throw of 68.18.
Despite the predictable outcome, there was intrigue in this competition, as Harting was trailing and did not let his best throw fly until the fifth round.
Grade: B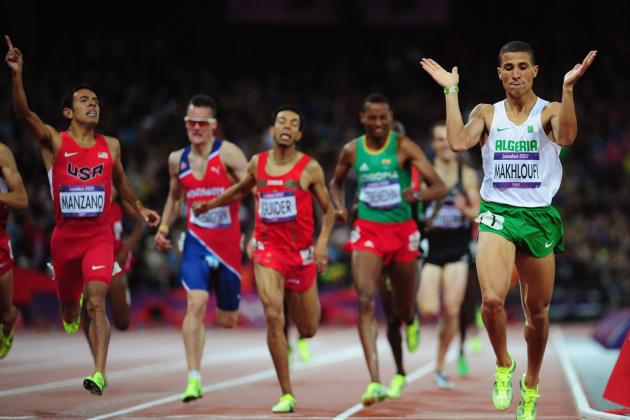 Stu Forster/Getty Images

This is the gold medal that almost wasn't for Algeria's Taoufik Makhloufi. After qualifying for the finals in this event, he was disqualified from the Olympic Games when it was ruled he was dogging it in a heat for the 800.
As you can tell, that disqualification was overturned, and I don't think he will have the same problem after he posted a time of three minutes, 34.08 seconds to take home the gold. His time was over a half-a-second better than silver medal winner Leonel Manzano of the United States.
Grade: B-