Boston Celtics: Ranking the Celtics' Biggest Challengers for an NBA Title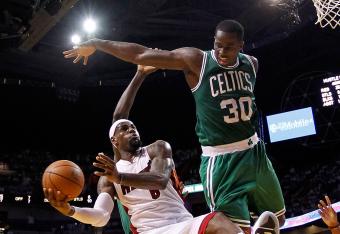 Mike Ehrmann/Getty Images
The Boston Celtics could have gone in one of two directions this offseason.
Either decide to break it all up and start the rebuilding process or use their seven-game Eastern Conference Finals series against the Miami Heat as a driving force in reloading to give it yet another run.
The Celtics chose the latter.
Now, they find themselves right back in the thick of things in the hunt for an NBA championship.
We know Boston is talented enough to win a title, but the question is: who are the main teams that stand in the way of banner No. 18?
Here are who I think are the top six chief adversaries for the C's for this upcoming season.
It's fitting, right? Should the Celtics and Lakers meet in the finals, Boston would be trying to go up two on Los Angeles in the banner chase while the Lakers would be trying to even the score at 17.
Before I go any further, I feel like I need to tell any Heat fans who might be reading this article to calm down. I am not saying that L.A. is better than Miami—although there is a very good chance they are. What I am saying is that the Lakers pose a biggest matchup problem for the Celtics because of their size up front.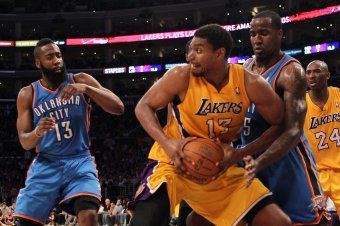 Stephen Dunn/Getty Images
I think we all know that the Celtics match up very well with the Heat, even most Miami fans wouldn't disagree with that. Los Angeles, with Andrew Bynum and Pau Gasol manning the frontcourt, is another story.
Fortunately, Danny Ainge took steps to address Boston's thin frontcourt this offseason by drafting Jared Sullinger and Fab Melo, bringing back Chris Wilcox, and signing Jason Collins for a defensive presence inside.
Make no mistake: due to his great low post defense, Collins will be a key component in a potential Celtics/Lakers finals matchup.
Nevertheless, Bynum is sometimes impossible to stop, and with Steve Nash now in tow, not to mention Antawn Jamison, Gasol's job just got much easier.
Is anyone else hoping for round three come June?
Again, matchups, matchups, matchups.
The Heat proved they were better than the Thunder in this year's Finals, but Oklahoma City could pose a matchup nightmare for Boston.
Why?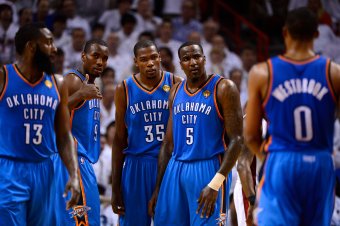 Ronald Martinez/Getty Images
Well, first and foremost, the Thunder are one of the only teams in the league who have a point guard who can essentially nullify Rajon Rondo.
For all of the flak he gets, Russell Westbrook is undoubtedly one of the best point guards in the game. He is one of the few floor generals who can match Rondo point-for-point, pass-for-pass, dribble-for-dribble.
The next reason is Oklahoma City's interior defense.
The Thunder have two of the best paint defenders in the game: former Celtic Kendrick Perkins and shot-block extraordinaire Serge Ibaka.
So Perkins may not be the same player he was before tearing his ACL during the 2010 Finals when he was a member of the Celtics, but he is still a nasty post defender. Along with Ibaka, he can take away another advantage that Boston usually has against its opponents: Kevin Garnett.
I'm not saying either Perkins or Ibaka can stop K.G., but they can certainly make life more difficult for him. Not a lot of other teams have even one guy that can consistently do that, let alone two.
Finally, if possible, Oklahoma City is even more athletic than Miami, and we know that athletic teams have given the Celtics problems over the past couple of seasons.
That said, the Celtics are a younger, more spry ballclub now, so that might not be too big of an issue.
Ronald Martinez/Getty Images
3. Miami Heat
Relax, Heat fans. This doesn't mean you aren't still currently the kings of the NBA. It just means that Boston always plays you guys tough and Garnett and Rondo who tend to give you your team fits.
Miami is clearly the primary challenger to the Celtics in the East.
They are the defending champs and only bettered itself this offseason by adding Ray Allen and, to a lesser extent, Rashard Lewis.
The Heat have two of the best players in the league in LeBron James and Dwyane Wade, plus another All-Star in Chris Bosh, so they obviously represent a significant obstacle for the Celtics.
Still, with Boston's new additions, guys like Jason Terry and Courtney Lee, plus the aforementioned big men, I could definitely see the Celtics getting the better of Miami this time around.
Of course, the two teams would have to meet in the playoffs again but let's face it, barring any unforeseen circumstances, they will.
We should just forgo the 2012-13 regular season and jump right to the Eastern Conference Finals already.
The Spurs looked unbeatable heading into the playoffs, taking a 20-game win streak all the way into Game 3 of the Western Conference Finals where they finally fell to the Thunder.
Game 3 proved to be the death of San Antonio, as Oklahoma City went on to backdoor-sweep Gregg Popovich's crew.
Regardless, the Spurs are still a more than worthy adversary.
Like the Thunder, they have a point guard who can all but cancel out Rondo. Tim Duncan can make Garnett work for every single bucket. Plus, Manu Ginobili, who seems to cause problems for everyone in the league.
All of that said, I think San Antonio's window may have closed this past season. Their depth was an advantage over just about every team in the league. Fortunately, teams like the Celtics have added considerable depth to their rosters, too, making the Spurs a much easier opponent to dispatch.
That doesn't mean I think beating San Antonio will be easy. I just think it will be easier.
Much like the Lakers, the Grizzlies could pose a significant problem to the Celtics because of their sheer size. Plus, they have more depth than Los Angeles.
Not only does Memphis have Zach Randolph and Pau's brother Marc up front, but they also have the criminally underrated Marreese Speights coming off the pine.
Don't forget that Darrell Arthur is returning from injury this season, too.
Another issue Boston could face with the Grizzlies involves one of its brethren: Tony Allen.
Allen is quite arguably the best perimeter defender in the game. As a matter of fact, I think he and Avery Bradley are the two best in the league in that category, period.
He would more than likely draw the assignment of defending Paul Pierce.
We all saw how effective Allen was at defending LeBron and Kobe Bryant back during the Celtics' 2010 playoff run, so I see no reason why he wouldn't give Pierce any problems.
Offensively, Memphis is somewhat limited in the backcourt with the loss of O.J. Mayo, but it still has a solid point guard in Mike Conley and a smooth and explosive small forward Rudy Gay.
I'm not sure the Grizzlies can take Boston in a seven-game series, but it would certainly be a fun series to watch.
I know some people might scoff at this, but have you been paying attention to the kind of offseason the Knicks have been having?
Yes, they lost Jeremy Lin, but they added Marcus Camby, Raymond Felton, Ronnie Brewer, Jason Kidd, and Kurt Thomas.
With those additions, New York's bench is now absolutely loaded, specifically with the acquisition of Camby. The Knicks now boast one of the most fearsome interior defenses in the league.
Camby and the reigning Defensive Player of the Year Tyson Chandler?
I'll tell you one thing: New York won't see too much of a dropoff when Chandler goes to the bench and Camby comes in to replace him, and we will probably see both of them on the floor simultaneously at times.
That is a scary thought.
Now, do I think the Knicks can beat Boston in a seven-game series? No, but I do think they can put up a great fight, better than anyone else in the East, outside of the Heat. That includes the Indiana Pacers.
New York has a player in Carmelo Anthony who can explode for 40-plus at moment's notice.
They also have another pretty darn good scorer up front in Amar'e Stoudemire. He who is also more than capable of lighting it up.
Couple that with the fact that the Knicks suddenly have a formidable defense and you've got yourself a pretty tough opponent.
This article is
What is the duplicate article?
Why is this article offensive?
Where is this article plagiarized from?
Why is this article poorly edited?

Boston Celtics: Like this team?