Breakdown, Preview and Predictions for Southampton's 2012-13 Season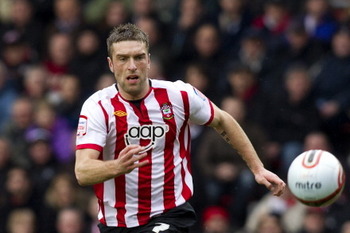 Ben Hoskins/Getty Images
Southampton supporters will be thrilled to see their team compete in the English Premier League for the first time since the 2004-05 season.
Manager Nigel Adkins has had incredible success and brought the Saints up from League One in the past two seasons.
But now Adkins faces an entirely new challenge, and these difficulties will be discussed in detail as Southampton is the next team to be scrutinized in my series of English Premier League team previews.
Here is all the necessary information surround the Saints' return to the Premiership.
Transfers In, Transfers out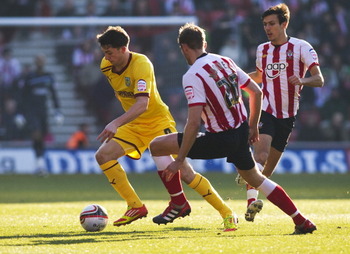 Ben Hoskins/Getty Images
| | |
| --- | --- |
| Transfers In | Transfers Out |
| Jay Rodriguez | Harlee Dean |
| Nathaniel Clyne | Ryan Doble |
| Steven Davis | Bartosz Bialkowski |
| Paulo Gazzaniga | Daniel Harding |
| | Tommy Forecast |
| | Lee Holmes |
| | Aaron Martin |
Key Arrivals
Jay Rodriguez
Southampton wasted no time in making a splash in the transfer market and shelled out £6 million—a club record—for the talented 23-year-old.
Rodriguez has torn apart Championship defenses, scoring 15 goals last season and 14 in 2010-11. The youngster is the type of player who can allow Southampton to succeed this season and in the future.
Steven Davis
Davis will bring skill, stability and leadership to the Southampton midfield this season. The 27-year-old captained Rangers this past season and recorded five goals and 13 assists.
The Saints reportedly paid £800,000 pounds for the midfielder, and he will certainly be worth every cent. His passing wil be an excellent addition to the team's attack.
Key Departures
Daniel Harding
The Saints managed to retain all of their key players, as Harding was only an occasional contributor. He appeared as a defender is 17 matches, the most of any player to leave St. Mary's.
Still, the defense is the area where Southampton is most vulnerable, and the team could have used Hammond as another option off the bench.
Southampton has had an excellent transfer season, which is remarkable considering the team was handed a ten-point deduction and went into administration in 2009. But Swiss businessman Markus Liebherr bought the team and their financial problems were solved.
The team has seen a meteoric rise since Liebherr and manager Nigel Adkin's arrival. The success has been due their agressive pursuit of players to improve the squad and their ability to hold on to the core of the team.
Biggest Matches and Full Schedule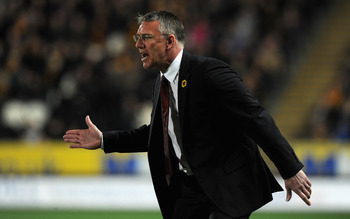 Gareth Copley/Getty Images
The full Southampton schedule can be found via the team's website. Here are the must-see matches.
at Manchester City, Sunday, August 19
The season opener is the most difficult match of the season for the Saints, as they must travel north to play the defending Premier League Champions at Etihad Stadium.
This is a cruel way to welcome a newly-promoted side to the Premiership, but it also presents an excellent opportunity for the the team. If Southampton can get a positive result here, they will gain momentum and set a tone for the remainder of the season.
The Saints do not necessarily need a victory, or even a draw in this match for it to be an encouraging. If they can play City tough and grab the lead for even a few minutes, they will have shown that they can put the best team in the league on their heels. The confidence gained from doing that could be invaluable going forward.
vs. Swansea City, Saturday, November 10
Southampton will be trying to replicate the season that Swansea City—who finished 11th—had this past year. Swansea came up from the Championship, hit the ground running, and posted a surprisingly impressive finish.
They accomplished this while playing disciplined, attractive football. They kept the ball on the ground and dicated the match through possession. Swansea finished third in the Premiership with an average of 57.6 percent possession in their matches, according to Whoscored.com, and Southampton will look to post similar statistics this season.
But in order to be Swansea, the Saints will need to beat them. Nigel Adkins will be looking to follow the model that Brendan Rogers laid out and winning this match will be confirmation that the plan is working. Southampton supporters can only hope that Adkins does not have too much success, causing him to leave for another club as Rodgers did.
vs. Reading, Saturday, December 8
At the end of last season, Southampton suffered a bitter 3-1 defeat at the hands of Reading and that proved to be the difference in Reading's first-place finish. The Royals finished with 89 points, leaving the Saints in second with 88.
Southampton will be determined to finish ahead of Reading this season and take some revenge from their loss last season. This will be their first chance at redemption.
Both sides look impressive and capable of avoiding relegation, and this match will identify which newcomer is capable of joining England's best teams on a more permanent basis.
Key Players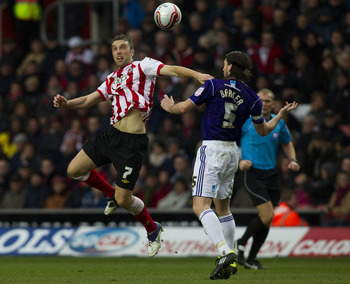 Ben Hoskins/Getty Images
Rickie Lambert, Striker
Lambert led the Championship this past season with 27 goals and has been a dominant force up front for Southampton in the past several seasons.
He is a powerful player who is a finishing wizard in the penalty area. He has the skill set to do what Grant Holt did for Norwich this past season and prove that a center forward in his early 30s can lead his team in scoring and help a newly promoted side finish in the middle of the pack.
Lamber's success with be key to the Saints' success. If he can notch 15 goals as Holt did, Southampton will almost certainly avoid relegation.
Jay Rodriguez, Striker
A combination of Lambert and Rodriguez has the potential to make Southampton a truly dangerous team.
Rodriguez is crafty on the ball and has a flair for the spectacular, while Lambert is more of a finisher. Still, Lambert is a deceptively proficient passer, recording 12 assists last season, and that could make this combination alarmingly difficult for opposing defenses to stop.
Look for Roriguez and Lambert to play off each other and provide the Saints with a potent attack.
Adam Lallana, Midfielder
Lallana is a talented midfielder who is equally capable of beating a defense as a scorer or a distributor.
He has an ideal skill-set for an attacking midfielder and will excel by sitting behind the strikers. With two talented players in front of him, the Saints will have an attacking trio who complement each other extremely well.
Lallana is the the final piece to the offensive trio that will fuel Southampton's success this season.
Strengths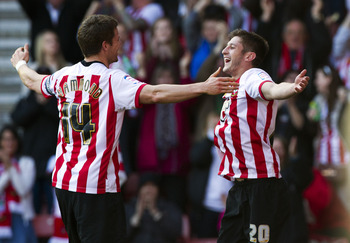 Ben Hoskins/Getty Images
Finishing
Rickie Lambert is an ace in the penalty area and does not waste his opportunities. He was a large reason why Southampton led the Championship with 85 goals this past season.
In addition to Lambert, Billy Sharp contributed nine goals last season and Guillermo Do Prado chipped in six more. This talented stable of attackers will ensure that a poacher is lurking around the penalty area in every match.
While the Saints will not lead the league in scoring, they will have an impressive offensive output.
Creative Attacking
In addition to being efficient with their chances, Southampton will go about creating their opportunities in imaginative ways.
Steven Davis is an excellent passer, as is Adam Lallana. Jay Rodriguez is extremely strong on the ball and his piercing dribbles will create space for other players.
Lambert is an all-around threat and with so many players who capable of creating space and finding their teammates, the Saints will produce several aesthetically pleasing plays.
Weaknesses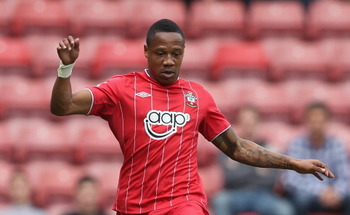 David Rogers/Getty Images
Defending
While the attackers give Southampton plenty of promise, the defense is cause for concern. Nigel Adkins attempted to address the problem by signing right back Nathanial Clyne, but problems still remain.
Center backs Jose Fonte and Jos Hooiveld played well together last season, but neither has played in a Premier League and unsure center backs can lead to a team's collapse. They will need to prove early that they can capably defend the Premier League's talented attackers.
This will be an interesting story line to follow as the defense playing at a surprisingly high level could put Southampton in the middle of the table by the time May rolls around.
Inexperience
Nigel Adkins has been extremely impressive in his managerial career, but none of his success has been in the Premiership.
The 47-year-old has coached Southampton to two consecutive promotions, but now he is in for the greatest challenge. His ability to adjust to the pressure of the Premier League will have a profound effect on the Saints' season.
Rickie Lambert will also need to prove that he can be effective despite the elevated competition. If Lambert and Adkins are unable to successfully transition to the EPL, the Saints' return to the top flight will be brief.
Prediction for 2012-13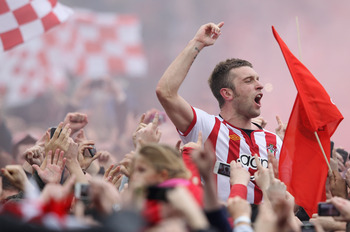 Michael Steele/Getty Images
Wins: 11
Draws: 13
Losses: 14
Points: 46
Place: 12th
Southampton has the necessary components to be a success upon their arrival in the English Premier League.
They have talented attackers and midfielders and also have depth in both areas. Nigel Adkins is a brilliant manager who coaches positive play and has complete control of his side.
Their defense is capable of being decent, although the unit is certainly not as impressive as the attack.
Ultimately, the team has been built for sustained success among England's top teams, and that will start this season.
Keep Reading