25 Things We Learned from Week 1 NFL Preseason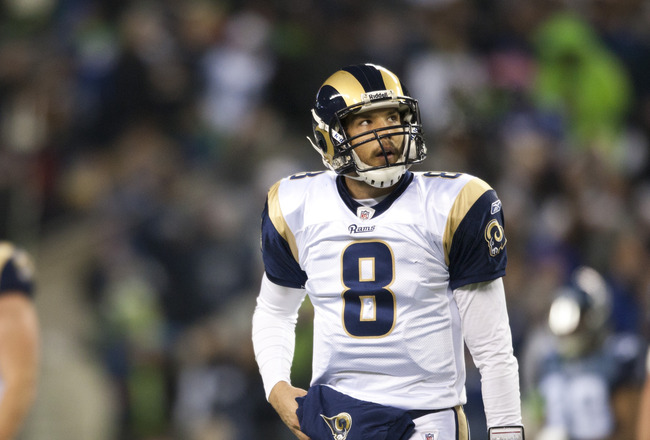 Sam Bradford and the Rams visit the Colts on Sunday
Jay Drowns/Getty Images
With the majority of the teams in the NFL now having at least one preseason game under their belt this summer (the Rams and Colts play on Sunday, the Cowboys visit Oakland on Monday night), it's time to evaluate what we saw based, in numerous instances, on who we didn't see.
The first action of 2012 usually features starters playing for a series or two. And in the case of the Saints and Cardinals, the quick turnaround from Sunday's Hall of Fame game couldn't have been easy for the players or coaching staff.
Still (and in no particular order), there was plenty to take from Canton, as well as 14 games from Thursday through Saturday. And we'll try very hard not to over-analyze this first weekend of play.
1. Peyton Manning
Peyton Manning saw his first game action since January of 2011 when he faced the Bears in Chicago
Jonathan Daniel/Getty Images
Seeing his first action against another team since the 2010 Wild Card Game loss to the Jets, the prolific passer played the first series in Chicago and looked very comfortable (4-of-7, 44 yards), though his evening concluded with an end-zone interception.
Significant, though, was the mix of plays on that drive, as running back Willis McGahee carried the ball four times. Offensive balance will be the key to Denver's success with Manning at the controls.
2. Matt Ryan to Julio Jones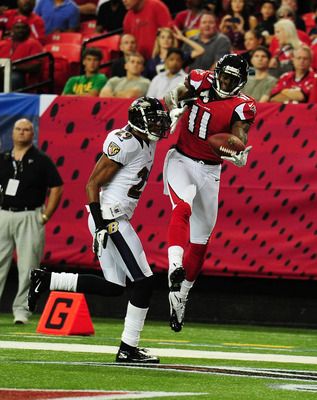 Falcons' wideout Julio Jones catches a touchown pass Thursday night vs. the Ravens
Scott Cunningham/Getty Images
In the Falcons' final four games last season, quarterback Matt Ryan threw 10 touchdown passes without an interception, and six of those 10 scores went to Julio Jones, who tied Roddy White for the team lead in TD receptions.
And Ryan found Jones again on Thursday in the Falcons' preseason tilt with the Ravens. With this one-two punch at wideout, Ryan appears headed for his most productive year yet.
3. Saints Defense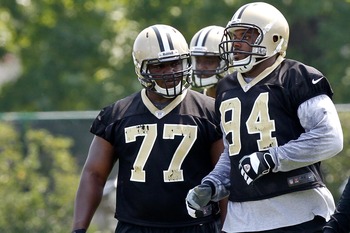 Brodrick Bunkley (77) is one of the new faces on the Saints' defense
Derick E. Hingle-US PRESSWIRE
The hallmark of the 2009 NFL champions was their opportunistic play on the defensive side of the ball, forcing 47 turnovers in 19 overall games (including playoffs).
You've seen far fewer takeaways the last two seasons, but that could be getting ready to change with new coordinator Steve Spagnuolo.
Saints defenders have been all over the field in their pair of preseason tilts, and that aggressiveness should pay off this season.
4. Robert Griffin III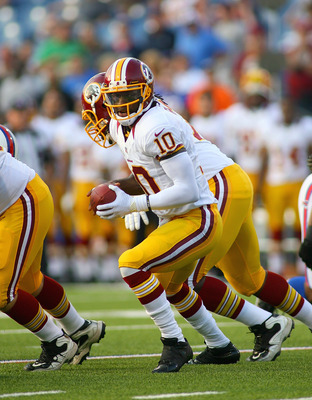 Redskins' rookie quarterback Robert Griffin III played well vs. the Bills in his preseason debut
Rick Stewart/Getty Images
Obviously, RGIII has been under the microscope since becoming the second overall pick in April's draft. But the former Heisman Trophy winner looked poised and comfortable against the Bills on Thursday, although he did lose one fumble.
Griffin completed four of seven passes for 70 yards and a score, including a pair of 20-yard gains via wideout Pierre Garcon. And the Redskins quarterback was not sacked.
5. Chargers Running Backs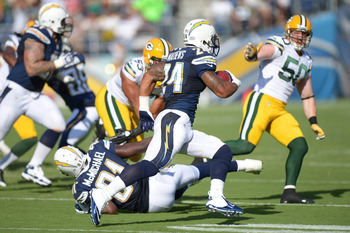 Chargers' running back Ryan Mathews (24) broke his clavicle in Thursday's win over the Packers
Jake Roth-US PRESSWIRE
A year ago the San Diego backfield featured running backs Ryan Mathews and Mike Tolbert.
But the former broke his clavicle Thursday night versus the Packers (out four-to-six weeks) and the latter signed with Carolina in the offseason.
Veteran Ronnie Brown, late of the Eagles, Jackie Battle (Chiefs) and fourth-year runner Curtis Brinkley will attempt to pick up the slack after this significant blow to Norv Turner and the Chargers offense.
6. Cardinals Offensive Line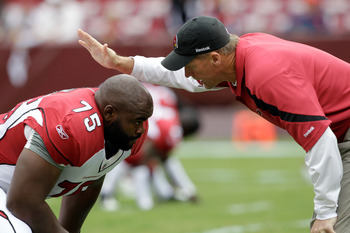 It's been an early struggle for the Cardinals' offensive line and and left tackle Levi Brown (75)
Rob Carr/Getty Images
The quarterback issue aside in Arizona, pass-blocking has been an issue for Ken Whisenhunt's club in recent seasons, allowing 54 sacks last season after giving up 50 sacks in 2010.
In two preseason tilts this summer, the Cardinals have allowed 10 sacks, including seven in Friday night's loss at Kansas City.
And even when Kevin Kolb, John Skelton and company managed to get a pass away, it was under duress. Stay tuned.
7. Eagles Quarterbacks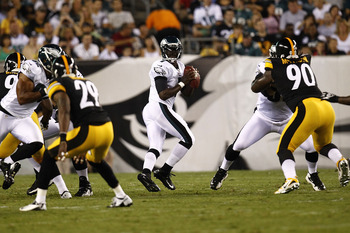 Eagles' quarterback Michael Vick had a short night vs. the Steelers on Thursday
Jeff Zelevansky/Getty Images
While it was not the result of leaving the pocket, Michael Vick banged his left thumb on a teammate's helmet against the Steelers and was done for the night.
And while x-rays were negative, it was a subtle reminder regarding the durability of the talented performer. The x-rays weren't negative for second-stringer Mike Kafka (out three weeks with broken hand), meaning more playing time for promising rookie Nick Foles.
8. Chiefs Offense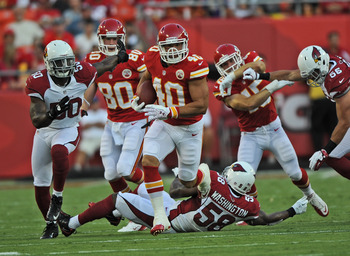 Peyton Hillis (40) was impressive in his debut with the Chiefs
Peter Aiken/Getty Images
If you were looking for a preview on what to expect from Romeo Crennel's club this season, look no further than Friday night's contest versus versus Arizona, when the Chiefs ran the ball 41 times—more than half of those attempts (22) coming in the first 30 minutes.
The signing of Texans castoff Eric Winston solidifies the offensive line and the running-back tandem of Jamaal Charles (now healthy) and Peyton Hillis, who caught a touchdown pass versus the Cards, will frustrate opponents.
9. Steelers Offensive Line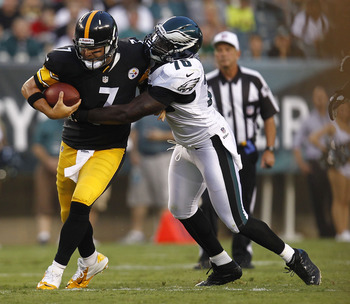 The Steelers struggled to protect quarterback Ben Roethlisberger vs. the Eagles
Jeff Zelevansky/Getty Images
The team's first two picks in April were used on guard David DeCastro and tackle Mike Adams, and both are assumed starters.
But the latter had his issues against the Eagles' pass rush as Ben Roethlisberger was pressured throughout his short time in the game, and now Adams will now miss a couple of weeks (knee).
Perhaps it's just a matter of reps for this unit, which also includes former right tackle Willie Colon at left guard, but time is wasting.
10. Dolphins Quarterbacks
Dolphins' rookie Ryan Tannehill played well Friday vs. the Buccaneers
J. Meric/Getty Images
The three-headed monster battle in Miami took an interesting twist when it was announced that David Garrard, who did not play last season after being cut by Jacksonville, would have knee surgery.
Matt Moore got the start versus the Buccaneers and wound up throwing an interception, but first-rounder Ryan Tannehill finished 14-of-21 for 167 yards and a score in the Dolphins' 20-7 preseason loss.
It will be interesting to see if the rookie out of Texas A&M seizes the moment and winds up the Week 1 starter.
11. Brandon Weeden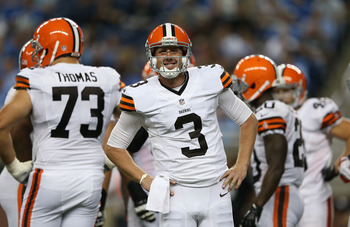 Brandon Weeden (3) had his ups and downs in his NFL debut at Detroit
Leon Halip/Getty Images
The Browns played four different quarterbacks in their preseason opener at Detroit but all eyes were on Brandon Weeden, who was named the regular-season starter.
But it was hardly cause for celebration, as the rookie threw for 62 yards (completing 3-of-9 passes) but lost a fumble when sacked and also had a ball picked off after forcing it into coverage.
A long way to go before facing the Eagles in Week 1, but ball security should be a priority.
12. LeGarrette Blount and Doug Martin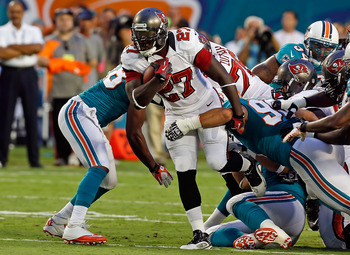 Buccaneers' RB LeGarrette Blount scored the first of the team's two touchdowns vs. the Dolphins
J. Meric/Getty Images
The former undrafted free agent (who started Friday versus the Dolphins) and the Buccaneers' second first-round pick this April each carried seven times against Miami, combining for 51 yards rushing (30 by Blount), and each ran for a first-quarter touchdown.
Blount and Martin appear primed to be another "thunder and lightning"-type combo and could rival Carolina's duo of DeAngelo Williams and Jonathan Stewart in terms of production by season's end.
13. Bengals' Injuries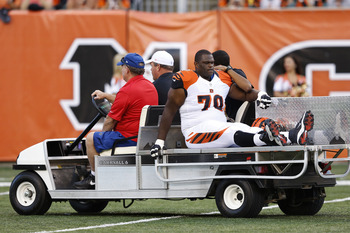 Bengals' left guard Travelle Wharton could be lost for the season
Joe Robbins/Getty Images
It's not what we learned but perhaps what we're about to learn, as it appears new starting left guard Travelle Wharton, a free-agent pickup from the Panthers in the offseason, may be lost for the season.
The likely replacement is second-year pro Clint Boling, who started the team's first three games a year ago at right guard.
Defensive end Carlos Dunlap and linebacker Rey Maualuga were/are banged up as well, but that Bengals offensive line has to deal with the tough defensive fronts in the AFC North.
14. Jets Quarterbacks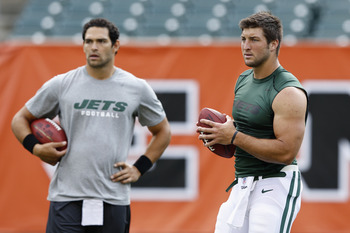 Neither Mark Sanchez (left) nor Tim Tebow was particularly impressive Friday night vs. the Bengals
Joe Robbins/Getty Images
Starter Mark Sanchez opened the game at Cincinnati, played two series and was sacked twice.
Tim Tebow completed four passes for 27 yards, ran four times for 34 yards (and looked fast), and threw an interception to Bengals linebacker Vontaze Burfict.
The Jets were minus starting receivers Santonio Holmes and Jeremy Kerley, and it's a new offensive system under coordinator Tony Sparano. But...
15. Quinton Coples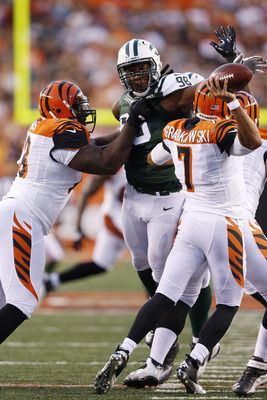 Jets' first-rounder Quinton Coples was impressive vs. the Bengals
Joe Robbins/Getty Images
The much-discussed first-rounder for the Green and White this past April got plenty of playing time against the Bengals and held his own, totaling five tackles and a sack, knocking down a pass and forcing a fumble.
It will be interesting to see where exactly he factors in on the Jets' defensive front on a weekly basis, but there's little doubt Rex Ryan liked what he saw from the former Tar Heel. And as for that notion of taking plays off at North Carolina, we'll see.
16. Patriots' Pass Rush/Pass Protection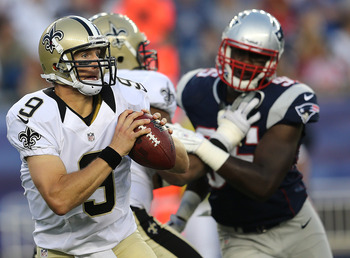 Paatriots' defensive end Chandler Jones zeroes in on Saints' quarterback Drew Brees
Jim Rogash/Getty Images
Bill Belichick moved up not once but twice in the first round in April in order to help his defense.
The first pick was defensive end Chandler Jones (Syracuse), who had a pair of tackles against the Saints on Thursday but made a much bigger impression than that.
On the other side, left tackle Nate Solder (retired Matt Light's replacement) had a pair of holding penalties against New Orleans and Tom Brady took a big-time shot from defensive end Will Smith.
Both players obviously bear watching for opposite reasons.
17. Seahawks Quarterbacks
Seahawks' quarterback Russell Wilson threw for one touchdown and ran for another against the Titans
Otto Greule Jr/Getty Images
It was an interesting night in the Pacific Northwest, as two of Pete Carroll's quarterbacks performed well against the Titans' various defensive units.
Matt Flynn played the first half and completed his first eight passes before being intercepted, finishing 11-of-13 for 71 yards.
But rookie Russell Wilson took over in the third quarter, threw a 39-yard touchdown pass to Braylon Edwards and later, ran 32 yards for a score, giving Carroll even more to think about.
18. Texans' Special Teams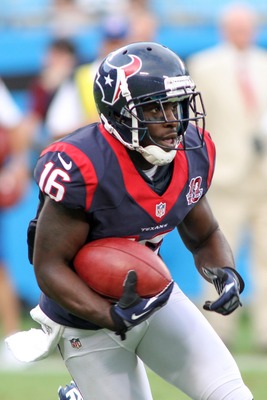 Third-year pro Trindon Holliday had a big night retutning kicks against the Panthers
Jeremy Brevard-US PRESSWIRE
The defending AFC South champs are not only favored to repeat, but even more is expected in 2012.
One performer no longer with the team is wideout/kick returner Jacoby Jones, who had a forgettable playoff outing versus the Ravens, was not only released but wound up latching on with Baltimore.
Third-year speedster Trindon Holliday rolled up 159 yards on three kickoff returns against the Panthers, including a 90-yard score, and may give Gary Kubiak another explosive option.
19. Panthers Defense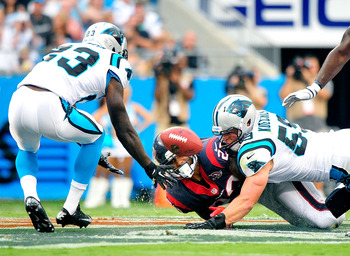 Panthers' rookie linebacker Luke Kuechly enjoyed a terrific debut vs. the Texans
Grant Halverson/Getty Images
Lost in Carolina's amazing offensive turnaround last season was the fact that the defense enjoyed its own record-setting showing. Just not in a positive manner.
The Panthers allowed a franchise-high 429 points in 2011, allowing 30 or more points in half of their games.
A big factor was the season-long absence of linebackers Jon Beason and Thomas Davis. And with neither in the lineup on Saturday, Carolina struggled to stop the Texans. Still, rookie linebacker Luke Kuechly opened plenty of eyes.
20. Packers Quarterbacks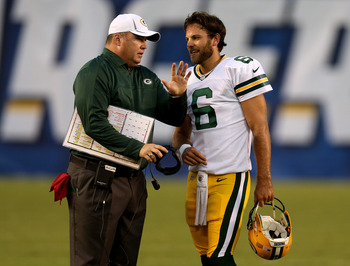 Packers' head coach Mike McCarthy is grooming Graham Harrell for the backup quarterback job
Stephen Dunn/Getty Images
The reigning National Football League MVP resides in Green Bay in quarterback Aaron Rodgers, but it's also safe to say that his style has led to a few bumps and bruises the last four seasons.
With Matt Flynn in Seattle, Mike McCarthy had Graham Harrell throw 27 passes (15 completions) versus the Chargers and the former Texas Tech star found his groove after a somewhat sluggish start.
Still, the luxury of having Flynn will surely be missed.
21. Buccaneers Defense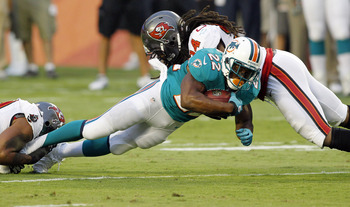 Adrian Clayborn had a team-high 7.5 of the Buccaneers' NFL-low 23 sacks in 2011
Robert Mayer-US PRESSWIRE
Don't want to read too much into one game, but when the opposing quarterbacks drop back a combined 50 times and you fail to record a sack, it's worth noting.
Add the fact that no team in the NFL totaled fewer sacks than the Buccaneers last season (23) and you get the point.
Off a season in which the franchise gave up 494 points (tied for the fourth-highest total in league history), some semblance of a pass rush is necessary when facing a steady diet of Drew Brees, Matt Ryan and Cam Newton.
22. Titans Quarterbacks
Matt Hasselbeck threw a pair of interception against the Seahawks
Otto Greule Jr/Getty Images
Matt Hasselbeck's return to the Pacific Northwest was less than memorable.
On the Titans' first play from scrimmage, a crazy deflected interception was returned for a touchdown by Seahawks corner Brandon Browner. And later, Ray Sherman made a nice over-the-shoulder grab of another Hasselbeck pass.
Enter Jake Locker (7-of-13 for 80 yards), who wasn't picked off but was far from spectacular. Still, there's that sense of the inevitable changing of the guard (or quarterback)…
23. Seahawks Defense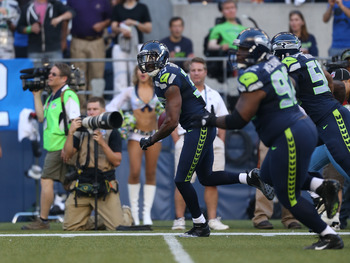 Brandon Browner returns a Matt Hasselbeck interception for a score on Saturday
Otto Greule Jr/Getty Images
Gus Bradley's unit made it an unhappy homecoming for Hasselbeck, who was picked off twice—once for a touchdown, as the Seahawks picked up where they left off last season when they forced 20 turnovers in their last eight games.
And the lateral speed of this unit was on display numerous times, as Seattle defenders corralled Titans running back Chris Johnson to the tune of eight yards rushing on five carries.
This group may be good enough to carry Seattle to a division title.
24. Bengals Wide Receivers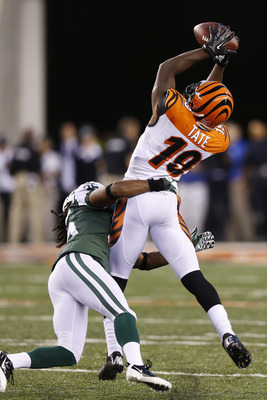 Bengals' WR Brandon Tate was impressive vs. the Jets
Joe Robbins/Getty Images
The team appears to have some young talent at the position, led by Pro Bowler A.J. Green and sure-handed Jordan Shipley, who missed the majority of 2011 due to injury.
Armon Binns got the preseason start opposite Green against the Jets, but it was Brandon Tate's play that was eye-opening, making a few spectacular grabs (one that didn't count).
Marvin Lewis knows what he has in the former Patriots speedster, who returned a kickoff 97 yards for a score against the Bengals in Week 1 of 2010.
25. Saints Running Backs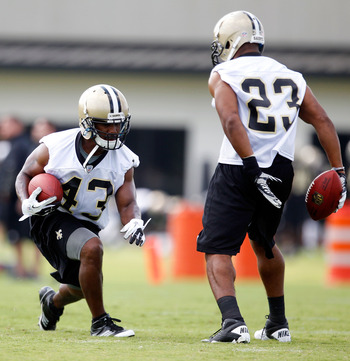 Darren Sproles (43) and Pierre Thomas (23) give the Saints plenty of options
Sean Gardner/Getty Images
Back to the Saints. While Darren Sproles led the team in yards on the ground last year, and Mark Ingram led in rushing attempts, the New Orleans offense is perhaps better with Pierre Thomas on the field.
The unheralded back, who made a brief but solid performance in the Hall of Fame game, runs hard and is deceptively elusive after the catch.
Drew Brees has an abundance of weapons on offense and the team scores points at will, but Thomas is the kind of back that also wears out defenses and wears down the clock.
Keep Reading