Tennessee Football: 5 Vols Who Must Prove Their Worth in 2012 Fall Camp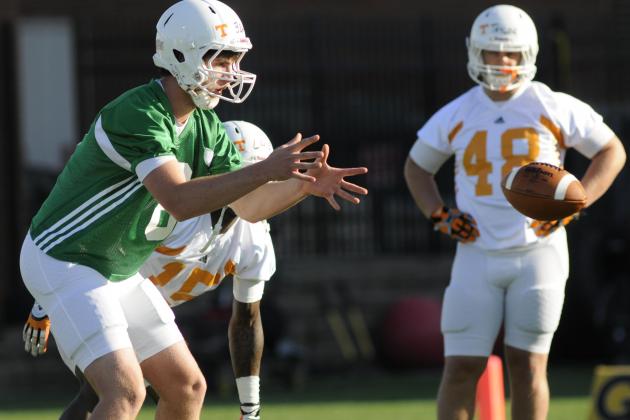 The 2012 Tennessee Volunteers reported to fall camp last week and are working hard to reverse the trend of the past two seasons. There are some lofty expectations for this group, and by all accounts, things are off to a strong, focused atmosphere for the team. But some individuals need a better camp than others.
These individuals are coming off surgery, struggling in a position battle or dealing with being thrust into a starting role because of departures of other players. We can get a gauge of how well the entire team is focused by monitoring these five players' progress leading up to August 31.
So other than the obvious players like Tyler Bray and A.J. Johnson, whose production is vital to the success of the Vols? What other guys need to show their best stuff during fall camp?
Begin Slideshow

»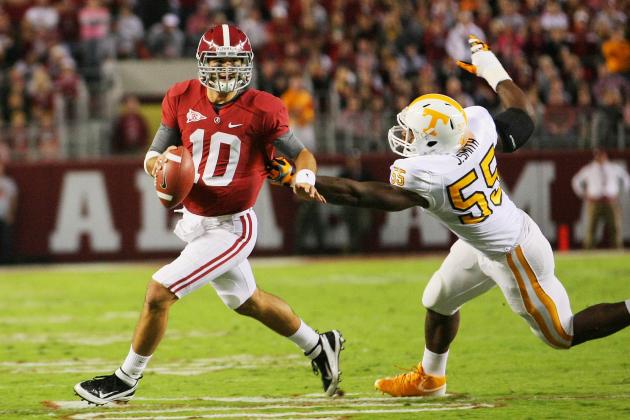 Marvin Gentry-US PRESSWIRE

For all the talent and potential that Jacques Smith has, he still hasn't shown up for a full season.
Smith's freshman year showed flashes of brilliant play, and his 24 tackles, two sacks and five tackles for a loss earned him All-SEC Freshman honors. But he followed that strong 2010 campaign with a relatively boring 2011.
Smith's great burst off the line was all but gone after the loss at Florida, and the Vols simply can't have that this year. He has the perfect size and mentality for playing outside linebacker in the 3-4 defense, and he'll get that opportunity starting this fall.
Though Smith isn't about to lose his job during fall camp, his improvement can signal a big year for the Tennessee defense.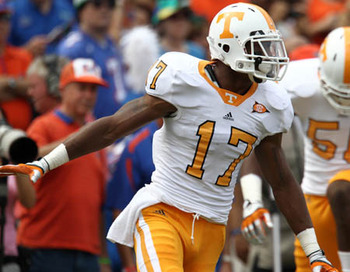 Brent Brewer is certainly no Janzen Jackson (remember him?), but he has the same kind of tackling ability, and the 2012 Vols need that.
There's nothing like a hard-hitting safety to enforce the middle of the field. A few strong tackles from Brewer early in the game absolutely will make a difference at the end. But this is what we said last year, and Brewer was a no-show before tearing his ACL against South Carolina.
Brewer is 24 years old, by far the oldest player on the defense, which puts him in a natural position to be a role model. This fall camp, I expect great leadership from the former professional baseball player even if on-field play is lagging.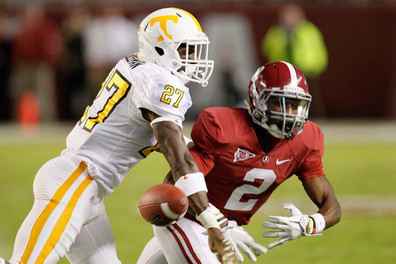 The Tennessee Volunteers had two big hits this offseason. One was the dismissal of tight end Cameron Clear after he was charged with theft. The other was the ineligibility ruling of cornerback Izauea Lanier due to academic reasons.
Lanier played in all 12 games for the Vols last year, including nine starts. He wasn't a stellar playmaker, but he was consistent and dependable. With that being gone this fall, it is imperative that sophomore Justin Coleman have a great fall camp.
Coleman is supposed to be an explosive playmaker, but we didn't see that during his first year in 2011. He has terrific speed—he was the fastest player of the 2011 Tennessee recruiting class—and had college offers from Oklahoma State, Wisconsin and West Virginia.
But he got off to slow start with just 10 tackles in four starts. This year, he'll be given every chance to start at cornerback opposite Prentiss Waggner. Coleman is going to be tested heavily during the season and is one player who could really use a terrific fall camp.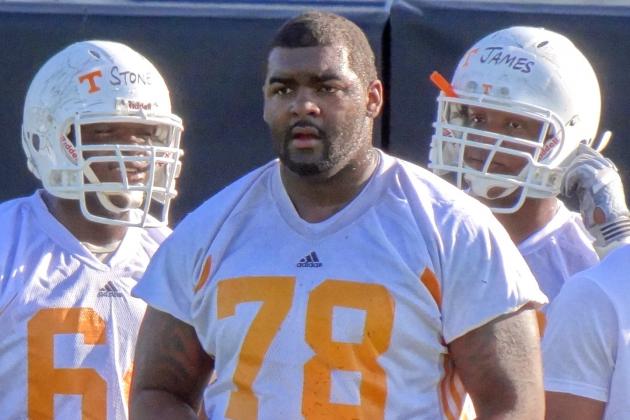 This time a year ago, Tennessee was excited to welcome Notre Dame transfer Alex Bullard to an already beefy offensive line.
The only problem was the 2011 offensive line was a huge disappointment, and Bullard was quite literally at the center of it. The center position for the Volunteers had numerous problems with delivering snaps to Tyler Bray, some from James Stone and the rest from Bullard.
Stone was dealing with snapping the ball right-handed after getting accustomed to snapping with his left hand. Bullard, however, was just impatient. When the Volunteers tried to run a play out of a different offensive set, like the Wildcat, Bullard routinely snapped the ball over the head running back's head because he was getting ahead of himself.
Bullard missed most of summer workouts due to personal issues, and Stone has started taking first-team repetitions at center. If Bullard wants to job back, he'll have to overcome his own snapping issues, Stone's improved performance and the wariness of a coach who doesn't want too much shuffling in a crucial season.
Bullard has seen practice time at guard and tackle, too. It would be great if he can add some versatility to an already dynamic line during fall camp.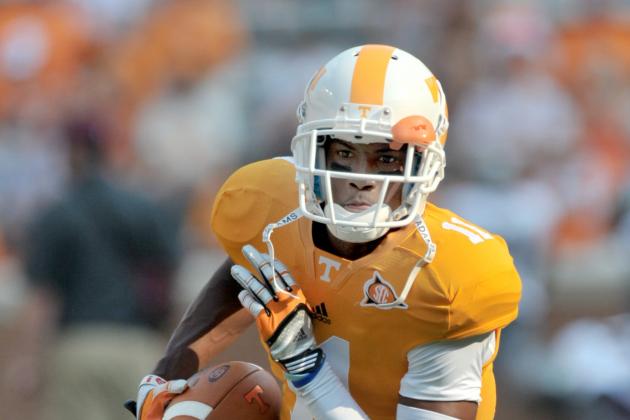 Jim Brown-US PRESSWIRE

Justin Hunter has nothing to prove to fans and coaches in terms of skills this fall. But he does in terms of health.
Instead of Hunter himself needing a great fall camp, it is his knee that needs to rebuild its strength and show us that it's capable of being pushed, twisted and leapt from.
In his young Tennessee career, Hunter, like his teammate Tyler Bray, has shown an amazing amount of talent but has no season-long stats to show for it. He averages 365 yards...per year! Does anyone else think Hunter is capable of doing that in one game?
After seeing what happened to the Vols without Hunter last season, his progression through fall camp will be something to watch very closely.