College Football Recruiting 2013: The Main Strengths for Each Top 25 Recruit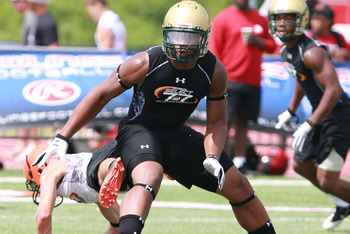 247Sports.com
Only a short time ago, we gave you the main weakness for each top 25 recruit for this 2013 recruiting cycle. We examined each of the best 25 players in the country and listed a weakness that they need to improve upon to ensure success in college.
Well, today we are going to look at that from the other end of the spectrum. Highlighting the main on-the-field strengths of each top 25 recruit's skill set will be the goal for this read. This will give all of you who have not watched film on these recruits a foundation for why these players are so highly touted and what makes them good.
So, come inside and discover the main advantages for each of the top 25 recruits in the country for 2013!
25. Ryan Burns, QB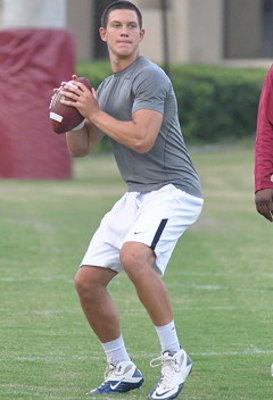 247Sports.com
Burns is a 6'5", 220-pound QB prospect from Virginia. He is impressive by looking at him on the hoof, and he has great arm talent.
Burns shows solid quickness in his drops, sets up well and sees the field to all levels. He has good delivery quickness, solid touch and flashes sharp arm strength. He's committed to Stanford.
Strength(s): Pocket passing ability
24. Dorian Johnson, OT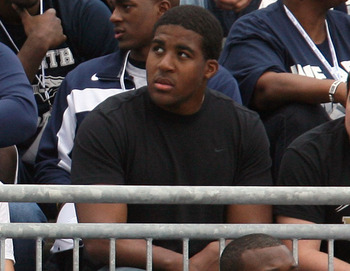 247Sports.com
Committed to Penn State, Johnson is an elite OT prospect who goes in the 6'6", 285-pound range. He has the versatility to play LT or RT for an OL unit.
Johnson shows a very quick stab and grab to stymie his targets, and has the potential to be a great short-set pass protector. He moves well for a big man and can hold his own well vs. speed or power.
Strength(s): Quickness and grab strength
23. Shane Morris, QB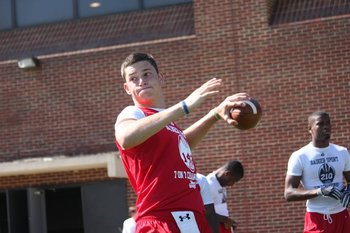 Rivals.com
Morris is pretty much a celebrity around Michigan these days. The 6'3", 190-pound lefty is the top player in the state and one of the best overall recruits in the nation.
Morris has solid drop quickness, good mobility to elude the rush, a quick setup and has very good arm strength. He also has the athleticism to go make plays and throws on the run.
Strength(s): Mobility and set-up quickness
22. Eddie Vanderdoes, DT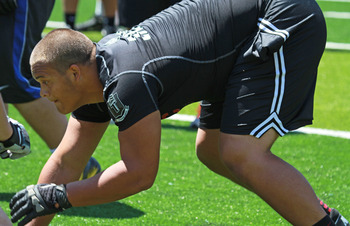 247Sports.com
Based on what I see of Vanderdoes, he's a DT through and through. The only scenario I can see him playing DE is in a 30-front scheme.
From Northern California and committed to Southern California, Vanderdoes is a 6'4", 305-pound load in the trenches who shows solid snap quickness, excellent play strength, a good fight to pressure and an ability to make a mess in the middle.
Strength(s): Brute play strength
21. Cameron Burrows, DB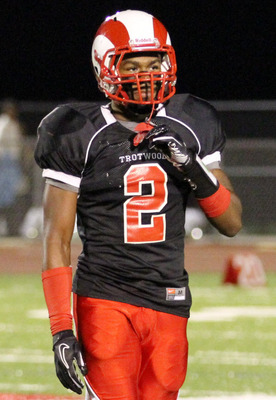 247Sports.com
Burrows is a big bodied DB at 6'1" and around 200-pounds. He's a pure CB first that has loose hips, natural cover skills and speed to carry a WR all around the field.
Burrows, an Ohio native and Buckeye commit, has good hips and athleticism to come clean out of transition. His quickness to close is good and he also can play safety.
Strength(s): Size and speed ratio for a CB
20. Matthew Thomas, OLB
247Sports.com
Thomas comes out of the Miami area and is one of the best second-level defenders I've seen in recent recruiting classes. He's still light in the pants at just 205-210 pounds, but his 6'3" frame will add weight and bulk in college.
Flashing great play speed, Thomas can play the traditional Will OLB role, the Sam OLB role or even play some Jack OLB in a 3-4 scheme. He's an effective blitzer, plays with range and can rush the passer if needed.
Strength(s): Play speed
19. Christian Hackenberg, QB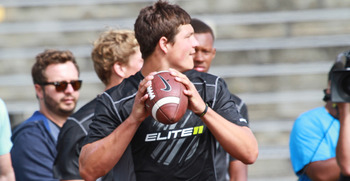 247Sports.com
Hackenberg is staying at Penn State, which will get him coached up well by Bill O'Brien. He'll learn a pro-style offense that still likely will feature some spread principles and concepts with which Hackenberg is already familiar.
A 6'3", 215-pounder who plays in Virginia but is from Pennsylvania, Hackenberg has great tools for a QB. He shows a quick delivery, good arm strength, anticipation skills and great timing to his targets.
Strength(s): Rhythm and timing as a passer
18. Darius James, OL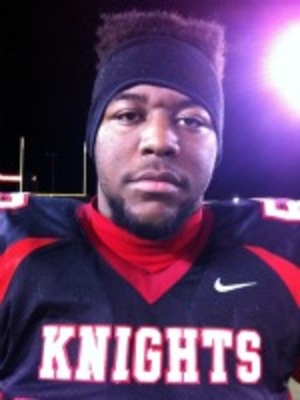 Scout.com
James is a Texas pledge who stands 6'5" and weighs 320 pounds. He shows excellent athleticism for such a large player, along with great play strength.
Playing the pivot is likely for James, but he also can play LT and other positions along the OL. James can surge off the ball, move a target off his spot as a run-blocker or set up quickly and use his raw athleticism to shadow pass-rushers.
Strength(s): Size and natural athleticism
17. Kendall Fuller, CB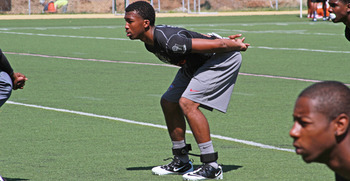 247Sports.com
One of the best overall athletes in the country, Fuller easily could be one of the better WR prospects if he wanted. Yet, he is set to be a CB in college, with his 5'11" and 190-pound frame, speed, quickness, solid strength and cover skills.
Fuller recently committed to Virginia Tech, where he should become an early standout for the Hokie defense.
Strength(s): All-around athleticism and man-to-man cover ability
16. Ty Isaac, RB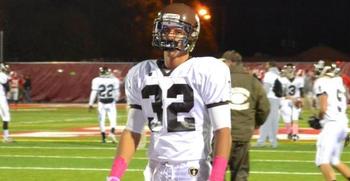 247Sports.com
Isaac comes from Illinois and has been a very productive runner for Joliet Catholic since he stepped on campus. He's grown to be a 6'3", 220-pound lethal weapon of an offensive player who's committed to USC.
Showing pretty good speed and solid elusiveness, Isaac runs with solid strength, good vision, instincts and has a burst to skate around the field. However, what sets him apart is his ability to catch the football like a WR.
Strength(s): Size and WR-like ball skills
15. Robert Foster, WR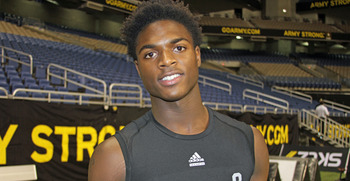 247Sports.com
Foster has a ton offers from elite colleges thanks to his 6'2" and 190-pound frame, explosiveness, speed and RAC skills.
He's from Pennsylvania, and also adds punt and kickoff returner value to a potential team, too.
Strength(s): Speed and explosiveness
14. Antonio Conner, S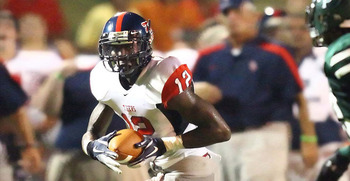 247Sports.com
Conner is a great safety prospect who also is a pretty productive high school RB. He's from the Magnolia State and is in the 6'2", 200-pound range.
A stud all over the field, Conner quickly reads the run, squeezes into the box well and can help plug the run inside or outside. He has the speed to factor on the back end and the instincts to go make plays on the football.
Strength(s): Instincts, along with size/speed/athleticism
13. Montravius Adams, DT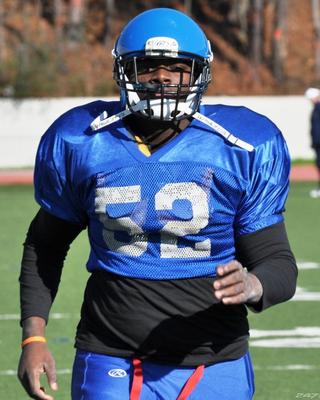 247Sports.com
Adams really can get off the ball at the snap. He usually is the first DL to come off the ball and can overwhelm a blocker.
Adams is 6'3", nearly 290 pounds and can flash impressive hand quickness. His strength is very good, and he shows great short-area chase ability to get sacks and TFLs.
Strength(s): Snap quickness
12. Su'a Cravens, S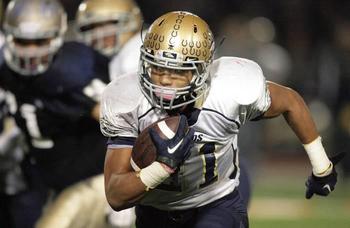 247Sports.com
Cravens is a pure football player on a 6'1", 205-pound frame who's committed to USC. He won't beat a sprinter on the track, but he plays fast on grass.
This guy's instincts are very impressive, as Cravens can do things that have you screaming, "No Su'a!!" Then, when you see the outcome, you're screaming, "What a play!!"
Cravens shows the ability to factor as a pass defender on the back end while also making productive stops in the box against the run.
Strength(s): Instincts and athleticism
11. Ricky Seals-Jones, WR/TE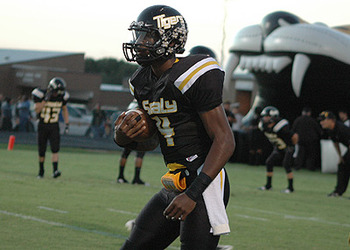 Rivals.com
Seals-Jones has grown to 6'5" and 230 pounds this offseason, and is perhaps the top player in talent-rich Texas. He may want to stick to playing WR, but a move to TE may be inevitable.
Seals-Jones is just such a big-bodied and athletic pass-catcher that he gives CBs fits. He's hard to press at the line, shows solid speed and uses his size and athleticism to "Moss" CBs with ease.
Strength(s): Size, athleticism and ball skills
10. Eli Woodard, CB
247Sports.com
Woodard is a 6'0", 185-pound New Jersey native who plays CB. He's committed to Ohio State, where he has the ability to get himself extensive playing time early in his career.
Rarely out of position and very disciplined in his play, Woodard has a great frame, combined with all the tools to excel in coverage. He can play all three types of coverage techniques well and will help support the run.
Strength(s): Play smarts and instincts
9. Carl Lawson, DE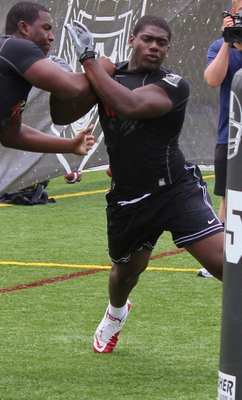 247Sports.com
From Georgia and committed to Auburn, Lawson is an elite DE prospect as well as overall player. He is 6'2", 255 pounds and can really jump on top of a blocker on the edges.
Lawson plays with good strength, will use his hands and length to try to stay clean from blockers and can hawk down ball-carriers from the backside.
Strength(s): Snap quickness and athleticism
8. Dee Liner, DT/DE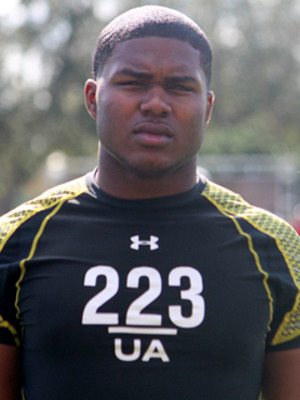 247Sports.com
Liner is 6'3", 275-pounder who can play strong-side DE or kick inside to DT. I feel he'll likely grow into a quick, gap-penetrating DT at Auburn.
From Alabama, Liner shows excellent snap quickness and the ability to surge into an offensive front at the snap. He flashes some power to detach from blocks and can pursue targets well.
Strength(s): Snap quickness
7. Max Browne, QB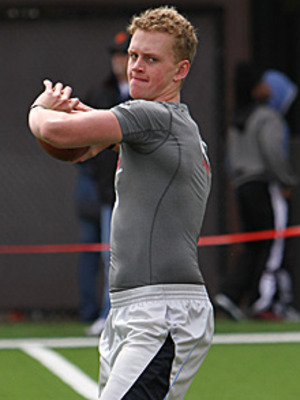 Scout.com
Browne hails from the Seattle area and is committed to USC. He's a 6'5", 215-pound pocket passer of a QB prospect who has pretty much everything needed to be successful as a signal-caller.
Browne has excellent field vision, a quick release, good arm strength, touch and accuracy. He can throw his targets open and is a natural leader.
Strength(s): Pre-snap reads and release quickness
6. Jaylon Smith, OLB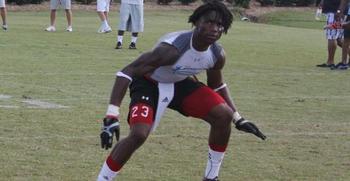 247Sports.com
Smith is heading to Notre Dame next year, where his 6'3", 225-pound frame should develop into a starter very early.
Smith also has the potential to be an immediate impact on special teams, but it's his cover ability that will make him a star. With the ability to cover RBs, TEs and even WRs, Smith can play all three downs for a defense.
Strength(s): Cover ability
5. Kenny Bigelow, DT
Rivals.com
A really physical player at the point of attack, Bigelow can surge at the snap, crash into a blocker's body, and then use strength to detach himself, athleticism to fight to pressure and a burst to finish to make plays on ball-carriers.
Bigelow is 6'3" and 297 pounds, and he should become a very good 3-technique DT at USC.
Strength(s): Snap quickness, physicality, strength and athleticism for a DT
4. Laremy Tunsil, OT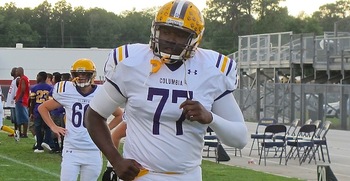 247Sports.com
From Florida, Tunsil is a 6'6", 295-pounder dripping with athleticism for an OT. He can bend at the knees, shuffle his feet to quickly set up, adjust in space to rushers and wash them upfield.
Tunsil has a vast amount of potential and seems to understand that he needs to improve his strength. He has a chance to become a great college LT.
Strength(s): Athleticism
3. Vernon Hargreaves III, CB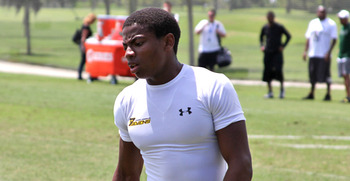 247Sports.com
Hargreaves is the son of a coach and an obvious student of the game. The Florida native will study his game as well as the opposing offense to learn tendencies of WRs.
At 5'10" and 185 pounds, he's not the biggest CB, but Hargreaves uses outstanding technique, instincts, route-recognition skills and athleticism. He can play all three types of coverage techniques well and is close to being a complete CB.
Strength(s): Technique, smarts and instincts
2. Reuben Foster, LB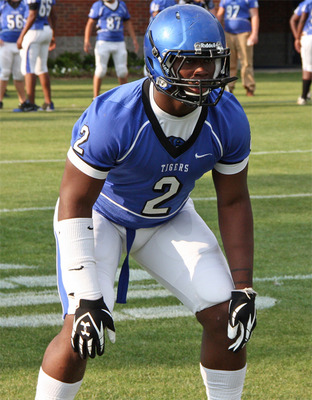 247Sports.com
Foster, a Georgia native, flipped from Alabama to Auburn last month. He's a 6'1" 'backer who weighs close to 250 pounds and has the potential to be a complete second-level defender.
With excellent instincts, ball-location skills, first-step quickness, strength, shedding skills, speed and wrap-tackling ability, Foster has a slew of tools to be a plug-and-play recruit on The Plains.
Strength(s): Instincts, along with size/strength/athleticism
1. Robert Nkemdiche, DE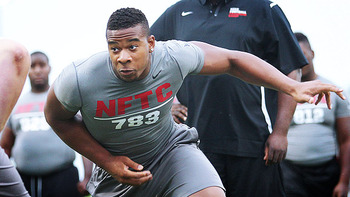 Scout.com
A 6'4", 270-pound DE who has excellent athleticism, strength, power, quickness, speed and competitiveness, Nkemdiche is still the No. 1 player on my board for 2013.
Nkemdiche is a game-changer who can be deployed as a DE, DT or even a stand-up OLB to menace an offense. He has a skill set that will allow him to be a heavy factor against both the pass and run for the defense at Clemson.
Strength(s): Strength and power
Edwin Weathersby has worked in scouting/player personnel departments for three professional football teams, including the New York Giants, Cleveland Browns and the Las Vegas Gladiators of the Arena League. He spent a year evaluating prep prospects and writing specific recruiting and scouting content articles for Student Sports Football (now ESPN Rise-HS).
A syndicated scout and writer, he's also contributed to WeAreSC.com, GatorBait.net and Diamonds in the Rough Inc., a college football and NFL draft magazine.
Keep Reading