Breaking Down Team USA's Most Important Stars Heading into Medal Round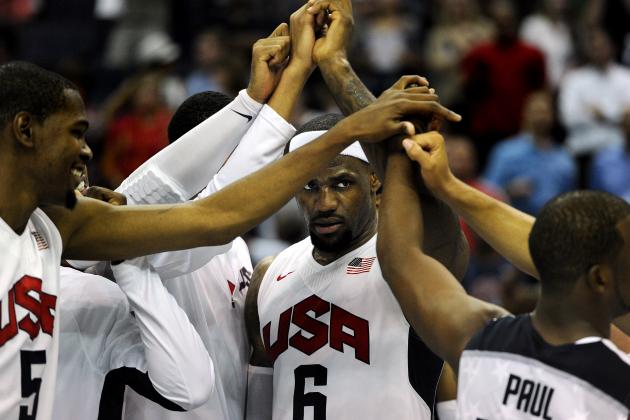 Patrick Smith/Getty Images

Team USA's Olympic basketball team heads into its opening medal-round contest of the 2012 Summer Games undefeated and as overwhelming 1/20 favorites (via Bovada.lv) to win its fifth gold medal in its last six tries.
But as the United States heads into their game against Australia Wednesday, it's time to take a look at who will be most important to the Olympic gold-medal cause for Team USA.
Here are five Team USA stars that will be vital to the United States' run through elimination play in London.
Begin Slideshow

»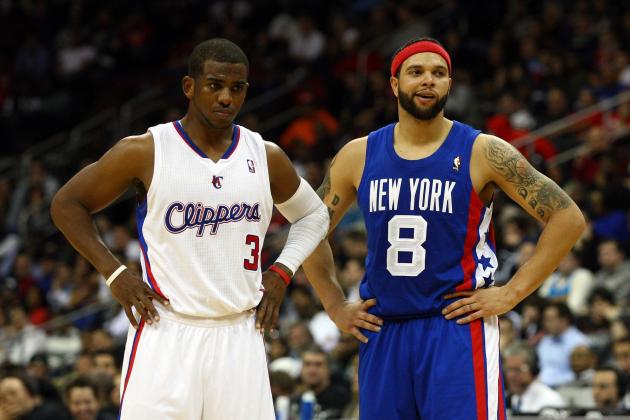 Chris Chambers/Getty Images

One of these two players needs to take over the alpha dog point guard role for Team USA.
Through the team's five Olympic contests so far, it seems like the two guards have decided to trade off when to be great and when to disappear.
Against France and Tunisia, Paul struggled to make an impact while Williams gave the second unit life by getting into the paint and creating good looks for his teammates.
Against Nigeria, every U.S. player looked like Michael Jordan circa 1992, so that game was a wash.
But these last couple games CP3 has seemingly re-established his alpha dog status with two marvelous all-around performances against Lithuania and Argentina.
So that makes the record 2-2-1 through five Team USA games. At this point, is anyone even remotely sure about the best point guard on the United States roster?
Either CP3 or D-Will needs to prove himself as the unequivocally better player, or Team USA risks having the wrong player out there at the most crucial moments.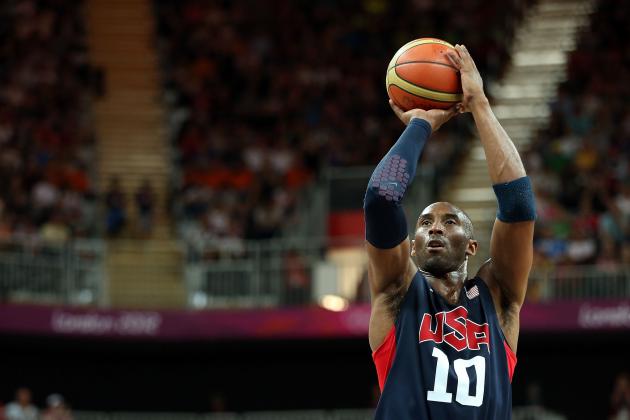 Christian Petersen/Getty Images

This is nothing more than a hunch, but Kobe Bryant will save Team USA one game with a vintage Bryant performance.
Something like 25 points on 9-for-14 from the field as Team USA comes back from a halftime deficit.
It's all hypothetical, but it seems wrong that we've seen Bryant coast through these Olympic Games satisfied to let the young guns do all the heavy lifting.
If Olympic performance was the only dictator of rotation minutes, Bryant would be sitting as the seventh or eighth man while Carmelo Anthony took his spot in the starting lineup.
But Team USA coach Mike Krzyzewski and the rest of his team know there's a Black Mamba performance lurking somewhere. Bryant just has to find the right time and strike when his teammates need him the most.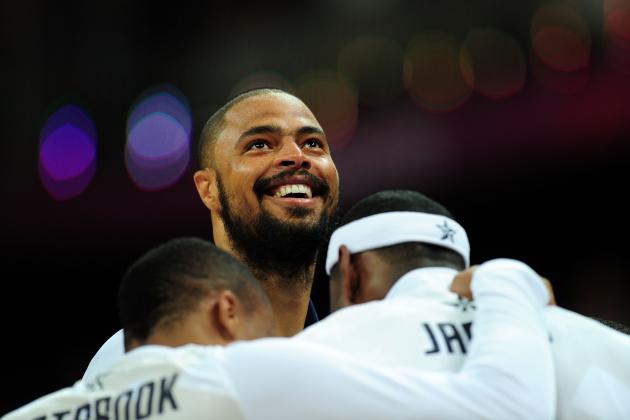 Mike Hewitt/Getty Images

After five preliminary-round games, it's pretty safe to say that the Team USA small-ball lineup does not work.
Playing LeBron James at center and Carmelo Anthony at forward opens the United States' defensive middle to the point that the team has become completely reliant on turnovers defensively.
Smart teams aren't going to buckle under Team USA's aggression and will use ball movement to create open outside jumpers.
With Chandler in the lineup, the U.S. doesn't flail defensively as each player sticks to a natural position.
If the seven-footer can stay out of foul trouble and Coach K doesn't stubbornly insist on using the small-ball lineup, Team USA should be heavy favorites against every team. But opening the defensive middle also opens Pandora's box to a multitude of American weaknesses.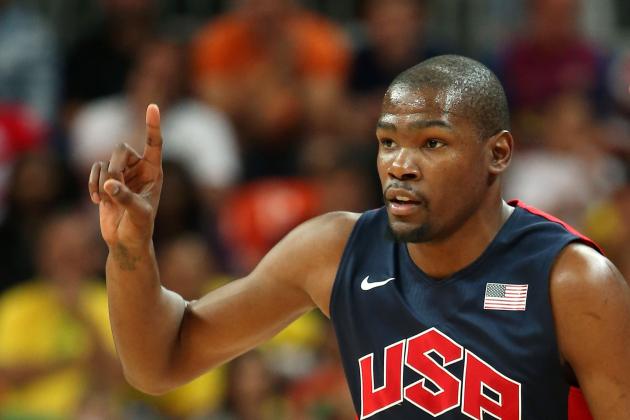 Christian Petersen/Getty Images

The 2012 Team USA squad may be setting cavalcades of outside shooting records in these Olympic Games, but the fact remains they're still not a consistent three-point shooting team.
Yes, the United States is shooting 46 percent so far from beyond the arc, but those numbers are artificially enhanced.
There is little chance that the U.S. hits 29 threes again like it did against Nigeria. And while Team USA shot 51.3 percent overall from beyond the arc against Argentina, those numbers drop to a paltry 7-for-23 (30.4 percent) if you take away Kevin Durant and Chris Paul.
That's what makes Durant so vital.
Not only has he been consistently among Team USA's scoring leaders, but he's also the team's best and most consistent threat from beyond the three-point arc. There's going to come a time in the elimination round where a big three-pointer will swing the momentum one way or the other for the United States.
For their sake, they better hope Durant is the one taking that shot.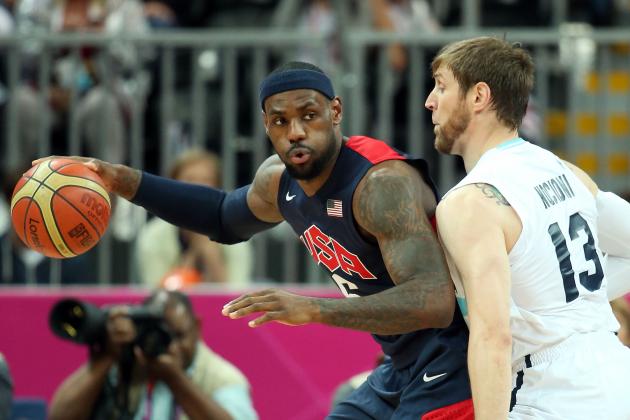 Christian Petersen/Getty Images

If his fourth-quarter outburst against Lithuania and third-quarter onslaught against Argentina have taught us anything, it's that Team USA's leader and go-to man is LeBron James.
The 27-year-old NBA Finals MVP scored nine of the United States' final 12 points versus Lithuania to give Team USA a 99-94 victory, and he followed that up by scoring the team's first seven points of the second half against Argentina, who was down just one at halftime.
Most interesting about James' dominant stretches is that he's picking and choosing his spots. LeBron is so comfortable with his game that he knows he can go out and score 10 straight points at anytime without anyone stopping him.
That level of confidence and sense of self will need to continue as Team USA has looked vulnerable in both matchups against elite competition so far. But if his playoff run is any indication, James should have no trouble taking over.