Best- and Worst-Case Scenario for Every New Chicago Bulls Player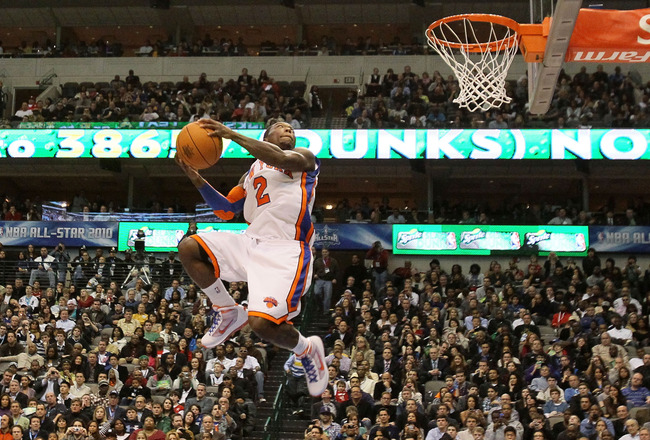 Jed Jacobsohn/Getty Images
This offseason has been a tumultuous one for the Chicago Bulls, to say the least. Out are former "Bench Mob" members Ronnie Brewer, Kyle Korver, C.J Watson, Brian Scalabrine and Omer Asik. In are cheap free-agent acquisitions Kirk Hinrich, Marco Belinelli, Nate Robinson, Vladimir Radmanovic and Nazr Mohammed, as well as draft pick Marquis Teague.
The fanbase is split about whether these new acquisitions are good or bad for the Bulls. Some say that the Bench Mob is a product of Tom Thibodeau's coaching and could be replicated. Others say the Bulls have lost their championship edge.
Here are predictions and a best- and worst-case scenario for each of the new acquisitions. The predictions are formatted as a projected stat line, along with an explanation for why the numbers show each side.
Marco Belinelli, Guard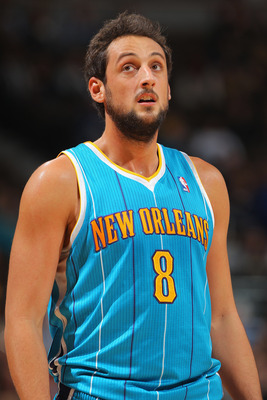 Doug Pensinger/Getty Images
Worst: 14.6 MPG, 5.5 PPG, 37% FG, 34% 3P
In this scenario, Belinelli flat-out does not bring much to the Bulls. With this pretext, he would get very limited minutes for the team.
The numbers also mean that Belinelli would not be doing his part in terms of augmenting the overall team shooting as we hope he could do. The numbers also show that Belinelli isn't scoring much, but he is putting up shots trying to get those points, taking shots away from more deserving players.
Best: 26.3 MPG, 13.6 PPG, 44% FG, 42% 3P
In this contrasting pretext, Belinelli fills many of the now-open holes on this Bulls team. The 40-percent-plus shooting from three-point land shows that he has been able to at least partially fill the role of the departed Kyle Korver.
However, what a higher field-goal percentage means for Belinelli is that he also has shown some creation ability and takes some high-percentage shots closer to the basket as well.
Overall, a best-case scenario for Belinelli would be keeping Rip Hamilton's minutes down and being able to shoot and score in bunches, and that's what this stat line shows.
Kirk Hinrich, Guard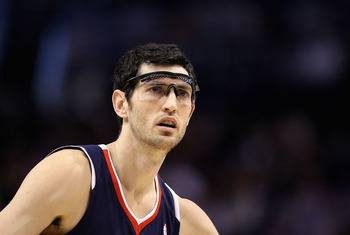 Christian Petersen/Getty Images
Worst: 46 GP, 33.4 MPG, 9.8 PPG, 3.1 APG, 38% FG, 31% 3P
This stat line shows the Kirk Hinrich of the last few years: injury-prone and not very productive, but relied on for a lot of minutes. That would be the absolute worst case for Kirk Hinrich.
We don't want him to be relied on for scoring. We don't want him averaging nearly double figures but shooting sub-40 percent from the field. We don't want him to have to play more than 30 minutes a game.
Hinrich is a fine stopgap in limited minutes, but relying on him for anything isn't going to help your team at all.
Best: 75 GP, 22.8 MPG, 10.4 PPG, 4.1 APG, 44% FG, 37% 3P
In this contrasting stat line, Hinrich is able to sit back and play within the context of his teammates. The medium assist numbers show that Hinrich is still doing a decent job playing as a point guard. What the limited minutes mean, however, is that hopefully Marquis Teague has improved enough to take away some meaningful minutes from Hinrich.
If you have Kirk Hinrich on your team as a purely complementary player (and as a shooter), then you have something valuable.
Nazr Mohammed, Center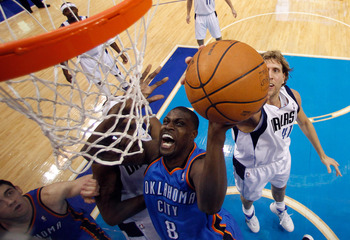 Pool/Getty Images
Worst: 19.6 MPG, 5.7 PPG, 4.1 RPG, 44% FG
The numbers are higher in this projection than the best case...why is that? Well, Nazr Mohammed is overall a player who you don't want to have to play a lot. He doesn't add a lot to the team and shouldn't play much of a role; or any role at all.
In this projection, Mohammed is relied on in a similar role as Omer Asik had last year. However what you must understand is that Asik is miles ahead of where Mohammed has ever been defensively. If you're a team expecting Mohammed to come in and play steady bench minutes, you have a problem.
Best: 8.9 MPG, 2.3 PPG, 2.1 RPG, 49% FG
This is what you want to use Mohammed for: to have him on the bench in case of injury or for filler minutes; the "Kurt Thomas role" of a few years ago, if you want a reference point.
What these minute totals mean is that Taj Gibson is effectively filling the minutes at backup center without too much of a drop-off. It also means that Joakim Noah has stayed relatively healthy throughout the season. If Mohammed is just an insurance policy, he is an effective player.
Vladimir Radmanovic, Forward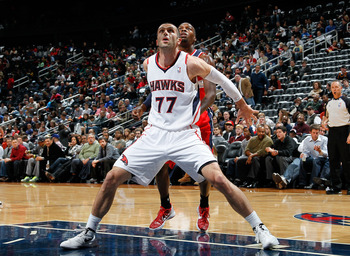 Kevin C. Cox/Getty Images
Worst: 5.5 MPG, 2.8 PPG, 23% 3P
Vlad-Rad is (hopefully) here to do two things for this team: shoot and warm the bench. Throughout his career, Radmanovic has been a solid three-point shooter, especially out of the power forward position.
However, he really doesn't add much else at all to a basketball team, especially one on the brink of championship aspirations. If he's not shooting the three-ball well, he's a waste of a roster spot.
Best: 11.1 MPG, 5.6 PPG, 38% 3P
What this stat line means is that Vlad-Rad is able to come into games in short spurts and do what he does best: knock down the three-ball.
The team as it is has a shortage of reliable three-point shooters, so as long as Radmanovic's three-point percentages remain solid, he could come in and help the Bulls.
Nate Robinson, Guard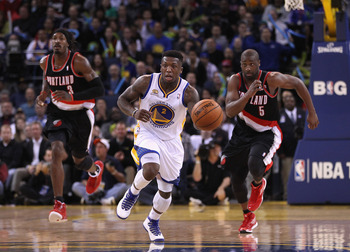 Ezra Shaw/Getty Images
Worst: 14.9 MPG, 7.7 PPG, 1.7 APG, 38% FG, 28% 3P
If there's one thing that Nate Robinson is known for, it's having confidence in his abilities. However, sometimes that isn't the best thing for a player with limited skills and size.
With these numbers, Nate would be shooting at will but not hitting much of anything. Sub-40-percent shooting really is just a drain on the team as a whole.
On top of that, these modest points and minutes are a waste for a player of Nate's caliber. However, if he shows that he's too trigger-happy and not able to back it up, that's exactly what will happen.
Best: 25.2 MPG, 13.8 PPG, 3.5 APG, 44% FG, 37% 3P, 1.6 SPG
If Nate Robinson can put up these stats for the Bulls, he will have been one of the best signings of the whole offseason. Nate's greatest strength is that he can come into games and be a spark plug off the bench.
With these stats, he could be a legitimate contender for Sixth Man of the Year. He would be scoring in bunches but scoring efficiently, and also playing well as a true point guard at times. He also would show that he could hit the long-range jumper.
In my dream scenario, Nate would be able to continue putting up these numbers after Derrick Rose comes back, and he would turn into a real Sixth Man of the Year candidate. He has the potential to do just that, let's see how he performs.
Marquis Teague, Guard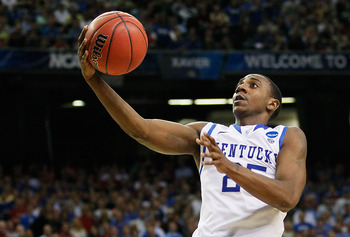 Kevin C. Cox/Getty Images
Worst: 14.3 MPG, 7.2 PPG, 2.6 APG, 39% FG
Even though Marquis Teague was touted as a top-five prospect coming out of high school, he never really played up to his potential at the University of Kentucky. He barely averaged double-digit points, he barely shot over 40 percent from the field and he nearly fell out of the first round of the draft.
Worst-case scenario is that he continues that trend. These numbers show that he still can't shoot efficiently in the NBA. They show that he isn't aggressive enough trying to score or create. They show he hasn't proven himself to Thibodeau. They show that he really doesn't have much to offer a Derrick Rose-led team.
Best: 58 Games Started, 30.3 MPG, 15.8 PPG, 5.3 APG, 45% FG
The best-case scenario is simple: Teague needs to live up to the promise he showed coming from high school. Without a doubt, Teague's overall numbers were borderline terrible at Kentucky. However, Teague may actually improve his production by coming to the NBA.
We have seen that slashers, such as star point guard Derrick Rose, actually don't show all they have to offer in college. One of the main reasons given for this change is that the game is more spaced out in the NBA because of the extended three-point line, giving a slasher more room to drive.
We saw Rose transform from a very good college player into an NBA MVP candidate. Teague won't be as good as Rose, but he still could be something special. What this production shows would be two things: Teague is a legitimate point guard in this league, and he proved to Coach Thibodeau he deserved starter's minutes over Kirk Hinrich.
If he can do that, he has had a wildly successful season, in my book.
Keep Reading

Chicago Bulls: Like this team?