Breakdown, Preview and Predictions for West Ham United's 2012-13 Season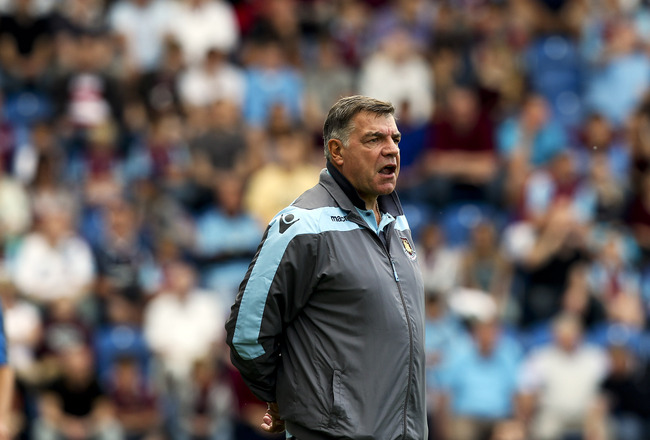 Ben Hoskins/Getty Images
The 2012-13 English Premier League season is less than two weeks away, and it is time to start ruthlessly analyzing every team in the world's greatest league.
Between now and the first match on August 18, I will be previewing all 20 sides. I'll be starting with the newly promoted teams and working my way to the top of last year's table.
First up is West Ham United. The Hammers finished third in the Championship division last season, earning the final promotion spot.
Here is everything you need to know about their upcoming campaign.
Transfers In, Transfers out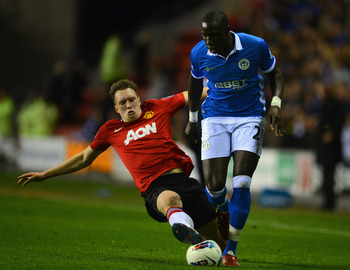 Michael Regan/Getty Images
| | |
| --- | --- |
| Transfers In | Transfers Out |
| Stephen Henderson | Jordan Brown |
| Raphael Spiegel | Frank Nouble |
| Modibo Maíga | Sam Cowler |
| George McCartney | Abdoulaye Faye |
| Jussi Jaaskelainen | Marek Stetch |
| Mohamed Diame | Fred Sears |
| James Collins | Pablo Barrera |
| | Oliver Lee |
| | Robert Green |
| | Ravel Morrisson (Loan) |
Key Additions
Mohamed Diame
The 25-year-old midfielder came over from Wigan Athletic on a free transfer. He is a tough player who can win the ball in the center of the pitch and can provide stability to West Ham's midfield.
His defensive presence will be valuable when the Hammers attempt to steal points from the top teams or when they play away from home.
Stephen Henderson/Jussi Jaaskelainen
Robert Green was West Ham's first choice goalkeeper, but manager Sam Allardyce opted to let him leave for Queens Park Rangers.
Big Sam, however, had a plan in place, acquiring 24-year-old Stephen Henderson.
To complement the talented but inexperienced keeper, he also brought in Juss Jaaskelainen, a 37-year-old who has made 474 appearances for Bolton.
Key Departures
Ravel Morrison
Morrison is an incredibly talented midfielder, but West Ham was able to pry him out of the Manchester United youth system largely due to his off-field antics.
The 19-year-old has shown flashes of brilliance, but Allardyce clearly did not believe he was mature enough to handle the Premiership yet, and he has been loaned to Birmingham for the year.
Abdoulaye Faye
The Hammers' lack of depth along the back line is concerning, and letting Abdoulaye Faye leave for Hull City does not help the situation.
Faye is not young or spectacular by any means, but he played in 24 league matches this past season and is a capable center defender. The team certainly could have benefited from his presence this season.
Biggest Matches and Full Schedule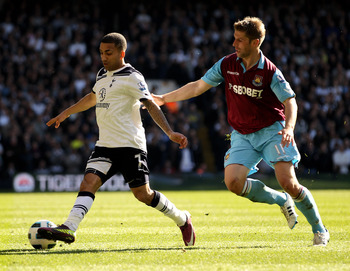 Ian Walton/Getty Images
The full West Ham United schedule for the 2012-13 season can be found via the team's website.
Here are the must-see matches.
at Tottenham, Sunday, November 25
While there are many London derbies in English football, the ones involving West Ham are always fierce due to their intensely devoted supporters. While nothing comes close to the rivalry with Millwall, the contest against Tottenham will be tense.
The fire has been fueled by several players transferring from West Ham to Spurs in recent years, including current Tottenham players Jermaine Defoe and Scott Parker. Stealing points away from their neighbors would be a fantastic result for the Hammers.
vs. Chelsea, Saturday, December 1
The European Champions against a newly promoted side is a daunting matchup. West Ham's chances at victory will be slim, and this will be the third leg of a brutal stretch of four league matches in which they face Tottenham, Manchester United, Chelsea and Liverpool.
But the giants of the Premiership always have at least one surprising result during their campaigns, and the Hammers have an opportunity to make an epic stand here. A win against the Blues would be an invaluable boost to the team's confidence and could be the key moment in their season.
vs. Reading, Sunday, May 19
All three of the teams that earned promotion are in danger of being sent right back down to the Championship. If this season resembles last year's Premiership relegation race, everything will be uncertain until the final weekend.
This is the last league match of the year for the Hammers, and it may decide which league they are playing in during the 2013-14 season.
Key Players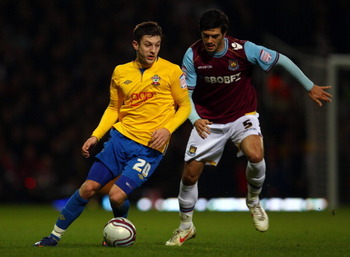 Julian Finney/Getty Images
Ricardo Vaz Te, Striker
Sam Allardyce brought the Portuguese forward (back then, a teenager) to England when he was managing Bolton. Vaz Te showed promise, but his career was derailed by injuries.
He bounced around from Greece to Scotland, then back to England, before Big Sam took him on once again and bought him from Barnsley last January. Vaz Te put in 12 goals and was spectacular during his time with West Ham.
Now, Allardyce and Vaz Te will have a second go at the Premier League, and West Ham will need a large goal-scoring output from the striker if they hope to avoid relegation.
James Tomkins, Defender
West Ham will be overmatched from a talent standpoint in many of their matches this season, and they will need to fall back in the defensive third of the field and keep a clean sheet in order to earn at least a point.
There will be many games in which the Hammers play an ugly brand of football, but it will be necessary to get a positive result. Tomkins is the team's best defender, and the center back will need to lead the back four and keep them organized during these games.
Mark Noble, Midfielder
Noble is the team's midfield maestro, and any creative spark from the Hammers is likely to come from him. He recorded eight goals and nine assists last during the team's campaign last season.
The 25-year-old is a dangerous distributor but not as much of a scoring threat as his statistics suggest. Seven of his eight goals came from penalty kicks.
Still, his confident touch and piercing vision will be the engine behind West Ham's attack this year.
Strengths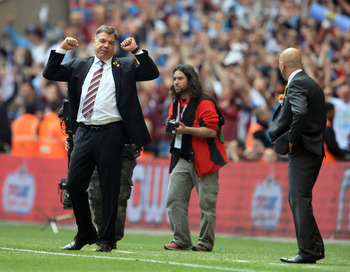 Richard Heathcote/Getty Images
Discipline
Sam Allardyce implemented serious changes when he took over at West Ham. He continued his coaching style, which often draws the "long ball" label and is certainly not the prettiest brand of football.
These changes took a personality like Big Sam to accomplish, and the manager had to weather a storm of criticism from the team's lively supporters. But he took the team back to the Premier League his way, and earned his players' respect.
The team showed that it can come together and play cohesively in important matches on their successful quest for promotion and that they must do the same this season, as their individual talent does not measure up to that of many teams in the Premiership.
Away Form
A positive result from what many consider to be a negative style of play was West Ham's away from Upton Park.
Last season's squad recorded more road victories than any team in the club's history, as noted by WUFC.com. This is due to Big Sam's style, which keeps players behind the ball and limits the opposing team's opportunities.
Players have a chance to adjust to hostile atmospheres and a proven system to rely on. Important away wins will be crucial to the Irons' ability to stay in the Premiership this season.
Weaknesses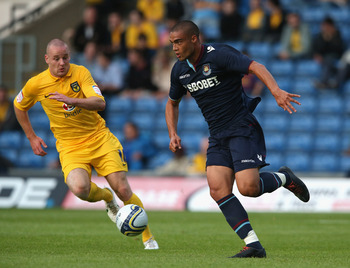 David Rogers/Getty Images
Possession
The biggest drawback to West Ham's successful strategy is that it eschews possession. The team will be sending balls up the field, but the talented Premier League defenders will win most of these long passes.
The top teams such as Manchester United, Manchester City and Arsenal play on the ground and usually control the ball for close to 60 percent of the game. If West Ham constantly cracks long passes in the air towards its forwards, these clubs may dominate the possession statistics by as much as a 70-30 split.
It is nearly impossible to get a goal while only controlling the ball for 30 percent of a match, and allowing the opposition to keep possession for so long will put immense strain on the defense. This is not a winning strategy, and it could produce extremely poor results against certain teams.
Defensive Depth
This West Ham squad is not complete and could certainly use a few more players.
The most glaring lack of depth is at center back. James Tomkins is solid, but after him, there are no entirely reliable options.
Winston Reid saw plenty of playing time last season, as did Abdoulaye Faye. Faye is no longer with the side, and West Ham supporters would certainly be more comfortable with a reliable option other than Reid.
For a team that must rely on its defense this season, there is a shocking lack of options on the back line.
Prediction for 2012-13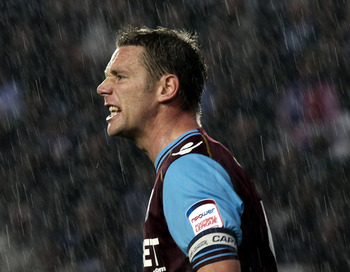 Clive Rose/Getty Images
Wins: 9
Draws: 8
Losses: 21
Points: 35
Place: 18th
West Ham will show well in a few matches this season, but it ultimately will not be enough to survive the Premier League.
Sam Allardyce has made believers out his players, but unity will not compensate for the problems Big Sam's style will encounter when it clashes with many of the possession-oriented Premiership sides. The team's defense is also the key to successfully executing its tactics, and the unit is not strong enough to hold against many of the talented attackers it will face.
Still, the team has enough talent and bravado to pull out surprising results. This will allow them to finish better than the other sides who are relegated, although that will not be much consolation to any of the players or supporters.
Keep Reading