CM Punk: Why His WWE Title Reign Is in Trouble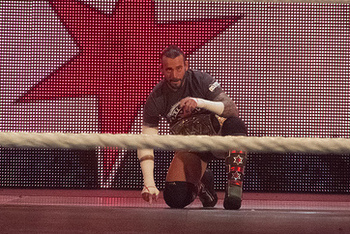 photo on Flickr from simononly
CM Punk could be in jeopardy of losing his WWE Title.
The WWE Champion realizes the wrestling world revolves around him and his WWE Title. He also must know he has a bullseye going into SummerSlam in two viable contenders.
John Cena and the Big Show are not easy opponents. In fact, they've caused Punk more mayhem and chaos than most on the WWE roster.
Punk wants the spotlight on him every night, but the problem is all the attention is going to him and his WWE Title. With two hungry contenders in the wings waiting, we might have a new WWE Champion at SummerSlam.
Here is why CM Punk is in danger of losing the WWE Championship.
Revenge

Video from WWEFanNation. AJ books the Summerslam triple threat after Cena's match with Big Show.

A lot of motivational factors are provided in this matchup.
The most surprising is new general manger AJ's role in making this match, who hasn't forgotten her recent issues with CM Punk.
The second city saint decided to not pursue AJ and be honest with his feelings. We should have known it would end badly once AJ became the new general manager.
Instead of focusing on making Daniel Bryan's life miserable, she simply put two superstars to keep Punk busy.
She's not the only one with revenge on her mind. Considering Cena's recent struggles over Punk, nothing would suit Cena better than taking Punk's title.
It's been a year since Cena lost to Punk at SummerSlam, definitely a memory that must be burning inside him.
Cena's quest for vengeance could end Punk's reign. He's always been a tough opponent. When Cena's driven, he cannot be stopped, which can be a huge problem for CM Punk.
Triple Threat Rules

video from WWEFanNation. Punk and Show arrive after Cena's victory over Daniel Bryan.

The rules of the triple threat match are simple. First man to pin or submit an opponent wins.
The champion does not have to be pinned to lose the title.
Punk already survived a triple threat at No Way Out, retaining the title against Kane and Daniel Bryan. Surviving this one could be more difficult.
Given Cena's recent success and Show's anger issues, Punk's title hasn't been in more jeopardy.
Plus, Cena's history with Big Show favors the face of the WWE more than the angry giant.
Punk needs to focus on eliminating one to focus on the other.
Punk's History with Cena and Big Show

video from WWEFanNation

Punk has had success over Cena in recent memory. The Big Show is a different story.
The WWE Champion has beaten Cena in their last two pay-per-view encounters. Last year, he took his first WWE title from Cena at Money in the Bank and unified the title at SummerSlam.
Both encounters were hard fought. If their match on the 1000th edition of Raw was any indication, Cena reminded Punk he doesn't roll over for anyone!
His history with Show favors the giant more than the second city saint.
Show has beaten Punk throughout 2010. He defeated Punk in a handicap match at SummerSlam and defeated Punk again at Night of Champions.
Punk needs to beat the Big Show. Otherwise, he will fall once more at the hands of the Big Show.
Show vs. Cena Feud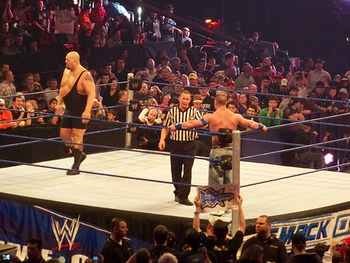 photo on Flickr by Elizabeth Greene
Their long history has been documented with John Cena gaining the upper hand nearly every time they wrestle.
Cena beat the Big Show for the U.S. title at Wrestlemania XX. Five years later, he pinned Show to become the World Heavyweight champion once again.
Add the recent success at No Way Out and Money in the Bank, and Cena has had a stranglehold over the Big Show.
Cena can beat the Big Show, despite Show's recent heel change. Punk needs to separate the two in order to retain the title.
So far on Raw, he's done that. When the triple threat match begins, he'll have a lot of trouble trying to do so.
Punk must keep Big Show away from John Cena.
Otherwise, John Cena will become WWE champion at Big Show's expense.
Motivation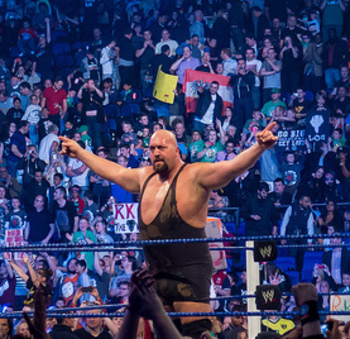 photo on Flickr from interbeat
Everyone knows the motivations of Punk and Cena. They want the WWE Championship.
Punk wants to keep it, while Cena wants it back.
The Big Show's motivations are the same, but his drought makes his drive possibly stronger and more intense than both men.
The last time Big Show held the WWE title was in 2002, where he beat Brock Lesnar for the title at Survivor Series.
The last time Show held a heavyweight title was the world title last December, which lasted an astonishing few minutes thanks to Daniel Bryan.
It must boil Show inside, knowing he hasn't been the champion for a lengthy run. Show cannot lose this match, being so close to a championship he held nearly ten years ago.
Punk must overcome his challengers' drives and retain. Otherwise, a new WWE champion will emerge at SummerSlam.
Keep Reading