US-Canada Women's Soccer Controversy: Referee Right to Call Goalkeeper Violation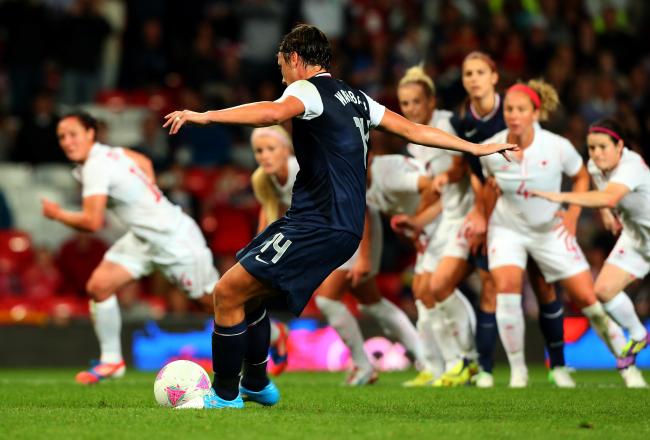 Stanley Chou/Getty Images
It's been shocking to hear the reaction following the United States women's national team's 4-3 win over Canada in the 2012 Summer Olympics. The point of contention is Norwegian referee Christiana Pedersen's call that gave the Americans an indirect free kick inside the 18-yard box in the 78th minute.
Her call was absolutely correct. Count how long Canada goalkeeper Erin McLeod holds onto the ball before she lets go. Not counting when she is on the ground—referees don't take that time into account—she holds the ball for nine or 10 seconds.
As a goalkeeper, I've never been called on it because it seems like one of the most irresponsible mistakes a player can make for his or her team and one of the easiest to avoid. Up by a goal with about 10 minutes left, players should be doing all they can to keep the referee from making a call like that.
Instead of just kicking the ball long, which in itself would have taken time off the clock, McLeod tried to squeeze every millisecond possible out of her possession time. In the end, what could have bought her maybe a second or two extra instead provided for her team's loss.
She may have been waiting for her players to get upfield, but that's no excuse for testing the referee. If they're not pushing up fast enough, that's not the referee's concern. Many officials don't know the game well enough to understand what she was waiting for.
Some will argue that Pederson was quick on the whistle in that situation when she shouldn't have been. The Laws of the Game are interpreted with the spirit of the game in mind, and so only egregious violations of rules such as the six-second rule are ever called.
That doesn't mean it's not the right call to make. Goalkeepers have a responsibility to keep track of the amount of time they have the ball in their hands and, again, not give the referee a reason to influence the game by making such a call.
Usually, referees will give the goalkeeper a warning before they call them for a six-second violation or for stepping outside of the penalty area before releasing the ball on a drop kick or punt. After the game, McLeod said she received a warning from the assistant referee about delaying play:
Canada GK Erin McLeod says was stunned by 6-second call. Says only warning came from assistant ref to start 2nd half about not delaying play

— Grant Wahl (@GrantWahl) August 6, 2012
However, she didn't seem to think that it counted:
Canada GK Erin McLeod: "It wasn't a real warning."

— Grant Wahl (@GrantWahl) August 6, 2012
A warning is a warning, regardless of which member of the officiating crew it comes from. With the ease of communication between officials these days (crews wear headsets at every high-profile match, including Monday's), that quick mention from the assistant probably played a role in the call being made.
Based on Grant Wahl of Sports Illustrated's match report, the assistant referee told her, "Make sure you don't slow the play too much" heading into the second half. Sounds like a pretty real warning.
Although it's hard to imagine it was influential, forward Abby Wambach stood near the referee and counted off the seconds every time the Canadian goalkeeper was in possession, according to a report by Dan Wetzel of Yahoo.
"I wasn't yelling. I was just counting. Probably did it five to seven times," Wambach told Wetzel. "I got to 10 seconds right next to the referee, and at 10 seconds, she blew the whistle."
McLeod had no good reason to take any chances at that time in a game of that magnitude, especially with a warning from the assistant referee and an opponent constantly in the referee's ear about how long she was holding the ball. Wambach said she "often got to 10 and into even the teens" when she was counting.
The Canadian team was quick to point fingers at the referee for the result, but the only place it should be pointing fingers is back at itself. Canada had the lead at 1-0, 2-1 and 3-2.
Yet somehow, the Canadians claim it's not their fault that they lost. The logic just doesn't add up.
Coach John Herdman told reporters after the game (via the AP) that "it felt like it was America and the referee against" Canada, and hat trick hero Christine Sinclair and Melissa Tancredi both made comments about the referee wearing a metaphorical American jersey.
What Melissa Tancredi said to Norwegian ref: "Put on your American jersey. That's who you played for tonight."#london2012

— cathalkelly (@cathalkelly) August 6, 2012
This is an obvious manifestation of a fact that goes back as long as organized soccer has been played: If a team doesn't put away its chances to win a game, regardless of the referee's decisions, it has nobody to blame but itself for the result.
Canada had this game won three times, and three times it let the Americans back in. It comes down to managing the game, which Canada failed to do effectively when it allowed the referee to become a factor.
This article is
What is the duplicate article?
Why is this article offensive?
Where is this article plagiarized from?
Why is this article poorly edited?