Olympics Basketball 2012: Updated Gold Medal Odds for Remaining Countries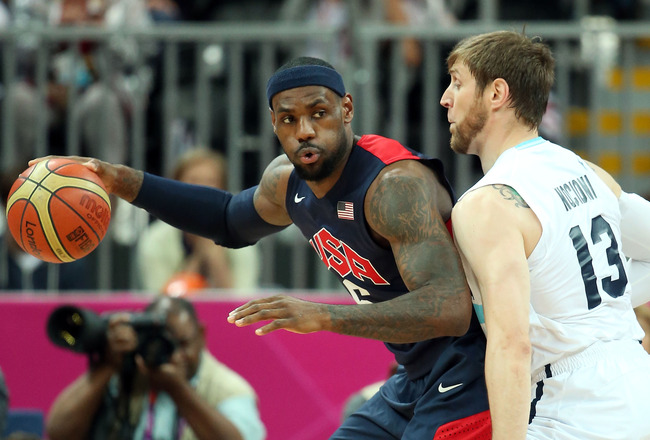 Christian Petersen/Getty Images
Good bye, Great Britain! So long, Nigeria! Toodles, Tunisia! Ciao, China!
It's time for the big boys of international basketball to duke it out for the top prize at the 2012 London Olympics.
Team USA is still heavily favored to win it all, and anything less than a gold medal for America's best ballers would be a massive disappointment. But the knockout format, combined with the shorter 40-minute FIBA game, is conducive to the occasional upset, to say the least.
Before the quarterfinals roll around on Wednesday, though, let's have a look at how each of the eight remaining countries stacks up on paper.
(Note: all odds listed are courtesy of bovada.lv)
USA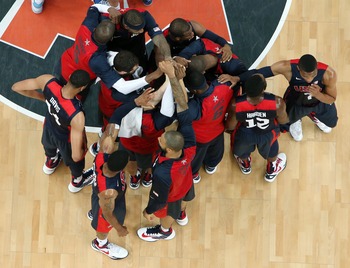 Rob Carr/Getty Images
Odds: 1/20
Team USA still leads the pack of gold-medal contenders from sea to shining sea, at least in the minds of bookmakers.
And for good reason. The Americans are the only bunch that made it through group play unscathed, leading all nations in scoring at 117.8 point per game—Argentina came in second in that regard with 89.6 points per game—and winning each of their contests by an average of 37.8 points.
Along the way, head coach Mike Krzyzewski has done a masterful job of blending a cast of 11 All-Stars and one reigning College Player of the Year into a cohesive unit, albeit one that's shown an alarming tendency to take nights off, particularly on the defensive end (see: Lithuania, first half vs. Argentina).
That being said, the Yanks are expected to ratchet up their effort and intensity now that the Olympic "playoffs" are underway. Assuming LeBron James, Kevin Durant and their supporting cast of superstars don't fall asleep on the job (and catch fire from time to time), they shouldn't have too much trouble bringing home the proverbial bacon at the end of the knockout stages.
Their first test? Australia, whom they dispatched in the quarterfinals at the 2008 Beijing Games by a tidy score of 116-85.
Spain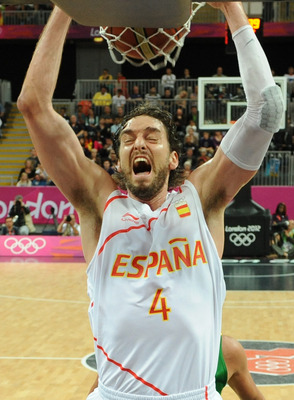 Pool/Getty Images
Odds: 12/1
Injuries and tough competition have taken their respective tolls on Spain's outlook in these Olympic Games. The absence of Ricky Rubio (knee) along with maladies to Marc Gasol (shoulder), Rudy Fernandez (back) and Juan Carlos Navarro (back, foot) have rendered La Roja vulnerable against the rest of the world, as they've shown in losses Russia and Brazil and in a close shave against Great Britain.
These aren't the same Spaniards who won EuroBasket 2011 and gave the Americans all they could handle in 2008 and 2010, though they're not all that far off. The Gasols are still stellar up front, with the elder Pau leading all Olympians in scoring at 20.6 points per game. They've gotten a big helping hand from Serge Ibaka, as well, who's registered 9.2 points and 3.8 rebounds per game off the bench.
Those three sport a blend of size, strength, skill and physicality that figures to give Team USA fits if the twain should meet in the gold-medal game.
To get there, though, the Spaniards must first deal with up-and-coming France before facing one of two Eastern European powers—Russia or Lithuania—in the semifinals.
Russia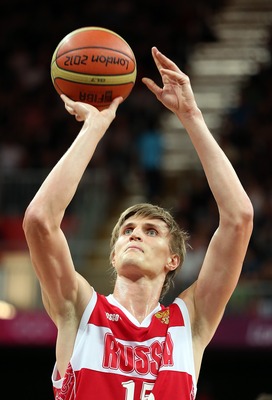 Christian Petersen/Getty Images
Odds: 20/1
Don't look now, but Russia is a serious threat to come away from London with a medal.
If not the most prized one of all.
The Russians have ranked among the biggest surprises of the tournament, winning their first four games before succumbing to an upset at the hands of Australia (by way of Patty Mills' miracle three) on Monday.
David Blatt's team has been led thus far by two of the top performers in these Olympics, Andrei Kirilenko and Alexey Shved. Kirilenko ranks sixth among Olympians in scoring at 18.2 points per game and has been incredibly active on both ends of the floor, as he was during his heyday with the Utah Jazz. Shved, on the other hand, is sixth in assists at 5.4 per game, showing off a keen ability to control pace and get his teammates involved with his creative passing.
Minnesota Timberwolves GM David Kahn has to be pleased with what he's seen.
Team USA might not be, though. Russia has been particularly proficient at defending the three and limiting opportunities in transition for their opponents—the two phases of the game in which the Americans butter their bread.
Russia's size up front, between Timofey Mozgov and Sasha Kaun, is nothing to snub your nose at, either. The Russians may be long shots to win gold, but the shot they have is one they certainly won't be afraid to take.
Argentina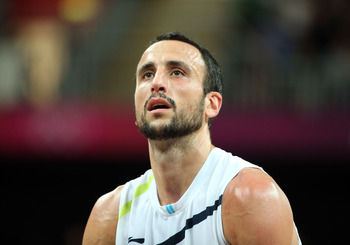 Christian Petersen/Getty Images
Odds: 28/1
Team USA's 29-point win on Monday shouldn't do too much to dampen Argentina's spirits. With third place in Group A already wrapped up, head coach Julio Lamas opted to withhold Pablo Prigioni, sit Luis Scola in the second quarter and rest all of his principal players once the Americans ran away with the spoon in the third quarter.
Not that there isn't some cause for concern in the Argentines' camp. This current "Golden Generation" is clearly on its last legs, trotting out a starting five with an average age of 33 and losing to a young, surprising French squad.
But the Argentines are nothing if not veteran, with much of the core of their 2004 gold medalists still intact. So long as they still have Manu Ginobili and Luis Scola—two of the top performers at these Olympics—playing at such a high level, the Argentines will be a threat to make some serious noise on the international stage.
Their first test of the knockout rounds will come against South American rival Brazil, whose combination of size inside and speed on the perimeter has given many a team fits this summer.
A semifinal rematch with Team USA would likely put the gold medal well out of reach, but if there's any nation that doesn't fear America on the court, even after a blowout loss, it's Argentina.
Brazil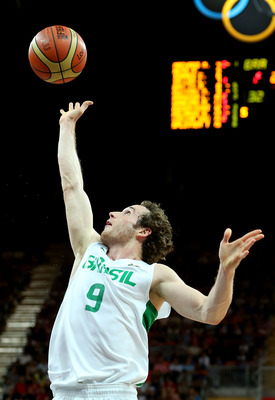 Christian Petersen/Getty Images
Odds: 50/1
The rebuilding of Brazil as a basketball powerhouse ahead of the 2016 Rio Games appears to be well ahead of schedule. The Brazilians went 4-1 in group play, with their lone loss coming in a 75-74 nail-biter against Russia.
Close calls or no, Brazil has benefited tremendously from a finely-tuned attack, led up top by All-World point guard Marcelinho Huertas and his tournament-tops 6.2 assists per game. With a bevy of bruisers in the paint (i.e. Nene, Anderson Varejao and Tiago Splitter) and a speed demon (Leandro Barbosa) on the outside, Brazil has the weapons to give just about anyone a hard time, if not the defensive prowess to put up a fight on the other end.
Wednesday's quarterfinal against Argentina will be rife with storylines, as the Brazilians meet their biggest soccer rival while their coach, Ruben Magnano, faces the nation (and its "Golden Generation") that he led to the top of the Olympic field at the 2004 Athens Games.
Surviving that showdown will be anything but a walk in the park for the Brazilians. But if they can pull it off, they'll likely find themselves in the semis against Team USA, the same squad that they nearly upset in Washington, D.C. during an Olympic tune-up last month.
France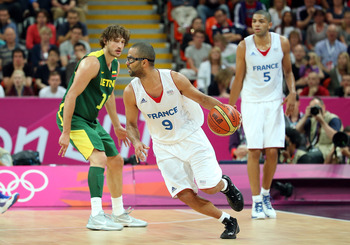 Christian Petersen/Getty Images
Odds: 50/1
Folks, France is for real. Les Bleus went 4-0 after their opening loss to Team USA, and though their wins came by an average of just 6.3 points per game, they showed that they're more than just a sideshow for Tony Parker.
Nicolas Batum has done well to help his All-Star countryman carry the load, leading the French in scoring (16.8 points) and rebounding (5.8 boards) in these Games.
The rest of the supporting cast hasn't been too shabby either, with Boris Diaw (6.2 points, 5.6 rebounds, 4.2 assists), Mickael Gelabale (8.6 points, 3.6 rebounds, 1.4 assists), Kevin Seraphin (6.8 points, 3.8 rebounds, 1.6 blocks) and Nando de Colo (8.0 points, 2.8 rebounds, 2.8 assists) contributing to the cause across the board.
Their mettle to medal will be tested early, though, as Les Bleus prepare to face Spain on Wednesday in a rematch of the EuroBasket 2011 final.
A game from which Spain emerged victorious, 98-85.
Lithuania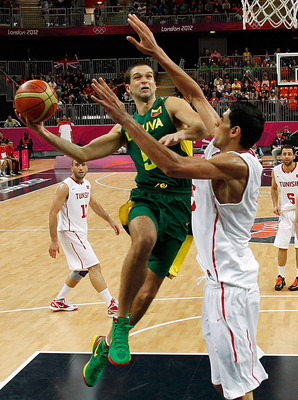 Pool/Getty Images
Odds: 100/1
Lithuania's odds to win gold certainly seem longer than they should be, at least at first glance. After all, the Lithuanians gave Team USA its toughest test of these Olympics and have enjoyed success in the past against Russia, whom they face in the quarterfinals on Wednesday.
But as well as Lithuania has played at times, its only wins in London have come against Olympic debutantes from Africa (Tunisia and Nigeria) with a roster that, while long on skill and experience, has overachieved in some ways and underachieved in others. Execution won't likely be a problem so long as Sarunas Jasikevicius and Mantas Kalnietis (a combined 11.2 assists per game) are running the show. Neither will be scoring or forcing opponents into bad matchups, thanks to leading scorer Linas Kleiza.
With that said, the Lithuanians, while a nightmare for some squads (i.e. the US), will have a much tougher time traipsing past the Russians, not to mention the Spaniards or the French in the semis if they should get that far.
Lithuania would have more than a puncher's chance in a gold-medal rematch against Team USA, advancing to the final game first may be an even bigger challenge for the tiny Baltic nation.
Australia
Christian Petersen/Getty Images
Odds: 250/1
It's only fitting that Team USA would begin its earnest pursuit of gold in London the same way it did its path the top in Beijing four years ago—with a quarterfinal faceoff against Australia. On that occasion, the Americans stomped an Andrew-Bogut-led Boomers bunch by 31 points.
Bogut is nowhere to be found this time around, as he recovers from an ankle injury back in the states, though his 'mates have done well to pick up the slack. The Aussies have ripped off three straight wins, including a buzzer-beating upset against Russia, since starting out 0-2 against Brazil and Spain.
To be sure, pulling a similar stunt against the Americans will be a much more daunting task. The Boomers won't be able to match Team USA's depth and talent, but they do give tremendous effort and play with the sort of movement, of both ball and man, that can give the Yanks fits, particularly on the high pick-and-roll.
If the perimeter trio of Patty Mills, Matthew Dellavedova and Joe Ingles can keep the points flowing, as both facilitators and as scorers, and if Australia's big men can keep their American counterparts in foul trouble and/or out of the paint, then this game will be more interesting than it should be for both sides.
Otherwise...well, it's no accident that Australia has the longest gold-medal odds of any team left in the tournament.
Keep Reading