West Virginia Football: Ranking Which Big 12 Teams Should Fear WVU the Most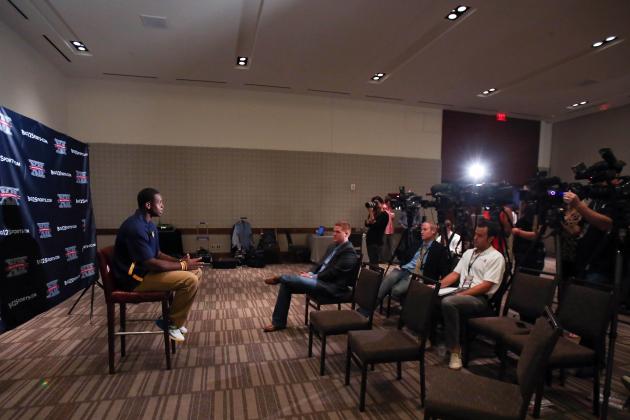 Kevin Jairaj-US PRESSWIRE
Geno Smith will be looking for Big 12 glory in 2012.
The Big 12 just got tougher with the West Virginia Mountaineers around. With the 2012 season, they are poised to make a big entrance into their new conference.
WVU has a potent offense that stems from senior Geno Smith and continues through receivers Tavon Austin and Stedman Bailey.
They were a free-scoring team last year, averaging 37.6 points per game and destroying Clemson 70-33 in the Orange Bowl.
The perception that the Big 12 is automatically of a higher standard than the Big East isn't entirely true, but WVU will certainly be up against some powerful offenses this year. That said, there is a reliance on offense over defense throughout the conference, so there will still be plenty of points available in return.
This season is a tough one to call, and it has the potential to go either way for Dana Holgorsen and his team. It's never easy transitioning to a new conference, but WVU isn't about to make it easy for the opposition, either.
Begin Slideshow

»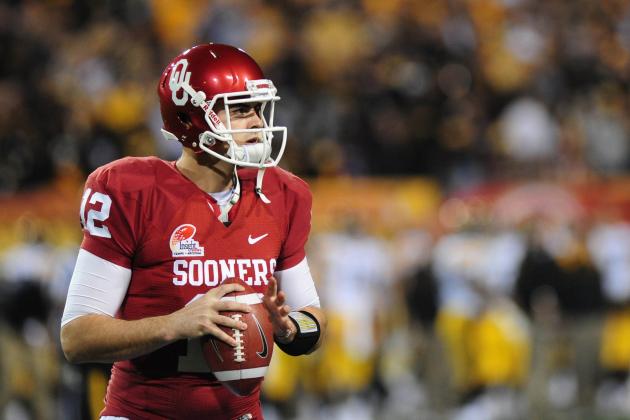 Jennifer Hilderbrand-US PRESSWIR
Landry Jones remains a constant threat to the Mountaineers' defense.
The Sooners were supposed to emerge victorious in 2011. Instead, their party was spoiled in the second half of the season when they lost to Texas Tech, Baylor and Oklahoma State.
It's unlikely that this will happen again in 2012 as the Sooners will be fired up to reclaim their place at the summit. Landry Jones returns, and it's unlikely he will fear the WVU defense. However, it won't be as easy for teams to score against the Mountaineers this year, as defensive coordinator Joe DeForest has installed a stronger 3-4 unit.
Nevertheless, Oklahoma boasts a level of depth and talent that WVU isn't used to, and it will be the most difficult game of the year for the Mountaineers. It could also be the most important, with the late nature of the fixture having the potential to decide the conference title.
That's not to say that the game isn't winnable. Oklahoma might not fear West Virginia—but West Virginia certainly won't fear OU, either.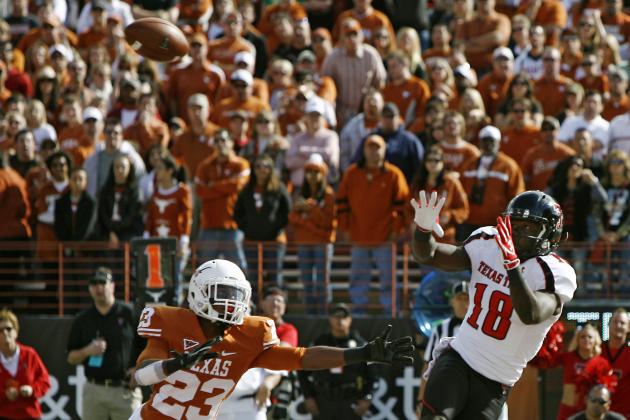 Erich Schlegel/Getty Images
Carrington Byndom has developed into an impressive cornerback.
It's all about the defense here. If a team can quell the offensive firepower of WVU, then that's most of the battle won.
The Longhorns have the best defense in the conference, with Jackson Jeffcoat and Alex Okafor emerging as enforcers at defensive end. The West Virginia offensive line is on the up, but will need to take a leap this year.
Center Joe Madsen will be essential to WVU's fortunes in the Big 12, and has to marshal the line into a forceful unit.
The problems for the Mountaineers continue with the Texas secondary. I've written about the development of cornerback Carrington Byndom before; if his trajectory continues at the same pace, then he could go in the first round of the 2013 NFL draft.
The weakness for the Longhorns is on the other side of the ball. They lack a true playmaker at quarterback, and it's really unknown who will start this year. Sophomore David Ash is the incumbent starter, but there could be pressure from Case McCoy as the season wears on.
Inconsistency at quarterback could feasibly lose some games for Texas, and WVU must trust its defense to come out on top in this matchup.
Great offense vs. great defense is always a titanic battle, so don't expect this one to be any different.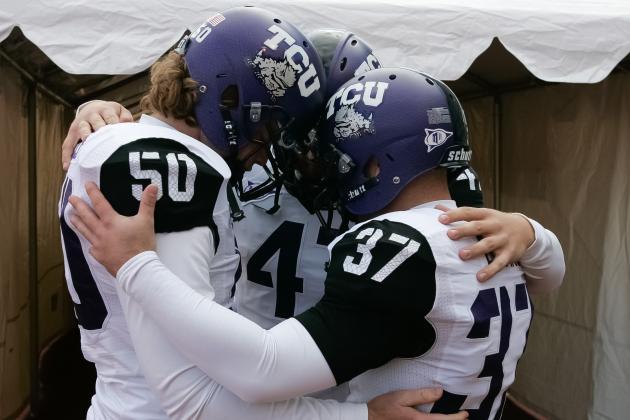 Otto Kitsinger III/Getty Images
As the other conference newcomer, TCU will be out to finish higher than WVU.
Another newcomer to the Big 12, TCU dominated the Mountain West and will be looking forward to the bigger challenge that their new conference offers.
Nonetheless, they will have good reason to be wary of the Mountaineers in 2012. The fact that they will be starting four new players in their five-man secondary makes them vulnerable, so the pass-heavy Big 12 will look to take full advantage.
Look for WVU to exploit the inevitable growing pains in this area, but don't count TCU out, either. Quarterback Casey Pachall came into the side last year and promptly started breaking Andy Dalton's records—he will get further exposure with big performances in 2012.
ESPN reported that Pachall will not be disciplined by TCU for failing a drug test, so he will look to start all 12 games this year.
With both WVU and TCU arriving into the conference at the same time, this fixture has the potential to become a good rivalry. Each team will be looking to exert dominance over the other from the outset.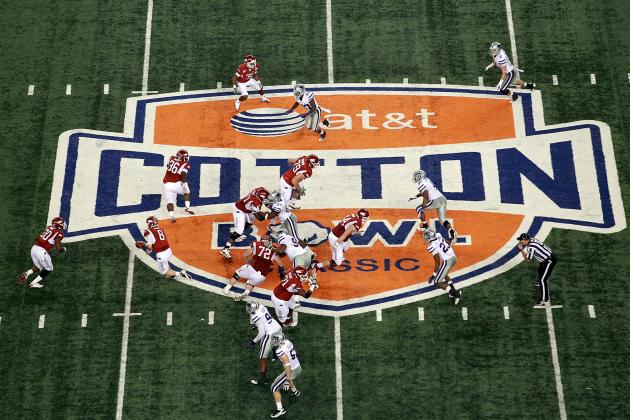 Ronald Martinez/Getty Images
Kansas State is unlikely to win as many close games as last year.
Kansas State always seemed to barely come out on top in 2011.
However, the proud 10-win record was hiding the fact that five wins came by four points or less (via Dennis Dodd, CBSSports.com). The fact that Collin Klein returns at QB—he had 40 touchdowns to his name in 2011—means that it's impossible to ignore the Wildcats this year.
They will not be relishing their matchup with the Mountaineers, however, and the threat of WVU looks to be too much for the Kansas defense. In their matchup last year, Oklahoma racked up 58 points to Kansas' 17—and it is this sort of margin of victory that WVU will be looking for in 2012.
In the Oklahoma game, the Wildcats surrendered yards far too easily and their pass defense was below par. Writing for The Wichita Eagle, Kellis Robinett summed up the 2011 season nicely:
The Wildcats' secondary did a nice job coming up with interceptions and scoring the occasional touchdown, but it regularly allowed big plays against high-powered offenses and big-name quarterbacks.
That sounds an awful lot like the Mountaineers' offense.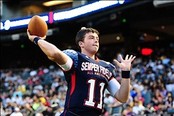 Mark J. Rebilas-US PRESSWIRE
The pressure is on Wes Lunt to follow in the footsteps of Brandon Weeden.
Losing Brandon Weeden and Justin Blackmon will inevitably diminish production on the Cowboys' offense, but there's still talent to be found.
Although the 2011 season exceeded all expectations, the Cowboys' defense conceded 26.8 points per game. It's correct to argue that you will always give up points in the Big 12, but this didn't matter last year. The offense was averaging 48.7 points per game, which was good for second in the country.
This won't happen in 2012, and they will likely find themselves unable to match the points they are giving up. 18-year-old quarterback Wes Lunt has yet to take a collegiate snap and all eyes will be on him as the season gets underway.
The Mountaineers will be replacing defensive end Bruce Irvin, and this will undoubtedly affect the power of the defensive line. However, Terrance Garvin is a strong point in the secondary at hybrid safety/linebacker and should be able to put some pressure on the young quarterback.
WVU have the type of offense that the Cowboys enjoyed last year, so it's likely that Lunt will be forced to play catch-up over the course of the game. Inexperience should hamper his chances of victory, so look for a convincing Mountaineers win.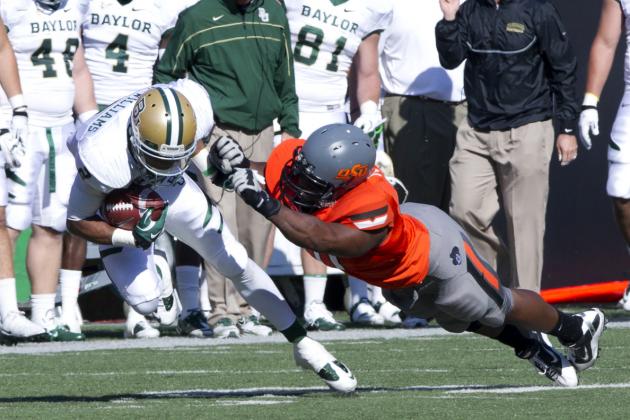 Richard Rowe-US PRESSWIRE
The return of Terrance Williams is good news for Baylor.
Baylor find themselves in a similar position to Oklahoma State this year, as Heisman-winning quarterback Robert Griffin III is now starting for the Washington Redskins. Also absent is wide receiver Kendall Wright, having gone to Tennessee in the first round of the NFL draft.
Baylor made a huge leap into the spotlight in 2011 and the onus will be on the Bears to avoid sinking back into mediocrity. Senior Nick Florence is tasked with stepping into Griffin's shoes, so Art Briles will be hoping that he can produce at least some of the success that Griffin had. Terrance Williams remains, which there is a legitimate receiving threat there—as well as a good second option in Tevin Reese.
It's the same Big 12 problem on the other side of the ball, however. Last year it seemed a little bit like the defense was actually working against the offense: the more points Baylor scored, the more points it conceded.
On average, the Bears gave up 37.2 points per game, which is why they will fear West Virginia. Defensive coordinator Phil Bennett should get better results from the unit in his second season in charge—freshmen Trevor Clemons-Valdez and Beau Blackshear should see good playing time— but they won't be able to cope with Geno Smith and his receivers.
In the end, it's a pretty simple equation: West Virginia doesn't run the ball much under Dana Holgorsen, while Baylor was particularly bad against the pass last year. WVU should take this one with room to spare.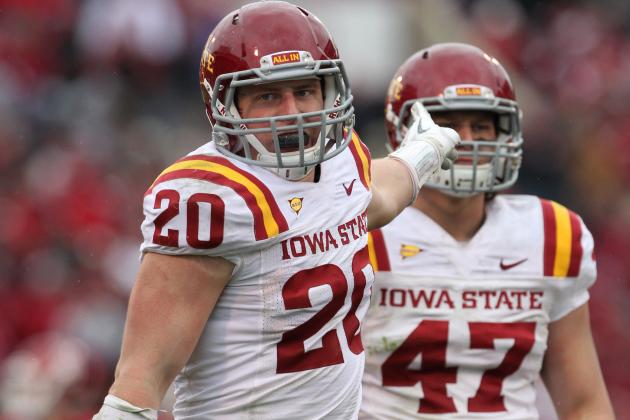 Matthew Emmons-US PRESSWIRE
Jake Knott led the Cyclones in tackles last year.
Iowa State has been king of the upset the last few years—beating Nebraska, Texas and Oklahoma State—but hasn't been able to keep it together for an entire season. The same was true last year and the Cyclones finished eighth in the conference.
An upset is realistically the best they can hope for against WVU. Iowa State lacks consistency in key areas of the field, starting with the quarterback. Steele Jantz and Jared Bennett split the burden of the offense last year, attempting 259 and 220 passes respectively.
The problem with this QB experiment was that it still didn't produce a clear winner, so expect to see the same thing happen in 2012.
The Cyclones' defense is better, but with a couple of solid and dependable players rather than outright stars. Jake Knott led the team in tackles last year and is probably their best returning player on that side of the ball. However, the rest of the defense boasts five new starters—so it's fair to say that hopes are not high for consistency this year, either.
West Virginia should restrict the Cyclones' anemic offense, while exploiting their new-look secondary through the air. This game won't be any closer than 20 points.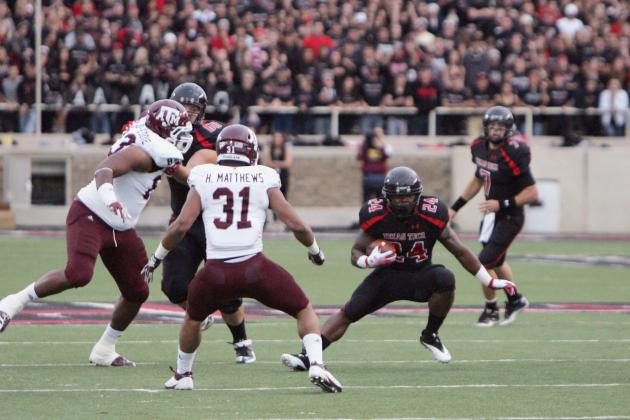 Michael C. Johnson-US PRESSWIRE
The Texas Tech defense struggled throughout last year.
If you've made it this far, you'll have noticed a theme. This theme continues with Texas Tech, so I apologize if I sound like I'm repeating myself.
The Red Raiders have little to no defensive capabilities, conceding nearly 40 points a game in 2011. The second problem they had was that their offense wasn't firing, either.
With a large number of defensive players returning, it's likely that this poor run of results continues in 2012. This means that the game against WVU will be giving them nightmares ahead of schedule.
Stedman Bailey will be a consistent thorn in the Red Raiders' side, able to get good separation on "go" routes that should lead to an embarrassingly one-sided game.
If you're a West Virginia fan, however, it will probably be very enjoyable.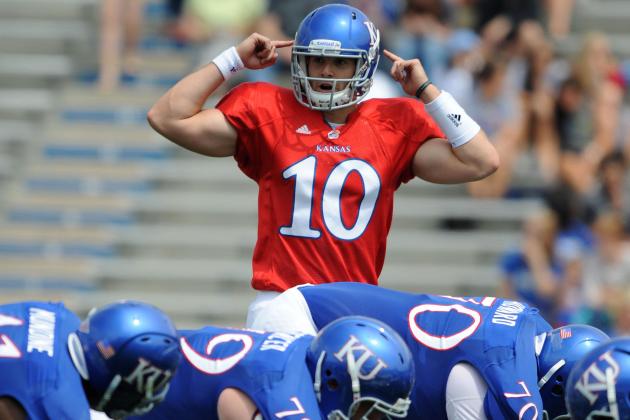 John Rieger-US PRESSWIRE
Dayne Crist will be attempting to lead Kansas out of the Big 12 cellar this year.
It should be no surprise that the team finishing 0-9 within its own conference last year would have the most to fear from a powerful newcomer.
Kansas is undergoing a rebuild with Charlie Weis at the helm, but there isn't much to suggest that it will be vastly improved this year. Dayne Crist was highly touted coming out of high school, but suffered a series of injuries at Notre Dame that have led him to Kansas.
It's likely that the Jayhawks win a game or two more with Crist at the helm, but the defense will end any hopes of a turnaround in fortunes.
All areas of the defense should fear West Virginia. Watching the Jayhawks defend last year was almost painful, such was the ease with which teams tore through them. Dave Campo has been brought in to try and stem the flow of points, but it's too much to ask of them to stop the Mountaineers through the air.
Early touchdowns should make this a comfortable win. If there was ever a game where WVU run the ball more than they have in the past, it's this one.