London Olympics 2012: Top 8 Storylines to Follow on Day 12
Ryan Pierse/Getty Images
All team sports at the 2012 Summer Olympics are into their knockout stages now. Regardless of the matchup, every game is worth watching because of its potential.
Teams must win, or they are out of the tournament. Even teams that coasted through the preliminary round must be on top of their game to stave off an upset from a team that has been in compete mode the whole time, just to make the playoffs.
Two big track finals will take place on Day 12 of London 2012 along with the team events. Americans have serious gold-medal potential in both events.
Click through to read more about what you should be watching on Wednesday at the Olympics.
Men's Basketball Quarterfinals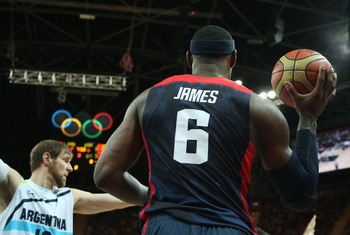 Christian Petersen/Getty Images
Sport: Men's basketball
Event: Quarterfinals
Time: 9 a.m., 11:15 a.m., 3 p.m. and 5:15 p.m. ET
The group stage is over, and every game counts now. The United States has probably the easiest matchup in the quarterfinals, going up against Australia, but a couple of the other pairings should be good games.
Spain will have to get past France to continue toward its goal of meeting the Americans in the final. Brazil and Argentina will meet in an all-South American game for a chance to meet the United States in the semifinals.
Women's Beach Volleyball Final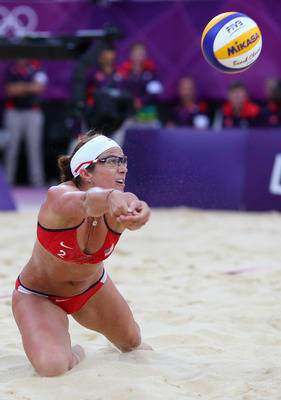 Ryan Pierse/Getty Images
Sport: Women's beach volleyball
Event: Bronze- and gold-medal matches
Time: 2 and 4 p.m. ET
We have an all-American final in women's beach volleyball, ladies and gentlemen.
Here is a brief preview of both the gold and bronze medal matches.
Gold Medal Match: Missy May-Treanor and Kerri Walsh Jennings vs. April Ross and Jennifer Kessy
May-Treanor and Walsh Jennings only lost one set the entire tournament. They're certainly going to be the favorites heading into this match.
Ross and Kessy have only lost three sets throughout, and they have maintained a perfect record, just like their opponents.
May-Treanor and Walsh Jennings are the two-time defending gold medal winners, and their experience and teamwork will be tough to overcome.
Bronze Medal Match: Larissa Franca and Juliana Silva vs. Xue Chen and Zhang Xi
Leading up to the Olympics, Xue and Zhang were playing like champions. They've looked vulnerable throughout this tournament, though, losing their first match in pool play and losing their semifinals match to May-Treanor and Walsh Jennings.
Franca and Silva surprised me by losing to Ross and Kessy. They were flawless at the Olympics until that loss, and I expect them to make short work of the Chinese duo.
Women's Field Hockey Semifinals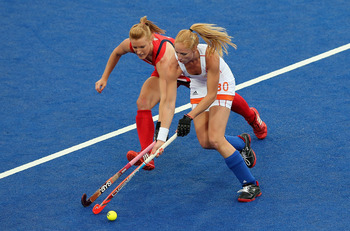 Quinn Rooney/Getty Images
Sport: Women's field hockey
Event: Semifinals
Time: 10:30 a.m. and 3 p.m. ET
The four remaining teams in women's field hockey are incredibly well matched, except perhaps for the Netherlands, which is a clear favorite after a 5-0 record in the group stage. Holland will play New Zealand (3-1-1), while Argentina (3-1-1) and Britain (3-2) meet in the other semifinal.
The Netherlands is the defending Olympic champion, and Argentina won bronze in 2008. All of the semifinalists are ranked in the top six in the world: Netherlands is No. 1, Argentina is No. 2, Great Britain (England) is No. 4 and New Zealand is No. 6.
Men's Handball Quarterfinals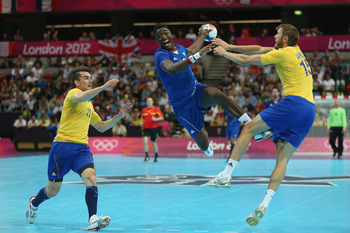 Jeff Gross/Getty Images
Sport: Men's handball
Event: Quarterfinals
Time: 6 a.m., 9:30 a.m., 1 p.m. and 4:30 p.m. ET
Handball is one of the most under-appreciated sports that only get attention during the Olympics. It's an exciting combination of soccer and basketball that provides high-scoring games—Iceland scored 167 goals in the group stage.
All of these games should be exciting for neutral observers. Here are the matchups: Iceland vs. Hungary, Spain vs. France, Sweden vs. Denmark and Croatia vs. Tunisia.
Women's 200-Meter Dash Final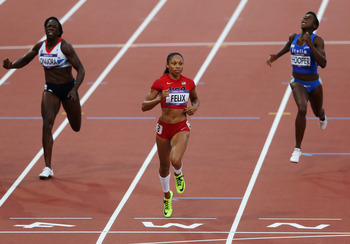 Streeter Lecka/Getty Images
Sport: Track and field
Event: Women's 200-meter dash
Time: 4 p.m. ET
The American trio of Carmelita Jeter, Allyson Felix and Sanya Richards-Ross will go up against Jamaica's Shelly-Ann Fraser-Pryce for a gold medal in the women's 200-meter dash. Defending champion Veronica Campbell-Brown is also in the field.
They'll all be chasing after France's Myriam Soumare in the final, though, if her performance in the semifinals is any indication. Soumare's time of 22.56 seconds was the fastest time of any runner and the best time she's posted all year long.
Men's 110-Meter Hurdles Semifinals and Final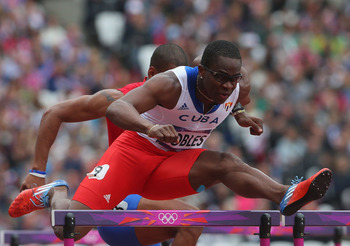 Alexander Hassenstein/Getty Images
Sport: Track and field
Event: Men's 110-meter hurdles
Time: 2:15 and 4:15 p.m. ET
World record-holder Dayron Robles of Cuba will look to defend his 2008 Olympic gold medal in the men's 110-meter hurdles. Other top qualifiers for the semifinals include Americans Jason Richardson, Aries Merritt and Jeff Porter.
Lawrence Clarke and Andrew Turner will be running for host nation Great Britain. They were two of just a handful of British qualifiers in a disappointing morning session on Tuesday for the hosts.
Men's Volleyball Quarterfinals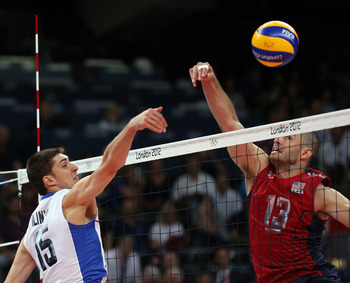 Elsa/Getty Images
Sport: Men's volleyball
Event: Quarterfinals
Time: 9:30 a.m., 10:50 a.m., 2:30 p.m. and 4:30 p.m. ET
All eight quarterfinalists in men's volleyball are in the top 10 of the FIVB World Rankings, so it should be a compelling rest of the Olympics. No undefeated teams remain, as Bulgaria and the United States both dropped their next-to-last matches to fellow quarterfinalists.
The Americans have a good chance to win the gold medal, but the competition will be stiff. Brazil and Russia both provided stern tests in the group stage, and the teams in Group A will also be good. Here are the matchups: Argentina vs. Brazil, United States vs. Italy, Poland vs. Russia and Bulgaria vs. Germany.
Men's Water Polo Quarterfinals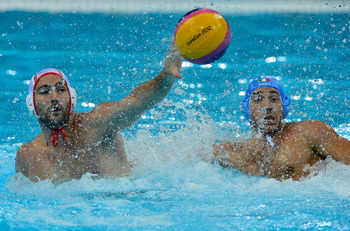 Ronald Martinez/Getty Images
Sport: Men's water polo
Event: Quarterfinals
Time: 9:30 a.m., 10:50 a.m., 1:40 p.m. and 3 p.m.
The men's water polo tournament has provided some of the most thrilling storylines in London 2012. Hungary, despite losing its first two games, won three in a row to qualify for the knockout round. The United States squeaked in with the same record, 3-2.
Perfect-record Croatia topped the other group. Spain came the closest to beating the Croats, but a controversial officiating decision gave the Balkan team a last-second win. Here are the matchups: Spain vs. Montenegro, Australia vs. Serbia, Italy vs. Hungary and Croatia vs. United States.
Keep Reading