Misty May-Treanor & Kerri Walsh 2012 Olympics: Semifinal Results, Highlights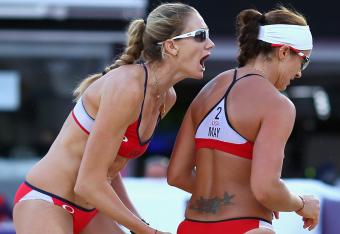 Ryan Pierse/Getty Images
Misty May-Treanor and Kerri Walsh will be playing for a third consecutive gold medal after a 22-20, 22-20 win over second-seeded Xue/Zhang of China.
The Chinese were the more physical team and had a 13-8 lead in the first set before the Americans stormed back to take it. It was Misty and Kerri in control of the second before China rose up to force extra points.
Even though they won in two sets, this was hands-down the biggest challenge for the Americans in the tournament. Now they'll face either the top-seeded Brazilians or their American counterparts Kessy/Ross in the gold medal match on Tuesday.
Are we in for an all-American final? The other women's semifinal will be streaming online at 4 p.m. EDT...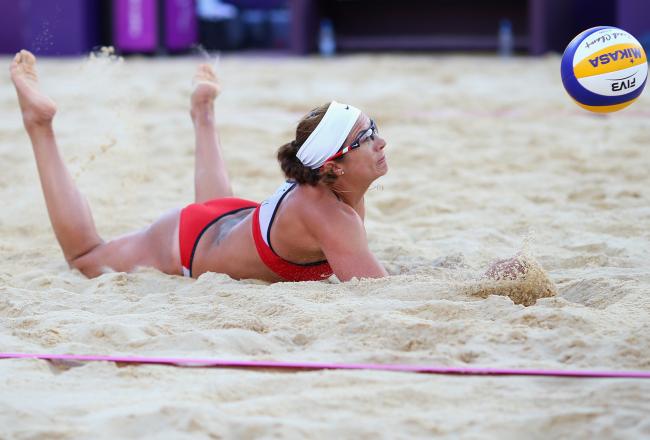 Misty with a great knuckler to the back line to force game point, then Kerri with a roof block for the match. USA wins 22-20, 22-20. What a freakin' match. China deserves more than a chance for a bronze.
Only 10 total unforced errors in this match — six for USA, four for China. Misty and Kerri are the older, wiser team and won the critical points at the end of both sets. In the end, five blocks by Kerri (including the one at game point) were the difference.
I know I predicted China to win, and while my foot is kind of in my mouth I also stand by it. They were flat-out good.

It's 20-20 for the second straight set.
Kerri just bumped one over the net at a crazy angle for a cut-shot kill. "That one was insane. She should be committed!" Set point for China, however, 20-19.
Zhiang crushes one to put China up 18-17.
A Chinese cross-court crush makes it 17-16 in their favor.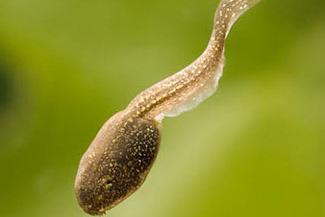 Chinese just won most exciting point of women's tournament. Announcer likened it to the miracle of a tadpole's transformation to a frog. This guy is hilarious. It's 16-16.
15-12 USA after a deep shot by Misty. Announcer is comparing beach volleyball to British military obstacle courses...?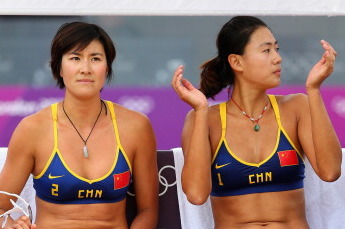 Xue's mobility on defense is amazing. And she's a 6-foot lefty. Pretty impressive. USA up 13-10 though.
12-9 USA. By the way, we could have an all-American final if Ross and Kessy can pull it off later.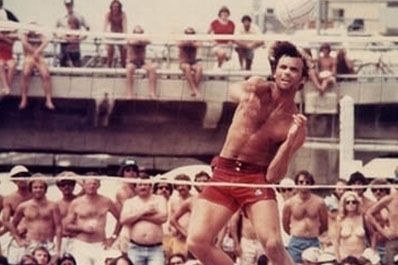 8-6 USA. Note: The Chinese team spends a few months a year in California training with Dane Selznick, who is Misty and Kerri's old coach.
Some bad missed serves by both sides so far. Nerves? USA up 7-4.
Nifty Chinese shot on two (called "cheeky" on the broadcast), USA up 5-2.
20 digs for China in the first set alone? That's crazy.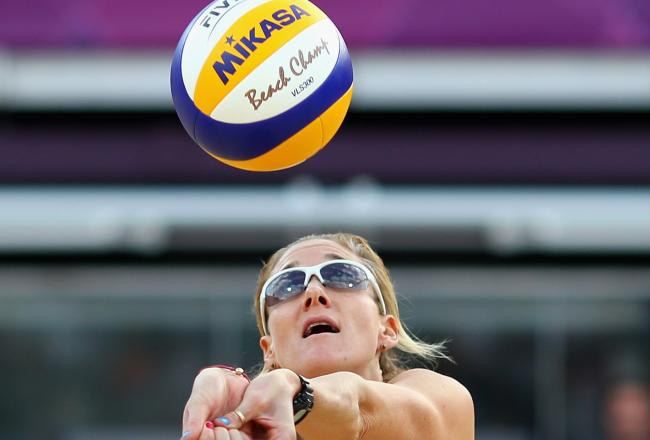 Announcer just said Kerri's skeleton is made of "iron forged in the fires of Mordor." Wow.

USA wins the first set 22-20.
Kerri just hit a gimme outside the back line. 20-20.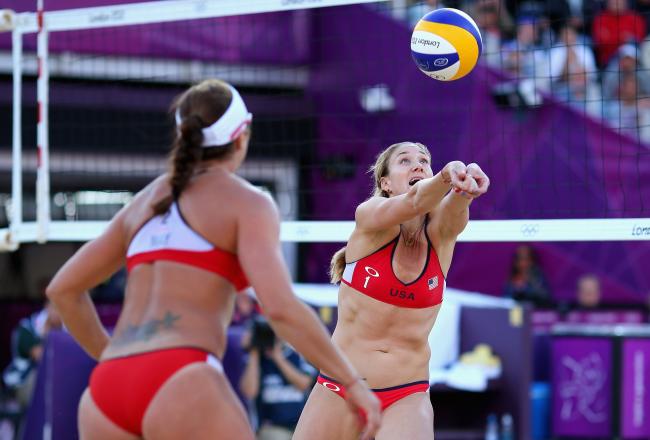 17-16 after a May-Treanor deep shot. First lead.
USA has clawed back, but missed two straight serves. China up 15-14.
I hate to keep harping on it, but its pretty hilarious. The British announcer has no technical analysis, but he's very entertaining He's watching this like a fan, using soccer announcer terms like "tidy play" and "tremendous effort." Enjoyable.
And then: ""Can they stoke up the furnace and get it moving again?"
China up 13-10. The Americans are going to have to scrap for every point. The Chinese are quicker and can really attack the ball. I stand by my prediction.
Australia's Natalie Cook (Misty and Kerri's first-round opponent) was just shown in the stands sipping a beer.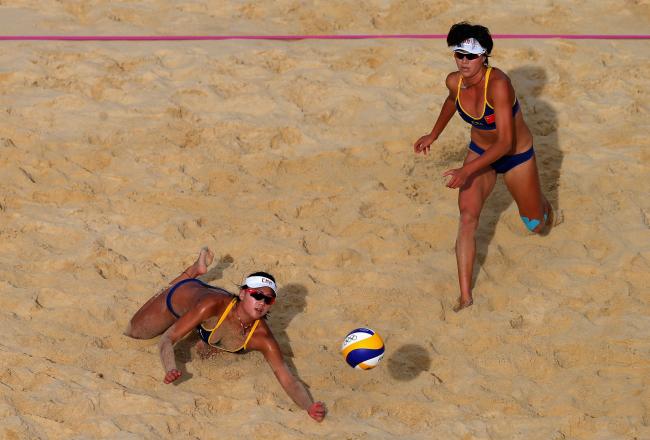 China up 11-7. And theres another "fantastic" from our guy.
"That one could have cameo'd in the Duran, Duran video for Rio... Sailing into the back of the court." - This British announcer is priceless!
China up 8-4
How many times will we hear "fantastic" or "marvelous" from the British announcer? I'll keep tabs.
Zhang is a lefty. She just put away two kills. China up 3-0.
This article is
What is the duplicate article?
Why is this article offensive?
Where is this article plagiarized from?
Why is this article poorly edited?