SEC Football: Ranking the East Division Schedules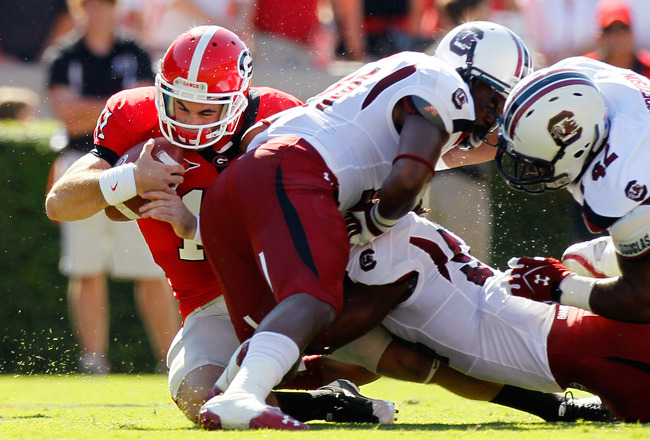 Kevin C. Cox/Getty Images
Last week, we ranked the SEC West schedules from easiest to toughest. This week, we head East.
While the power of the SEC still rests in the West, the East is going to be better than last season and will be very intriguing to watch as 2012 develops.
South Carolina is probably the best team in the division, but Georgia's schedule suggests that the Bulldogs will find their way to the Georgia Dome in early December for the second straight season.
Which teams have schedules that set up well, and which teams have a tough road in 2012? SEC lead blogger Barrett Sallee ranks the SEC East schedules (from easiest to toughest) in this slideshow.
7. Georgia Bulldogs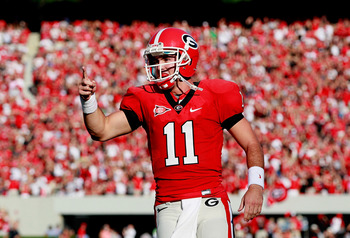 Georgia QB Aaron Murray
Kevin C. Cox/Getty Images
Schedule: Buffalo, at Missouri, Florida Atlantic, Vanderbilt, Tennessee, at South Carolina, Bye, at Kentucky, Florida (in Jacksonville, Fla.), Ole Miss, at Auburn, Georgia Southern, Georgia Tech
Georgia gets the benefit of avoiding Alabama, LSU and Arkansas out of the West for the second straight season, which will help the Bulldogs tremendously as they look to repeat as SEC East champs.
The biggest game of the year for the Bulldogs might be the showdown with Missouri on Week 2. With Sanders Commings suspended and Alec Ogletree and Bacarri Rambo facing suspensions of their own, Georgia's defense will have its work cut out for it against the potent Tiger offense.
Georgia's schedule is set up for a title run, but there are still some traps to navigate along the way.
6. Vanderbilt Commodores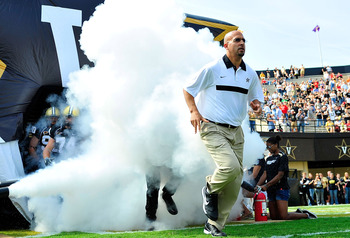 Vanderbilt head coach James Franklin
Grant Halverson/Getty Images
Schedule: South Carolina, at Northwestern, Presbyterian, at Georgia, Bye, at Missouri, Florida, Auburn, UMass, at Kentucky, at Ole Miss, Tennessee, at Wake Forest
After a tough test to start the season, Vanderbilt's schedule eases up tremendously and sets up well for another bowl trip.
The Commodores get Auburn and Ole Miss out of the West, and aside from the road test at Georgia, SEC trips to Missouri, Ole Miss, Wake Forest and an out-of-conference tilt with Northwestern aren't terribly intimidating.
If Vanderbilt can win one game out of a three-game midseason stretch against Missouri, Florida and Auburn, the 'Dores will be back in a bowl game and perhaps an even better one than their Liberty Bowl appearance last season.
5. Tennessee Volunteers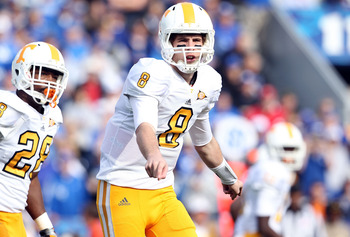 Tennessee QB Tyler Bray
Andy Lyons/Getty Images
Schedule: N.C. State (in Atlanta, Ga.), Georgia State, Florida, Akron, at Georgia, Bye, at Mississippi State, Alabama, at South Carolina, Troy, Missouri, at Vanderbilt, Kentucky
If Tennessee can get to the bye week relatively unscathed, head coach Derek Dooley will be in good shape to keep his job.
It's hard to succeed when you lose your best wide receiver and starting quarterback, but that's exactly what happened to Tennessee last year when Justin Hunter and Tyler Bray missed significant time. If they can be 3-2 after playing Georgia, the long-rumored Tennessee turnaround may become more reality than fiction.
Nobody expects Tennessee to make a title run, and that two-game stretch against Alabama and South Carolina is daunting, but the Vols can absolutely reach the eight-win mark with this schedule.
4. Kentucky Wildcats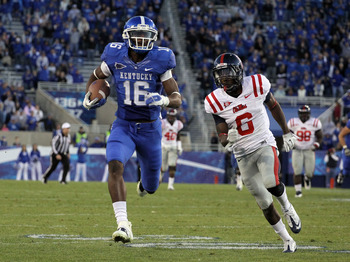 Kentucky WR La'Rod King
Andy Lyons/Getty Images
Schedule: at Louisville, Kent State, Western Kentucky, at Florida, South Carolina, Mississippi State, at Arkansas, Georgia, at Missouri, Vanderbilt, Bye, Samford, at Tennessee
The crossover game at Arkansas is brutal, and it comes directly after the Wildcats have played games at Florida, vs. South Carolina and vs. Mississippi State. But Kentucky's tough stretch doesn't stop there, the Wildcats play 10 straight weekends before a bye week.
That's tough for any team.
Save for the out-of-conference rivalry with Louisville, the Wildcats get three easy out-of-conference wins. But after that, it's a difficult schedule for Joker Phillips and Co. to manage even though they don't play LSU or Alabama.
3. Missouri Tigers
Missouri QB James Franklin
Sarah Glenn/Getty Images
Schedule: Southeast Louisiana, Georgia, Arizona State, at South Carolina, at UCF, Vanderbilt, Alabama, Bye, Kentucky, at Florida, at Tennessee, Syracuse, at Texas A&M
Missouri didn't get handed as difficult of a schedule as fellow newcomer Texas A&M did, but the Tigers do have some speed bumps to navigate in their first season in the SEC.
The first SEC game in Missouri history—a home tilt with Georgia—is huge. With cornerback Sanders Commings suspended and linebacker Alex Ogletree and safety Bacarri Rambo also facing early-season suspensions, the pieces are falling into place for Missouri's potent offense to give Georgia fits.
If Missouri can get a win, it will put the Tigers in position to be a player in the SEC East in their first season.
The stretch run is brutal, though.
The Tigers go on road trips to Florida, Tennessee and Texas A&M in three of the final four weeks of the season. All of those teams are still on the rise, but at that point, Missouri will have two months of SEC wear and tear under the hood.
2. Florida Gators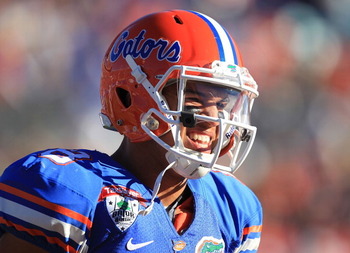 Florida TE/RB/WR Trey Burton
Scott Halleran/Getty Images
Schedule: Bowling Green, at Texas A&M, at Tennessee, Kentucky, Bye, LSU, at Vanderbilt, South Carolina, Georgia (in Jacksonville, Fla.), Missouri, Louisiana-Lafayette, Jacksonville St., at Florida State
The Florida Gators catch a break by getting LSU at home and after a bye week...but it's still LSU.
Plus, the stretch coming out of the bye is tricky with LSU, at Vanderbilt, South Carolina and Georgia in consecutive weeks. The Gators are 1-7 over the last two Octobers, and that slate doesn't suggest that the Gators will rid themselves of the October swoon.
Florida only has three true SEC road games, with its fourth being the neutral-site game in Jacksonville vs. Georgia. But that end-of-the-season showdown at Florida State is no joke and could dictate if Florida is a program on the rise or just stuck in neutral.
1. South Carolina Gamecocks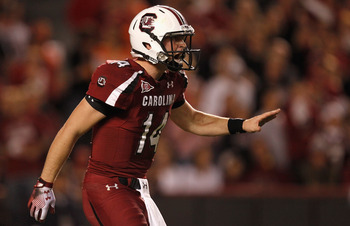 South Carolina QB Connor Shaw
Streeter Lecka/Getty Images
Schedule: at Vanderbilt, East Carolina, UAB, Missouri, at Kentucky, Georgia, at LSU, at Florida, Tennessee, Bye, Arkansas, Wofford, at Clemson
South Carolina is probably the best team in the SEC East, but the schedule isn't doing the Gamecocks any favors in 2012.
In addition to the permanent cross-division game vs. Arkansas in Columbia this season, the Gamecocks travel to LSU immediately after they host SEC East favorite Georgia at Williams-Brice Stadium and immediately before another road trip to the Swamp to play Florida.
That's quite the gauntlet.
South Carolina has the talent to contend for a national title, and if it is in that conversation in November, it will have earned it.
Keep Reading