10 MMA Fighters Who Could Shock the World in 2013
Kelvin Kuo-US PRESSWIRE
Mixed martial arts is loved for its risk-taking nature. Along with taking risks comes an unparalleled shock factor.
Any time a fighter steps into the cage and puts everything on the line, they're risking their health and their status in the sport. Georges St-Pierre can attest to that following his knockout loss against Matt Serra years ago.
In fact, it's the very reason GSP, along with many others, tries to reduce the risk aspect in the sport and fight in such a way that's most advantageous to him. It's smart. But it seems, no matter what, every year a fighter finds home to a lucky punch, slick submission or perfect game plan to elevate himself against a favored opponent.
After watching Carlos Condit upset Nick Diaz, and Jamie Varner put a halt to Edson Barboza's hype train, it's rather intriguing to predict which fighters will shock the world in 2013. Here are the most likely candidates.
Melvin Guillard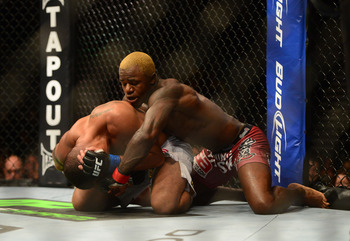 Mark J. Rebilas-US PRESSWIRE
Wait a minute, you mean to tell me that Melvin Guillard can get back "in the mix" after losing two fights in a row?
I'll admit that writing Guillard off after falling short of a title shot (again) is easier than predicting Jon Jones to win his next scheduled bout (even if he is fighting Dan Henderson next). But with a victory against Donald Cerrone this Saturday at UFC 150, Guillard could catapult himself back atop the division.
That sets Guillard up for an interesting 2013. At this point in his career, fans have retired the thought of him one day becoming a world champion because of his submission game or, should I say, lack thereof. After all, the guy was in discussions for a title shot before his back-to-back losses to Joe Lauzon and Jim Miller.
But fans need to remember that Guillard is still only 29 years old. If he gets a victory against top-10 lightweight Cerrone on Saturday after beating Fabricio Camoes at UFC 148, Guillard could be battling for No. 1 contendership status in 2013.
That in itself is a bit jarring.
Alan Belcher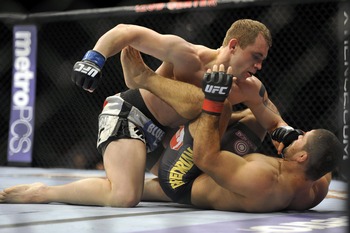 Joe Camporeale-US PRESSWIRE
Can Alan Belcher take the MMA world by surprise again in 2013?
After surviving on the mat with Rousimar Palhares and escaping his lethal leg locks, Belcher turned in an impressive first-round stoppage against the feared Brazilian at UFC on FOX 3 in May.
This sets Belcher up with the biggest fight of his MMA career on Oct. 13 at UFC 153 against Vitor Belfort. A victory against Belfort would put Belcher on a five-fight win streak, and it would most likely earn him a title shot against Anderson Silva.
But does Belcher have the skills required to beat the greatest MMA fighter of all time? Seeing that Belcher has little-to-no holes in his game, he just might.
John Dodson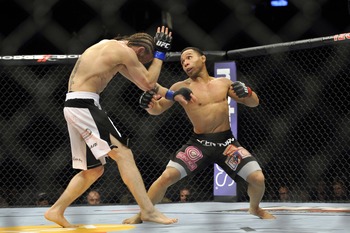 Joe Camporeale-US PRESSWIRE
When the flyweight division was first created, many believed Joe Benavidez or Demetrious Johnson would rule the division with an iron fist.
So far, that's come to fruition. And whoever wins in the inaugural flyweight championship bout at UFC 152 will most likely be the champion for quite some time, considering the lack of depth the division provides.
However, John Dodson could pose a serious threat to the title. In fact, he's one of the few flyweights in the division that could actually strip the title from Johnson or Benavidez.
Dodson can match either man's speed and, quite frankly, could be faster. Well, maybe not quicker than Johnson, but you get the point. Regardless, Dodson has the weapons needed to upset one of these future champions, and it could very well happen in 2013.
Nick Diaz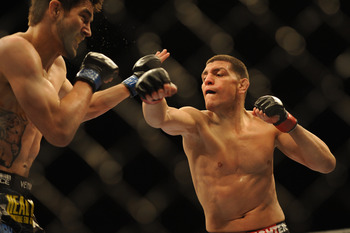 Kelvin Kuo-US PRESSWIRE
Let's not be coy—UFC president Dana White wants to make Nick Diaz vs. Georges St-Pierre happen.
It's a money-driven fight that would have everyone in the combat world talking, and should GSP get past Condit and Diaz pick up a victory following his suspension, this fight should take place in 2013.
And though many presume this fight to take place next year, very few believe Diaz can actually defeat one of the pound-for-pound bests. After all, GSP's strength just so happens to be Diaz's weakness.
We all know how this fight plays out. GSP takes it to the ground with the first opportunity he gets, and Diaz slowly evaporates under GSP's ground-and-pound. But with Diaz's amazing submission game, pulling off a submission victory against GSP is possible. Enter utter chaos.
Alex Caceras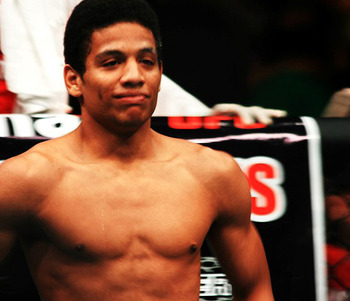 Scott McKinley (themmacorner.com)
Now, Alex "Bruce Leeroy" Caceras isn't going to be getting any title shots anytime soon, but he could become a true contender in the bantamweight division next year.
Hard to believe for a guy who's 7-5 in MMA, right? Well, that doesn't exactly tell Caceras' whole story. In fact, just by watching him perform in the UFC, it's clear that he has the talent to be something special.
In his last four fights Caceras is 2-2, but he's shown promise in every bout. Caceras had a wildly entertaining fight with one of the best featherweight prospects in the world, Jim Hettes, and though he lost the fight, it was a back-and-forth entertaining affair.
After that fight he defeated Cole Escovedo, and then he lost to Edwin Figueroa after getting two points deducted by Herb Dean. But Caceras got back on the right track at UFC on Fuel TV 4 with a victory against Damacio Page.
So the talent is there for Caceras, he just needs a little better luck in 2013.
Evan Dunham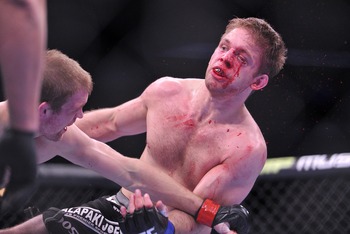 Mike Dinovo-US PRESSWIRE
Remember Evan Dunham?
Oh, how quick we are to forget about a fighter's success after he hits a few road bumps along the way. Once upon a time, the words Dunham and title shot went hand-in-hand. He was the fast-rising prospect who always put on entertaining scraps—but then he hit a road block.
Dunham lost a decision to Sean Sherk, a fight many believed Dunham won, including myself. Following his loss, Dunham ran into a hungry and determined Guillard and was all of a sudden on a two-fight losing streak.
But it's not about how many times you fall, it's about how many times you stand. After losing those two fights, Dunham is standing tall after defeating Shamar Bailey and Nik Lentz. Can 2013 be the year Dunham earns himself a shot at the gold?
Chris Weidman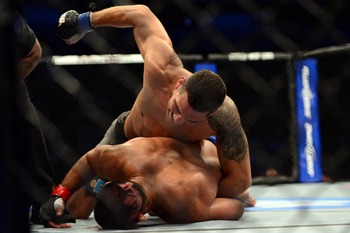 Kyle Terada-US PRESSWIRE
Chris Weidman's victory against Mark Munoz at UFC on Fuel TV 4 was incredible.
Not only did Weidman hold down the highly acclaimed wrestler for a full round, but he threatened him with submission skills and got the better of the striking game.
Weidman would eventually stop Munoz in the second after hurting him with a counter elbow on the feet followed by some nasty ground-and-pound. The win was so impressive that many feel the 9-0 prospect deserves a shot at Silva.
Weidman's shot at Silva might not come until 2013 if Silva's managers have anything to say about it, but when that day comes, there's a possibility Weidman upsets the champion.
Alexander Gustafsson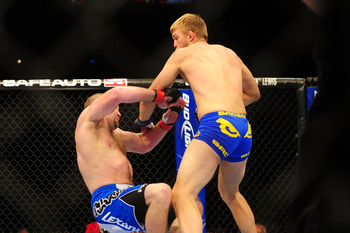 Mark J. Rebilas-US PRESSWIRE
Jon Jones looks unbeatable right now.
He breezed past every challenge he's faced, and even when Lyoto Machida and Rashad Evans found success against him, he was quick to regain the momentum and assert his dominance.
But it's combat sports. A challenger must be on the horizon, right? Well, the only impressive light heavyweight that Jones has yet to destroy (besides Hendo) is none other than Alexander Gustafsson.
Gustafsson can counter Jones' reach with his own and has great foot movement. If Gustafsson can somehow stay away from Jones' wrestling, he could give the champion a run for his money—something fans have been waiting to see for a very long time.
Chan Sung Jung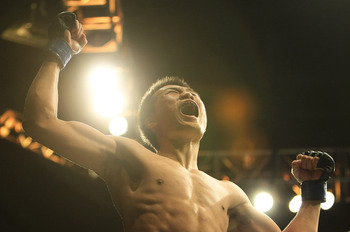 Tom Szczerbowski-US PRESSWIRE
Chan Sung Jung is always a lock for Fight of the Night.
The guy brings it every time and is arguably the most exciting fighter in the UFC. But "The Korean Zombie" might be more than just an exciting fighter.
In his latest victory against Dustin Poirier, Zombie proved that his submissions are top-notch and the speed he displayed in his striking was on point.
Furthermore, he gave a strong argument that he could challenge Jose Aldo for the belt. Should Aldo get past Erik Koch at UFC 153, Aldo could meet his match against Jung in 2013. But then again, it's imperative to stress the word "could."
Jon Jones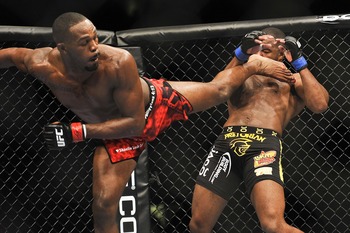 Paul Abell-US PRESSWIRE
Something big is in store for Jon Jones in 2013.
Jones can't keep beating up the same opponents again and again in the light heavyweight division, so the UFC will have two options for him in 2013--make the superfight with Silva happen or let him fight at heavyweight.
Most likely, it'll be the latter. Fans want to see him tested, so a move to heavyweight should be well-received by everyone.
If Jones runs through the heavyweight division like he did the light heavyweight division, a showdown with Junior dos Santos could come sooner than later, and Jones could be a heavyweight champion by the end of 2013.
Ah, you have to love speculation and wild proclamations, right?
Keep Reading