Georgia Football: 5 Biggest Question Marks of Training Camp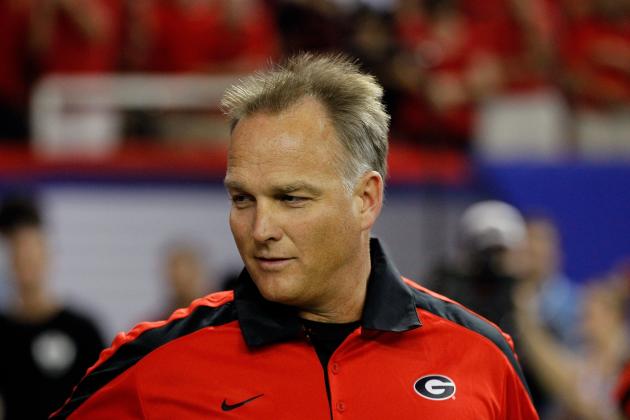 Kevin C. Cox/Getty Images

Georgia got off to a shaky start last season, but still finished the year with a 10-4 record and gave LSU a run for its money during the SEC championship. This season, Mark Richt and company plan to get off to a faster start and not only compete for an SEC title, but a national championship as well.
The Bulldogs return 16 starters from a year ago, including nine on a defense that finished the year ranked fifth in the country. There are certainly a lot of reasons to really like this team as they begin to prepare for the 2012 regular season.
But in sports, nothing is perfect. So here are five questions that the Georgia Bulldogs must answer before the regular season kicks off.
Begin Slideshow

»
Photo Credit: search.espn.go.com
Georgia will have the responsibility of replacing a solid kicker in Blair Walsh and a Ray Guy Award winner in punter Drew Butler.
Special teams wasn't a focus during the spring, which means that true freshman kicker Marshall Morgan will have his first chance to prove why he is the real deal in the fall. Freshman Collin Barber will be the favorite to handle the punting duties.
Both were top recruits at their positions, but they must prove that they are reliable when they are called upon. With a team as talented as the Bulldogs, the last thing you want is your team to be slowed down by poor special teams play.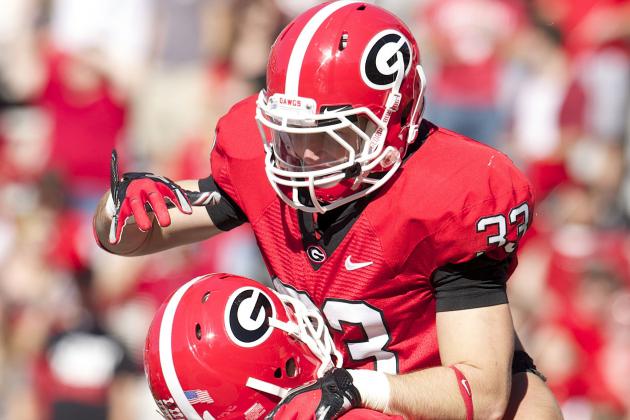 Dale Zanine-US PRESSWIRE

Georgia allowed 33 sacks last season, which was 11th-worst in the SEC and tied for 97th-worst in the in the country. As fall begins, there are only two true positions that look like they are filled: Kenarious Gates will likely play left tackle and David Andrews will play center.
The other three positions are all up for grabs during the fall.
Players such as Dallas Lee, Chris Burnette and Watts Dantzler are the remaining linemen who bring experience to the table and will compete for the rest of the starting positions. But young players such as Kolton Houston and John Theus will make a strong case for a starting spot.
Whatever the starting offensive line looks like, Georgia just needs to make sure it does a better job of protecting quarterback Aaron Murray.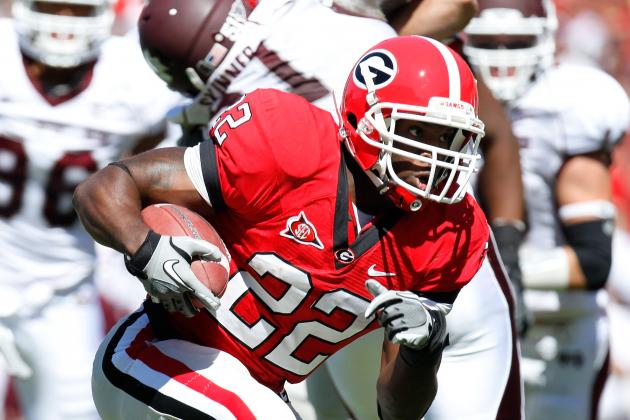 Kevin C. Cox/Getty Images

Isaiah Crowell had a bright future in a Georgia uniform, rushing for 850 yards and scoring six touchdowns as a true freshman last season. He looked to receive an even bigger role in 2012, but he was arrested and later dismissed from the team.
That now leaves some serious questions at the running back position.
Ken Malcome now moves up the depth chart as the projected starter, but he is more of a power back and doesn't have much experience to carry a starting role. Senior Richard Samuel is possibly returning to the running back position, as he spent more time at fullback last season. He has the most experience in the backfield, as he has close to 200 carries under his belt.
Former 5-star recruit Keith Marshall will also see the field a lot earlier than expected his true freshman season. He was the No. 1 running back from the 2012 class, and he should provide that home run ability that Crowell brought to the table.
Even with talented players to help carry the way, losing an explosive player such as Crowell can't feel too good.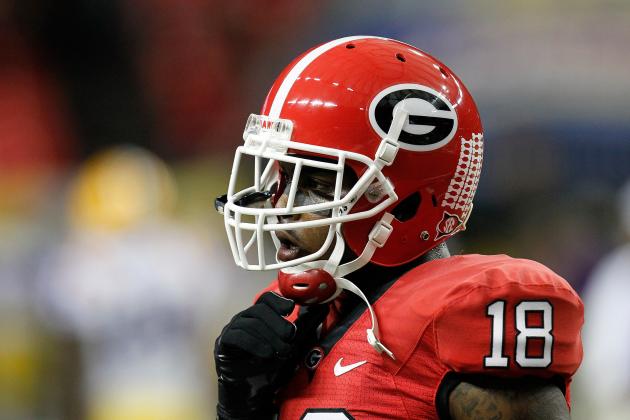 Kevin C. Cox/Getty Images

Georgia has one of the more talented defenses in the country this season, but many of those players won't be available right away.
Cornerback Sanders Commings will miss the first two games of the year due to a domestic violence incident. Linebacker Chase Vasser will also miss the first two games due to a DUI arrest. And that doesn't include Alec Ogletree and Bacarri Rambo, two key defensive players who will be suspended at least two games as well.
Thank goodness cornerback Branden Smith won't miss any playing time after his recent run in with the law.
Still, finding players to replace all of those starters won't exactly be easy for the Bulldogs. The first game against Buffalo won't be a big deal, but a trip to Faurot Field could create some problems if the Bulldogs don't figure things out quickly.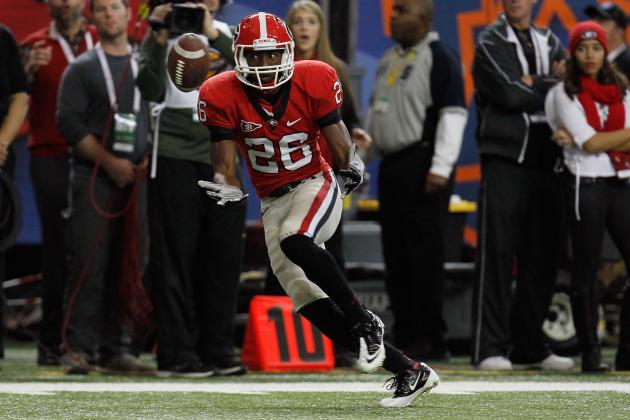 Kevin C. Cox/Getty Images

Malcolm Mitchell was the second-best receiver on this team a year ago, hauling in 45 passes for 665 yards and four touchdowns. At 6'1", 185 pounds, Mitchell has the body frame and great hands to become a difference-maker on the offensive side of the ball.
But due to the boatload of suspensions on defense, Mitchell has been forced to play the first couple of games at the cornerback position. And although it may seem like a minor switch, there is a possibility that you could see the sophomore playing both sides of the field this year.
"Coach Bobo has been tongue-in-cheek with some of his comments. He knows that we need Malcolm to play corner," head coach Mark Richt told Chip Towers of the Atlanta Journal Constitution about offensive coordinator Mike Bobo's comments on Mitchell's switch to defense. "He understands that, but he also understands he's a heck of a wide receiver, and he wants to make sure he sees him play a little bit of offense still, even early on."
Mitchell also went on to say that he would like to play both sides of the ball this season. The question is, is he truly capable of taking on such a tiring task?