Liu Xiang Injury Ruins His 2012 Olympics, Tests His Legacy as Hurdling Great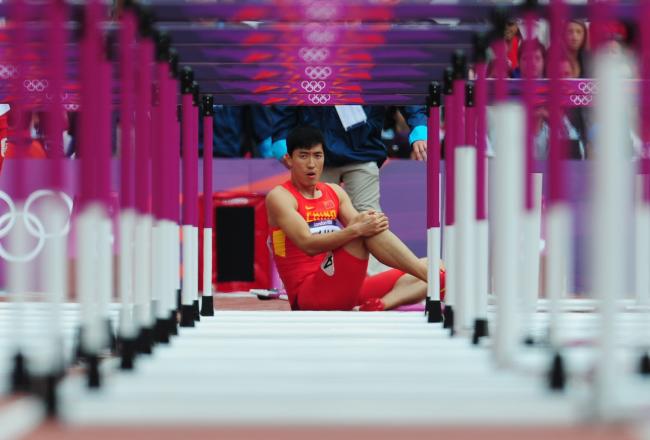 Stu Forster/Getty Images
Chinese runner Liu Xiang again couldn't clear the first barrier in the men's 110-meter hurdles. His anti-climactic finish at the 2012 Summer Olympics was reminiscent of his exit in 2008, and it calls into question just what sort of legacy he will leave.
Liu clipped the first hurdle in the 110 hurdles first round on Tuesday before falling. When he stood up to get off the track, he could only hop on one leg because of what could be a torn Achilles. He left the arena in a wheelchair.
In 2008, Liu had a recurrence of an Achilles injury that caused him to find much the same fate. He couldn't even compete in the qualifying heats, and he walked off the track.
Four years earlier, when he won the gold medal in the event in Athens, Liu was heralded as a sign of Chinese fortune to come when the nation hosted the Olympics in 2008. No Chinese man ever won track gold before that race.
A gold medal in the 2007 World Championships had Chinese hopes high heading into the Beijing Games. New York Times reporter Christopher Clary argued that Liu had the ability to give his nation a "Cathy Freeman moment."
Freeman is an Australian sprinter who lit the Olympic cauldron at her home Olympics in Sydney and then won the women's 400-meter dash.
Clary wrote:
Liu Xiang, no hulking figure himself, was China's version of Freeman: an upbeat, upwardly mobile embodiment of national progress who had thrived long enough in his event, the 110-meter hurdles, to build up expectations on a scale that the Chinese emperors would have appreciated. Liu was proof that China, long a stockpiler of diving and table tennis medals, could compete in a mainstream, truly global sport, as well.
Liu's stock was on the rise when his 2008 injury knocked him back on the world's biggest stage. Still, the argument could be made that Liu is the best hurdler of all time, as Britain's main competitor in the event, Andy Turner, said in a BBC interview on Tuesday.
Great Britain's Andy Turner: "In my opinion Liu Xiang is the greatest hurdler ever." #BBC2012

— BBC Sport (@BBCSport) August 7, 2012
Liu ran the second-fastest time in history in June at the Prefontaine Classic Diamond League meet, denied a share of the world record by the wind. The 2012 gold medal was supposed to be a battle between him, American Aries Merritt and Cuban Dayron Robles.
Because of his injury, he may never get a chance at another Olympic gold medal. The 29-year-old will be 33 at the 2016 Olympics, which is past most sprinters' prime.
That means he will never have raced against the top competitors in the world at the Olympics. He has at the World Championships, where he won silver in 2011 after Robles hit him on his backswing and was disqualified, but never at the Olympics other than in 2004, when he set an Olympic record and tied the world record.
As such, Liu's place in history is uncertain. The debate will continue over whether his times can stand alone as a beacon of greatness, or whether Olympic medals and wins in the same races as his major competitors are the only way to measure it for sure.
This article is
What is the duplicate article?
Why is this article offensive?
Where is this article plagiarized from?
Why is this article poorly edited?