SF Giants: Breaking Down What the Giants Should Do with Their Crowded Infield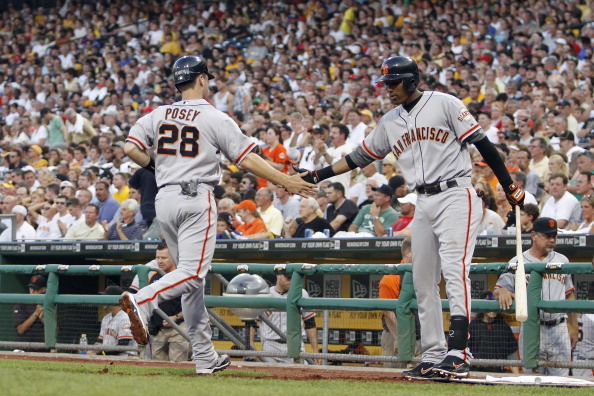 Justin K. Aller/Getty Images

Bruce Bochy has faced some tough challenges this year, especially when it comes to managing the infield.
Bochy has had to rotate players in the infield and make sure the best players are on the field for the Giants. When Pablo Sandoval returns from injury, he will have to rotate Hector Sanchez, Buster Posey, Marco Scutaro, Ryan Theriot, Brandon Crawford, Joaquin Arias, Brandon Belt, Brett Pill and Sandoval into an overcrowded infield.
Now, there are five positions, so five of those nine players will play. Belt or Pill will probably get sent down when Sandoval comes back, leaving eight infield spots available. But how will Bochy manage the infield?
I don't know how Bochy will do it. But here's a blueprint of what I think he should do.
Begin Slideshow

»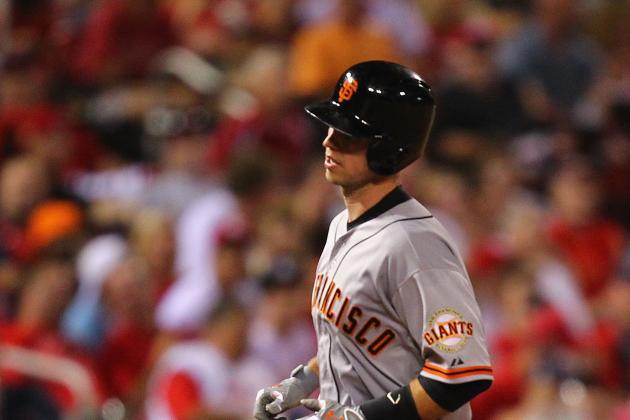 Dilip Vishwanat/Getty Images

Buster Posey struggled a bit in May and June, but since the All-Star break, he's been dominant.
Posey raised his batting average from well under .300 to .328, and he now has 18 homers, 73 RBI and an 11-game hitting streak. Posey has provided a huge spark in the middle of the lineup for the Giants offense, and that's part of the reason why the Giants are in first place.
However, if Posey gets hurt (like he did last year), the Giants won't be completely doomed. Hector Sanchez is probably the best backup catcher in baseball, and he has a respectable .285 batting average. While Posey caught Barry Zito on Tuesday night, Sanchez almost always catches Zito.
Tim Lincecum was struggling in the first half, so Bochy had Sanchez catch him for a while. It looks like Posey will start catching him now, although whenever Posey is tired (since he broke his leg in a home-plate collision last year), Sanchez will catch, probably regardless of who's pitching.
I like seeing Sanchez in the lineup. He's much better than Brandon Belt and Brandon Crawford, two Giants regulars. However, since Posey is a better hitter and defensive catcher, Sanchez doesn't play too often. Even though Posey has done a nice job catching Zito, I would like to see Sanchez regularly catch Zito and Posey play first base in those games.
The Giants could also try Sanchez at first base. Sanchez isn't a great defensive first baseman, but he deserves to get playing time. Brandon Belt isn't playing well (to say the least) and hasn't done much good for the Giants. Sanchez needs to see a lot more playing time, and while I'd rather have Posey at catcher, I would like to see Sanchez play first (even if he isn't great there on defense).
So, they could have Sanchez catch Zito regularly, catch Lincecum or maybe another pitcher if Posey is tired, and start at first two out of every five games. Sanchez deserves a lot of playing time, and he should be getting more. Posey is a great catcher and knows how to call a game, and Posey deserves to catch a lot.
However, San Francisco can't go on with Brandon Belt playing every day. They must try Sanchez at first.
Thearon W. Henderson/Getty Images

I linked these two positions together because of one player. Or should I say one star player.
Pablo Sandoval, with a career .306 batting average, could be back as soon as Sunday (according to Alex Pavlovic of mercurynews.com). Sandoval is hitting .299 this year with eight homers and 33 RBI in 234 at-bats, and he's done a nice job at third base.
Or should I say first base.
Because of Belt's struggles, Sandoval took over at first base (and then he went on the DL with a hamstring injury). When Sandoval returns, he should see some time at first base (since Belt and Pill are clearly not fit to play there every day).
In the previous slide, I mentioned that Sanchez could and should see some time at first base. He's an above-average hitter who could definitely help an inconsistent offense score runs in the bottom of the lineup. On days where Sanchez played first and Posey caught (or vice versa), the Giants would have a great lineup.
Not only would they have Angel Pagan, Marco Scutaro or Ryan Theriot, Melky Cabrera, Posey, Sandoval and Hunter Pence hitting back-to-back-to-back-to-back-to-back-to-back, San Francisco would have Sanchez providing a spark at the bottom of the lineup. That would create a formidable Giants lineup.
However, Sanchez isn't a great defensive first baseman. When Sandoval comes back, either Belt or Pill will probably be headed to Triple-A. Belt is a great defensive first baseman, so if the Giants want late-game defense and mediocre hitting, they should go to Belt. If they want more power and a small hitting upgrade, they should go to Pill. If I were Bochy, I would go with Pill to try to help the offense. He hasn't had as many chances as Belt, and he can hit better than Belt.
If the Giants don't want Pill or Belt, they could try to upgrade. According to Henry Schulman of sfgate.com, San Francisco reportedly has interest in Lyle Overbay, a first baseman with lots of power. He could provide a spark off the bench and do what the Giants were hoping Aubrey Huff could do before he struggled and got hurt—provide power off the bench.
At third base, the Giants currently have Marco Scutaro. When Sandoval returns, he will probably take over there and force Scutaro and Ryan Theriot to platoon at second. I think Sandoval should occasionally play first, and when he does, Joaquin Arias or Scutaro will play third.
I would play Sandoval at third four out of every five games and play Scutaro at third one out of every five games. Sandoval's done a nice job at third and is better at third, although he can and will play first. Scutaro can play third and will probably play there occasionally to create an opportunity for Theriot to start.
Which brings us into the next slide...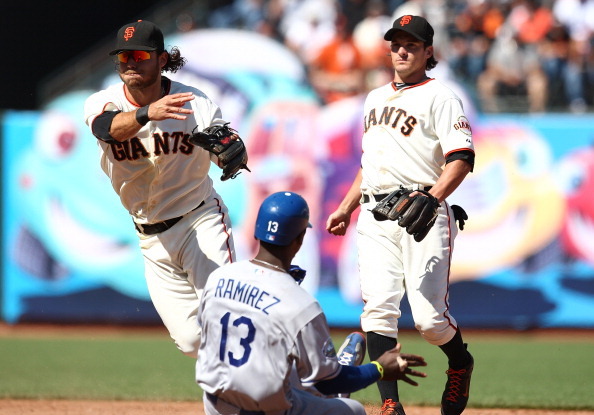 Tony Medina/Getty Images

The Giants don't have nearly as much talent in the middle infield as they do on the corners, but they can find a way to put some talent at second base and shortstop.
Arias, Crawford, Theriot and Scutaro are the four main middle infielders for the Giants. Crawford and Arias play short, while Theriot plays second and Scutaro plays second, shortstop and third.
Scutaro probably won't see much time at short. Arias hits well against lefties and Crawford hits well against righties, so Bochy probably won't bench both of them. However, neither of the two are great. Arias has a WAR of 0.4 and Crawford has a WAR of 0.3. For comparison, Buster Posey and Melky Cabrera have a WAR of 4.6.
Theriot has a 0.6 WAR and Scutaro has a 0.2 WAR. Since joining the Giants, Scutaro is hitting .326 with six RBI. He's done a nice job with his new team and should definitely see a lot of time at second base. He's better on defense and has done a better job on offense than Theriot recently.
In July and August (combined), Theriot has a .261 batting average. He is starting to hit into a lot of double plays and is starting to look a lot like the utility player he is, which is really hurting the Giants. Theriot still deserves some playing time, but when Sandoval comes back, expect his role to shrink.
Overall, the Giants don't have a great middle infield. Scutaro's been doing a good job and will probably still see a good amount of playing time, but no one else has been doing well. Crawford has received plenty of opportunities and is still hitting just .233, and Arias is hitting .256.
If I were Bochy, I would play Arias against lefties and Crawford against righties. Arias is hitting .313 in about 100 at-bats versus lefties this year, and just .210 in 124 at-bats against righties. Crawford hasn't done too well against lefties or righties this year, but he's better against righties.
As for second base, I would let Scutaro start at second three out of every five games and at third one out of every five games. He's done well in San Francisco, and he deserves a reward for that. Theriot still deserves playing time, but he definitely isn't an everyday second baseman.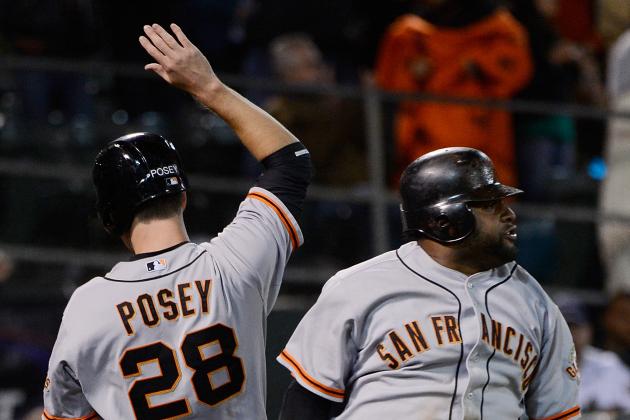 Thearon W. Henderson/Getty Images

To reiterate, Bruce Bochy has a tough task on his hands.
Will he send Pill or Belt to the minors? Will he let Sanchez play first base? How much first base will he allow Sandoval to play? How will he divide up the time for the middle infielders?
His decisions won't be easy, but he knows his players and he knows his players' stats. If he used only the stats, Arias, Sanchez, Scutaro, Posey and Sandoval would start every day. However, Bochy isn't dumb, and he knows that every player on the active roster will have to play.
I laid out my plan for what I think the Giants should do, but I'm sure Bochy's will be different. Everyone has a different perspective about the Giants, and Bochy is someone who thinks it's best to let players work issues out on the field and someone who likes to use proven veterans.
So, he'll use his strategies to manage the team. But how will he do it? Stay tuned to find out.