Team USA Basketball: 5 Best Players so Far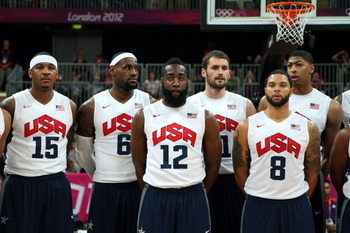 Christian Petersen/Getty Images
Now five games into their gold medal campaign, Team USA's men's basketball is exactly where they want to be: an undefeated record heading into a quarterfinals against Australia.
So far, their five wins have consisted of one nail-biter against Lithuania, a record offensive showing against Nigeria and a commanding performance against 2004 Olympic champion Argentina.
Along the way, all 12 players have had their moment to shine, with some outperforming the rest.
With MVP's, All-Stars and world champions all over the roster, it's a hard task to select the five best player's so far.
But I'll give it a shot. Here's how I see it.
5: Chris Paul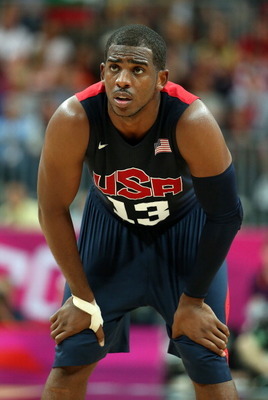 Christian Petersen/Getty Images
The NBA's best point guard has continued to play at the high level in London that he displayed throughout the NBA season.
A terrific combination of smarts, intensity and skill, Paul has been the floor general for Team USA. He routinely sets up his teammates for easy looks and plays strong defense on the other end.
A starter in all five games, Paul leads the team in assists with 29 and steals with 11, all while shooting at a healthy 51.7 percent.
A great leader on the floor, Paul's play at point guard has been sublime and unselfish, setting the table for the rest of the team.
4: Kevin Love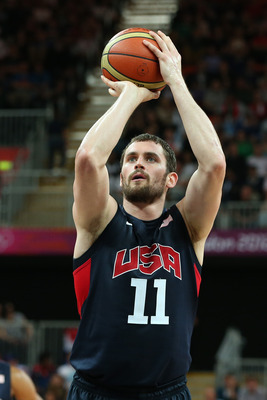 Christian Petersen/Getty Images
The rebounding machine, Kevin Love, has lived up to his billing and played a crucial role for Team USA so far.
With Team USA struggling in the size department and starting center Tyson Chandler unable to play without fouling, Love has stepped up and cleaned the boards much like he has done for Minnesota over the years.
Despite coming off the bench in all five games, Love leads the team in rebounding with 32, including an impressive 12 offensive boards.
Remarkably, Love is also third on the team in scoring, averaging 13 points per game while shooting an astounding 66.7 percent.
Throw in his ability to stretch the floor with his three-point shooting and Love's game seems almost tailor-made for international play.
A ghastly free throw funk aside, Love has been one of the best players in the tournament as he continues to demonstrate why he is arguably the best power forward in the game today.
3: Carmelo Anthony
Pool/Getty Images
Despite getting a bit of flack back at home for his play with the Knicks, Carmelo Anthony always seems to bring his A-game for Team USA, and these Olympics have been no different.
A three-time Olympian, Carmelo has been used as a super-sub by Coach Mike Krzyzewski and what a super-sub he has been.
A 37-point performance in masterclass against Nigeria—which included an incredible ten three-pointers in just 14 minutes—was the basketball highlight of the Olympics so far.
Carmelo was the catalyst behind the record breaking performance against Nigeria, as he demonstrated yet again his dominance in the international game.
For the tournament, 'Melo is second in the team in scoring, averaging 17.4 points per game, despite playing just under 16 minutes per game.
For those at home wondering, Carmelo is averaging over a point a minute!
As Team USA's "sixth man," Carmelo allows Coach K to take care of his starters and not worry at all where the scoring will come from.
2: LeBron James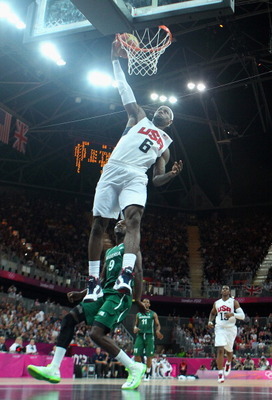 Christian Petersen/Getty Images
Coming into London as the premier player in the world, LeBron James has shown off his unmatched all-around game throughout these Olympics.
Arguably the most versatile basketball player in history, LeBron's ability to play all five positions has been a godsend for a team lacking in size.
His uncanny ability to defend a Luis Scola or a Manu Ginobili, bring the ball up the court or post up on offense has been a huge weapon for Coach K and Team USA.
Along with his terrific all-around game, LeBron's leadership has been key for Team USA, particularly against Lithuania.
With the team struggling on offense and the Lithuanian's closing in, James hit the biggest shot of Team USA's campaign so far. His three-pointer in the closing minutes of the game ensured Lithuania did not pull of a stunning upset.
LeBron has contributed in every facet of the game, scoring 13.4 points per game while shooting over 60 percent. He is third on the team in assists with 22 and is playing at an extremely high level on defense.
As the best player in the world, expectations were high for LeBron James and he has met them so far.
1: Kevin Durant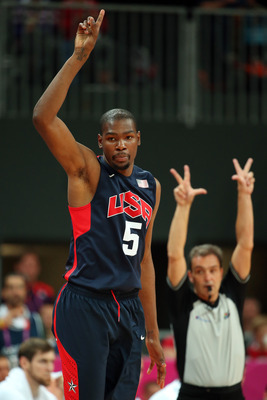 Christian Petersen/Getty Images
The NBA's scoring king, Kevin Durant, has shown people all over the world why he is the best scorer in all of basketball.
To Durant, the international game's three-point line is like shooting free throws, and he has taken full advantage of it.
Leading Team USA in scoring with 18.6 points per game, Durant has hit a remarkable 20 three's already, shooting over 60 percent in the process.
While some of his teammates—like Kobe Bryant and James Harden—have taken the shorter three-point line as an excuse to jack up isolation three's, Durant has hit the majority of his in the flow of the offense.
Most encouraging about Durant's play in the Olympics has been his all-around game. He is fourth on the team in assists and second on the team in rebounding and minutes played.
A red-hot Durant is not a sight opposing team's want to face, and unfortunately for them he is showing no signs of cooling down.
Keep Reading