Why Gabby Douglas Should Not Have Won the 2012 Olympics All-Around Gold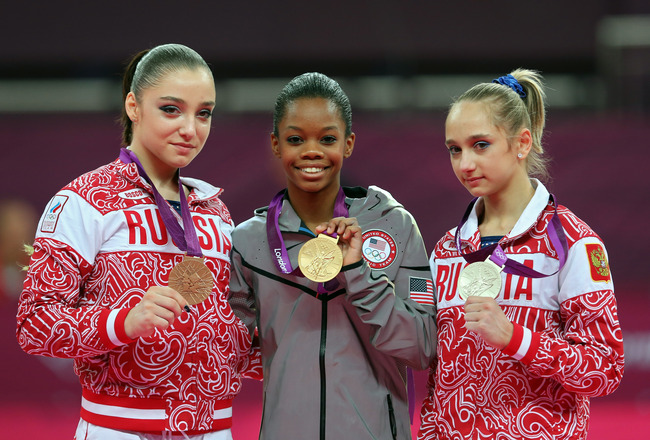 Gabby Douglas on the podium for the all-around with silver medalist Viktoria Komova and Aliya Mustafina in third
Julian Finney/Getty Images
Yes, you read it right: why Gabby Douglas should not have won the most coveted title in gymnastics—the all-around gold at the Olympics.
No one can take away Douglas' victory, nor erase the fact that she was the only gymnast among the top four that really hit 4-for-4. This is simply to play devil's advocate and to take a look at why some may view Viktoria Komova as the true queen of gymnastics.
Douglas ended up finishing just 0.259 in her four-event score total ahead of the Russian after the performance of her life. She had certainly bested herself, but had she truly performed better gymnastics than closest rival Komova?
In the next three slides, we'll take a look at both gymnasts' performances, where the judges could have gotten it wrong and problems with the current code of points that may not fully give credit where credit is due.
Douglas Overscored on Vault?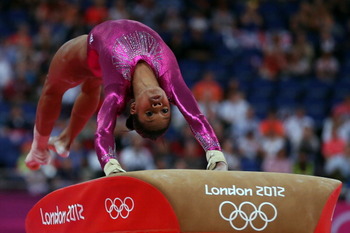 Douglas starting the all-around final as the first gymnast up on vault
Streeter Lecka/Getty Images
Gabby Douglas threw another Amanar—start value: 6.5, maximum score: 16.500—to her feet for the all-around final an received a whopping 15.966.
That means only 0.534 in deductions for execution, which include the height and distance from the vault table and, most importantly, the landing—if it's centered and stuck.
But guess what: Douglas not only landed off center, but she also took a hop to further to the side, and then shuffled slightly over the left border of the landing mat, prompting commentators to lament the "obvious area for deductions."
Compared to McKayla Maroney's perfect—or near perfect, according to the judges' scores—vault during team finals, which was awarded a 16.233, Douglas' Amanar is nowhere close in terms of her form and the height of her second flight off the table. Add more deductions for her landing, and you should get a score about 0.2 lower than the 15.966 she received.
(That would mean Aly Raisman's messier vault in that all-around final also deserved a score lower than the awarded 15.900.)
When Komova later performed the exact same vault, landing square in the center but then hopping off the landing mat, she received a much lower 15.466, which looked like a fairer score.
Herein lie two main problems: The judges seem to seldom utilize the 10 points under the execution portion of the score to fully differentiate between good, very good, and great vaults, nor are they consistent in their scoring to begin with.
This is where Douglas gained a huge lead that was never closed—and it shouldn't have been there at all. Not as big as half a point, at least.
Curiously High American Scores on Bars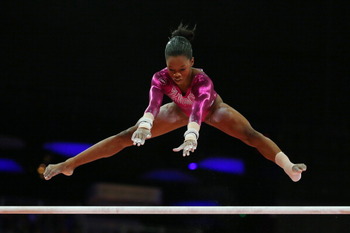 Ronald Martinez/Getty Images
Even though bars is the event Douglas is best known for—and the one on which she earned the "Flying Squirrel" nickname—Komova has a start value about 0.400 higher with a more difficult routine.
Both of them hit their sets last Thursday during the all-around final, with no significant areas for deduction and similar slight hops on their respective dismounts. Yet Douglas scored only 0.233 lower with a 15.733 against Komova's 15.966.
That means the judges had given her a higher execution score—strange, considering Komova, the reigning world champion on bars, has such immaculate lines and great form down to her toepoint.
Even odder was what followed next: Aly Raisman pulled in a surprisingly higher score than Chinese gymnast Deng Linlin.
When you think about how notorious Raisman is for her poor form on bars and how she performed yet again in Thursday's final with the usual leg separations and muscled moves (huge form break on her high-bar full turn after Tkatchev), it becomes a mystery as to how her set was judged better than Deng's cleaner routine.
Could it be that judges had inflated the American scores on not one, but two events in this final?
Douglas' Lack of Artistry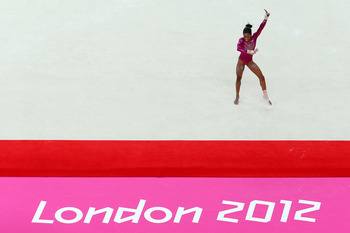 Julian Finney/Getty Images
You can't have artistic gymnastics without the artistry—there's a reason this sport is different from its counterparts (see "Gymnastics, acrobatic" and "Gymnastics, aerobic").
The International Federation of Gymnastics (FIG) says it best on its official site: "Individuality, originality, maturity, mastery, and artistic quality are the key ingredients for the highest score."
Sure, Gabby Douglas had marginally higher start values on both beam and floor, her last two event rotations in the all-around final.
But when it comes to "maturity, mastery, and artistic quality," most experts and commentators marvel at Komova's elegance coupled with effortless but powerful tumbling in what makes for far more breathtaking performances.
Yet do the scores reflect that? Nope. This is how floor routines set to techno-esque beats have come to thrive, cheered on by crowds more eager in their countries' medal hopes than to appreciate the essence of artistic gymnastics.
This is not a fault of Douglas', but of the judges and the code of points in failing to uphold and honor the core of this sport's beauty, especially so in the last quad. Remember Olga Korbut and Nadia Comaneci? Or more recently, the Belarusian swan Svetlana Boginskaya and 2008 Olympic all-around champion Nastia Liukin?
Both Douglas and Komova had great sets on their last two apparatuses, but Komova's artistic quality was the one that stood out.
Should she have been awarded for that? FIG seems to agree that artistry needs a bigger role in scores with the upcoming new code of points for 2013-2016 that reportedly has more emphasis in this area.
So, what do you think? Was Douglas overscored, or did she deserve her all-around gold over Komova? Give your opinion in the comments.
Keep Reading