Olympic Gymnastics 2012 Individual Event Results: Tuesday's Scores & Highlights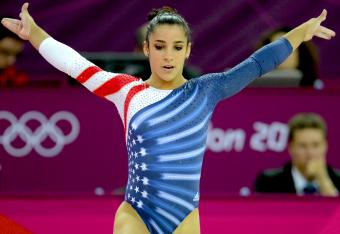 After a thrilling week and a half of competition, the Olympics gymnastics events are finally coming to a close.
Aly Raisman was the star of the day with a bronze medal on the balance beam and a gold medal on the floor.
Take a look back at the live updates from the event.
You can contact Emily Bayci by e-mailing emilybayci@gmail.com or follow her on Twitter @EmilyBayci.
What an amazing conclusion to the gymnastics events. I'm sad it's over but it was an insane run. Make sure to watch the finals on NBC tonight.
I'll leave you with one last listen of the Muse song everyone loves so much.
It's been real.
Aly Raisman was the star of the individual finals by far for Team USA.
Gabby, McKayla and Jordyn did not do as well as anticipated.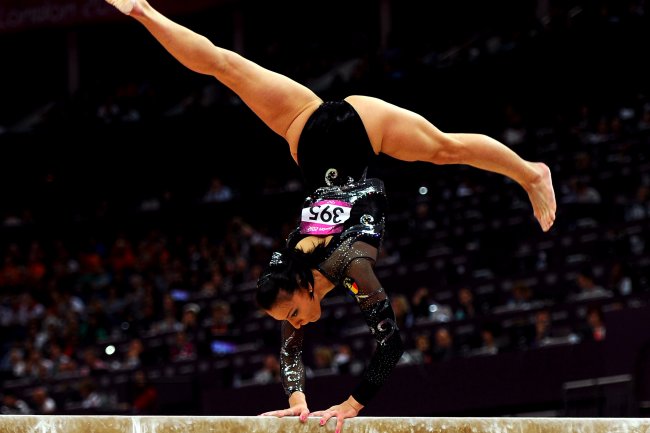 Michael Regan/Getty Images
Catalina Ponor is an inspiration to everyone because of how long she has lasted. Raisman looks so happy. What a champion.
Jordyn Wieber finished seventh in the floor finals. It's better than eighth, right.
I'm glad the last individual event final ended on a high note for Team USA. What an amazing performance from Raisman.
Everybody has to watch these event finals tonight they are going to be great.
I'll keep blogging through the medal ceremony but I'm very sad this has come to a close.
Here's the cheesy moving on video that no one really wants to listen to.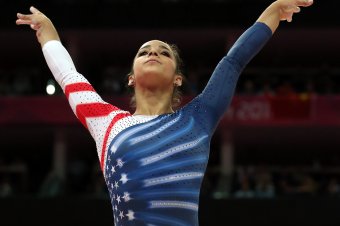 Ronald Martinez/Getty Images
Aly Raisman (USA) wins floor gold,
followed by Catalina Ponor (ROM) with silver,
and Aliya Mustafina (RUS) gets another bronze
That is three Olympic medals for Raisman. What an Olympics for her. Two gold and a bronze!
14.9 for Mustafina. Komova, who beat Maroney in the floor exercise is up last. She fell on her knees and went out of bounds on a pass.
Looks like Raisman is going to win, it's just not official.
Aly will have a medal no matter how the last two routines go. We just don't know what color yet.
Vanessa Ferrari is up now on the floor exercise. I really want her to win a medal for Italy.
What's drumming up all the attention is her one sleeved leotard. I like it.
Ferrari is wearing a 1 sleeve leo... that's something you don't see every day

— gymnastike (@gymnastike) August 7, 2012
Ferrari of ITA is sporting a chic leotard with one sleeve.love it. Glamour girl...which is needed in the sport. I'm tired of the boring leos

— Dominique Dawes (@dominiquedawes) August 7, 2012
Exactly what is Ferrari wearing? One-sleeved???? These the Olympics and you're former world champ. Dress appropriately.

— Nancy Armour (@nrarmour) August 7, 2012
I wonder what Raisman is thinking right now. This is such a long wait for her.
Lauren Mitchell had a good routine but the crowd did not seem overly enthused.
Surprisingly the crowd booed when Ponor's score went up...15.2 which puts her in second. I guess the crowd liked her better than Aly.

— Dominique Dawes (@dominiquedawes) August 7, 2012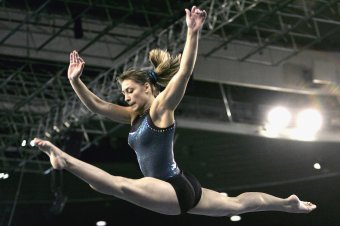 Mark Dadswell/Getty Images
Catalina Ponor went right after Raisman.
Is she looking for revenge after Raisman edged her out for bronze?
Ponor is the 2004 Olympic champion on the floor exercise. She stuck all of her landings, it was a terrific routine, but a 15.200 not enough to pass Raisman.
There were boos from the crowd for her score. Is there going to be another inquiry? I don't think so.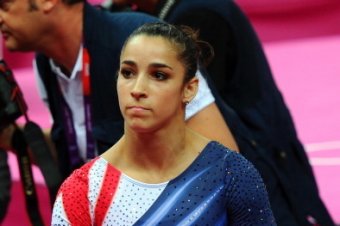 Michael Regan/Getty Images
Aly Raisman had a fantastic floor routine, 15.6.
That has to put her on the medal stand. I think she mouthed wow when she was done.
This is going to be the routine to beat for sure. There are still five more gymnasts.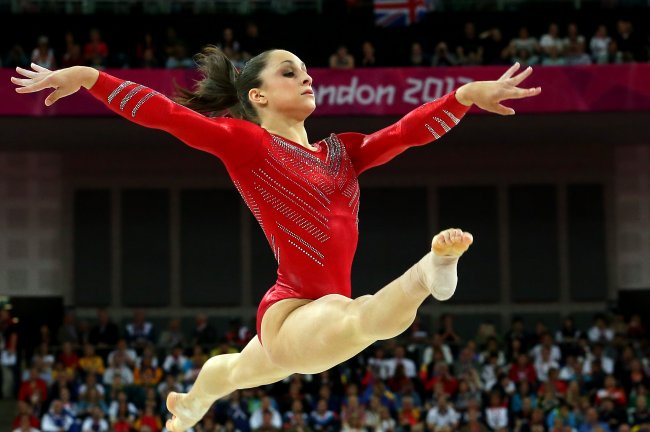 Ronald Martinez/Getty Images
Jordyn Wieber looks really nervous and shaky on her routine.
She probably spent too much time building this up.
She stepped out of bounds on one of her passes. This might take her out of medal contention.
Wieber scored a 14.5, puts her into second of 2. That doesn't make her very happy. Raisman is up next.
Now Jordyn Wieber is up and then Aly Raisman. They did so good on floor during the team finals. Can they do it again?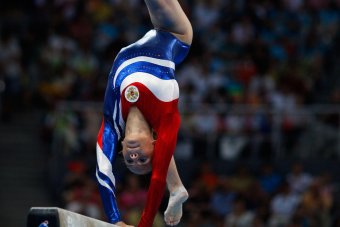 Cameron Spencer/Getty Images
Ksenia Afanasyeva of Russia, the 2011 world champion is up first.
I love her music and she's very artistic and has great tumbling.
She went out of bounds twice. That has been a huge problem on the floor for the women this cycle. I've heard it's because of all the pink and red. I don't know.
The gymnasts are marching in now for floor. I worry I might tear up during the routines. Four more years till the next Olympics?
At least there's plenty of competitions in the middle. Gymnastics keeps going between the Olympics!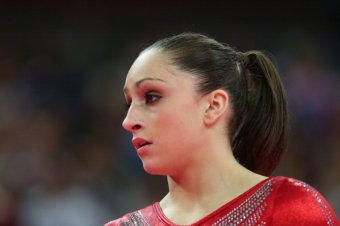 Ronald Martinez/Getty Images
This is Jordyn Wieber's only shot at an individual medal.
She doesn't have the highest difficulty but will passion and need for redemption push her to the podium?
We'll find out.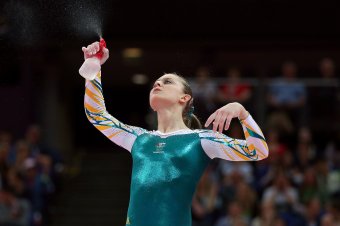 Cameron Spencer/Getty Images
Here are my picks:
Gold: Aly Raisman
Silver: Lauren Mitchell
Bronze: Aliya Mustafina
Routine to watch: Lauren Mitchell
Here's who I want to win purely out of sentiment:
Gold: Jordyn Wieber
Silver: Lauren Mitchell
Bronze: Vanessa Ferrari
How awesome would it be for Wieber if she could come back and win the gold? And if Vanessa Ferrari could nab a medal for Italy... awesome.
But Lauren Mitchell just has such a cool routine to watch....
The highly anticipated floor finals are up next. As the final event! Here is the start list:
Ksenia Afansyeva, Russia
Jordyn Wieber, U.S.
Aly Raisman, U.S.
Catalina Ponor, Romania
Lauren Mitchell, Australia
Vanessa Ferrari, Italy
Aliya Mustafina, Russia
Sandra Izbasa, Romania
Another well said tweet.
After SO many controversial high bar finals in the past, all can agree that the judges got this one right.What a deserved Olympic gold.

— Andy Thornton (@AndyThorntonNBC) August 7, 2012
Leyva finished fifth and Horton sixth. The fifth place finish curse (which I'm the only person who calls it that) continues!
Don't start crying yet folks! We have a bonus FOURTH event final with the women's floor routines today which is sure going to be a treat.
It's not over! yet....
What an entertaining event finals. I cannot wait to catch that again on NBC tonight.
Gold Epke Zonderland (NED),
Silver to Hambuechen (GER),
Bronze to Zou Kai (CHN)
This article is
What is the duplicate article?
Why is this article offensive?
Where is this article plagiarized from?
Why is this article poorly edited?