On Saturday, August 4, Lyoto Machida punched his ticket to a shot at the UFC light heavyweight title by turning out the lights on his opponent, Ryan Bader, early in the second round of their UFC on Fox 4 fight. Who Machida will face in that fight will be decided on September 1, when current champion Jon Jones puts his title on the line against former Pride and Strikeforce champion Dan Henderson.
Machida has not faced Dan Henderson in the past, but he has squared off against Jones, facing the champion at UFC 140. That fight did not end well for Machida. The former UFC light heavyweight champion was choked unconscious in the second round of that bout and unceremoniously dropped to the ground like a sack of dirty laundry by Jones.
If the odds on the Jones versus Henderson fight are to be believed, it appears Machida will get a rematch with Jones, as the champion is coming in at minus-625 to Henderson's plus-425.
During the first round of their UFC 140 bout Machida's performance against Jones was admirable. Machida found some openings for his strikes and caught Jones on more than one occasion; something that Jones' previous opponents had difficulty accomplishing. The tide changed in the second round when Jones took Machida to the ground and opened a cut on his forehead with an elbow. Shortly after the doctor came in to check that cut the night ended for Machida, as he was choked unconscious via a standing guillotine.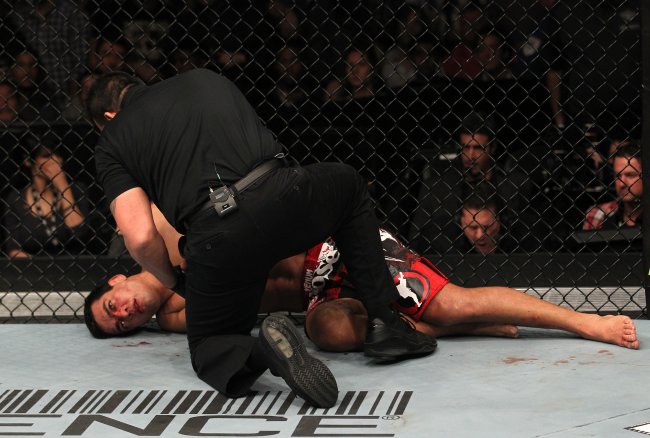 Following his win at UFC on Fox 4, Machida was asked if he saw any vulnerability in the champion. Machida wasted no time in stating:
Of course he has a weak point, but it's very hard to say because Jon is a very elusive fighter. All the time, he changes his style. Sometimes he kicks. Sometimes he punches. He's got good wrestling. Maybe I have to train more wrestling to avoid his takedowns.
The problem with that statement is that if Jones does have a weak point not one fighter in 17 professional bouts has been able to find that weak point, let alone exploit it. The other problem with Machida's claim is that Jones' skill level is so high and his athletic ability so superior that he can make up for any deficiency he may have, overwhelming his opponent in other ways.
Of course Jones has weak points, what fighter that has been a professional for less than five years doesn't have weak points? Where things get a little tricky is moving from making claims about those weaknesses to doing something about it. Until that occurs, all we have are empty statements that carry absolutely no weight.
We'll know on September 1 if Machida will get the chance to show the world Jones' weak point.