South Korea vs. Brazil: Men's Olympic Soccer Semifinal as It Happened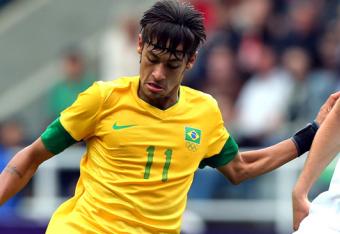 2012 men's Olympic football semifinal:
South Korea 0-3 Brazil
Romulo 38'
Leandro Damiao 57', 65'
Lineups:
South Korea: Lee Bum-Young; Jae-Suk Oh, Young-Gwon Kim, Seok-Ho Hwang, Suk-Young Yun; Koo Ja-Cheol (Joo Woo-Young 58'), Ki Sung-Yueng, Nam Tae-Hee, Kim Bo-Kyung Ji Dong-Won (Sung-Dong Baek 71'); Kim Hyun-Sung (Park Chu-Young 71)
Brazil: Gabriel; Rafael, Marcelo (Hulk 76'), Thiago Silva, Juan (Bruno Uvini 83'); Romulo, Sandro, Oscar; Alex Sandro, Neymar, Leandro Damiao (Pato 78')
LIVE BLOG END
Thank you all for joining me for this great match, and I'll see you the next time around.
Post-match:
After a bright start, Brazil's quality and South Korea's tired legs made the difference, and all three of the South Americans' goals came with the style that we're so used to seeing from the samba kings.
Now, they've won every one of their matches in these Olympic games, and one more will bring them the first gold in the country's history. With only one match to go, we shouldn't be disappointed.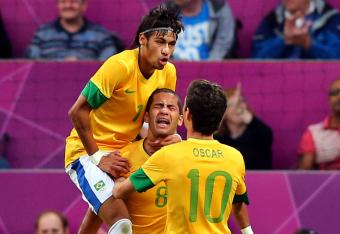 FULL TIME
That's it! Brazil advance to the gold medal game with a very convincing 3-0 win over South Korea.
90+1—Less than 30 seconds now...
90+1—We'll have two minutes of added time, as South Korea take a corner kick that produces nothing.
89'—A reminder that the final will be on Saturday at Wembley between Brazil and Mexico, certainly two of the best sides in this tournament. With the exciting, open styles that both play, it should be a wonderful and exciting match.
86'—We laze toward the end of this semifinal, as South Korea continue to try hard, but Brazil are managing this match quite comfortably and they look like they'll cruise to the finish line.
83'—Substitution for Brazil:
Bruno Uvini on for Juan Jesus. Uvini makes his first appearance of the Olympics in garbage time and gives Jesus a deserved rest ahead of the final. Now every single member of the Brazil squad has played for some amount of time during the tournament.
79'—Sung-Yueng Ki strikes a good free-kick just over the bar and over Gabriel's leap.
78'—Substitution for Brazil:
Alexandre Pato on for the double-goalscorer Leandro Damiao. Might as well throw on a player as good as Pato to give your starter a rest, eh?
77'—Substitution for South Korea:
Ji Dong-Won off, Baek Sung-Dong on. Last substitution for the Koreans, and it probably won't do too much for them.
76'—Substitution for Brazil:
Hulk comes on for Marcelo. Some rest for Marcelo and tactical adjustments about to happen for Brazil, as Hulk goes to the right wing, and only a few play at the back.
75'—This is entertaining stuff to watch, as Brazil intricately play it out of their own corner and bring it up the field with some tidy passing.
Neymar is driving the car at the moment. All their best play flows through him.
73'—Even Neymar's relaxing a bit, as Brazil pass it around to use up some time and drain South Korea's energy even more than it already is.
71'—Substitution for South Korea:
Park Chu-Young finally comes on for Kim Hyung-Sung. I wonder why this wasn't done earlier (and why he didn't start), but he can have an impact even if he's fatigued.
69'—And at this point you must wonder when Mano Menezes will use his three substitutions to rest some of his key players for the final on Saturday. There's not much danger in speaking about that at this point.
68'—South Korea build a threatening attack from a free-kick and corner kick, but Gabriel stymies them twice with some newfound confidence. They're not mailing it in by any means.
64'—GOAL!!!
Leandro Damiao again, as Brazil are just having fun now and this game is over. Another great run from Neymar causes havoc in South Korea's defence, a defender accidentally taps it to Damiao, and he slots it home to become the tournament's top goalscorer.
Good night, South Korea.
61'—Yellow card for Ji Dong-Won, as he gets frustrated and stomps on a Brazilian player. We could see more and more of that as we get deeper into the second half.
60'—I really wonder what's keeping Park Chu-Young off the field at this point. On the face of it, it makes no sense at all, but there might be something else in it.
59'—Substitution for South Korea:
Jung Woo-Young on for the captain Koo Ja-Cheol.
57'—GOAL!!!
Leandro Damiao! Neymar made a run down the left side of the box, he cut it back for Marcelo who missed the ball completely, but it fell perfectly for Leandro Damiao and he slotted it home with aplomb.
South Korea now face a mighty task to come back from two goals down.
55'—As anticlimactic as can be, as it's smashed into the wall, and Brazil have it securely again in their own half. We'll have to see when South Korea change their tactics and turn more aggressive.
55'—Ooh, South Korea have a free-kick in a perfect, centrally located position outside of Brazil's box. Several players standing over the ball. A nervous Gabriel stands in goal and organizes the wall...
54'—Some long ball tactics for Brazil, and Romulo had a decent chance, but he fouled the defender and that attack is over.
This article is
What is the duplicate article?
Why is this article offensive?
Where is this article plagiarized from?
Why is this article poorly edited?