10 Bold Predictions for Miami Heat in 2012-13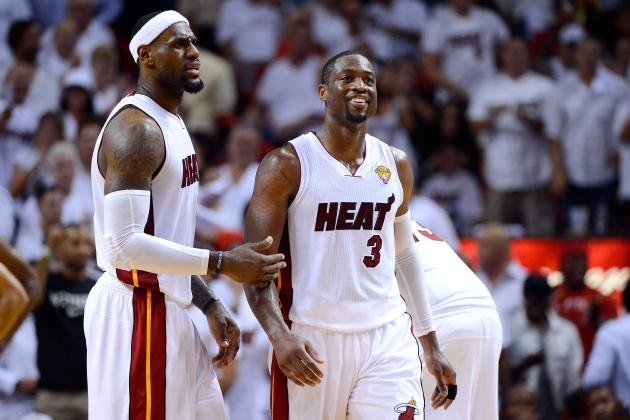 Ronald Martinez/Getty Images

Don't think that because the Heat were able to capture the 2011-2012 NBA Championship they will be under any less scrutiny next season—if not more.
With the acquisitions of Ray Allen and Rashard Lewis, the defending champions have seemingly gotten better. But Miami has proved to us before that it takes more than good talent to win it all.
If this new collection of players can put it all together, we could be witnessing greatness in the making. If not, LeBron's critics will surface quicker than LeBron haters resort to hairline jokes.
Begin Slideshow

»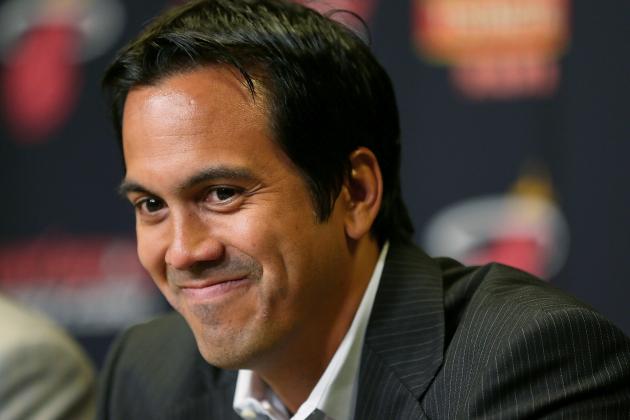 Mike Ehrmann/Getty Images

To say the least, Erik Spoelstra has paid his dues and he continues to earn his stripes and respect throughout the league as the head coach for the Miami Heat.
Fans are quick to give the credit to the players, but even quicker to blame the coach when the sky comes falling down.
It's not easy to understand just how much of a contradiction his job truly is. When the Heat won, it's because they are supposed to, they are the more talented team.
Yet, when they lost in 2011 many people believed Spoelstra was out coached and called for his head—head coaching job that is.
Now that he's won the big one, a lot of weight should be lifted off his shoulder.
As a result, expect to see a more relaxed Spoelstra on the sideline this year. But also, a more confident one.
Some may make the argument that the Heat are too talented of a team for Spoelstra to qualify as coach of the year. But let us not forget that Scott Brooks was presented with this award only a few years ago.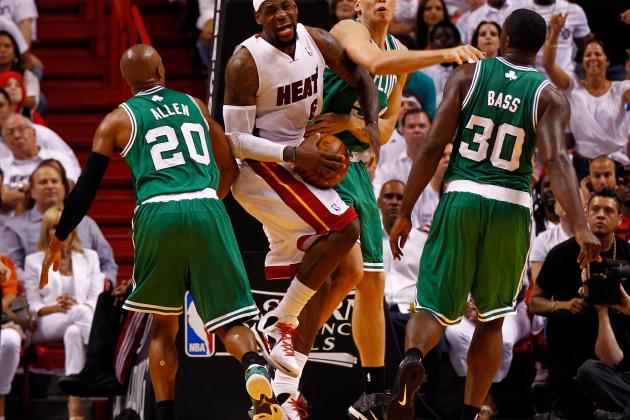 Mike Ehrmann/Getty Images

The Heat will be presented with their championship rings on their home floor in front of Boston on October 30th. (That's got to be awkward for Ray Allen)
The players, fans and staff will be all smiles, while the shiny ring they receive will serve as a reminder and motivator for what they are playing for this season.
But when it's time to take the floor, look for Boston and their new troops to send a message with an opening night victory in Miami.
There's no way the Celtics can go back in time and get that Game 7 back.
However, the closest thing they can do to that is spoil the celebration with a good old fashioned beat down. On the court of course.
Allen's old teammates will hope to convey the message, "You should have stayed," once the banner is raised, the lights flicker on and the new season begins.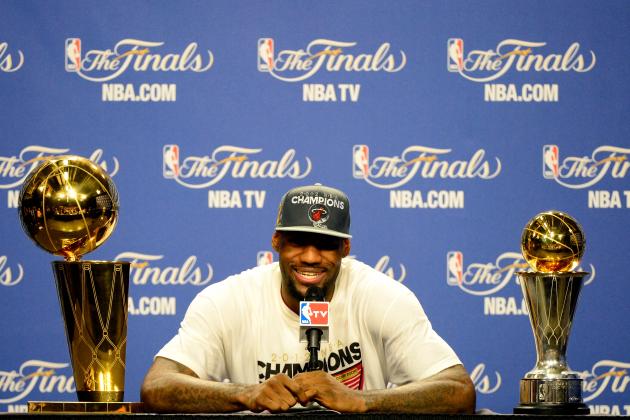 Ronald Martinez/Getty Images

LeBron James is undoubtedly playing the best basketball of his career, and he continues to do so overseas for Team USA.
Now that James has seen the view from the mountain top I can assure he will be quite reluctant to relinquish the throne.
The combination of LeBron's physical build, basketball I.Q. and newfound mental toughness makes for a dangerous player on both ends of the floor. But I think he's proven that by now.
There is no player in the league, pound for pound, better than James, and there's no reason his stellar play doesn't continue for a very, very long time.
Go ahead and engrave "LeBron James" on the 2012-2013 MVP trophy.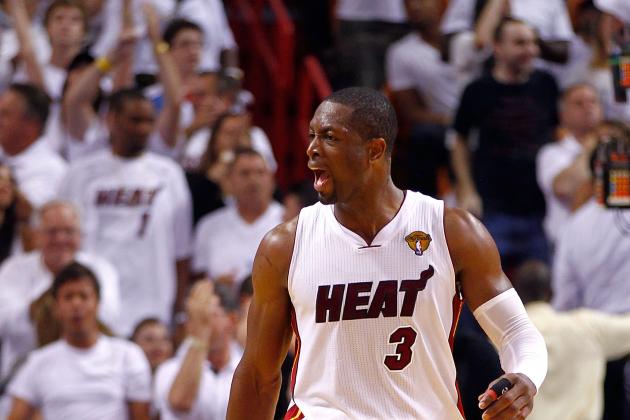 Mike Ehrmann/Getty Images

This debate has persisted for a while now. Who's the best shooting guard in the NBA? Kobe Bryant or Dwyane Wade?
Bryant, without a doubt one of the best players the NBA has ever seen, is getting up there and for those of you who have read any of my other articles you know my favorite saying is, "Father Time is undefeated."
Although Wade is coming off a rough season, a lot of those critics saying Wade is done will be biting their tongue very soon here.
With a nice offseason consisting of rest, rehab and a little dose of Gabrielle Union, it's safe to say Wade will come back feeling better than he has in a very long time.
Meanwhile, Kobe will play out his final years in the NBA realizing more and more, day by day, that some of these young cats are pretty good.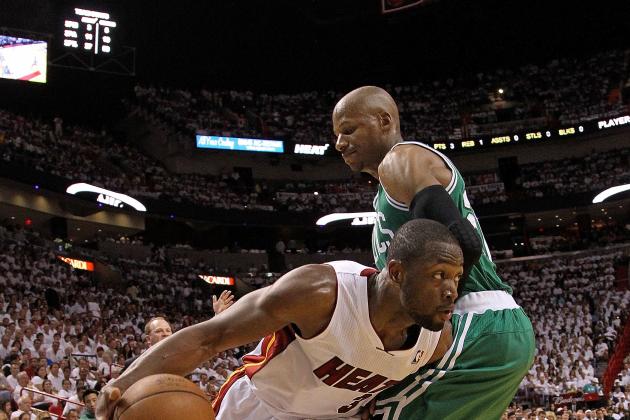 Mike Ehrmann/Getty Images

This may be the boldest prediction of them all, but the Heat will have four All-Stars when all is said and done.
I'm not crazy enough to say a guy like Mario Chalmers or Shane Battier will be selected to the All-Star team, but here's what can truly become a reality: Ray Allen being named an All-Star once again.
I'm not saying Allen will stumble upon the fountain of youth and get back to his athletic Milwaukee days. Instead, what I'm attempting to get at here is that playing with Miami's Big 3 will make him look like an All-Star once again.
This is really the perfect role for Allen at this point in his career. He will succeed in it and further showcase why he should be considered as one of the greatest shooters of all time.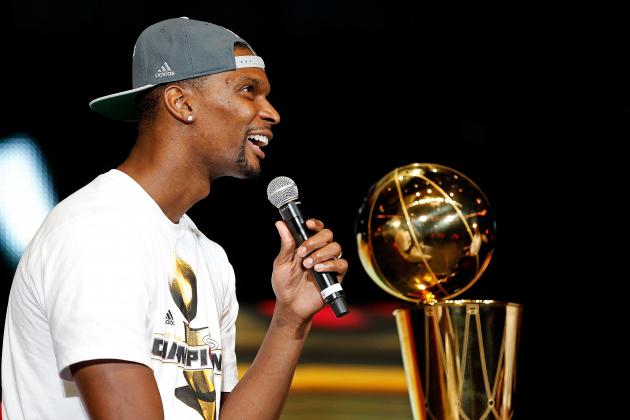 Mike Ehrmann/Getty Images

Chris Bosh will have to become a double-double machine for the Heat. There's really no reason he shouldn't.
By adding two versatile pieces in Allen and Lewis, it's looking as though Pat Riley is content with no stellar true center on the roster.
What people forget is that Bosh may not be what people call a "true center", but is better than most of the centers in the league.
Not only can he stretch the floor for the Heat, but he can also bang inside with the big boys and finish around the rim with a hard flush or soft finger roll.
In reality, he's the perfect center for this Miami Heat team.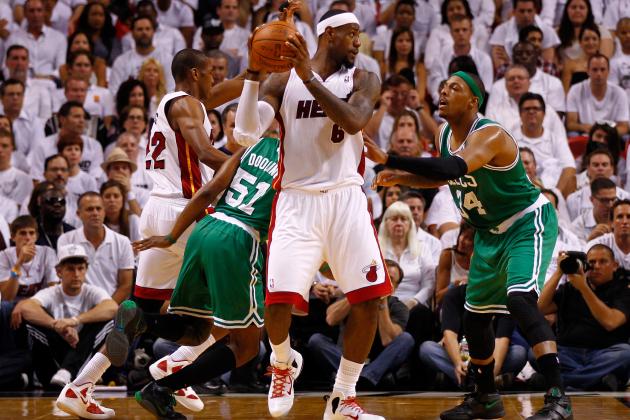 Mike Ehrmann/Getty Images

It's funny that the Heat have yet to capture the number one seed in the Eastern Conference during the Big 3 era, but this year they will finally accomplish that goal.
The team they really have to worry about is Boston. A team deemed old that's not so old anymore.
But it's about time the champs put together a complete season and walk into the playoffs with 65-plus wins.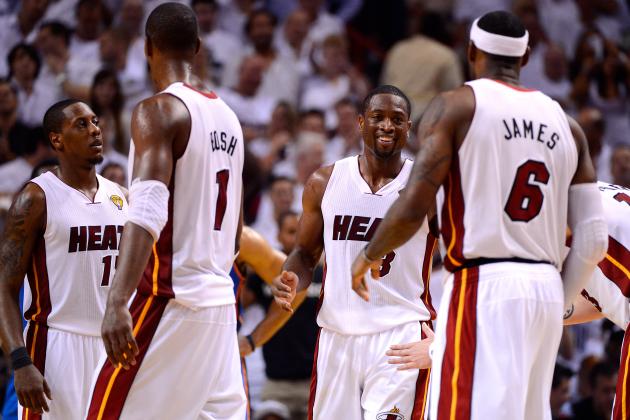 Ronald Martinez/Getty Images

Taking things a step further, the Heat have come far enough with this Big 3 experiment to finally put together a full-body of work.
The Heat will finally show us exactly what they are capable of game in and game out and what they envisioned when they came together a few years ago.
Despite the bulls-eye on their back, the Heat's opponents will oftentimes find themselves holding the short end of the stick.
While James and company will take it one game at a time and piece together one of the best regular seasons we've seen in a long time.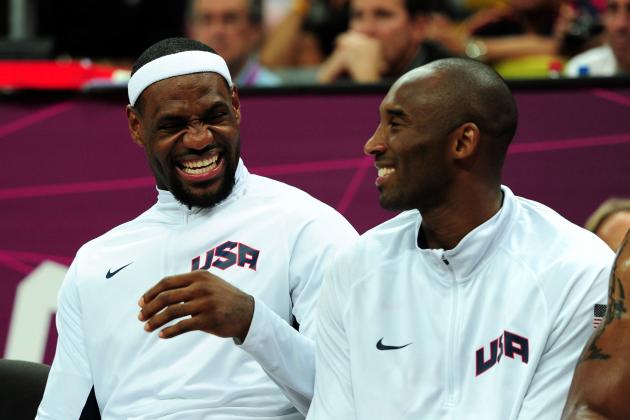 Mike Hewitt/Getty Images

I'm sure most of you out there have the Oklahoma City Thunder coming out of the Western Conference once again.
And those of you who don't must be Laker fans.
By acquiring Steve Nash and Antwan Jamison, L.A. has definitely put themselves in a better position to win it all.
Clearly, they are still nowhere near as athletic as the Thunder. But what they do have is two of the top big men in the league, one of top point guards in the league, oh yeah and some guy named Kobe. You might have heard of them.
We might finally get that dream matchup we've all been waiting for: LeBron James vs. Kobe Bryant in the 2012-2013 NBA Finals.
Just thinking about it gives me the chills.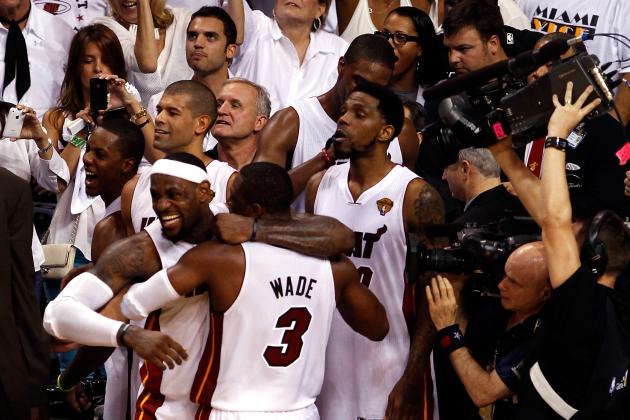 Mike Ehrmann/Getty Images

This undeterred, focused and extremely talented Miami Heat will come out on top once again as LeBron continues to further his legacy as one of the best to ever play the game.
If the Heat thought capturing that first one was hard, it's clear they have yet to attempt to repeat. Hopefully LeBron's been asking Kobe for a few pointers during the Olympics.
Nevertheless, Miami will enter the season as favorites to win it all once again.
A huge bulls-eye will be on their back, but in their near future I do indeed see them bringing back another championship to Miami.