7 Reasons Mike Woodson's New York Knicks Will Be Better in 2013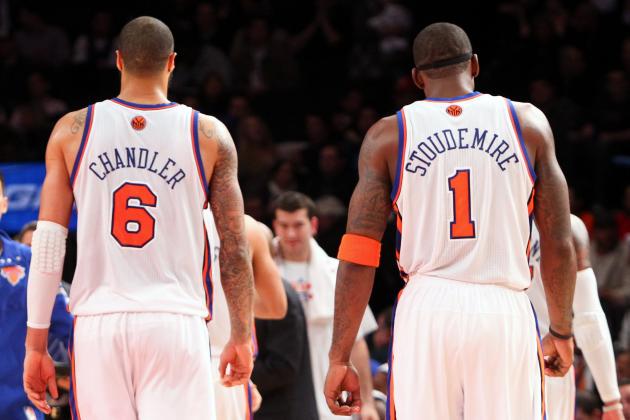 US PRESSWIRE

To say the New York Knicks' 2011-2012 season was turbulent would be a colossal understatement. Billed as a potential championship contender with the acquisition of Tyson Chandler, the team persevered through a rash of injuries to their key players and the dismissal of Mike D'Antoni to make the postseason for the second consecutive year.
Along the way, the team saw the unexpected emergence of Iman Shumpert, Steve Novak and of course Jeremy Lin, and morphed into a dangerous defensive unit under the tutelage of Chandler and Mike Woodson.
Still, the Knicks' fan base will not be happy with another season that culminates in barely clinching the seventh or eighth seed. The talent this club possesses is undeniable, and this New York team is certainly capable of taking the leap to join the elite upper-echelon teams of the Eastern Conference.
Despite a disappointing 4-1 first round loss to the Miami Heat, there is plenty of reason for optimism in the mecca of basketball. The team has their coach of the future in Woodson, a star-laden frontcourt and a number of veterans who know what it takes to win high-stakes basketball games.
Without further ado, here are seven reasons to expect a better New York Knicks team than the one that walked off the court last June in South Beach.
Begin Slideshow

»
Drew Hallowell/Getty Images

Obviously no one player New York acquired can make up for the loss of Jeremy Lin, but the Knicks have managed to create a very deep backcourt through their active free agency period.
Although Lin's playmaking and scoring abilities will be missed, the team brought in Raymond Felton, Jason Kidd and Argentinian veteran Pablo Prigioni to provide depth at the one. Felton thrived during his last go around with the team and is a capable three-point shooter who can attack the basket and push the ball in transition.
Kidd will be the primary backup and is still a versatile guard who can shoot from outside, defend multiple positions and crash the glass from the perimeter. Health is an obvious concern for Kidd, but if he can give the team 15 quality minutes per night that would be plenty.
Prigioni won't see the court much, but he is a capable pick-and-roll facilitator and knows how to set up his teammates. At 35, he won't be able to drive that easily to the basket, but he provides the team with a capable third string contributor with plenty of professional experience.
To offset the departure of Landry Fields, the team re-signed J.R. Smith and snagged Ronnie Brewer for a paltry $1.4 million per year, according to Jared Zwerling of ESPN New York.
Smith had a solid inaugural season with the Knicks and will continue to provide the team with firepower off the bench. He can hit shots from anywhere, heat up in an instant and can even handle the ball for stretches, although he was miscast last year running the point.
Brewer will fill Iman Shumpert's role as the defensive stopper until he is healthy and should be the opening day starter. Brewer can lock down shooting guards, small forwards and even the occasional point guard because of his ability to force turnovers and his physicality. He also showcased an improved shot last season and is a tremendous athlete.
New York's backcourt lacks a single transcendent player, but it features a number of capable contributors at the one and two that gives Mike Woodson excellent depth to work with.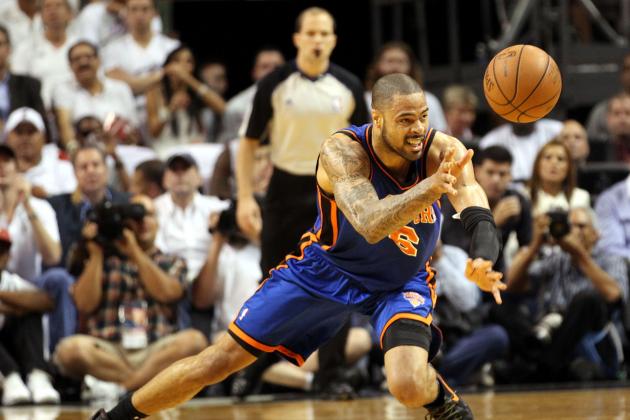 Marc Serota/Getty Images

The Knicks' struggles in the 2010-2011 season came from a complete inability to string together stops at key times, but once they finagled a sign-and-trade for Tyson Chandler, the team's defense improved exponentially. Now, with Chandler still on board, Shumpert recovering and Kidd, Brewer and Marcus Camby, the team has the potential to build on their success from last season.
New York's 18-6 run under Woodson to earn a playoff berth was keyed largely by an improved defense which was anchored by Chandler. Players were hustling back in transition, making their rotations and putting forth consistent effort. Even Carmelo Anthony and Amar'e Stoudemire started to play a more inspired brand of defense than they had all season.
Though they have plenty of firepower, the team can now count on their defense to win them games when the shots simply aren't falling.
Last season the team was just 23rd in the league, 35.9 percent, in opponents' three-point percentage, but looked better at the end of the season contesting shots from beyond the arc. With their new perimeter acquisitions, the team has several players that can force opposing guards into difficult shots and keep them from creating the space to get off a clean look from outside.
The team was also second behind only Memphis in forcing turnovers at 17 per game. They were able to knock away loose balls, read passing lanes and create scoring opportunities in transition before a defense could get set. This facet of their defense should remain consistent as Woodson's defense is still predicated upon being aggressive and active on their assignments.
With a reinforced frontline now boasting two Defensive Player of the Year winners, the inside vulnerability the team has had in the past when they depended on Stoudemire to protect the rim, should be far less of an issue.
A reliable defense has become synonymous with NBA postseason success, and the Knicks finally have the kind of defensive unit that could propel them to a deep playoff run.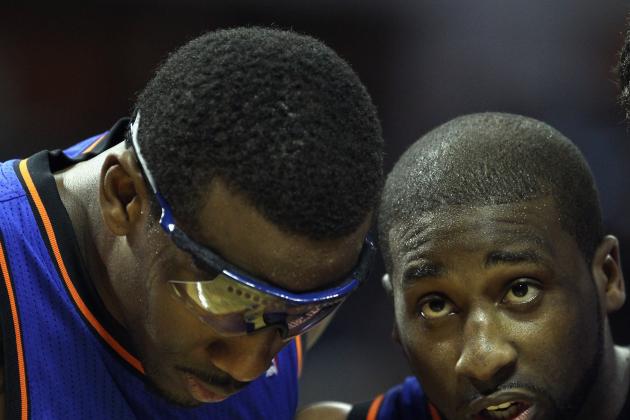 Streeter Lecka/Getty Images

Raymond Felton had an extremely pedestrian season as the Trail Blazers' starting point guard, something that has made plenty of Knicks fans apprehensive about the former North Carolina standout's return, but he is just a short year removed from the best stretch of basketball in his career.
During his time in New York, Felton averaged 17.1 points, 3.6 rebounds, nine assists and 1.8 steals per game. Although his percentages—42.3 percent from the floor and 32.8 percent from beyond the arc—were far from stellar, he looked like a potential All-Star during his 54 games in a Knickerbockers' jersey.
Obviously some of that had to do with Mike D'Antoni's fast-paced, point guard-oriented system that depended on pushing the tempo and looking for quick scores, but a good deal of it was his undeniable chemistry with Amar'e Stoudemire.
The two gelled instantly, forming a fearsome guard-forward tandem that was among the best in the league. They executed the pick-and-roll terrifically, with Stoudemire's athleticism and midrange shooting ability making him a threat both attacking the basket and shooting from the perimeter.
Much of Stoudemire's MVP caliber season was spent alongside Felton, and his 25.3 points per game and 50.2 percent shooting from the floor were helped by Felton's ability to get him the ball in his most effective spots and create high-percentage looks at the basket.
Felton's quickness made him capable of using the pick to attack the basket, but he also has excellent court vision and can make a play once the defense collapses.
Both Felton and Stoudemire thrive in the open court and are difficult to slow down in transition.
Although Woodson's offense is more methodical and halfcourt-based than D'Antoni's, they now have the option of both running the pick-and-roll offense and looking to up the tempo at every available opportunity.
Though Stoudemire slogged through an injury-riddled campaign and Felton looked out of sorts in a Portland jersey, being reunited could very well lead to a rejuvenation for both players.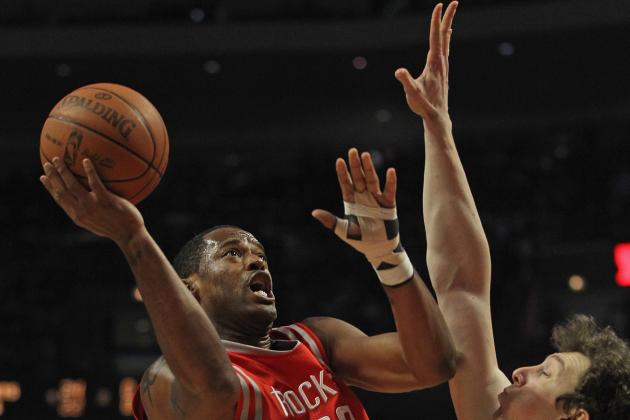 Jonathan Daniel/Getty Images

With the acquisitions of Kurt Thomas and Marcus Camby, New York has solidified an already ferocious frontline with some solid depth off the bench. Last season, the frontcourt of Tyson Chandler, Amar'e Stoudemire and Carmelo Anthony was essential to the team's success, and their second year together as a unit should only be better.
Last season, the Knicks were 18th in the league in total rebounds per game at 41.7 but should shoot up the rankings next season. Despite their age, Camby and Thomas are both capable of carving out good position and making an impact on the glass. Playing alongside the team's "Big Three" and with solid rebounding guards in Jason Kidd and Iman Shumpert, it would not be surprising to see the Knicks reach the top five in total rebounds.
Teams like the Indiana Pacers and Los Angeles Lakers thrived last season by using their size inside, and the Knicks should employ that philosophy, especially in Mike Woodson's halfcourt-heavy offense.
Stoudemire and Anthony are both consistent post scorers, especially Anthony who has a lethal turnaround and can score both on the low and high block. Both players can create high percentage shots with their backs to the basket and are solid passers out of the post.
All of their bigs are solid athletes, as well, and can run the floor and finish at the rim—except for Thomas, but he shouldn't be playing more than 10-12 minutes per night. They are capable of playing transition, and will be difficult to simply take out of the game by pushing the pace.
The team now has the ability to dictate the tempo of a game, making it slower or faster as necessary by controlling the glass both offensively and defensively.
In addition, the team now has Chandler, Camby and Thomas as rugged rim protectors willing to contest shots in the paint, play aggressive help defense and dole out the occasional hard foul. Anthony and Stoudemire are gifted finesse forwards, but are far from rough-and-tumble big men.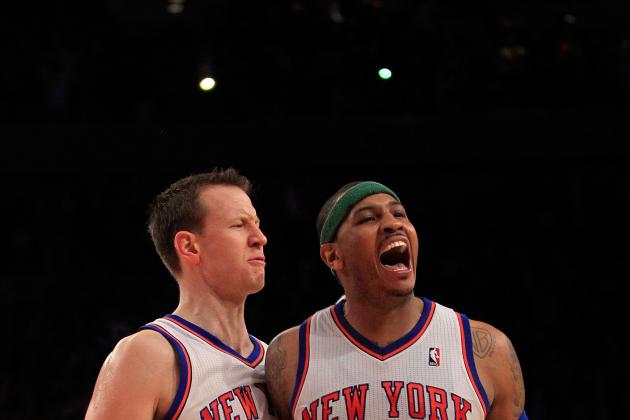 Chris Trotman/Getty Images

While the Knicks now have a defense to rely on, their ability to shoot the basketball is undeniable. This New York team is filled with shooters at every position that can flat out make shots. They have a number of deadly three-point shooters and midrange assassins that will make it impossible for an opponent to pack the paint against them.
Obviously Anthony will be the focal point of the offense and he is a threat to score from anywhere on the floor. He has a deadly turnaround, a reliable 18-footer and can step outside and hit threes as well.
Besides Anthony though, the team has plenty of scoring and can be an absolute nightmare if multiple guys get going on the same night.
Steve Novak had one of the most absurdly efficient seasons that a three-point specialist has ever had. "Novakaine" shot 47.8 percent from the floor and a blistering 47.2 percent from three. He moved extremely well without the ball, and with his quick release, he needed just a fraction of a window to get his shot off.
If Novak can keep up his hot shooting, he presents an absolute nightmare with his size and ability to draw opposing big men away from the basket.
In addition, J.R. Smith (34.7 percent from three), Iman Shumpert (30.6 percent), Jason Kidd (35.4 percent) and Raymond Felton (30.5 percent last season, but 33.0 percent for his career) are reliable options that can stretch out a defense.
Even the team's big men are capable of hitting shots outside of the paint. Stoudemire is an excellent 18-20 foot jump shooter who uses his shot to force defenses to play him close and open up driving lanes, while veteran Kurt Thomas is still capable of drilling a 15-footer if left open.
New York's offense runs through Carmelo and Amar'e, but they have more than enough firepower to make up for an off night for one or both of their superstar forwards.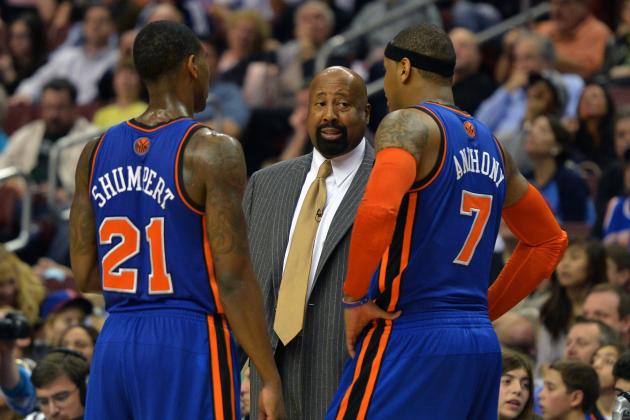 Drew Hallowell/Getty Images

While they might not be on the level of the Miami Heat as far as being able to throw out a "position-less" lineup, New York has plenty of options as far as who they can play at what spot and shuffling players between positions.
Anthony is a natural small forward, but excels as a power forward because of his quickness, ability to get to the basket and, most of all, his effortless shooting touch. Against a 6'8" small forward, his explosive first step is less of an advantage, but he can blow by a 6'11" player off the dribble or lure him outside of the paint with his ability to hit the three.
Stoudemire starts at the four, but has the size and strength to also play the five, as he did for much of the 2010-2011 season. Like Anthony, he presents a severe mismatch playing up a position because of his quickness and ability to shoot the basketball. Though he is not much of a threat from beyond the arc, he can hit from midrange and open up driving lanes for his teammates.
Shumpert is a true multi-position defender capable of defending both guard spots and small forwards as necessary. Offensively, he can handle the ball and play some point if necessary, can slash to the basket and even play the three in a smaller, more mobile lineup. His length and athleticism make him a true multi-tool on the court, and once he is healthy, he will resume his role as New York's primary stopper.
Felton is a natural point guard but played well off the ball in Denver, while Marcus Camby can play both power forward and center, locking down either position defensively. Even Novak can play either forward slot and create defensive problems with his outside shooting prowess.
This team is not locked in to one particular line-up and has the ability to adapt to a myriad of different situations. They can push the ball with Anthony at the four and Stoudemire at the five, but can utilize their size by playing Camby and Chandler in the frontcourt if necessary.
The best thing to have in the NBA is options, and New York has created a roster that can deal with a myriad of different situations.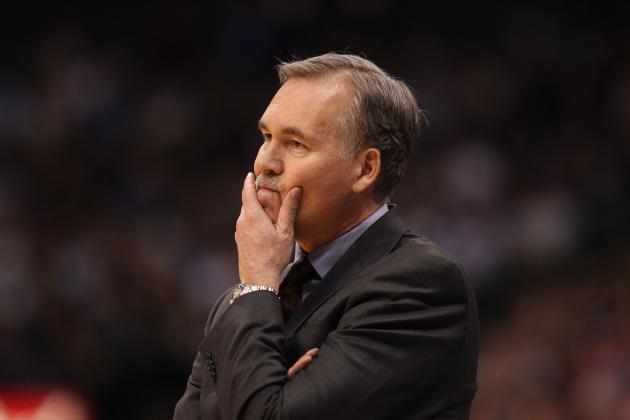 Matthew Emmons-US PRESSWIRE

As I mentioned on the introductory slide, no team dealt with more controversy than last season's New York Knicks. Despite their level of talent, it was simply impossible for the team to play at their highest level consistently given the struggles both in the court and the locker room.
Carmelo Anthony missed 11 games while Amar'e Stoudemire missed 19, and both played through cumbersome injuries during much of the season. Baron Davis, the team's key backup point guard, struggled with back problems and appeared in just 29 contests while looking like a shell of his former self. On top of that, budding superstar Jeremy Lin was shelved late in the season due to a meniscus tear that ultimately required surgery.
In the playoffs, the injury toll racked up even higher with Stoudemire missing a game due to a fire-extinguisher related incident, Davis decimating his knee and Shumpert tore his ACL in Game 1. It is almost impossible to judge the Knicks' postseason because four key players missed time and the squad that was out on the court did not resemble New York's peak lineup.
Beyond that, the team struggled under Mike D'Antoni for much of the season. D'Antoni's motion offense did not respond well to Anthony's isolation-reliant offensive attack and the two often struggled to find a compromise. The emergence of Lin and Anthony's strained hamstring bought D'Antoni some time, but ultimately the team opted to side with their franchise small forward in place of an all-offense coach.
Fortunately, the Knicks are looking at a season that should be far less dramatic. Though the shadow of Lin hangs over the team, Woodson is firmly entrenched as the coach, the offense has been established and the team is filled with veteran players who will contribute to a positive locker room culture.
Playing in a major media market like New York means there will always be some degree of contrived controversy, but the 2012-2013 Knicks are poised for a distraction-free season. That is, unless James White starts dropping 30 points a game.